When your customer is waiting for data, the last thing you need is a convoluted, difficult-to-navigate UI. To maintain your database and provide particular services without disclosing critical data, you need an admin panel—but creating one is easier said than done. StationDB is a great solution to instantly create a user-friendly admin panel for any database.
You can even secure records with field-specific permissions and search through #datasets without using complicated queries.
Click To Tweet
Features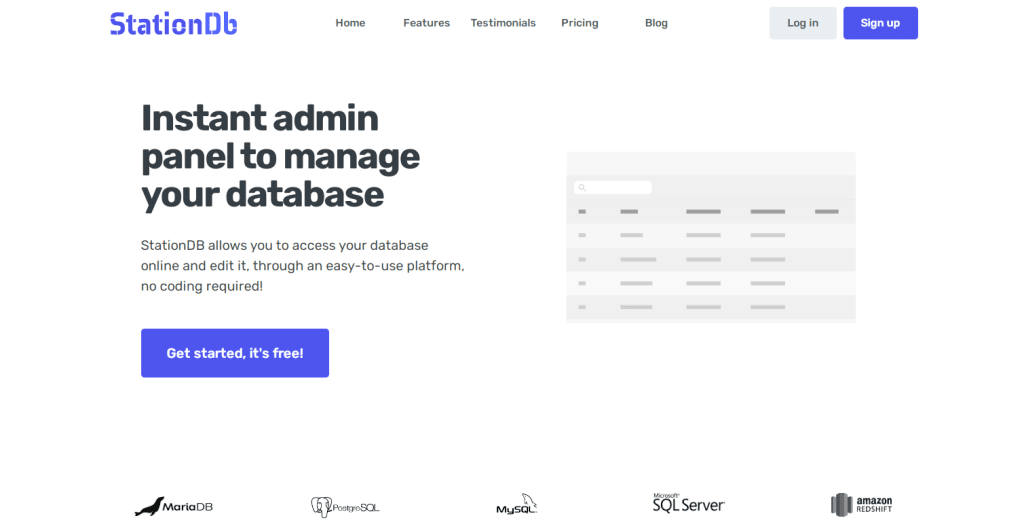 StationDB's no-code admin panel is a great way to connect to any database and manage records. You can access this no-code admin panel with your credentials, and your team can manage data on a user-friendly interface and easily pull up records without writing any queries at all.
There is also the option to create, edit, or delete any fields in your datasets and organize your records in just a few clicks.
This tool is compatible with MySQL, PostgreSQL, MariaDB, and Microsoft SQL Server databases. It allows you to assign user permissions for individual team members, such as read, create, update, or delete field permissions.
If you want to control who can manipulate datasets based on user profiles, you can define field-specific permissions. The security and straightforward setup of this tool make it very approachable and easy to use.
You are also able to search through multiple fields at once and instantly locate any data point, thanks to ultra-specific filters. And when you find the data you searched for, you can download and share data with others with a single click.
The white label option lets you set up a client-facing database with a custom domain name, unique logo, and brand color. The tool can guide you through custom DNS configuration, and you can adjust user permissions and repurpose the admin panel as a white-label solution for your clients.
Plans and pricing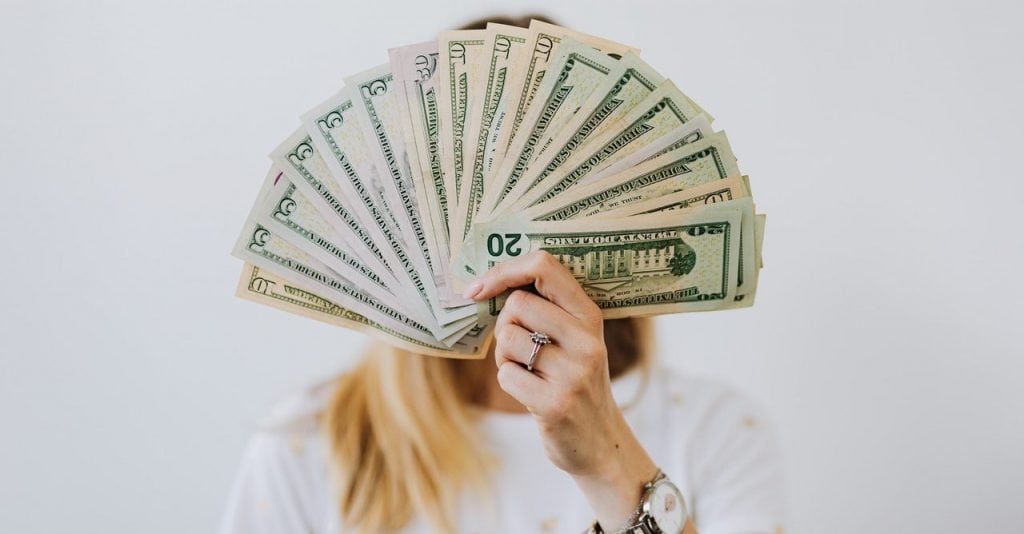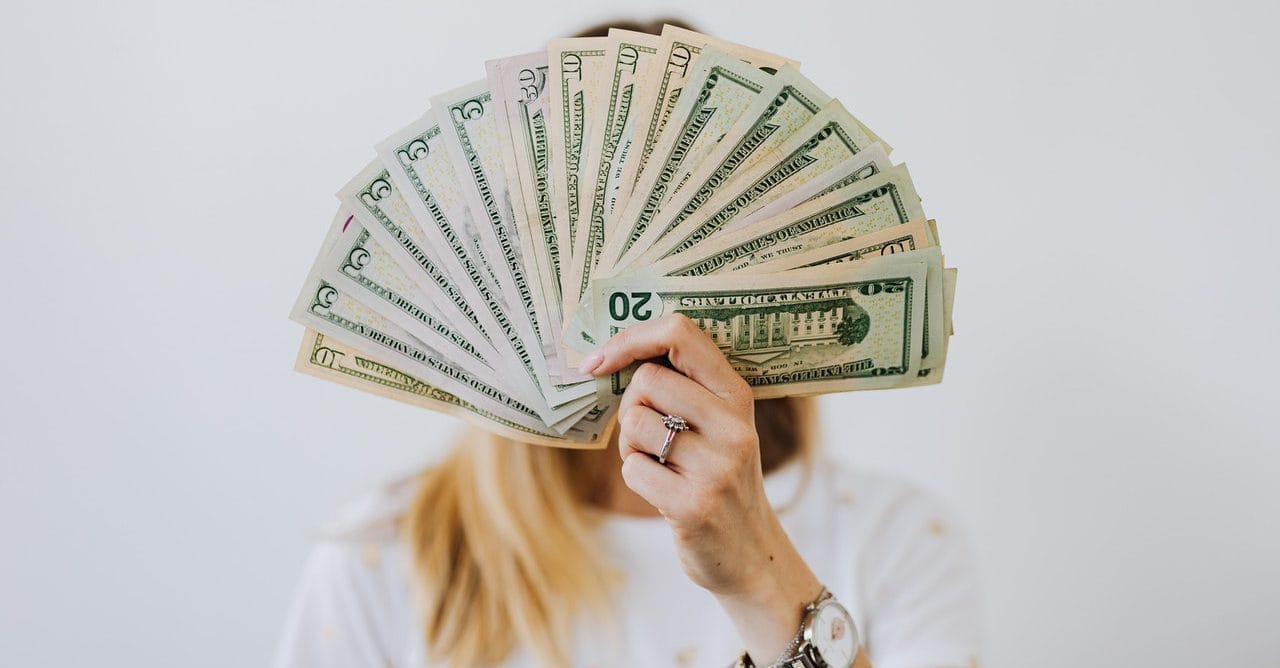 Terms and conditions of the tool include lifetime access to StationDB, all future Agency Plan updates, and no code or stacking. You just have to pick the plan that is right for you. Activation is mandatory within 60 days of purchase, as well as upgrading or downgrading between three license tiers.
All plans include unlimited sources, unlimited records, unlimited databases, table exports, interpreting media files, CRUD actions on databases, team management with permissions, search and filters, and a single white-label URL.
There are three license tiers. License Tier 1 goes for $69 for a one-time purchase and includes all of the mentioned features, 10 members, and white labeling. License Tier 2 costs $139 and includes all features mentioned before and 20 members. The final License Tier 3 goes for $249 for a one-time purchase and comes with all of the before-mentioned features and 50 members.
Business benefits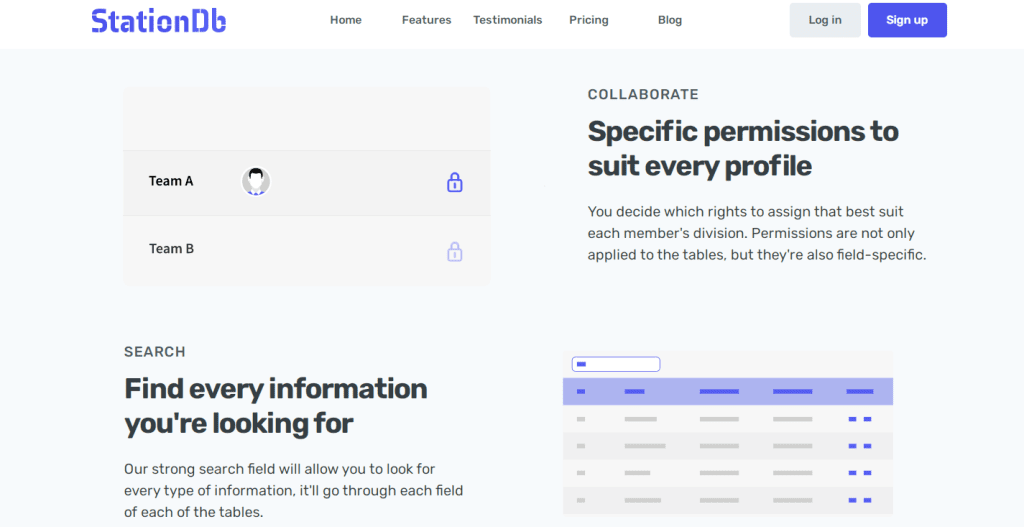 This straightforward tool has many benefits and does not require coding knowledge, so any business can get up and running in no time. Some key benefits include data viewing with a great and user-friendly interface that lets you quickly and easily view your database through a great UI.
All data is shown in an understandable format without deciphering any messages. CRUD actions are made easy with a spreadsheet-like approach in StationDB. This editing tool has useful features that enable easy team collaboration based on custom permission management.
By implementing these permissions, you will be sure that only authorized users can access specific tables or modify them.
Advanced search and filters will save time for your team members since navigation through data are very easy and quick. These filters include the option to filter data by type and export data for further use. Lastly, the white label feature means you can create your URL and brand it with your logo and colors to make it look professional.
Conclusion
Whether you are an IT/Security agency, a product manager, or a SaaS business, you will find a great use for StationDB. Integrations with MariaDB, Microsoft SQL Server, MySQL, PostgreSQL, and Stripe will allow you to connect with most databases.
This GDPR-compliant tool is easy to use and does not require coding knowledge; even tech-phobic members will be able to use it. If you find this option attractive and want to try it out, feel free to choose the best plan. StationDB comes with a 60-day money-back guarantee if you do not find it useful for any reason.