High-quality visual content is a must in our current visual age. Add to that the rise of social media, and you get the perfect formula – social media images. Social media images, when done right, will drive more traffic to your page.
Content with the right pictures will be more #sharable. You will get more clicks, and reach a wider #audience quicker
Click To Tweet
Any marketer and business owner strives to achieve this. So, in light of this information, we're bringing you a list of the best tools for creating social media images.
1. Canva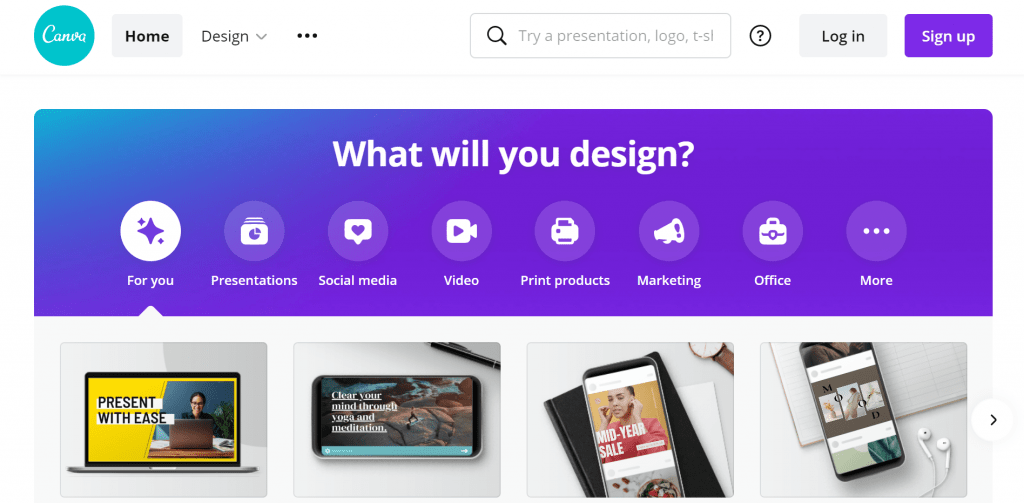 Canva is one of the most popular tools for creating social media content. It's a great tool both for individuals and marketing teams. Anyone can use it, and it's also fairly inexpensive.
With Canva, you can create and edit images and use them for social media, blogs, articles, and more. Canva also offers a multitude of multi-purpose templates. In addition, this tool also sports an impressive library of images you can browse through until you find the perfect fit.
Great features of Canva are:
Transparent Images – This feature is simple to use; just select the elements you would like to adjust and place them on the transparency slider.
Photo Straightener – With social media images, every little detail is important, and by using Canva, you can easily rotate photos and straighten them up.
Photo Effects – This feature works in the browser, on Android, or iOS. Click on "filter," select the filter you like, and customize your photos.
Add Text – Canva has a great feature that gives you the freedom to add text, captions, or even write a comment. This feature for combining text and photos is quick and easy to use.
2. Placeit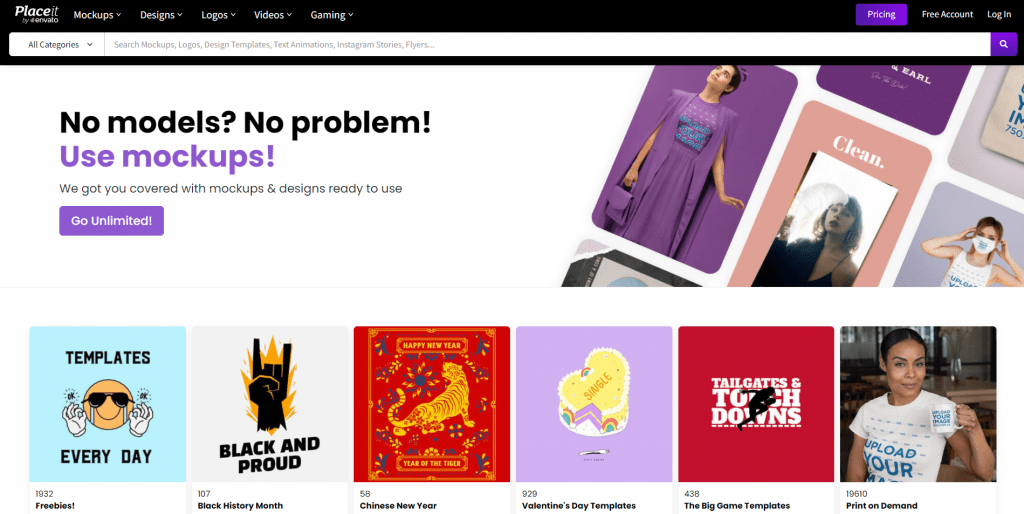 Placeit is an easy tool with an abundance of ready-to-use templates. When creating social media images, it's important to make them distinguishably yours by adding a logo or a signature.
When using Placeit, just choose the background you like and upload the URL or screenshot you want to insert into your image. Your pictures will have your home page, brand, blog, or app feature signature.
Placeit has a library of free mockups, designs, logos, and videos that is constantly updated. All you need to do is use Placeit's drag-and-drop feature to create your product shot – it's as simple as that.
3. Snappa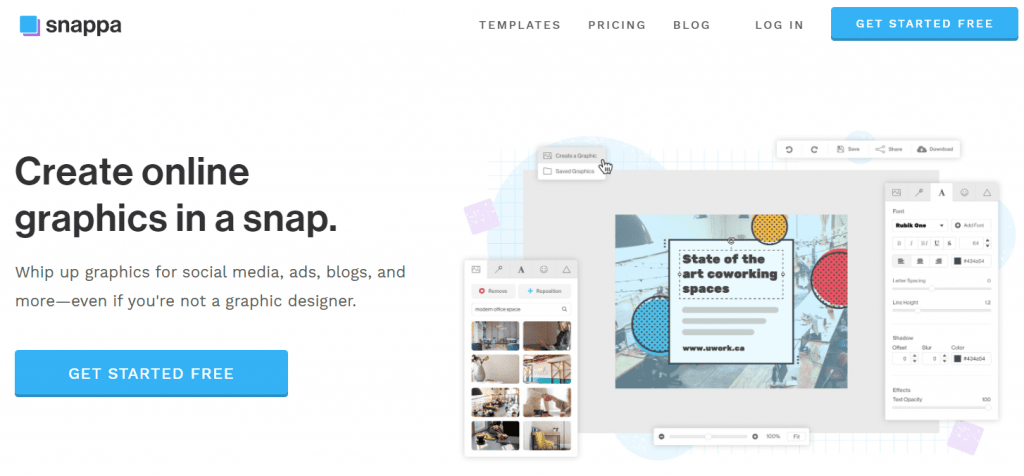 With Snappa, you don't need to be a graphic designer to create stunning online graphics for social media, ads, or your blog. Snappa will help you create one in seconds. Snappa has every image dimension with the perfect size. Using it, you can adjust images to be perfect for social media, blogs, or ads with just one click. Your picture will be perfectly fitted every time.
Using Snappa, you will have access to almost 5 million photos that are free and in high-resolution. You can add text or effects to your images as well, and all that in mere seconds.
By being able to choose fonts, vectors, shapes, and photo effects, you'll create a stylish social media image. Snappa will also remove backgrounds automatically, and your images will be ready to make their debut.
4. Adobe Creative Cloud Express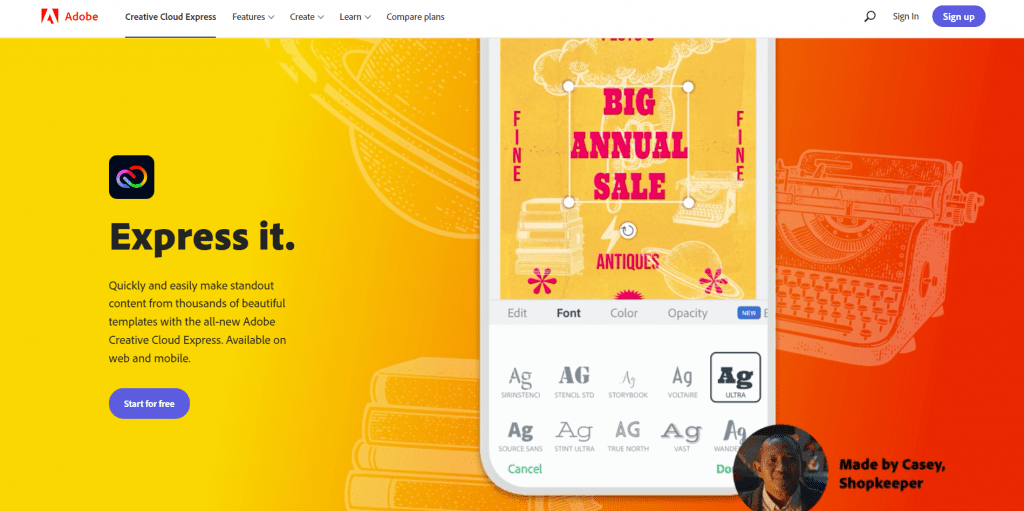 Adobe Creative Cloud Express helps you get started with creating your social media images offering beautiful templates, social media content, the entire Adobe Stock photo collection, and the Adobe Fonts library.
This all-in-one suite also offers tools that can remove backgrounds, add text, animate text, and add your branding. The tool also offers various resizing tools so that your images will perfectly fit any format, even if you're planning to share them on multiple networks.
If you work in a team, this tool will allow you to share templates and assets with your team so you will be on the same page. You can also save templates to your library so team members can access them.
Other notable features of Adobe Express:
an online photo resizer
an online image converter for converting PNGs into JPG
saving your JPG images as PNG files
removing backgrounds so you can add shapes, colors, and graphics,
5. Pixlr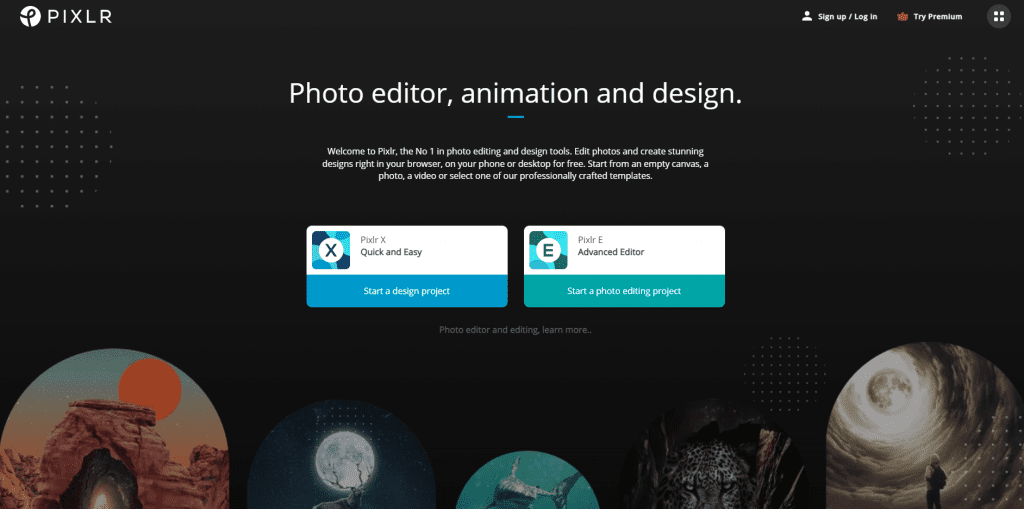 Pixlr is a photo, animation, and design editor. To start using Pixlr, use an empty canvas or one of the offered templates. You can also use either photos or videos. With Pixlr, you can edit photos in your browser, using your phone or desktop.
Pixlr has an AI-powered background removal tool. It works instantly and removes the background from profile pictures, selfies, or portraits. There is also a Pixlr Picture collage maker: you need to select one of the pre-made collage templates, upload your images, and edit.
Pixlr comes with filters and photo effects that ensure your images are top-notch. You can use Pixlr for free or get more features by subscribing to its premium plan for $4,90/month.
Conclusion
The best thing we can tell you is that according to recent statistics, when people receive information, 10% of them will remember it after a couple of days. But if that same information contains an image, the number of people that remember it rises to about 65%. So, make sure to create attractive social media posts with images.
To create the perfect image, use some of the tools we suggested, and you will boost conversion rates and shares.