A chatbot is a computer program that is used for simulating human conversation. It can do voice commands, text chats, or even both.
#Chatbots are becoming more and more popular, and their advancement is astonishing.
Click To Tweet
The reason for their popularity is their practicality. They can be used in many situations and have been implemented on the websites of the most successful companies.
Choosing the right chatbot is important, so for this article, we made a list of the top 7 most innovative chatbots on the web that you should consider.
1. BotStar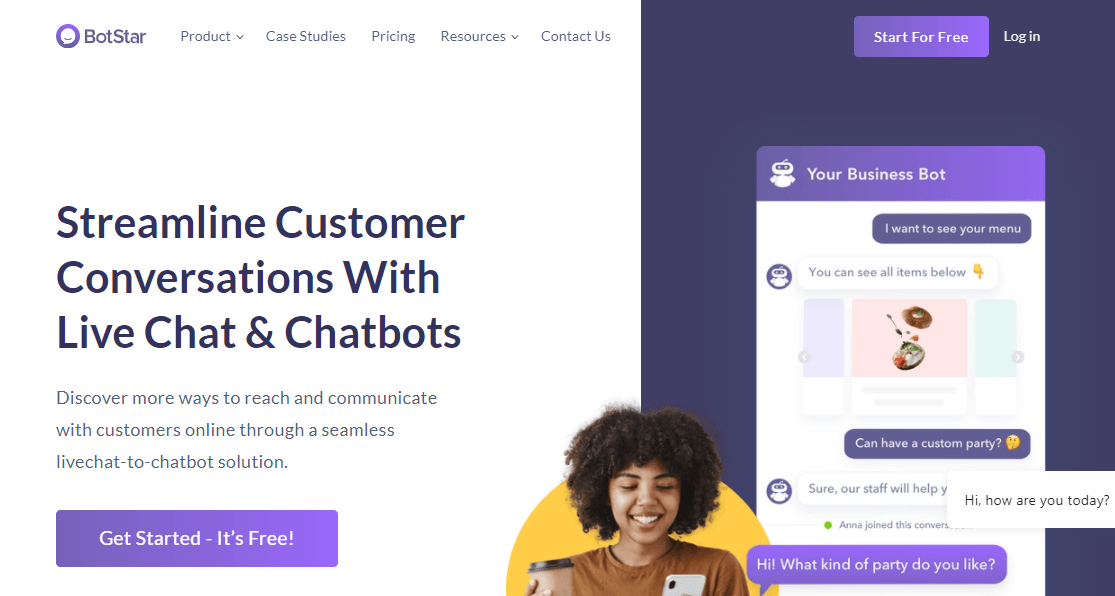 BotStar is a powerful messaging solution with chatbots and live chat for streamlined customer interactions. With BotStar, you can easily create a chatbot for your business needs. It has an intuitive visual flow designer and over 70+ templates. You can also incorporate rich features with coding, HTTP calls, and multi-platform integrations, which, of course, include Facebook Messenger.
With BotStar, you can use an omnichannel inbox and have a complete toolset for human collaboration, which is great if you work in teams.
When it comes to pricing, the Single plan costs $59,00. This plan gives you 50,000 sessions per month and 3 member seats. The Double plan costs $118,00, and the Multiple, $177,00.
In our opinion, this is the best chatbot building platform today.
2. Chatfuel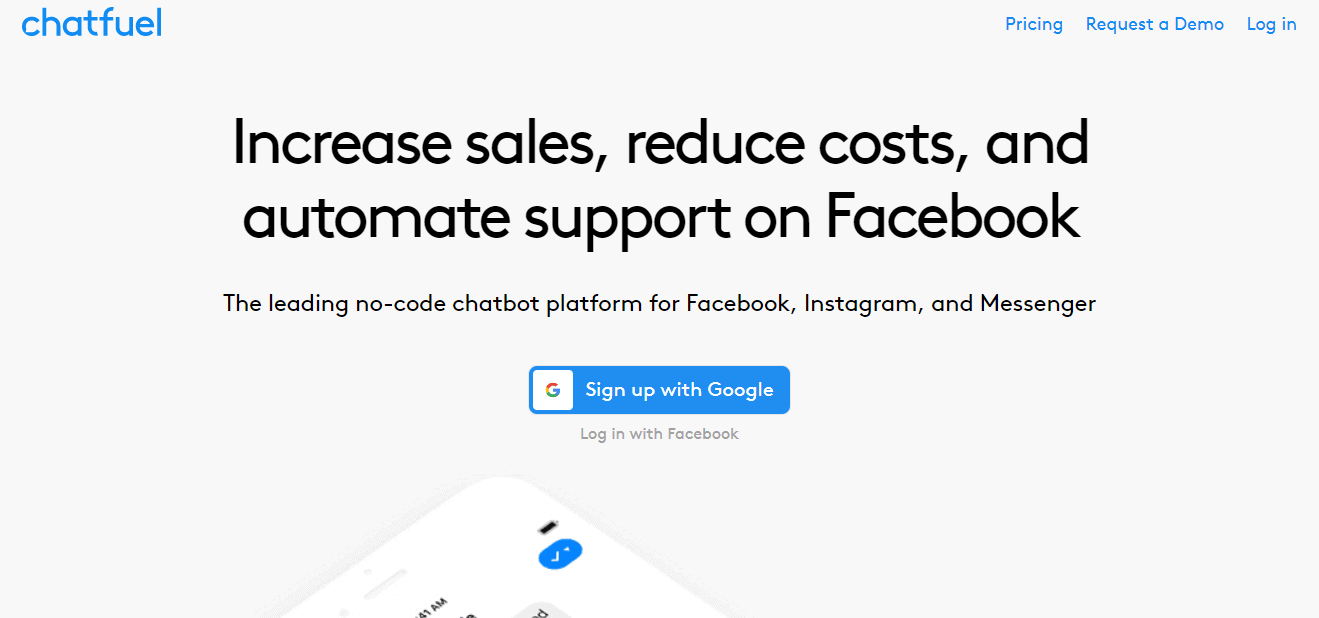 Chatfuel is a no-code chatbot platform for Facebook, Instagram, and Messenger. It powers over 1 billion conversations every month and is used by the most recognizable companies like Adidas, Levi's, Lego, and many more.
One of the results of using Chatfuel is a massive increase in sales.
As we mentioned before, it is a no-code platform, so you don't have to have any coding experience, and you will still get one of the most efficient chatbots.
It has a free trial option for up to 50 users and a Pro option for $15 per month with no user limit, priority support, A/B testing, and a lot more.
3. ChatterOn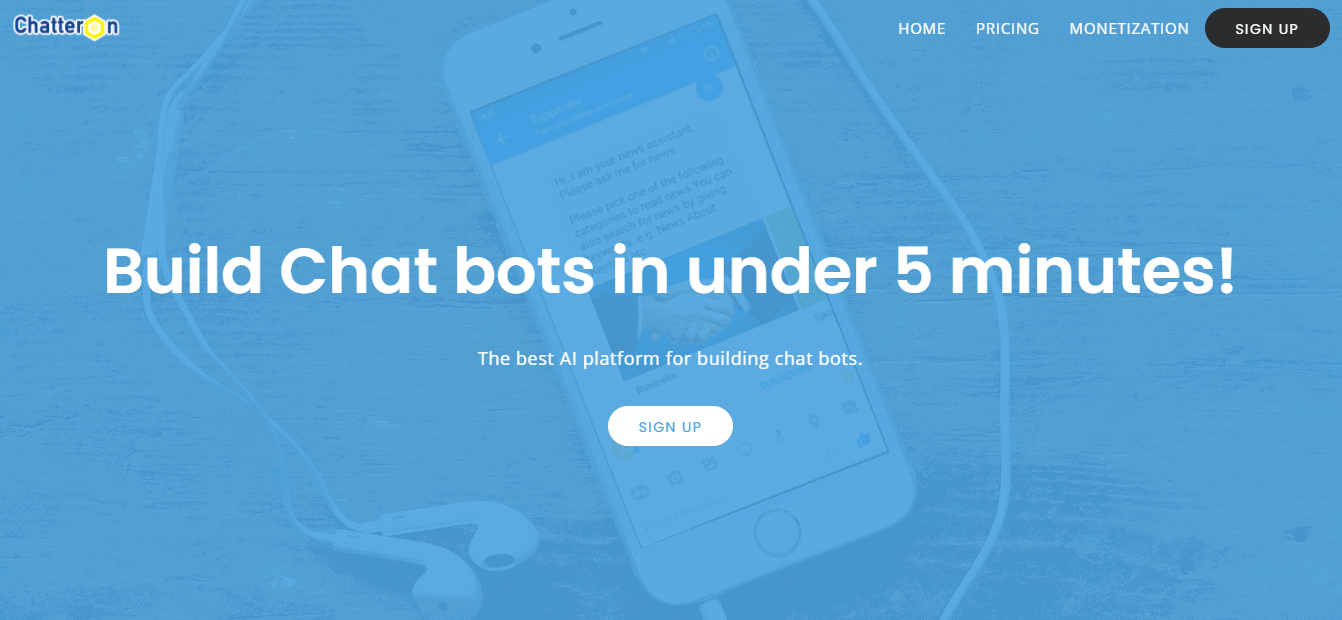 Next on our list is ChatterOn. Simple to use yet effective, it gives its users a large arsenal of options that will satisfy all their needs. It doesn't require any coding at all. You can choose from over 20 pre-built chatbots with intent, entities, and conversation flow.
It is really easy to use. You just have to sign up, and you can deploy an AI-powered chatbot within a few minutes. The chatbot comes with machine learning and gets better with every interaction and conversation; you just have to give it 10 examples to get started.
ChatterOn is well documented, meaning that its developers have made sure that you do not have to search for a solution elsewhere. You can even monetize your chatbot and earn from it.
4. Tars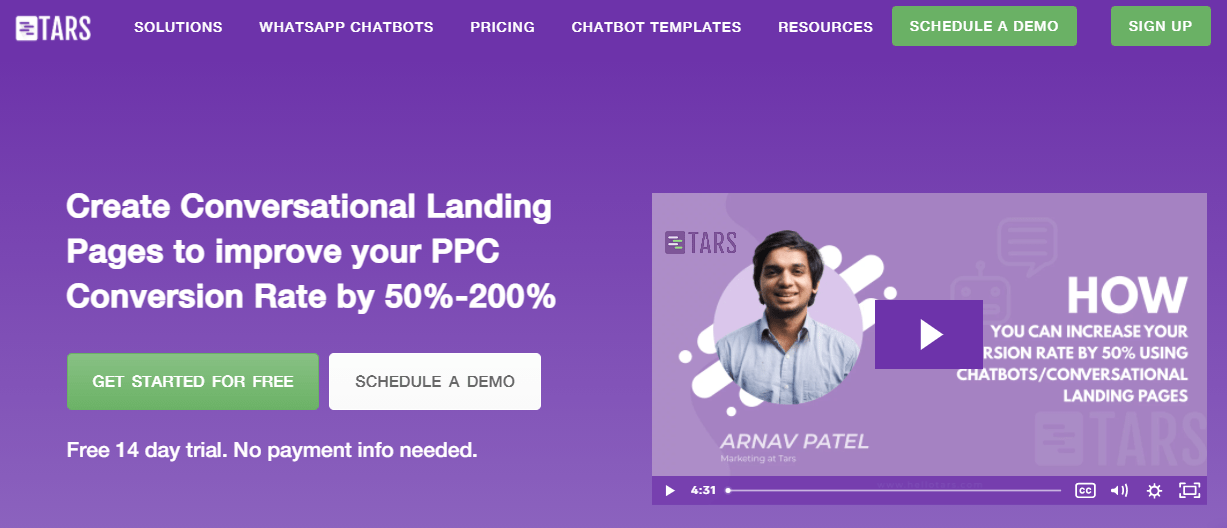 Tars is a drag-and-drop chatbot builder that can be used to create all sorts of website chatbots, which can also be implemented on a lot of social media platforms. It has over 800 chatbot templates for different industries. Plus, it counts 18,500+ bot creators, 28,000+ created chatbots and 45M+ chatbot conversations.
It has a 14-day free trial that requires no payment info. It is a bit pricy at $99 per month, but it pays off, as it is one of the best and easiest to use chatbot builders today.
So if you want to do some serious business, you should for sure try Tars; you will not regret it, and it will not feel like wasted money at all.
5. Botsify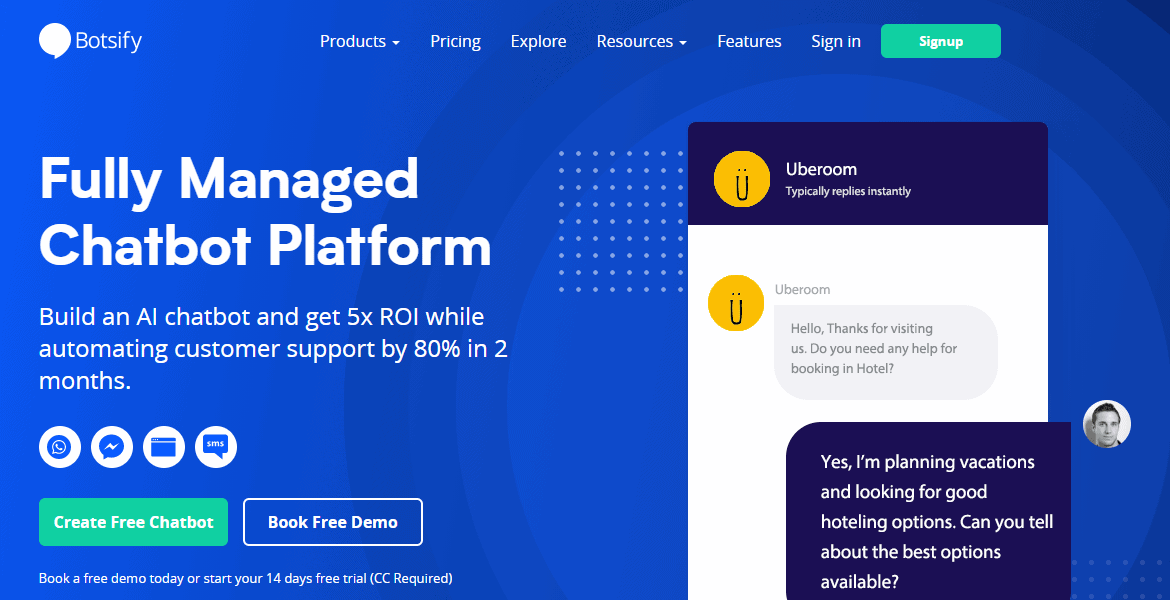 Next on our list is Botsify. It is a simple chatbot builder that lets you create all sorts of chatbots for your website or Facebook Messenger. It comes with great integration features that you surely will not find in other chatbot builders.
Using Botsify, you can integrate with Shopify, WordPress, and Alexa, as well as create conversation forms in your bot to allow human staff to take over the conversation. Those are only some of the options you get to create your perfect chatbot.
It has a free trial, and its paid plan costs $10 per month.
6. Botkit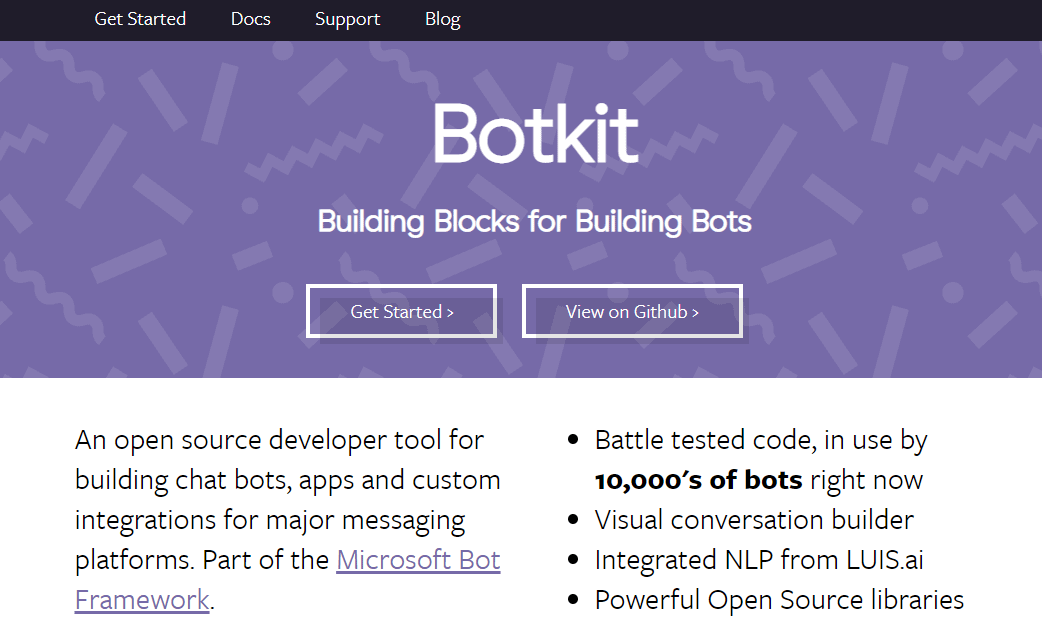 Another great chatbot building platform. But, Botkit is not just a chatbot builder. It is an entire community of more than 7000 developers from around the world.
Its amazing chatbot builder includes a visual conversation builder, open-source libraries, built-in stats and metrics, and highly tested code from some of the best bot builders around.
It has a free version, which is enough to start. Its paid versions cost anywhere from $5 per month. Depending on how many bots and active users you need, the price gets higher.
7. Flow XO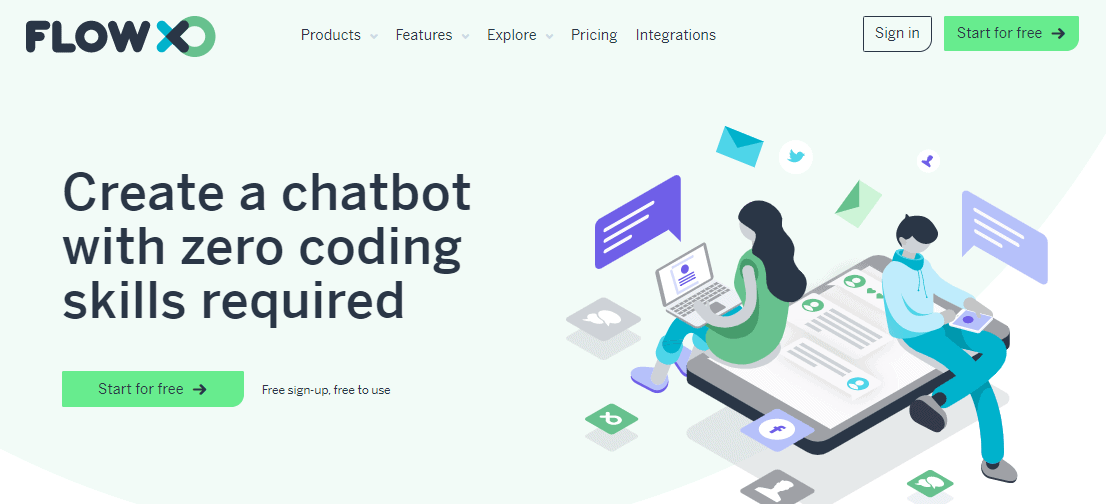 Last on our list is Flow XO. It is an amazing solution for building, hosting, and deploying chatbots across platforms. It has an option for building chatbot widgets for your website and integrating them with suitable third-party platforms. Plus, users can also share your chatbot with others.
It has an incredibly easy to use interface and a free version that you can try and then see if Flow XO fits you, which it should because it is one of the most popular chatbot builders today.
With the free version, you can build five different bots with all the features, but you are limited to 500 interactions. Paid versions start at $19 per month. With the base paid version, you get 5000 interactions, and by paying an extra $25 per month, you can add 25,000 more. You can also add five more bots for an extra $10 per month.
Conclusion
Choosing the right chatbot building platform is of high importance; that is why we gave you 7 great options today.
Of course, we especially recommend
BotStar
; that is why it is number one on our list.
With that said, we now wish you the best of luck in building chatbots!