Search engine optimization (SEO) became extremely important in the growth of online businesses since the introduction of Google, especially in the last decade. Little things became more significant, and even the tiniest details could differentiate successful businesses from those declining.
If you have an online business that gains its traffic mostly thanks to the Google search engine, then #SEO is something you have already crossed paths with.
Click To Tweet
As we already mentioned, details are important, and they are what can make a significant difference in this race for better search engine results rankings. SEO helps you modify these details on your site so that you gain better rankings. Better rankings mean more views and more traffic for your website, which leads to more customers and better monetization, as well as a better chance to grow.
But, building a site from which both you and your visitors will benefit is not something that is done in a single day. Instead, you need to take time to develop a good SEO strategy based on accurate data, and this is not something everyone can do with success.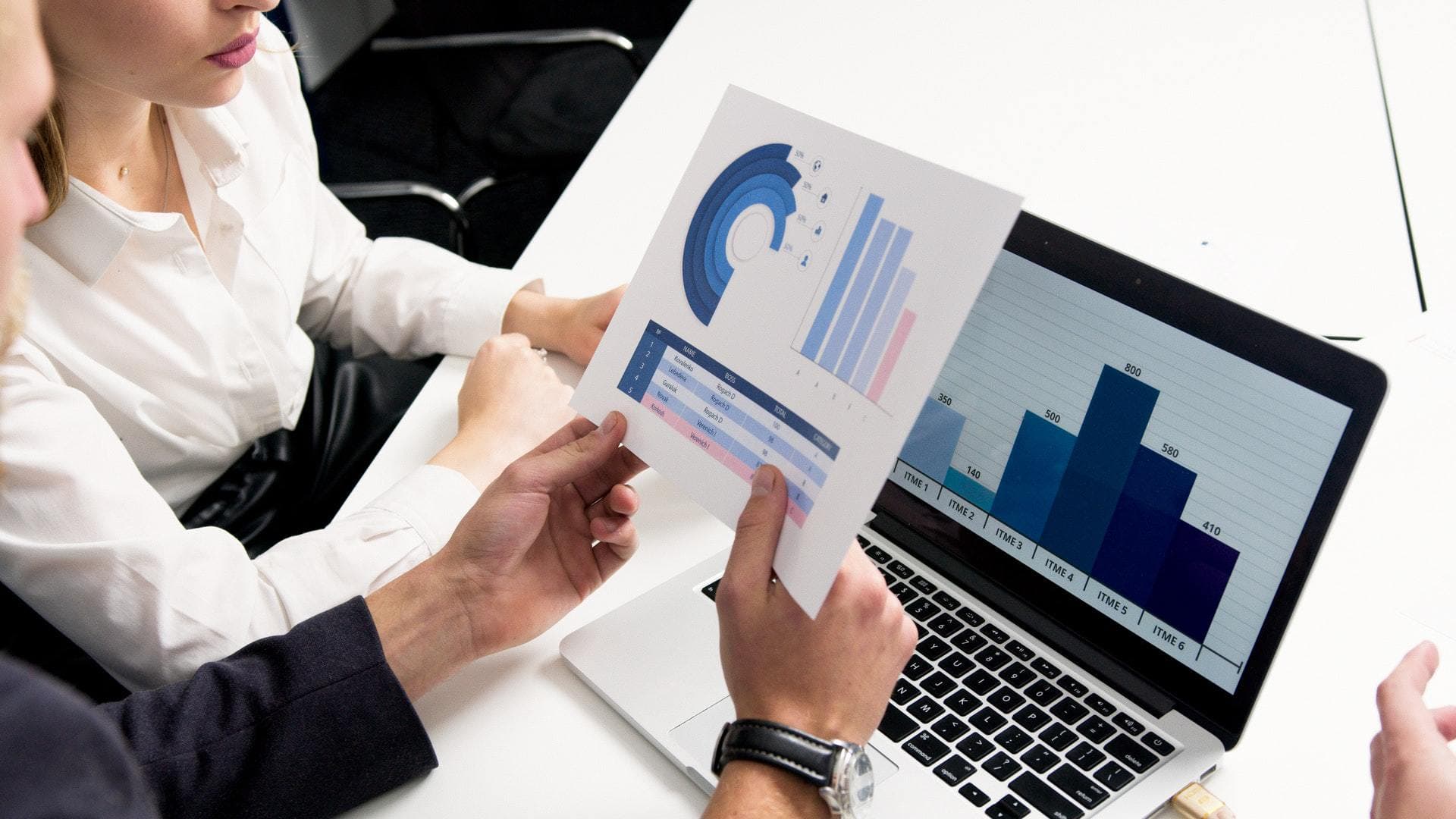 That is why many people hire experienced SEO professionals and marketing companies to increase their site traffic and get those good rankings in Google search results. But even when you are a professional or hire one, it doesn't mean that you can do everything without good tools. And the best tool for this type of task is an SEO checklist.
SEO checklists are widely used nowadays by both professionals and beginners. They are something that can affect your rankings significantly since they represent amazing guidelines on what to do so your website performs better.
In this article, we will review one of the best SEO checklists. So let's get going, shall we?
The SEO Checklist by SEOBUDDY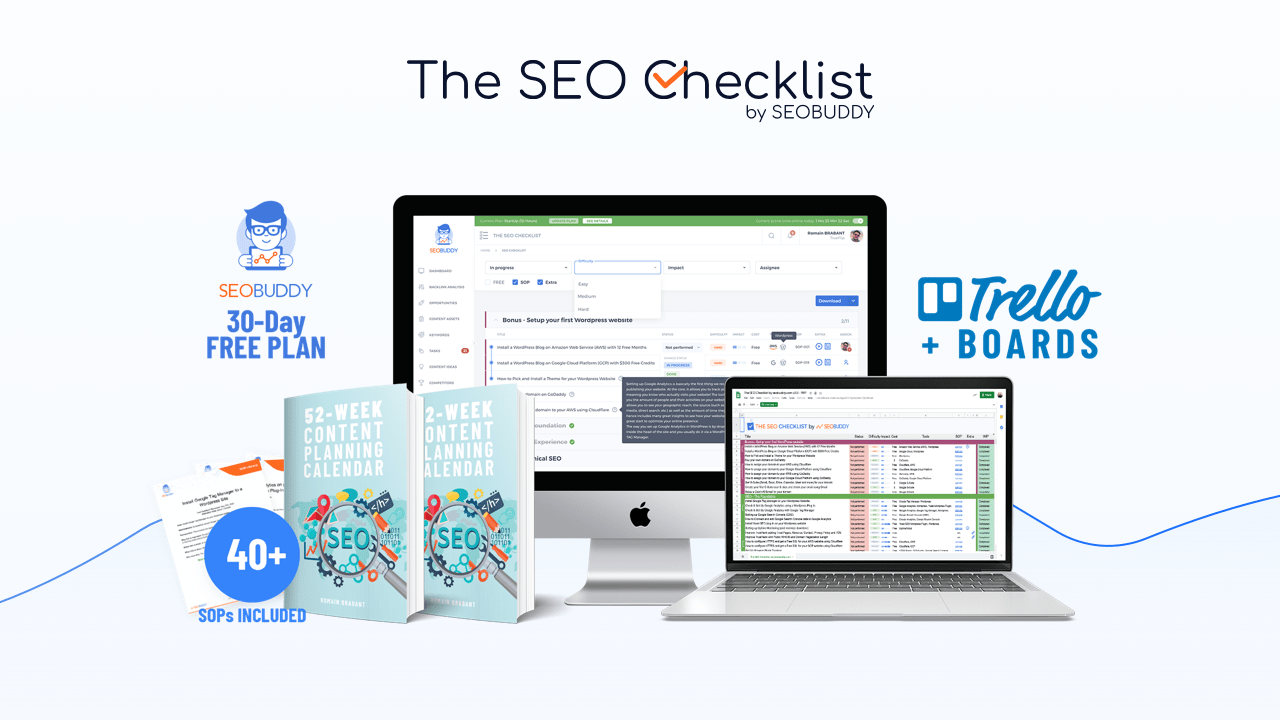 What makes the SEO Checklist by SEOBUDDY unique is its ease of use. Besides the actual checklist, it provides you with instructions that you can follow in the form of 44 step-by-step process documents (SOPs). In the SOPs, you get good and reliable guides for the process of learning and working on your website's SEO.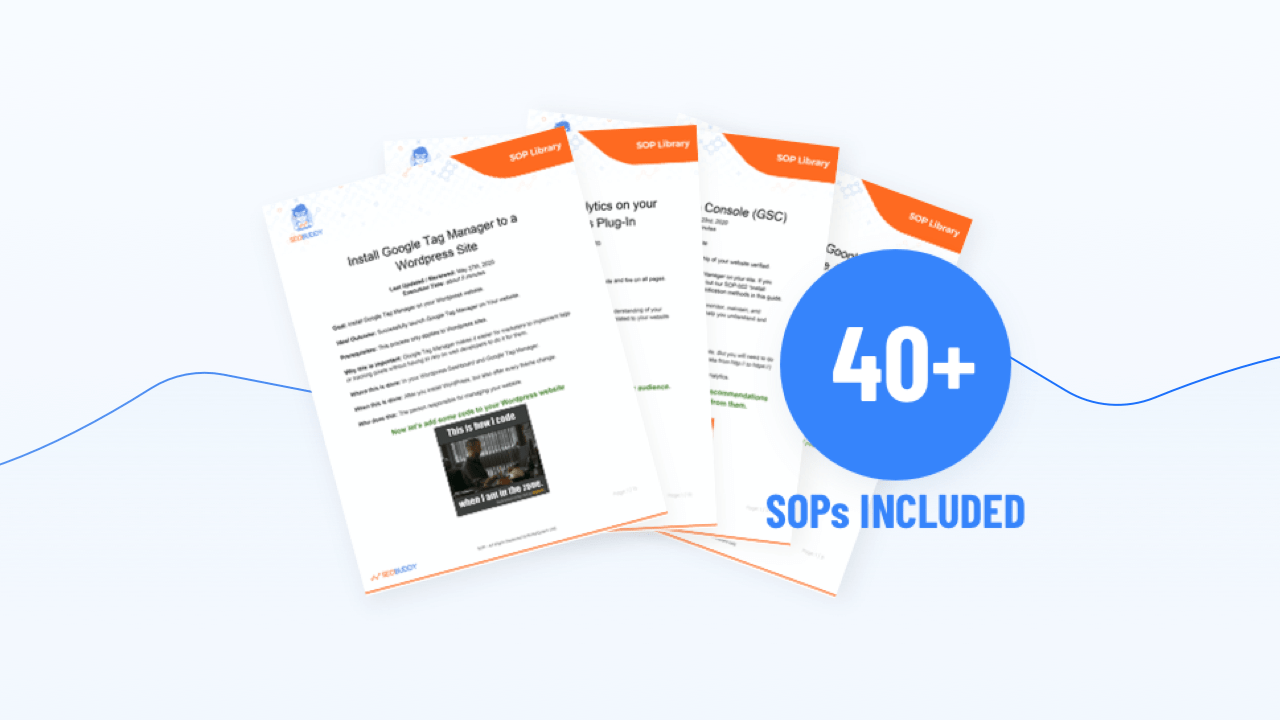 In case that the SOPs are not enough, you can also count on multiple high-quality training videos on YouTube or Blog Post (an extra resource for you).
Another amazing aspect of this SEO checklist is that it is clearer and more understandable than some 150-page long e-book, which are too often confusing and complicated.
Once you get the SEO Checklist, you can start immediately with your work, deal directly with SEO issues, and manage an SEO business for beginners, instead of wasting your time on things of lesser importance. With this tool, you will be focused only on the things that matter and that you have to improve immediately. This means that the SEO Checklist will save you a lot of time and energy while doing crucial work for your business.
You can use it to improve different aspects of your site, optimize it, try updating old content for SEO or creating new, and do so much more.
Features that make this SEO checklist useful
The SEO Checklist by SEO Buddy can be described as a roadmap that leads you to every important SEO action you have to take to completely optimize your website and gain that organic traffic that everyone is yearning for.
As we already said, this checklist is easy to use, which means that if you are a newcomer in the SEO world or are struggling, you will get all the help you need in many different ways, including:
You will quickly see the bigger picture of what you have to do to optimize and rank your site.
You will not miss any important aspect since you will be able to easily track everything you have or haven't done.
And, thanks to those many super detailed documents with step-by-step instructions, you will quickly be able to follow along with everything you have to do.
As you could notice by now, this is one great bundle that includes all that is important for your site's SEO success, that being:
102-Point SEO Checklist Google Sheet and Web App
44 Step-by-Step Process Docs (detailed standard operating procedures that span over 200 pages)
50-Point Content Distribution Checklist Google Sheet
SEO Checklist E-Book (PDF document of 63 pages)
52-Weeks Content Strategy (PDF document of 12 pages)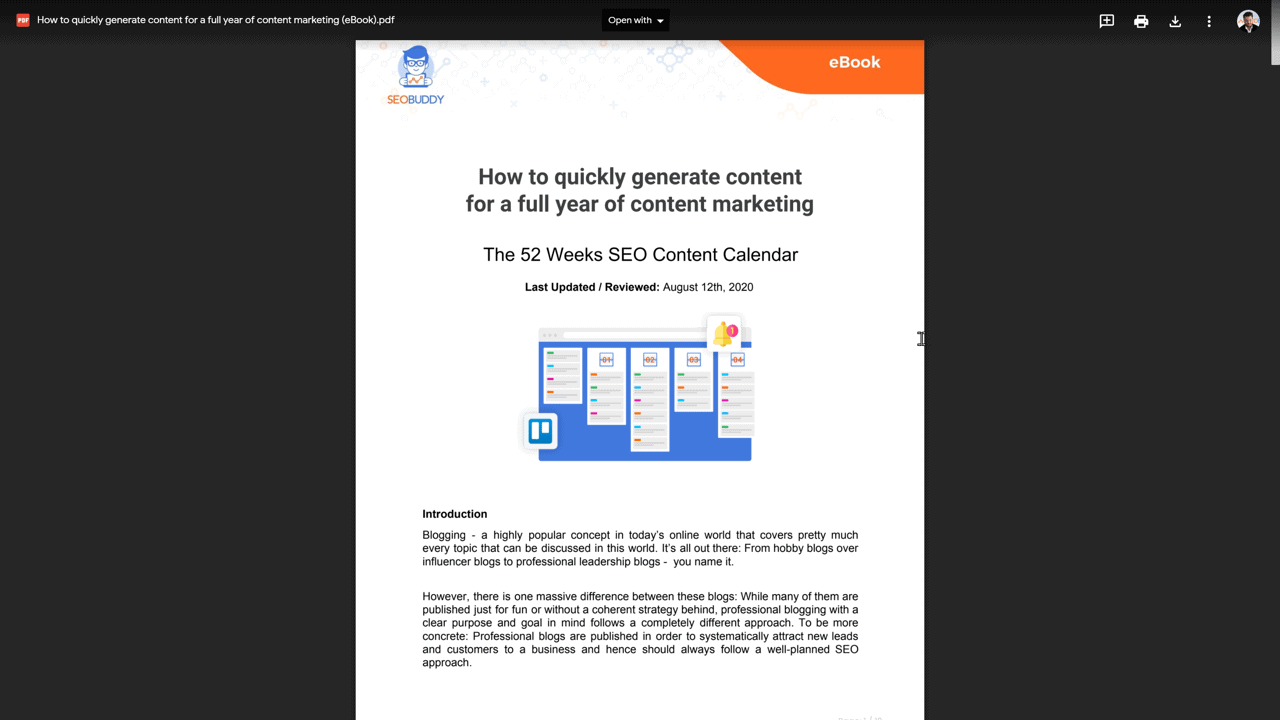 The SEO Checklist categories
The SEO Checklist is made up of different parts containing different tips, tricks, and general guidelines that will help you improve all important aspects of your website. There are 8 of these parts, each part covering one important SEO aspect.
The parts go as follows:
The Foundation
User Experience
Performance
Technical SEO
Content
On-Page SEO
Off-Page SEO
Local SEO
You also get a bonus tip – set up your first WordPress website.
The Foundation
In this part, the main focus is on the importance of setting up a functional environment in which you can do the basic steps for making your website number one in Google search results. There are several steps in this process that you need to follow, and the most important of them is setting up a Google Analytics account, using which you will boost your website in Google search results more easily.
Then, you have to set up Google Search Console (GSC), which helps others find your site easily. GSC covers several SEO metrics and helps you improve your visibility as well as search rankings.
You also learn how to impress the TrustRank algorithm; this is one of the most important aspects since nobody wants their site to be seen as untrustworthy or shadowy.
Finally, you learn how to set up keyword rank tracking so that you can figure out where to improve; this can be done by adding a specific set of keywords that you want to track.

User Experience
This part covers a set of actions that you need to take to make your site look more professional and standardized. This includes the usage of user-friendly URLs so that your site can attract a bigger audience as well as making your site mobile-friendly.
Other things you will deal with are general website loading time, short URLs, optimization of your 404 pages, the ability to share content on your website, and so on.
Performance
To increase your performance, you will learn how to:
Use a top-performing web host, even if it is more expensive than others.
Pay attention to the location of your server since it has a significant influence on your site's optimization.
Use content delivery networks (CDN) for full optimization.
Keep yourself up to date by using different WordPress plugins, themes, and software.

Content
This part helps you create and manage a solid SEO content strategy. In this part, you will learn to create content that is relatable and shareable and completely follows the standards of Google. That way, you will be able to create catchy content that is known for its quality and consistency.
Technical SEO
In this part, you will get instructions on how to use HTTPS, URLs, as well as technical assistance and support. You will learn how to check if your URLs are short and simple and if they lead to the web pages your visitors are looking for. You will also learn how to create a sitemap so that your website can appear in Google search results when people are looking for things related to it.

Local SEO
This part includes instructions on how to attract an audience and maintain organic traffic, all thanks to modern content-building strategies and claims. You will learn how to target a specific audience, do content generation, and create an interactive page that is loved by your audience.
On-page SEO
This part provides you with guidelines on how to write content that is not created for search engines only but for real people as well. You will learn how to target keywords and highlight them in the first paragraph, as well as use SEO-oriented meta titles. Besides that, you will also learn how to pay attention to the content's format and make it appealing as well as informative.
Off-page SEO
In this part, you will learn how to create a solid link-building strategy while implementing the "Competitive analysis" framework to find SEO opportunities. You will also learn how to build foundational links and publish them on different social media networks, which will help increase your website's reach and its number of views.
Bonus – Setup your first WordPress website
This bonus part helps you set up your first WordPress site by giving you instructions and thus making it easy to handle the process, especially if you are a beginner.
Pricing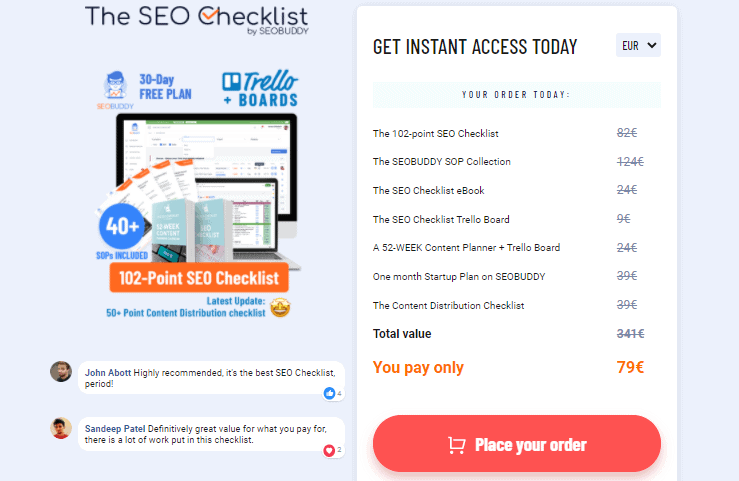 As for pricing, you will get all of the things we mentioned for $79. While this can seem a little bit expensive, it is important to keep in mind everything that you will get.
Plus, you can count on 25% off the price if you use the coupon code "WEBFACTORY".
Final words
An SEO checklist is something of great importance when you deal with site maintenance and development as well as building a business. Everyone wants a site worthy of attention, a site that can be on top of Google search results.
That is why you need an SEO checklist like the one from SEOBUDDY that will help you optimize your site and make it perform as well as possible.
It is worth investing some money and time in learning how to optimize a site since the outcome will be positive for you. So, hurry up, get the SEO Checklist by SEOBUDDY (make sure to use our coupon code), and start improving your website and its ranking.