As a social media marketer, or anyone doing business online, you're probably always on the lookout for tools that improve productivity and help you as well as your team waste less time.
#SocialMedia scheduling tools are here to save the day, as they are the number one resource needed to work smarter and not harder.
Click To Tweet
So, for the sake of brevity and saving time, let's jump right into our list of top 5 social media scheduling tools.
1. PromoRepublic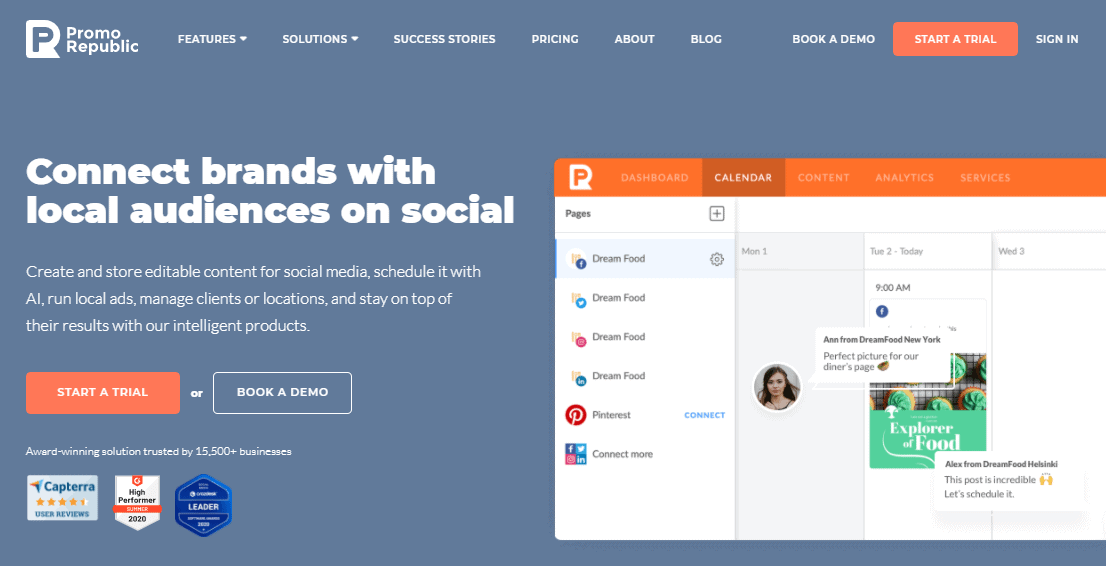 PromoRepublic is a social media management tool that proves creating viral and successful posts doesn't have to be as hard as you think. The tool comes with over 7.500 ready-to-use templates and 100.000 easy-to-optimize images. This means no more countless hours spent searching through stock photo sites hoping to find something that fits. Everything you need is right here, included in one tool.
If you're worried that using their templates and images will make you blend in with the crowd, worry no longer. Along with the comprehensive library comes a graphics editor that lets you customize backgrounds, fonts, colors and add logos. However, if you happen to be the super creative type, feel free to open an empty canvas and build a template from scratch.
The Post Ideas Library is a standout feature of this tool as it has many different post idea categories, from serious to casual, that are sure to inspire anyone.
Once you've settled on what you want to post, just schedule the release in advance and rest until your content is up.
When your content does get published, you can easily track its performance with stats on comments, shares, likes, etc. All the monitoring features combined help you see how well your marketing campaign is doing. In other words, they tell you what you should fix and what you should keep.
PromoRepublic is currently on sale on AppSumo. There are three different plans up for grabs with prices of $49, $98, and $148. All of these are one-time purchases.
2. Sprout Social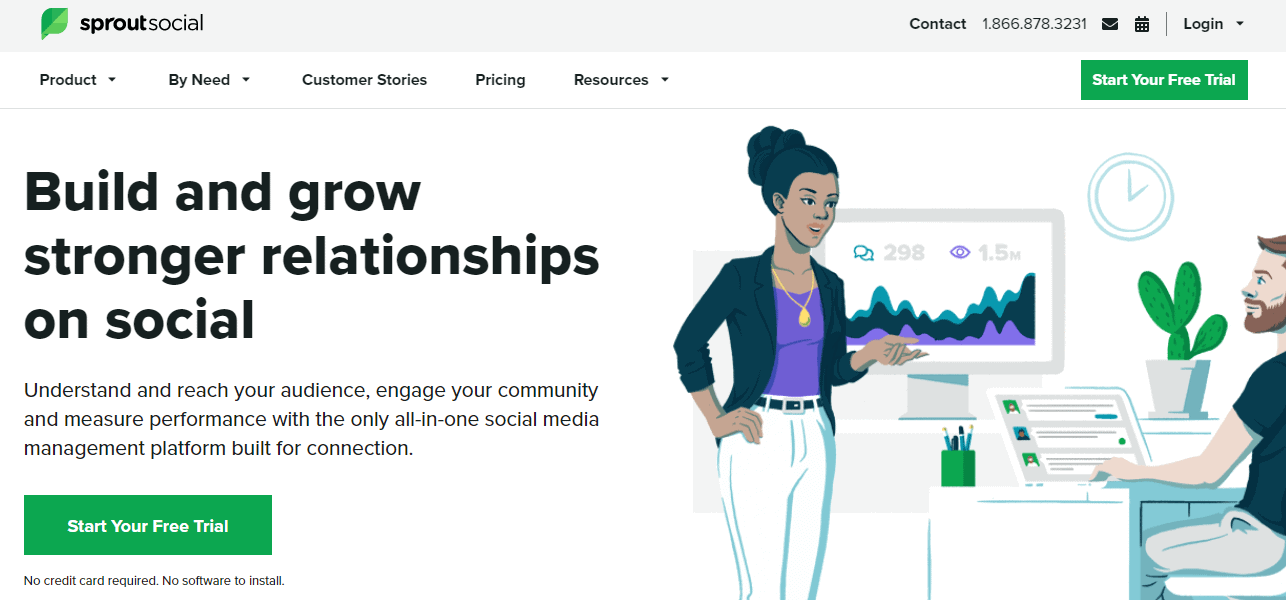 Sprout Social is a social media scheduling tool trusted by over 25.000 businesses of all sizes. It allows you to uncover social trends by listening, or in other words, gathering data that informs your marketing team and helps you build a strategy in a clever way. Once your strategy is all done and you're ready to start producing content, Sprout Social is here to help you schedule, organize and plan any type of content you wish to publish.
It's also going to aid you greatly in engaging your community as it allows users to streamline monitoring and improve responsiveness using a single inbox.
Another thing worth mentioning is that, with Sprout Social, you can track your campaign's performance. The analytics you will get enable great planning by showing how you're doing at the moment.
When it comes to acquiring this tool, there are three different price plans to choose from. The cheapest one, called Standard, comes around to $99/mo per user. The other two plans are called Professional and Advanced. The former costing $149/mo per user and the latter $249/mo per user.
3. Planable
This tool promises to help any user plan content 6x faster. In essence, Planable is a typical social media scheduling tool, but with an emphasis on collaboration. So, if you work in big teams, this might be the tool to consider. It makes leaving comments and feedback both aesthetically-appealing and functional. And who doesn't want a bit of light-heartedness during their work hours?
Once a piece of content is created, higher-ups can approve it right away, and you'll be able to see any updates in real-time. That way, you can get content out super fast. If the content prepared is for a client and not your team, don't worry; the same applies.
By using this tool, you can say goodbye to tedious spreadsheets and repetitive tasks. Instead, just plan your content calendar visually and with ease.
Planable offer their services for free for your first 50 posts, so you can see whether or not the tool really works. If you do decide on purchasing Planable at the end of your free trial, you'll be looking at either $33/mo for the Starter plan or $83/mo for the Premium plan. There's also a custom price plan for larger companies.
4. Post Planner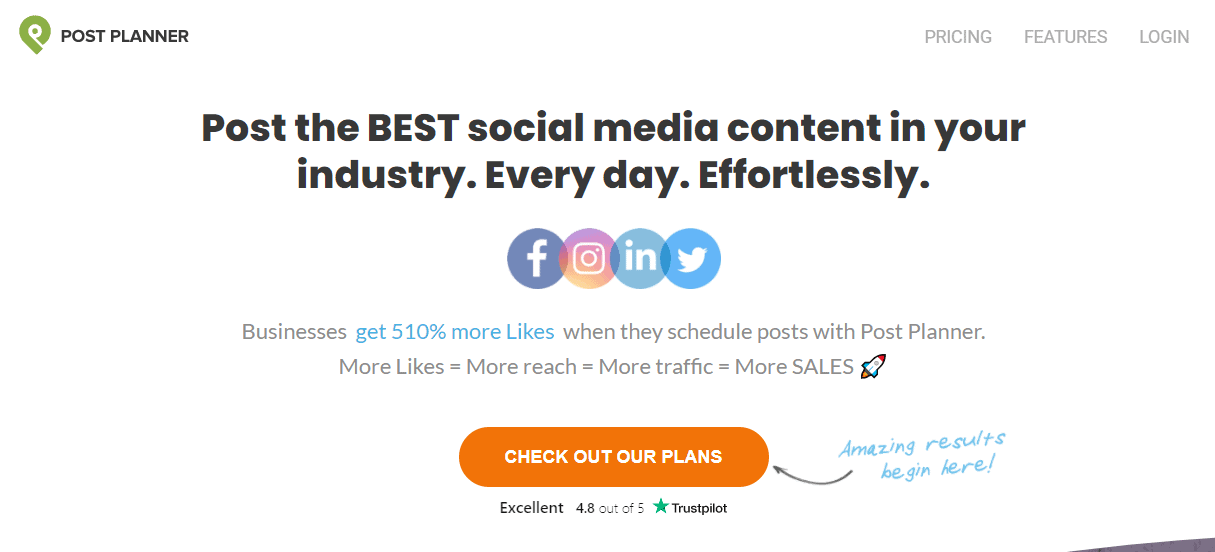 Believe it or not, there is a better time to post, and Post Planner will tell you when that is. This tool is becoming increasingly popular, so let's take a look at how exactly it works.
The first thing it promises to do is help users discover viral niche content by using star ratings to detect hidden gems. After figuring out your niche with Post Planner, you can then promote your content by uploading all of your branded media, connecting all of the blogs you own, and leveraging your virality to attract more traffic.
When everything is set up content-wise, all that's left to is create an automated posting plan. Doing this will allow you to set your posting days in advance, as well as the exact hour for posting. You can also set restrictions on what can be found in a piece of content. For example, you can allow images but not videos.
If you decide that Post Planner is the tool for you, you'll be looking at either $3, $9, or $19/mo, depending on the features your business needs. It is worth noting here, however, that the above-mentioned prices only apply if you choose to be billed annually. So, if you wish to be billed on a monthly basis, they will be higher.
5. Plann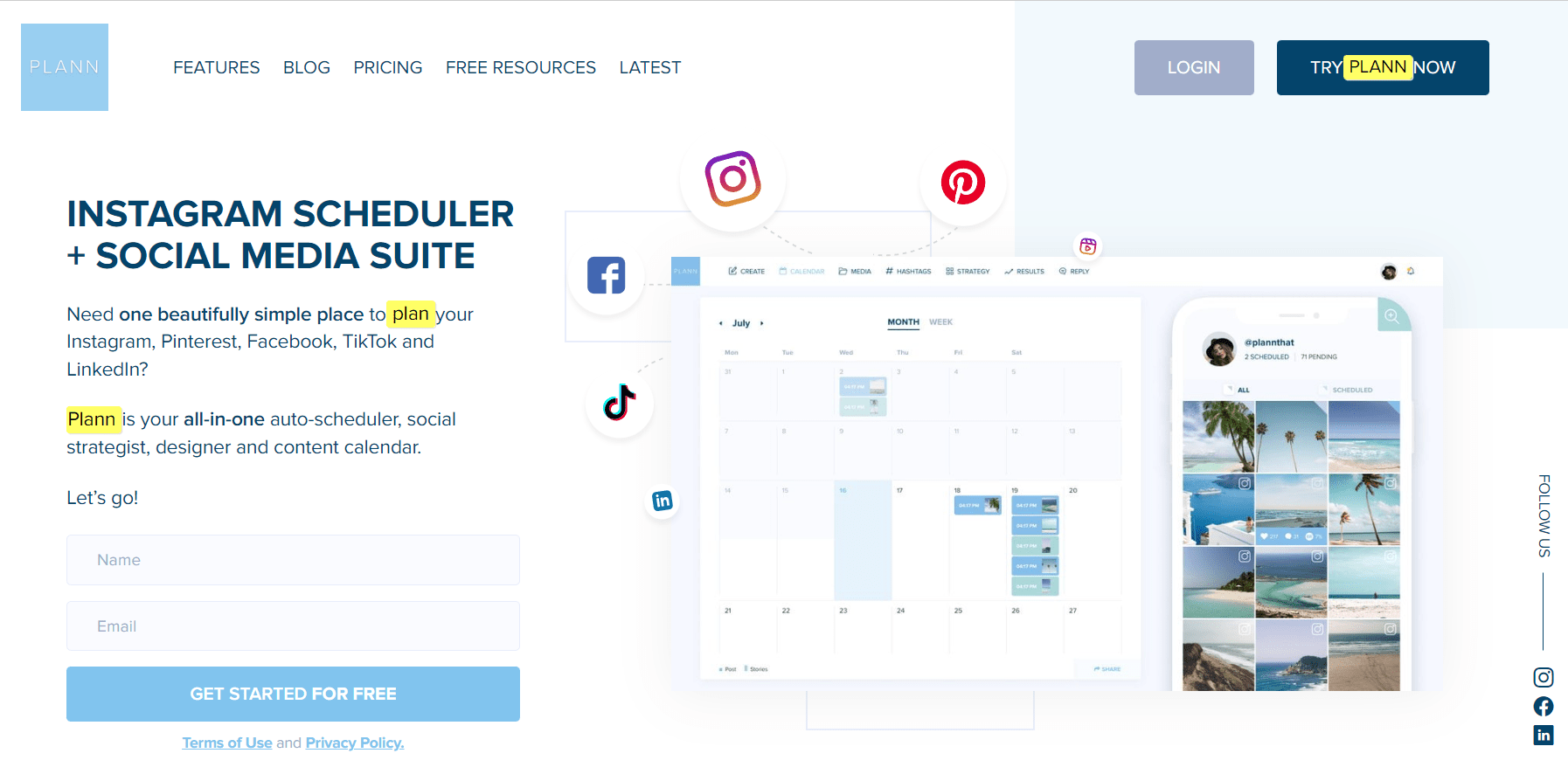 Plann is an all-in-one scheduler, social strategist, designer, and content calendar where you can schedule and plan your Instagram, TikTok, Pinterest, Facebook, and LinkedIn.
It is loved and trusted by 3-Million+ of the best brands.
Had a Features Visual calendar which is a beautifully simple space to solidify your plans for the week. Socials, emails, blog posts – everything.
and also Strategic Tools where it is Easy to learn strategic features to take you from a beginner to talking social strategy within days.
To guarantee your entire success on social media, Plann is a holistic Instagram scheduling, analytics, and strategy suite that is aesthetically focused, exactly like Instagram. With the help of a stunningly effortless drag-and-drop workspace, you can also design your own distinctively designed Instagram feed. If you do love to get this tool you can start with a free trial for 7-days and then commit monthly from just $9/month including a companion app.
Final Thoughts
Automating your social media activity and scheduling your posts really takes a lot of work off your hands. So, why not give it a shot!
We recommend using
PromoRepublic
as it is the most versatile tool of the bunch.
All in all, we hope you found this article helpful, and if you have any further questions or inquiries, feel free to comment below.