PageOptimzer Pro is an SEO tool that is really simple to use and understand. It is an on-page optimization tool that will scan a page and give you a set of recommendations for improving it. However, this is not the only tool out there that is able to do this. 
Don't like #PageOptimzerPro? Check out this article for some great alternatives!
Click To Tweet
Many similar tools have some really cool and unique features, and we will go over them right now.
1. MarketMuse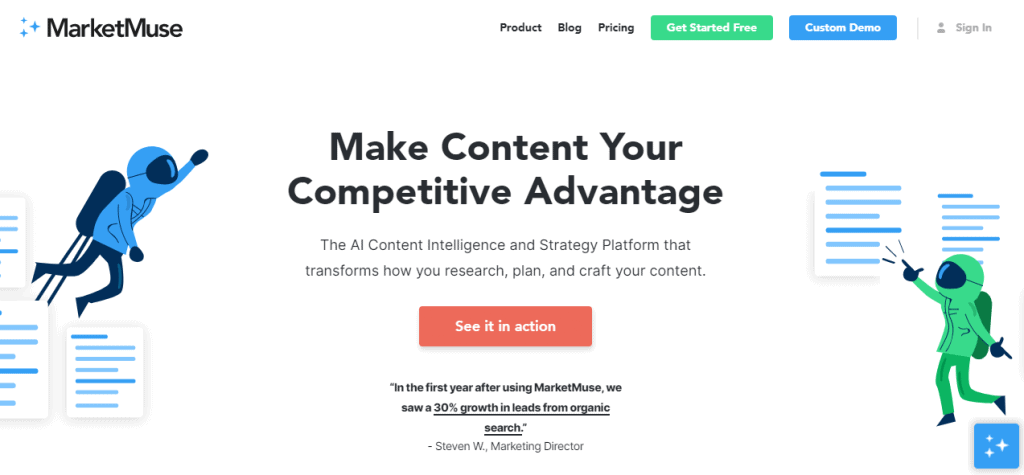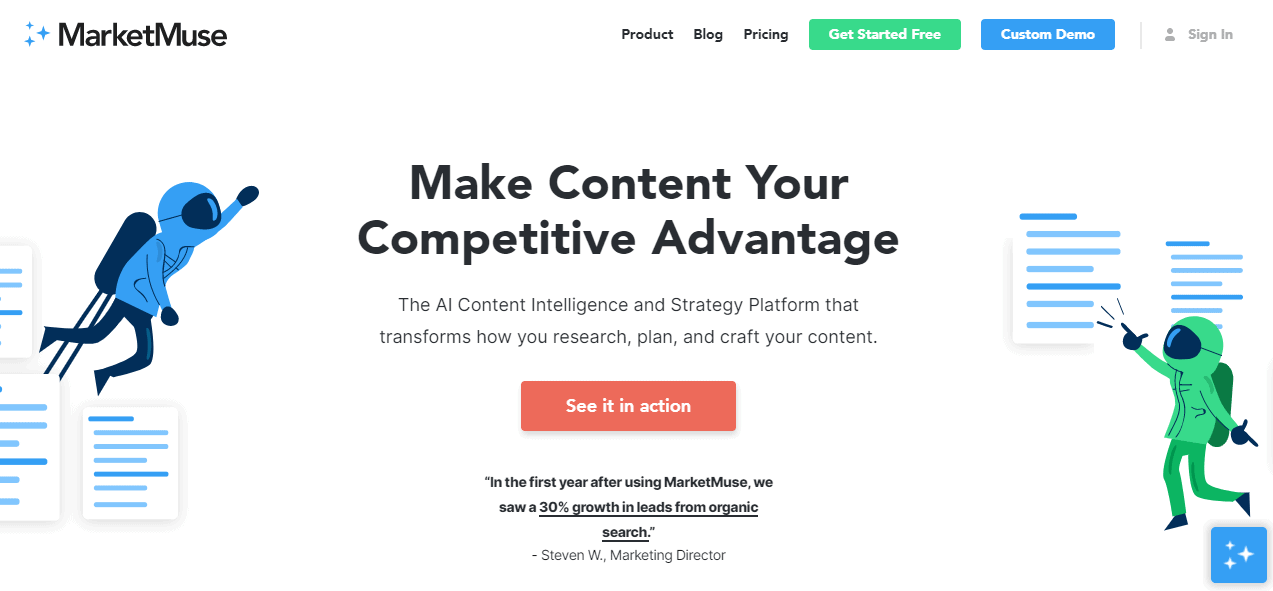 MarketMuse is a platform driven by AI that helps you build a content strategy and measure its quality, find gaps in your topics, and accelerate your research process so you can spend more time creating content. If you want to be seen as an expert in your industry, this is the tool for you.
How does it work? Well, MarketMuse has a modeling technology that analyzes thousands of pages on any topic and identifies the most relevant topic to cover. With it, you can even check how your competitors are doing when it comes to measuring up to MarketMuse's standards. That way, you can identify their strengths and weaknesses.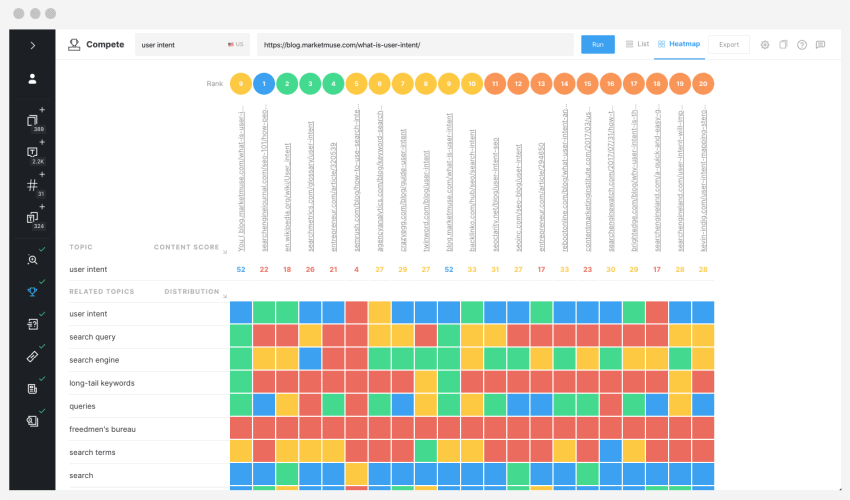 With this technology, you can find gaps in topics and produce content that fills those gaps. And before you decide to publish your content, you will get a quantitative measure of its quality and how well it matches your topic's user intent. You will also get a defined target to reach. 
Moreover, the content brief feature works like a guide for writing content. For example, when using it, you can get detailed guidance on structure, subheadings, topics, questions to answer, and your audience. You can even see which pages would be best to link, so you are ready for those SEO checks. 
You can get this tool for $69 for up to 15 queries per month, $138 for up to 40 queries per month, and $207 for up to 70 queries per month.
2. Ryte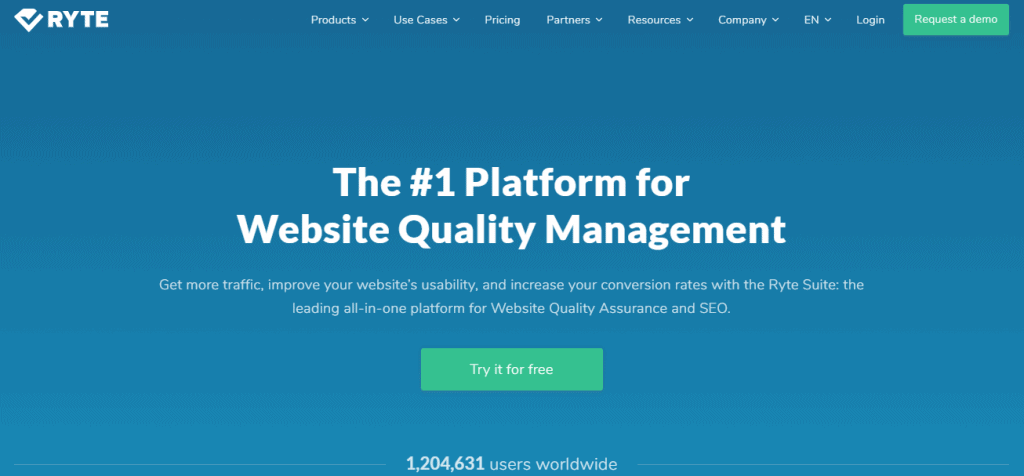 Ryte is a platform for website quality management. It shows you all the things you need to be aware of to have good website quality. These include KPIs, SEO support, and technical advice. 
This tool will analyze your website and provide you with a set of recommendations on how to fix any issues and improve your website's quality.
Ryte will do performance analysis on your site, check for technical issues and legal compliance. The legal compliance check will identity external tracking scripts on your site and show you what to include in your consent bar.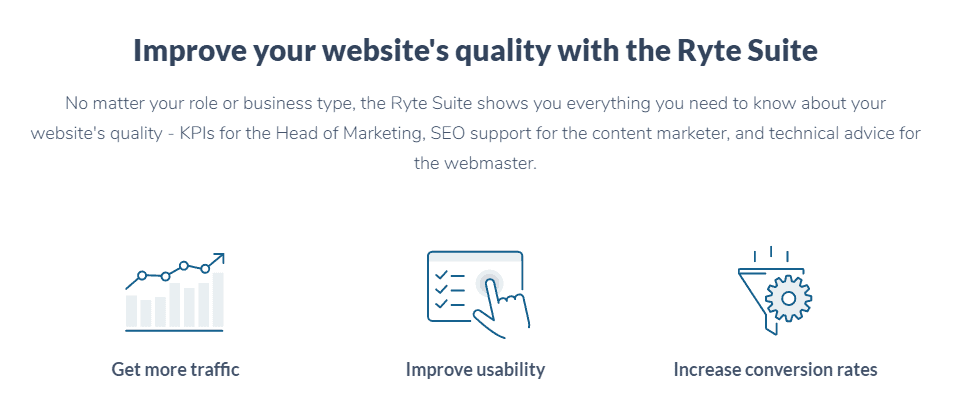 Other features include JavaScript crawl, custom analysis, mobile crawl, and single page analysis. 
For your KPIs, you have a dashboard with an overview of your site's quality, accessibility, broken pages, and SSL encryption.
The content success feature helps you get topic ideas, compare your content with your competitors', and craft content that will drive engagement, more traffic, and conversions.  
Lastly, when using Ryte, you get daily real-time bot analysis with BotLogs. This will view your URLs from a search engine's perspective and ensure your pages are optimized. 
Oh, and also, before deciding on buying this tool, you can try it for free. 
3. WebCEO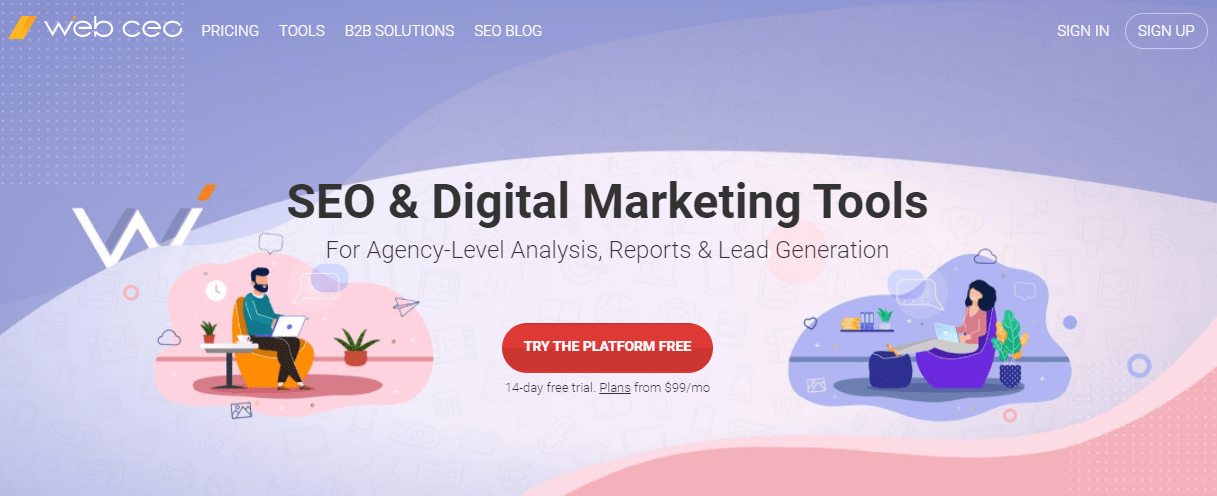 WebCEO is an SEO and digital marketing tool. This tool has features that help you do keyword and ranking checks, run in-depth SEO audits, monitor backlinks, and conduct social media and competitor research. 
Its interface is intuitive and easy to use, so you can quickly access all the information you need.
With the competitor research feature, you can analyze up to 100 domains simultaneously, get data on their performance, and study what your competitors are doing well. You can also track specific links and domains with the highest traffic. And lastly, you can see what meta title tags your competitors have and analyze their keywords. 
The keyword checker checks rankings across organic results, SERP features, and paid results. The keyword ranking checks can be done for mobile and desktop searches and analyzed for multiple locations.
You can even use a YouTube rank checker.
With WebCEO, you can see how you rank against your competitors and add some additional SEO metrics to your SEO reports, such as global searches, local searches, number of competing URLs, total visits, and so on. 
The technical site audit is done regularly to maintain integrity with search engines. After it is completed, you will get a report on issues such as page not found, broken image links, server issues, page access issues, broken anchors, broken JavaScript and CSS files, and more.
The social media analysis checks your brand's presence on all social media sites and tracks your performance as well as audience engagement. With it, you can track social media mentions, analyze your traffic, and see how your content does on different sites.  
The traffic analysis is done by first integrating Google Analytics, after which you get reports on keyword ranking trends, backlink data, social metrics, and many more things.
Lastly, included in this tool is a feature that does toxic link checks. This finds and audits your backlinks, discovers potential spam backlinks, and sends these toxic links to Google's Disavow Links Tool. 
For this tool, there are several different payment plans that you can check here, which start at $39 per month.
Conclusion 
Knowing how your site performs in terms of content, analytics, traffic, and SEO is crucial if you want to stay competitive. 
Many different tools can help you analyze your site and its performance, but the one we would recommend is
MarketMuse
.
With it, you get a range of features and benefits, and it also helps save time when researching a topic you want to write about. That way, you can focus on the most important part of your strategy, producing high-quality content.