Blockchain technology clearly shows us the unstoppable fusion of human innovation and the incredible power of collaborative creativity on the edge of technology and vision.
News and solutions that are already available and functional today and thousands of new applications that are still in development or just presented as ideas are constantly arousing growing interest are often reminiscent of science fiction movies.
Let's look at blockchain technology through the existing paradigm of money, established power structures, and established patterns within today's economic system. It is a revolutionary technology that lays the foundations for a whole new worldview with substantial implications for almost every aspect of our lives.
No one can say that cryptocurrency will survive and rule the world. Still, the truth is that blockchain technology will completely transform the ways money, commerce, AND communication work and prove to be one of the greatest innovations of our time.
Choosing a fitting #WordPress theme for your website can mean a massive difference between success and failure. If you decided to run a #cryptocurrency blog, here are some exciting themes.
Click To Tweet
1. BitPal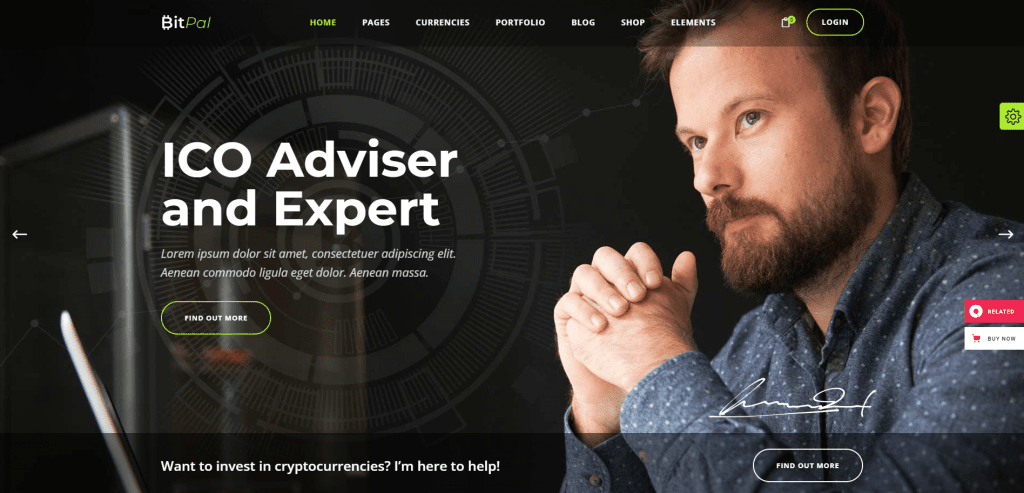 BitPal is a professional crypto WordPress theme made for startups, ICO agencies, or bitcoin businesses. It's truly one of the top choices for creating a site related to crypto, Bitcoin, or others.
They offer a professional ICO and cryptocurrency theme with a great main home dashboard. You can also choose to install their ICO wallet app and pay like never before. With BitPal, you can find the perfect solution for your crypto business. You can choose from many fantastic layouts, flexible options, and premium plugins, all for free.
With ICO Launch Countdown, you can share important details about a cryptocurrency's value and market status. It can be integrated with VISA, PayPal, American Express, and MasterCard.
With the ICO Listing feature, you can present your ICO or crypto project in detail, like currency lists, ICO lists, and ICO countdown. Use interactive Roadmaps to set your assignments, items, and news in chronological order.
BitPal is fully compatible with the most popular WooCommerce plugin for eCommerce, and you can link it with your online stores. The theme has a lot of other powerful features like Info Boxes, Pie Charts, Icon Showcase, Crypto Calculator, Animated Elements, Live Cryptocurrency, Clients Carousels, and more.
2. RexCoin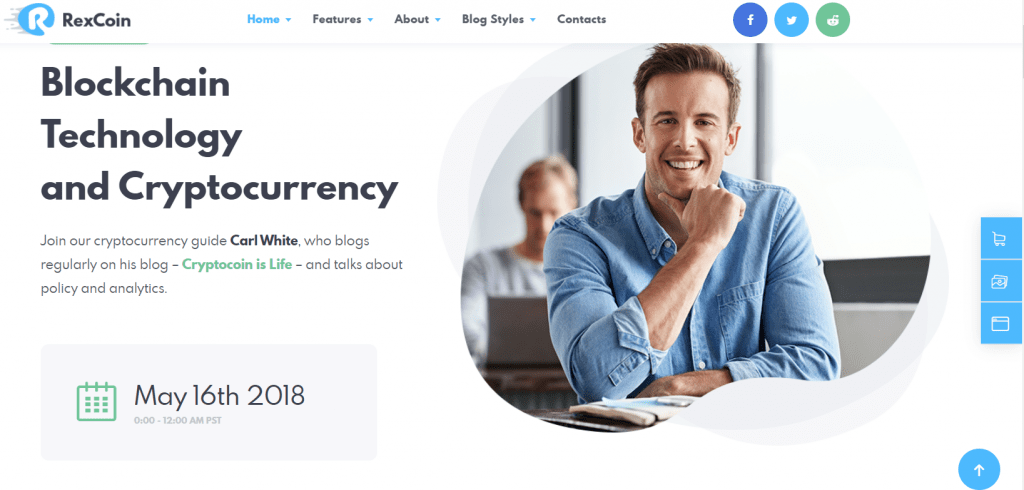 RexCoin is a modern, multi-purpose WordPress theme for cryptocurrency and Coin ICO. It is perfect for a cryptocurrency blog and financial blogs in general too. The RexCoin theme is equipped with unique crypto plugins that are made for ICO. You can use these plugins to tell the world about your mining rig or crypto business company overall.
With this theme, you can promote your corporate firm, sell coins or accept donations and payments with the Give Donation plugin. All donations and fees are charged in a currency, not crypto.
It has highly customizable layouts and powerful add-on plugins for managing your custom API keys, post types, and social media profiles. Also, you can find many features like sticky menus and sidebars, a customizable Google map, a translator, custom fonts, and tons of shortcodes.
This theme is 100% responsive on every device, and it is a user-friendly combination of extended functionality and comfort. It has a robust framework, a one-click installation process, and professional support.
3. Hoverex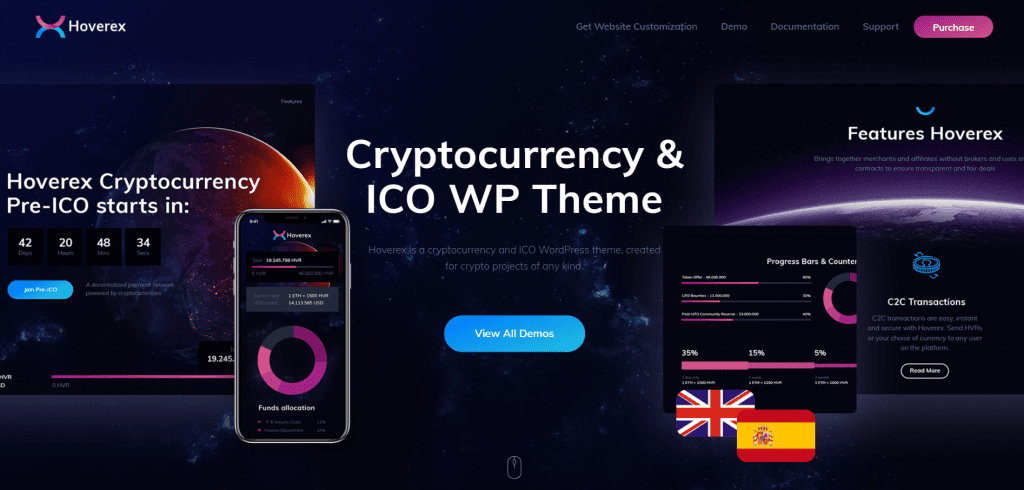 Hoverex is a WordPress theme you can fall in love with. It is easy to launch your website with this theme, and it takes only a few clicks to install it. Hoverex includes one of the most important features of any blog dealing with money, and that is the GDPR Framework and Compliance.
This theme includes outstanding features like Elementor, WPBakery, and LearnPress. It has a vibrant design, advanced crypto charts, diagrams, and tables, making donations and token sales buttons, premade roadmaps, white papers, and like.
You can install a demo in a few seconds and try it for free or just change the texts and images to see how unique your new cryptocurrency website would be. It has fully responsive layouts, a builder for a header and a footer, and a sidebar manager to manage which ads you want and where you want to put them. It is also SEO enhanced right from the get-go.
4. Bitunet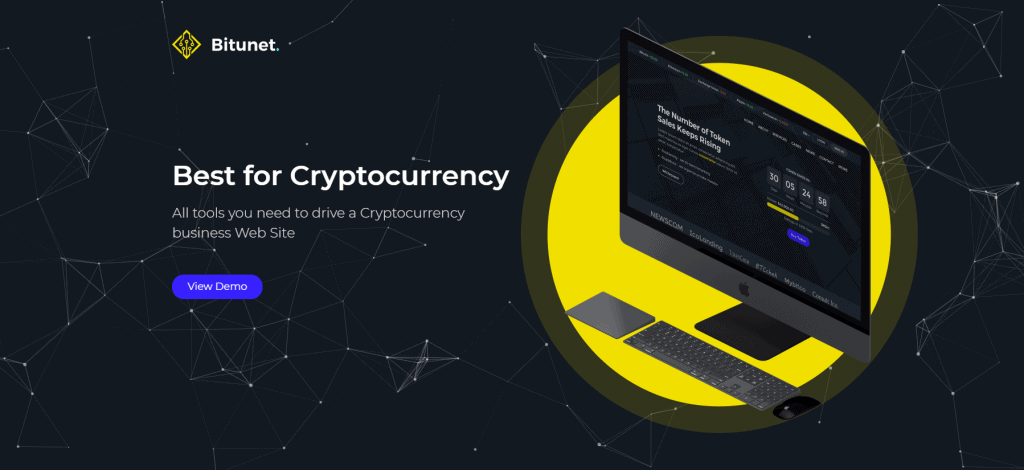 Bitunet is just one more fantastic WordPress theme for cryptocurrency websites. Plus, it's so easy to use. You will have excellent author support and a unique layout selection. Bitunet is a multi-purpose theme with various skins and great customization options.
It supports the Elementor Page Builder that perfectly supports the responsive design of your website. You do not need to have any additional experience in site-building.
One more feature is Sample Data Installer, a module created for templates that enables you to upload images, configurations, widgets in a few seconds. It also has a search engine code that makes optimization attempts easier. The good thing is that you do not need to be an SEO master to get a great ranking of your website on Google.
5. TradeBit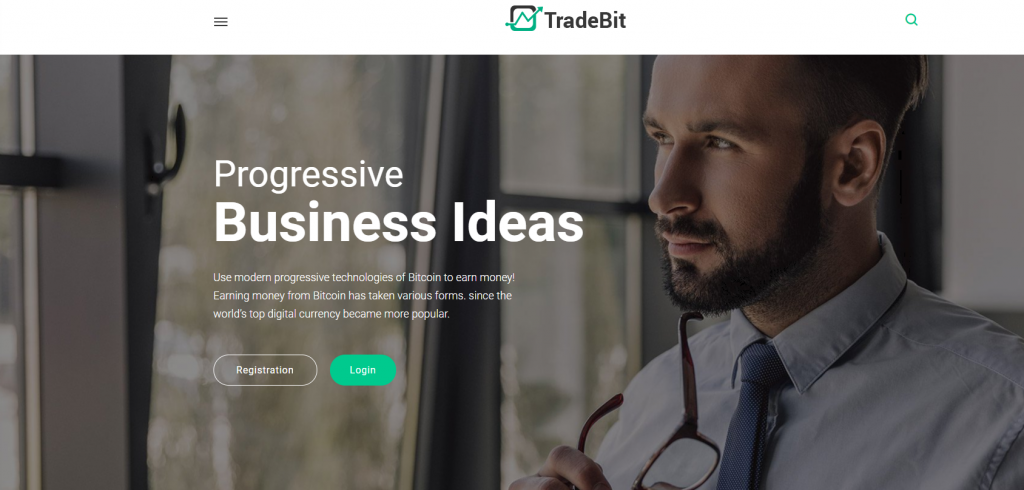 TradeBit is a WordPress theme that provides outstanding functionality and page responsiveness for every cryptocurrency website. With Elementor, you will be able to add even more features to this excellent theme. You can use a drag-and-drop page builder equipped with fantastic modules to create unique content.
This theme also gives you free bonuses and special giveaways like free images or appointment plugins to enrich your website with an online booking appointment system. You will have 24/7 support to resolve all your issues quickly. The TradeBit theme has a fantastic loading speed, proven by tests. You will have full integration with WooCommerce too.
Wrapping Up
Cryptocurrencies are globally accepted for international payments via the Internet and investments. They are not declared by central banks or linked to trade bank accounts. There is no transaction fee, so international payments are more straightforward and cheaper because cryptocurrencies are not tied to a country or subject to regulation.
This way, anyone with an Internet connection can become part of that financial system without using a traditional banking network.
Such systems are almost inflation-resistant and less dependent on countries' monetary policies. If you are entering the world of cryptocurrencies and want to have your website and start your own business, this article offers some great solutions for you.