#LMS plugins are a must when starting an online class and can help regular #schools navigate the waters of online teaching.
Click To Tweet
Are you looking for the best WordPress school management plugins to control the operations in the school? As you explore these plugins, remember that security is paramount, so consider using tools like WP Force SSL to enforce HTTPS across your site, and WP Login LockDown to defend against repeated unwanted login attempts. Stay with us because this article will present you with the 5 best options for 2023.
5 Best WordPress School Management Plugins 2023
These plugins are designed to manage all school operations and can help you build and sell online courses. These are a good option if you want to invest in the best WordPress school management plugins.
School Management Plugin
MasterStudy LMS
SakolaWP Plugin
Ekselen
Edivently LMS
School Management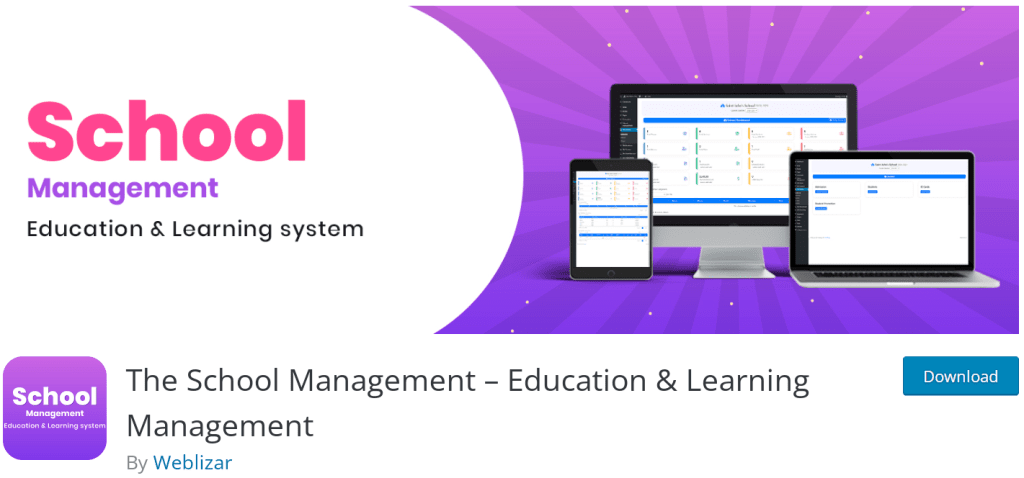 This plugin allows schools to manage staff, students, exams, payments, and invoices. With School Management Plugin, schools can also post a board with articles to give students teaching material. School Management Plugin integrates with Zoom, allowing teachers to hold online classes.
Additionally, via the Zoom panel, parents can track their children's progress. Students can also take exams and classes via the Zoom board. This plugin can also integrate with PayPal and Stripe, allowing schools to accept payments and with Nexmo and Twilio to send SMS messages.
Price: The Lite plan is free, while the Pro costs $49.
MasterStudy LMS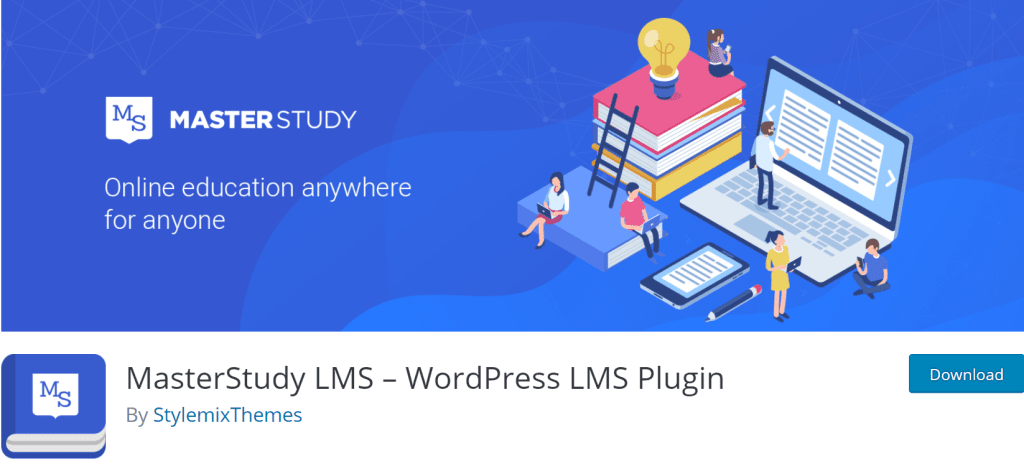 As one of the best WordPress school management plugins, Master Study LMS allows schools to create robust learning management systems. With the plugin, users can create and sell courses online. All types of courses can be created with the plugin, and the best thing is that everyone can create and sell them.
The plugin provides access to educational content and quizzes. It is easy to manage courses from the dashboard. Also, MasterStudy LMS allows complete theme customization, so you can create the perfect class.
Price: MasterStudy LMS is free.
SakolaWP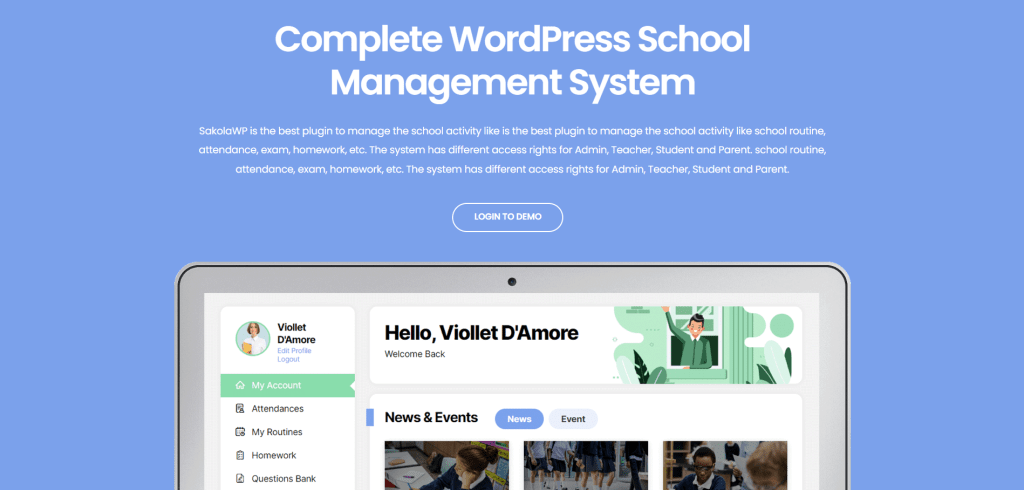 SakolaWP is one of the best WordPress school management plugins to manage all operations at school. This plugin manages attendance, exams, classes, homework, marks, and events. The plugin is well-equipped to manage operations at any school level. Users can get different access levels, including administrators, teachers, students, and parents.
The plugin also offers extra features like the ability to search through student courses or configure everything you want.
Price: SakolaWP costs $49.
Ekselen
Ekselen, one of the best WordPress school management plugins, is the ultimate school manager. It has one of the best features among all school management plugins and is one of the best-ranked plugins on the market.
Ekselen is known for its responsive design and full customizability. This plugin allows schools and other educational facilities to manage classrooms, subjects, students, timetable schedules, employees, expenses, fee payments, teachers, and much more.
Also, users can manage events and other information the way they like. Lastly, Ekselen comes with voice command support, which makes the plugin convenient and easier to use.
Price: Ekselen will cost you $19.
Edivently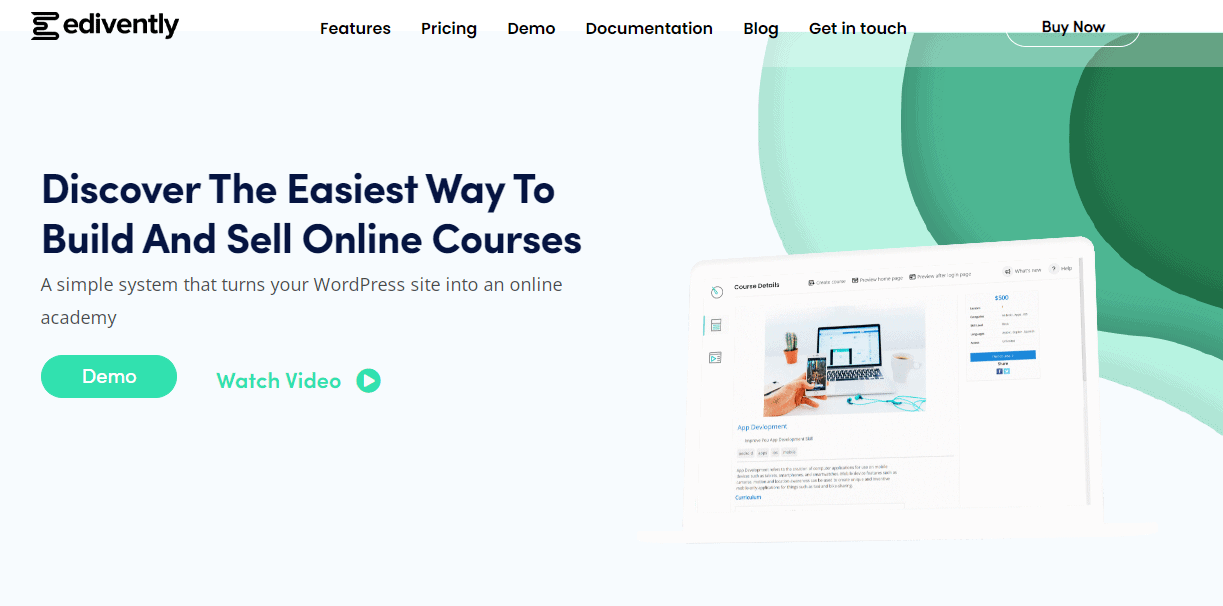 The last WordPress school management plugin on this list can turn your site into a learning academy. Edivently allows users to create their courses, sell them online, track and receive payments, test students, and more.
This plugin was created with students and instructors in mind. The former can listen to the course and track their progress via their accounts, while later can create and sell courses on their marketplace.
Price: If you opt for Edivently LMS, it will cost you $21 to get it. The price is for one site.
Wrapping up
These school management plugins are great for every educational facility. Many of these can also help to create and sell online courses, which is handy considering online courses are becoming popular.
We are certain these plugins will help you in your day-to-day tasks at school.