If you're looking for a way to create your own website and maybe even start a business, WordPress is probably the platform you will think of first. It is by far the most popular, some would even say amongst the best website builders these days, with more than a third of the whole Internet basing its existence on it.
Over the last few years, some viable #alternatives to #WordPress have begun popping up, so it's a good idea to see what they have to offer and how exactly they plan to dethrone the king.
Click To Tweet
What do these new platforms do differently and who are they aimed at in the first place? That's what this article is about – it's an overview of the best WordPress alternatives at the moment. So let's get started!
Wix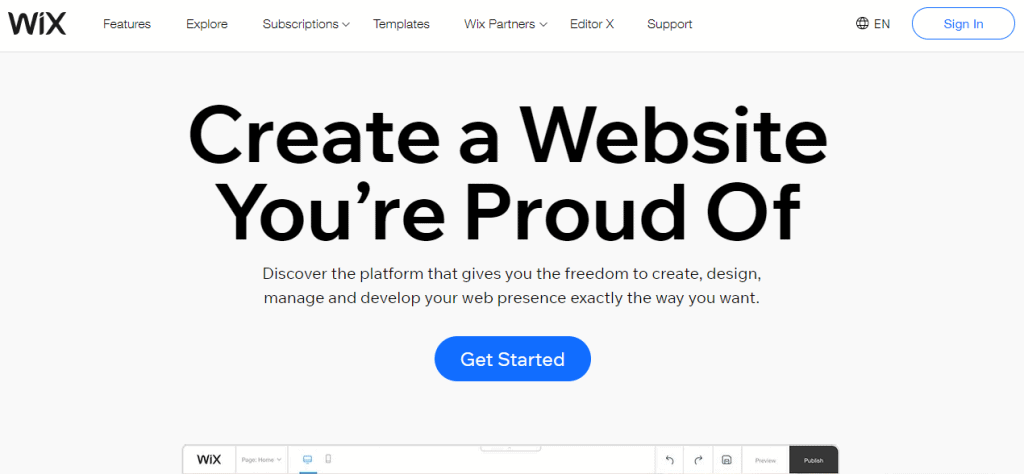 Wix is probably the best-known competitor to WordPress out there. Indeed, they have invested a lot in their marketing campaigns over the last few years, but there's more to building a website than just a good commercial.
The main difference between Wix and WordPress is in the way you construct your website. Wix insists on simplicity and essentially doesn't require any coding knowledge at all. Its drag-and-drop principle is very user friendly, so even a complete beginner can create a website in a flash, plus you have hundreds of templates to choose from. However, if you're aiming for a slightly bigger and more complicated website, you may find Wix struggling with that a bit.
It should also be said that WordPress is really the best way to go if you're aiming to create a blog, and it scales better if your goal is to set up an online store that will eventually grow.
That being said, Wix's big advantage is its excellent support. It also has a very decent selection of apps to choose from and quality SEO options. Intuitiveness is its main strength, though, so if you're completely new at this sort of thing and are not planning anything on a huge scale, Wix is the place where you can get things up and running quickly.
Squarespace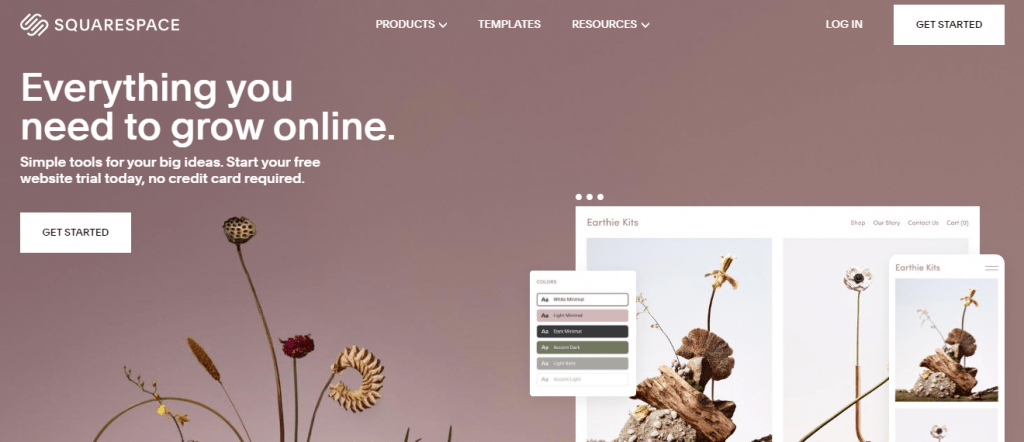 Another platform that's been on the marketing offensive in the last couple of years or so. In many respects, Squarespace is quite similar to Wix, primarily because here too it's also quite easy to set up a website. The templates you get access to here look absolutely brilliant, but they may underperform a bit in terms of functionality. But if you want to leave a great visual impression on your visitor, finding a better option than Squarespace will be quite a challenge.
It should once again be noted that WordPress is a much better option if you're thinking about opening a blog because it allows you to finely tune each individual post. On the flip side, Squarespace allows you to import your WordPress blog, something WordPress cannot reciprocate.
Squarespace is also quite good if you're thinking of setting up a shop, but WordPress and the WooCommerce plugin are a pair that's really hard to beat. More importantly, Squarespace will charge you 3% for every transaction on their website. They will, however, provide excellent support.
The conclusion in this case is very much similar to the conclusion for the first entry on this list – great for simple and efficient websites that need to be set up quickly. If you're aiming to gradually expand or are a bit more ambitious with your website, maybe consider WordPress.
Weebly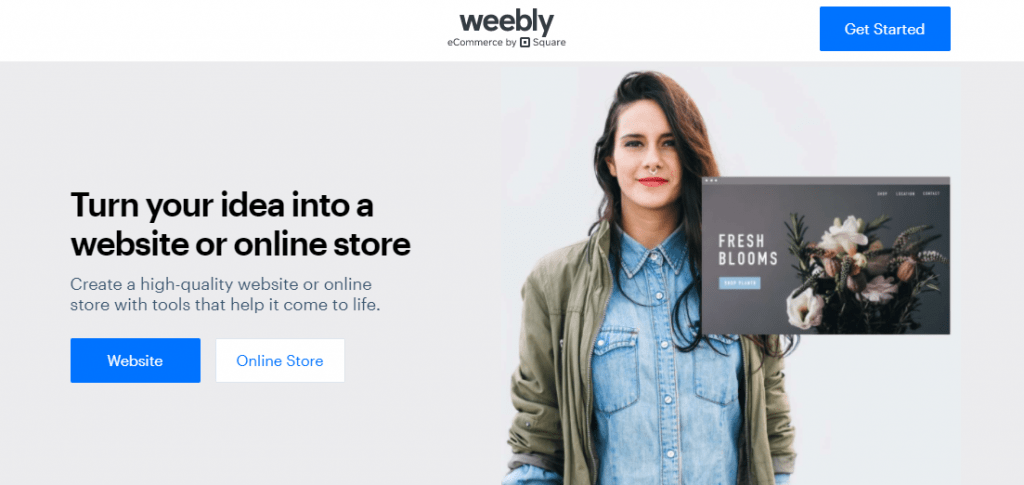 Out of the first three entries on this list, Weebly has to be the simplest one to use, and that's saying something! Unfortunately, it has a relatively low number of templates you can use. But that's just about the only serious complaint anyone could have.
Weebly provides a very impressive array of options when it comes to creating blogs and really gives WordPress a run for its money, plus it works just fine as a platform for setting up webshops. There are plenty of apps, the SEO section is also very good, and you will get quality support, too.
In addition, the prices are quite bearable and clearly defined, which makes this offer perhaps even the best out of the three. Keep in mind that the free version has a lot to offer as well and will surely set you off on the right track. Weebly is just a well-rounded product that covers a whole lot of areas really well, so you should seriously consider basing your website on it if you're not sure about WordPress.
Once again, though, WordPress is a better choice for bigger websites and the sites that are looking to expand with time. Think about what you want and then decide.
Shopify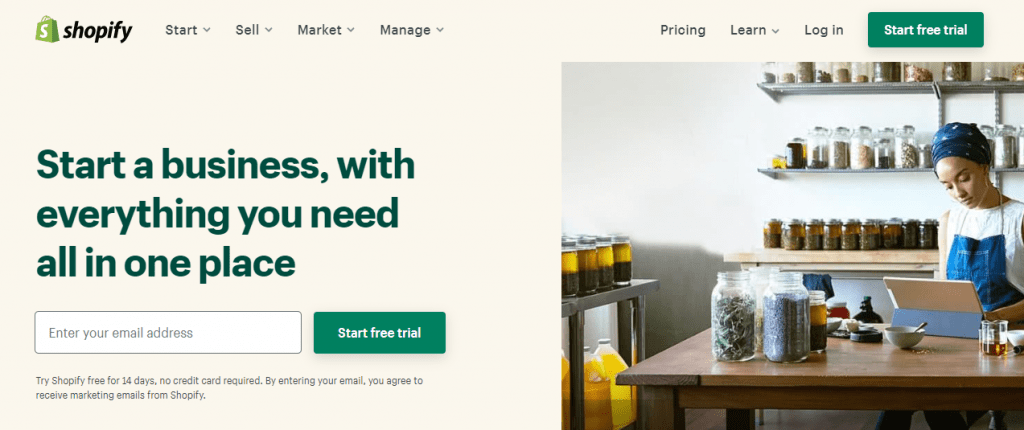 Now, this may seem like a strange choice to put on a list of best WordPress alternatives at first, but keep reading. True, Shopify has only one function, and that is to help you create your own online store, but boy is it good at that! This is the best alternative to that deadly WordPress – WooCommerce combo we discussed earlier.
A huge community means you have plenty of apps for all sorts of things you can add to your store, and it allows you to control shipping and take care of the taxes quite effortlessly (and which merchant doesn't want THAT!).
The shops are very easy to set up since the interface is quite simple to use, and you have loads of marketing options you can use to reach out to your potential clients (there's an app for pretty much anything you can think of).  Shopify's high-converting themes are also some of the best in the industry. Oh, and you can easily purchase a domain here for your shop.
Shopify will charge you a 2% fee per transaction, but this may very well be worth it, to be honest. Getting a functional, good-looking, quality store is well worth giving up 2% because, in the long run, the features you get here are bound to attract more clients. No matter how much (or little) you're planning on selling, Shopify is the place where you should do it.
BigCommerce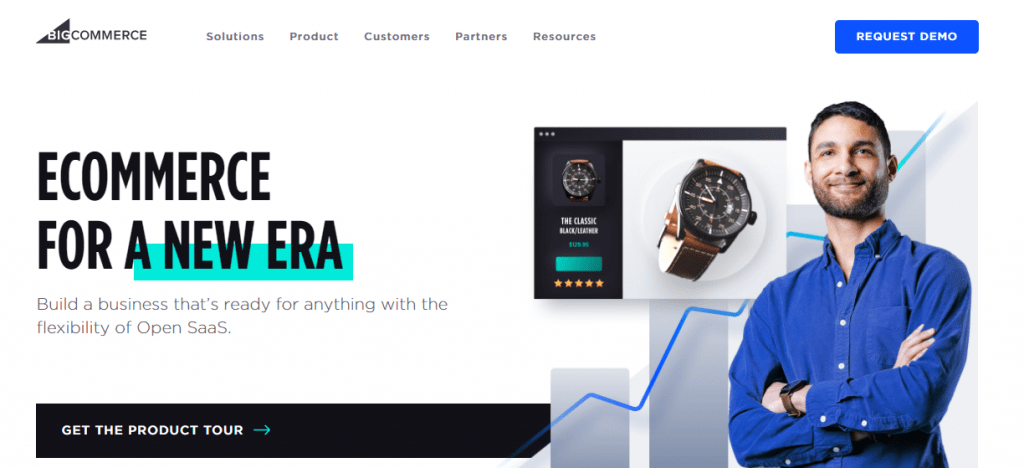 But Shopify is not your only option when it comes to building an online store. BigCommerce is a great alternative to that, with some very interesting features. First and foremost, a greater emphasis is put here on search engine optimization, so if that's something you would like to focus on, you'll love the options you get.
A significant advantage over Shopify is that you will not be charged anything for the transactions that go through on your website. Instead, you have a limited number of transactions that can be executed there, and going over that limit means you are automatically upgraded to a bigger package. The difference between the two packages is pretty steep, so from a financial perspective, BigCommerce is perhaps best suited for large stores who will go for the ultimate package anyway and don't have to worry about a more expensive package impacting their budget.
A major drawback is that you can't set up a multilingual store easily, plus the interface could maybe use a bit of an overhaul, for simplicity's sake. But don't let that discourage you! Yes, WordPress and WooCommerce are probably still number one, but you certainly won't regret going with this choice, and some interesting options will be added into the mix.
Webflow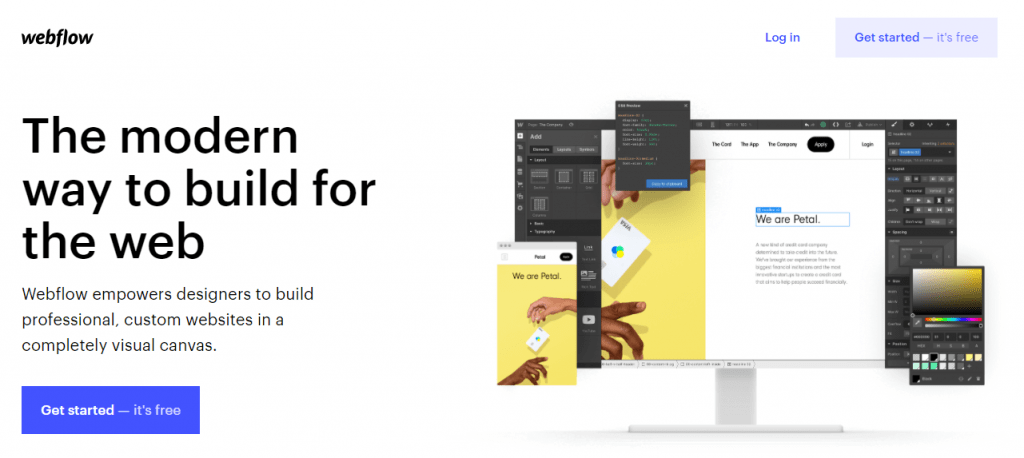 Webflow is a very serious challenger to WordPress, especially if you're a professional developer with a fair amount of experience. Many compare the way Webflow operates to Photoshop, and that certainly seems to be an adequate comparison – the two look and feel quite similar. Furthermore, Webflow allows you to create a website through its drag-and-drop system, and the code you get here is quite clean and simple to follow.
It also loads faster, allows users to very easily add CMS fields, and provides very good support. However, there are some issues with the way they approach CMS. For example, they do not allow you to edit the code, which is a great drawback when compared to WordPress, and you don't have a lot of power when it comes to setting up the URL. No option to redirect a big number of pages if you're transferring to Webflow will also probably annoy some people.
In conclusion, Webflow is a great platform for building your website, but only if you have some (significant) coding experience and are really willing to dig deep into your website's features. If you're a more casual user, WordPress is a much better solution. In addition, you will find WordPress a much more affordable option, too.
Drupal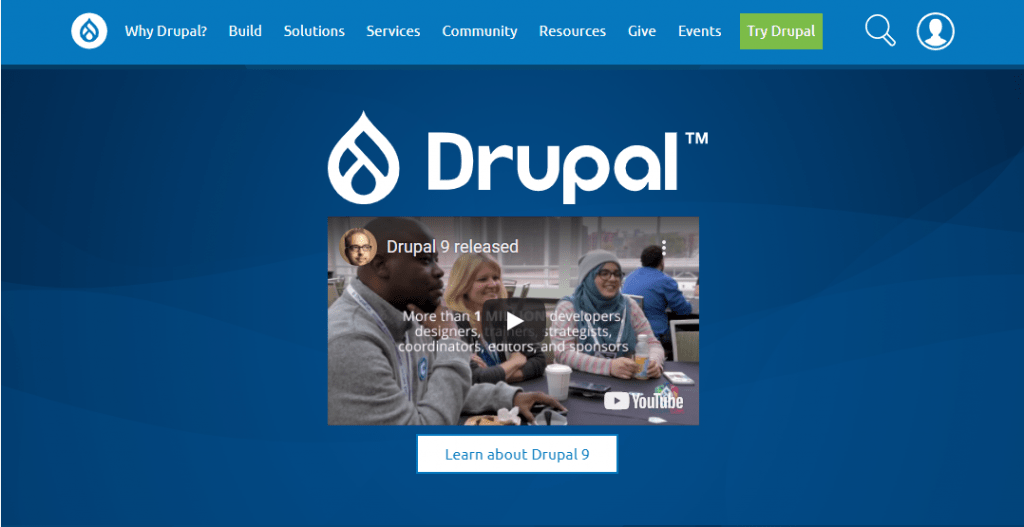 Drupal is also quite popular and has a fairly large following. It is also quite similar to WordPress, especially because both are content management systems, but there are also some notable differences, too. For example, Drupal supports multiple languages, whereas WordPress needs plugins for that. Furthermore, Drupal allows you to create roles and issue permissions as you see fit, which can be quite handy if you're running a larger team. WordPress sticks to just five available roles.
The problem with Drupal, however, is that it's quite complicated compared to WordPress, both when it comes to creating websites and managing them through the user interface, so teaming up with a UI design agency could be exactly what you're looking for. So, if you're not a full-time professional developer, then chances are you'll need some help or just struggle with getting everything going.
That being said, we need to point out that Drupal has a huge number of available modules (its version of plugins) and is regarded as an exceptionally safe platform. So, if you want your data to be under tight protection and/or if you're really serious about setting up a large-scale operation, Drupal is probably the way to go.
Do remember that you will probably need some help. On the other hand, if you're looking to create something more casual. WordPress should be your choice.
Joomla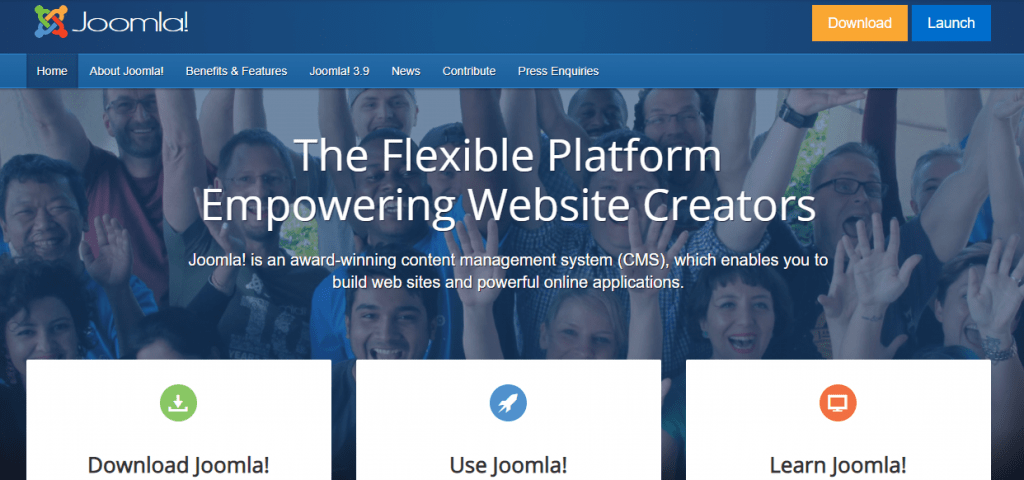 Last but certainly not least on our list of best WordPress alternatives, we have Joomla. It is an exceptionally powerful open-source platform with a huge community, so you know you can expect good things from it.
Indeed, it too has multilingual support integrated into it, but it also allows you to use different templates on the same website if you want to promote different types of content. With WordPress, you are stuck with one and the same theme.
Joomla also approaches the way you publish content in a bit more detailed manner, insisting that you create categories before you start. This may or may not be a downside, it all depends on your view.
What many people DO consider a downside with Joomla is the way it approaches content management. It is slightly more complex and requires more time to master, which can be a problem if you're a fairly casual user.
That being said, when you master it, you will see that Joomla is actually very flexible and can be used in a variety of different ways. It is also quite safe as various tests have reported a fairly high level of security of websites created on this platform. In short, it is a worthy opponent to WordPress.
Conclusion
And that's the list of our best WordPress alternatives for this time. Sure, there are many other platforms worth considering out there, but these are among the most popular, if not the most popular ones among them. Just remember that it is always difficult to find a platform that beats another platform in ALL respects.
It's all about which type of users is targeted by the website builder and then comparing that to your own needs.
You obviously won't go for something like Shopify if you're not selling anything and just want to write a blog. So think carefully about what you want to achieve, what customer experience mistakes you have to avoid, and how you want your website to grow, and only then will you be able to make the right decision.