So, you have created a WordPress account and are getting ready to start your website. You have the idea, you know what you will be putting on the site, and you got your domain. Great! Now what?
Are you scrolling through a list of themes and templates for your website, but you don't know which one to pick?
Naturally, you don't want to use the wrong #theme that will slow down your #website. You want the one that will make your #content pop!
Click To Tweet
Well, don't worry. In this article, we will review the top premium WordPress themes we think you should try and can vouch they will not slow down your site's performance.
1. WPRealEstate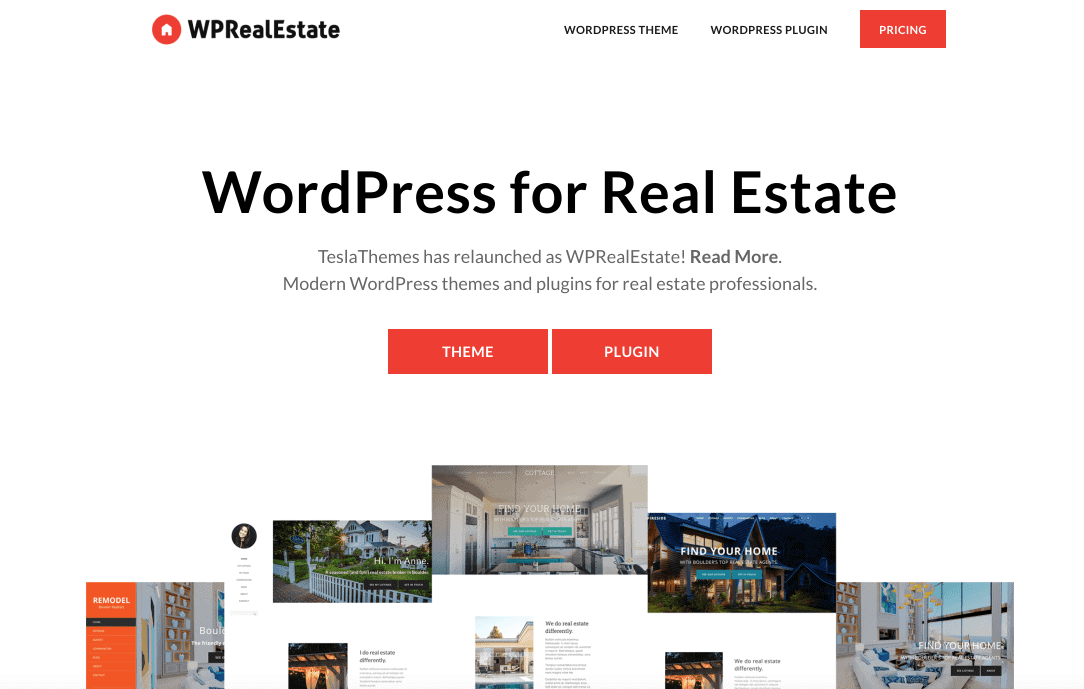 Most of the themes on this list are multi-purpose themes, with some exceptions for eCommerce or other uses.
By contrast, WPRealEstate is one of many WordPress real estate themes that are built and crafted exclusively for brokers, agents, and others in the real estate industry. This is a new theme launched in 2021 but built by an experienced team that has worked on many popular WordPress themes and plugins.
WPRealEstate sells a single premium theme, but the theme includes a "library" of beautiful and responsive designs. Once the theme is installed, you can choose a design or change between designs very easily. The theme also offers a huge array of design options via the customizer.
For page and post content, the theme relies almost entirely on the block editor. The big exception is for real estate listings, which are created and displayed using WPRealEstate's powerful new real estate listing plugin. The theme and plugin are designed to work together as one complete, seamless solution.
Prices for WPRealEstate range from $79 to $199 depending on how many sites you manage, and whether you need the theme, plugin, or both.
2. Astra

Astra is one of the most popular themes for WordPress. It is a multi-purpose theme, which means it can be used to create and build any kind of website, whether you need to build an e-commerce store or a blog.
There are both free and pro versions of the theme. The free version comes with everything you need to build a site, while the pro version comes with additional add-ons that can enhance your site and customize it with things such as colors, typography, layouts, headers, and more.
You will get a library of pre-designed templates and you can change them through the WordPress Customizer. There is no coding knowledge needed. You can turn on or off your page title and sidebars, manage your website containers, header, archives, posts, and footer.
The theme can also be integrated with Elementor, WooCommerce, Yoast, and BeaverBuilder.
3. Uncode

Uncode is a creative theme that comes with a huge library of different layouts. There are different icons, headers, portfolios, galleries, grids, forms, and maps you can use and add to your site. Different integrations are included (WooCommerce, Revolution Slider, Layerslider) and the theme is responsive on all devices.
The list of Uncode's features constantly expands which made this theme one of the most popular ones. It also comes with video tutorials and has a privacy plugin to ensure GDPR compliance.
4. Divi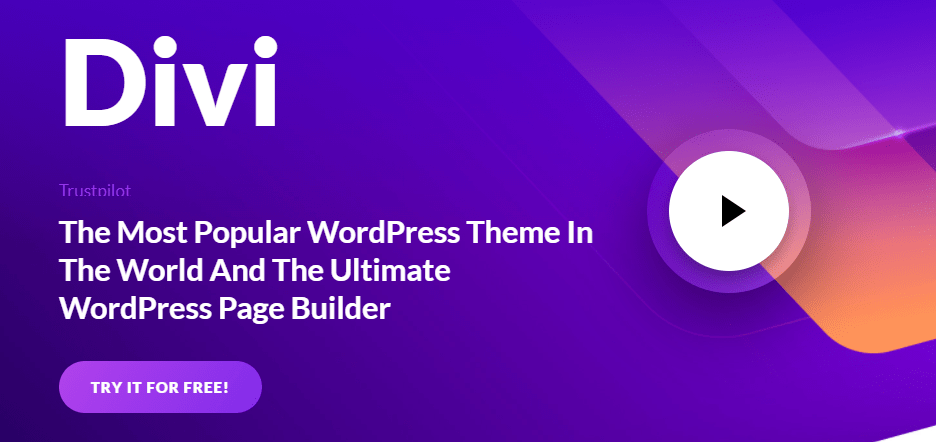 Divi is another multi-purpose theme. It comes with a drag-and-drop builder so you can create your site the way you want to. The theme also comes with pre-made templates you can choose from and then customize, or you can build your own site from scratch. You can see the results of your work in real-time, so you know right away if you are on the right track.
The theme is mobile-responsive so you can rest assured that your site will work well on mobile devices. There is the option for developers to combine visual design controls with custom CSS and the overall interface is simple. Also, if you made a mistake, you can easily go back and redo what needs to be changed.
There is the option of multi-select and bulk editing as well. Basically, you can select multiple elements on your page, edit them at the same time, and change their style. Pretty cool, if you ask us!
Lastly, there are more than 40 design elements that come with this theme. These include blogs, sliders, galleries, testimonials, forms, or even calls to action. Of course, you can edit fonts and style text spacing and letters. You can even add animations.
When it comes to pricing, you can choose yearly access for $89 or lifetime access of $249.
5. Bridge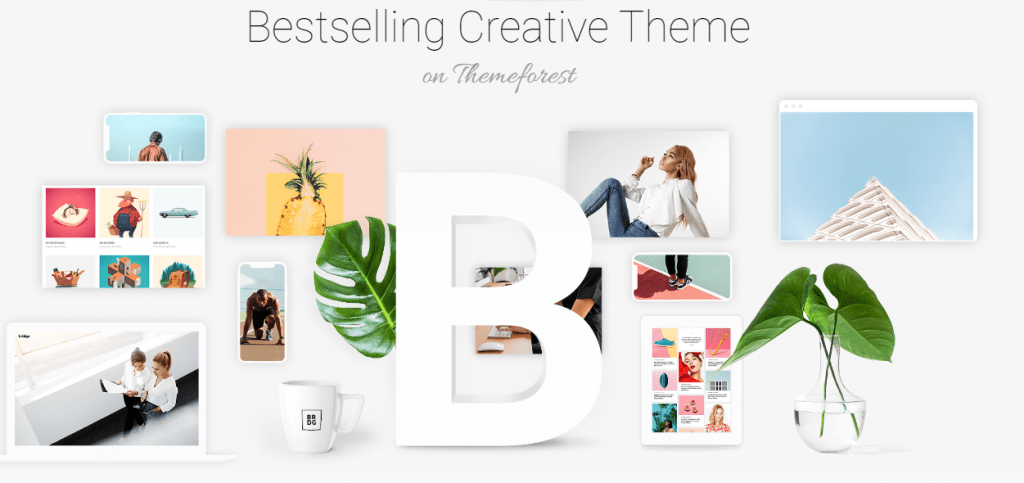 The Bridge theme can be used to create websites for online magazines, directories, restaurants, and photographers. It comes with a lot of flexibility and a drag-and-drop builder so you can customize your site. You can change the layout of your text, headlines, fonts, and colors.
You can choose your site design from a range of demons available and pick the layout concepts you want. There are video tutorials that show you how to use this theme. And you can add different interactive elements, such as animations, graphs, or charts, as well as a carousel slider or a portfolio.
6. Indigo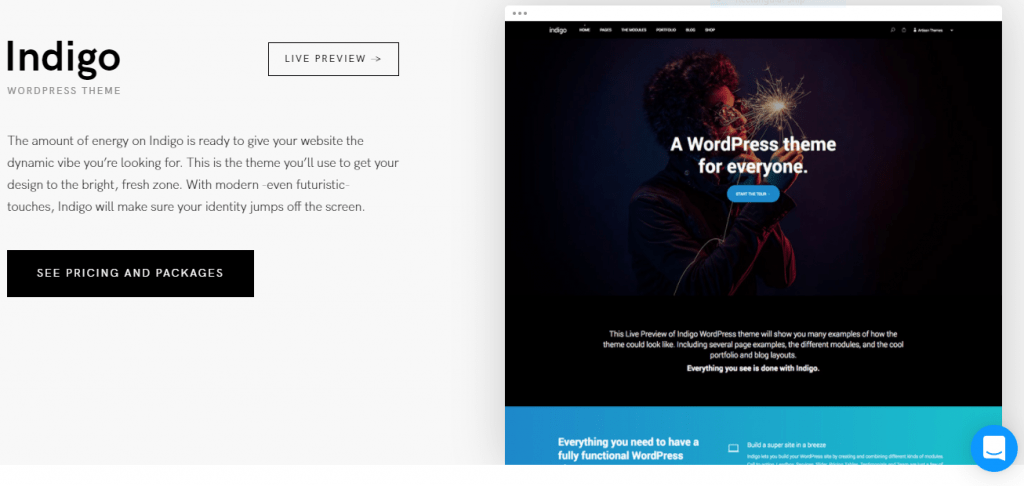 Indigo is the third multi-purpose theme we will mention. It comes with turnkey website designs that you can install with 1 click or you can use the drag-and-drop option. You can build your site in modules (no coding knowledge needed) and you can add different plugins.
There are different module types, such as blog, call to action, carousel, gallery, image, slidable insights, and many more. The theme is also mobile-optimized so you know it will work well on mobile devices.
There are different fonts you can choose from, multiple header layouts and sidebars, export and import options, and different forms that you can create. There are also two price packages you can choose from, $129 or $389.
7. Parallax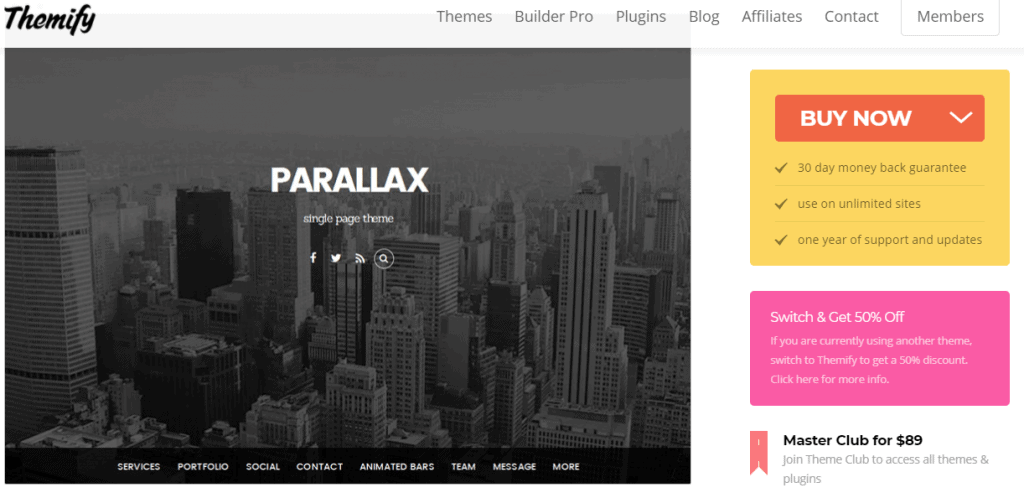 Parallax is a modern theme that uses parallax backgrounds to create an engaging layout. It is a combination of parallax scrolling and a single-page design. It can be used as a single-page theme with vertical navigation or as a multi-purpose theme.
The theme comes with a drag-and-drop page builder and you can create different layout options, integrate it with social media, and add contact forms. Each page can have a custom header and a custom menu so you can design the site as you see fit.
The theme is fully responsive on all devices and you can use it to create a portfolio section if you wish to show some of your multimedia work as it supports videos, images, and gallery sliders. You can also have animated progress bars with any color, an infinite scroll option or more traditional navigation, and right-to-left language support.
You can get the single theme for $59, 42 themes with plugins and addons for $89, or lifetime access to all themes for $249.
8. Highend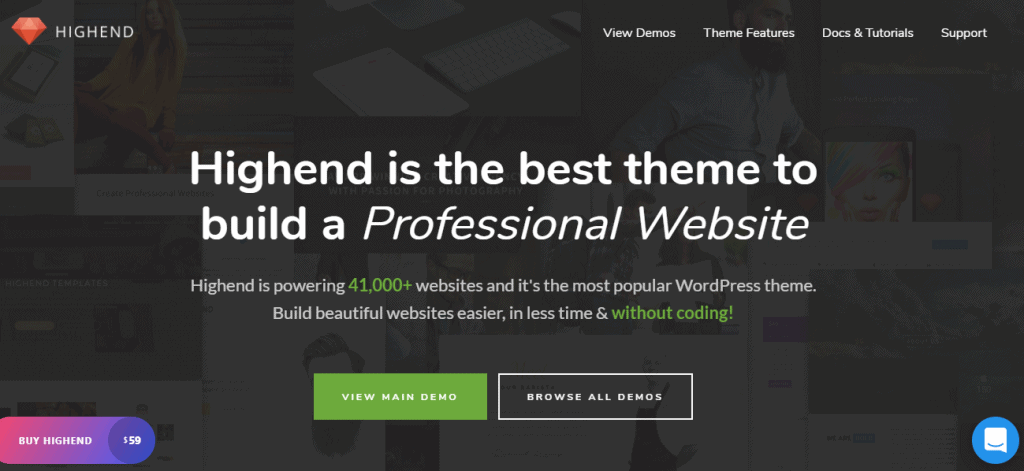 Highend is a theme that comes with pre-made templates or the option to start your site from scratch. It comes with a 1-click installer and a drag-and-drop builder. It is responsive on all devices and comes with additional premium plugins.
You can customize any aspect of your site and the theme is often updated so you can rest assured it will work well and is up-to-date with the latest trends.
Once you get this theme, you will have lots of video tutorials that will show you how to use all the features for building a site. But in short, you can upload your company logo, change the layout of the site, and create posts, galleries, and portfolios. You can also customize your fonts, colors, and add sliders.
9. Consultancy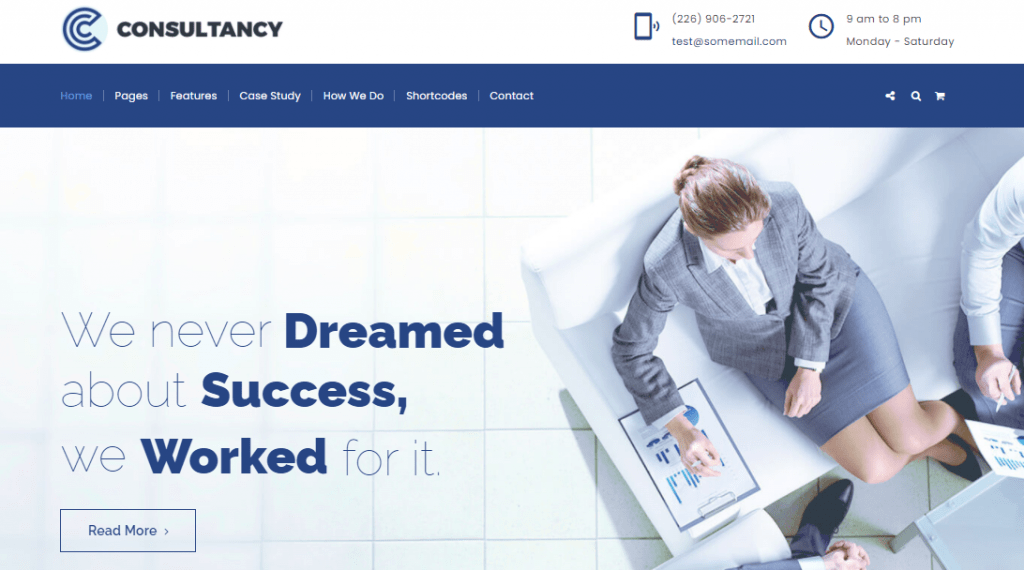 Consultancy is a great theme if you want a business-like website. What we mean is, it is great for B2B businesses or digital agencies.
The theme is fully responsive on all devices. And again, there is a drag-and-drop builder and lots of demo sites you can choose from to build your website. Also, you can edit your text and headers, create portfolios, add your company logo, and change the colors.
There are some premium WordPress plugins you can use with this theme, such as Visual Composer, WooCommerce, Events Calendar, or Slider Revolution.
10. Ecommerce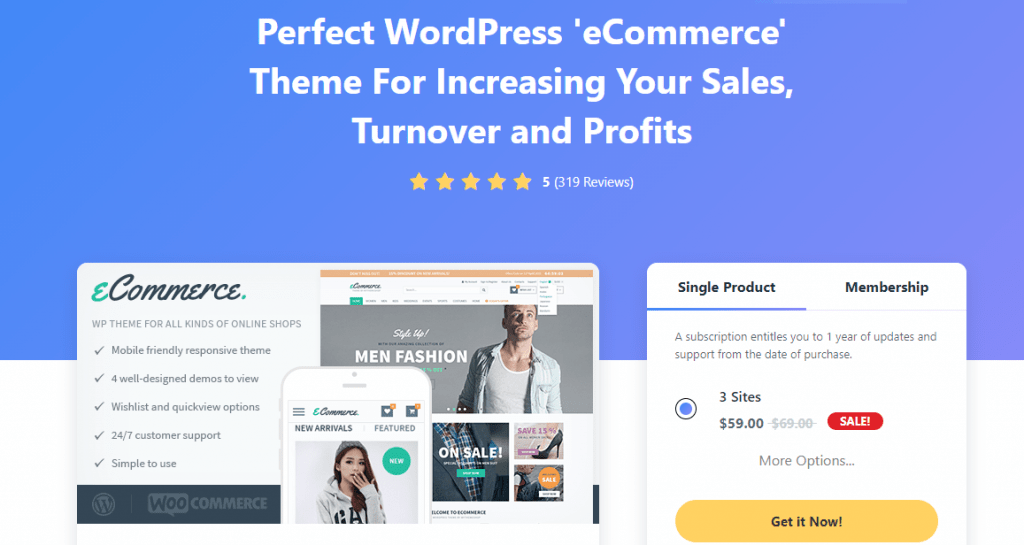 Ecommerce is a theme designed for online stores. It is made to have a layout that will help you increase sales and satisfy your customers. It is fully responsive on all devices and can be integrated with WooCommerce.
It is very easy to add items to it and you can choose to add single items and customize each product in a way that will boost its sales. You can also sell both physical and digital products and affiliate products.
There are several header styles you can choose from and create different layouts. You can even add parallax sliders to grab more attention from your customers.
Your checkout process can be simplified with this theme so your users can buy their products more quickly, instead of leaving them in their shopping carts. Moreover, you can create sliders, carousels, or show ribbons. Basically, anything you would need to make a product seem more desirable; you can do it.
Also, the theme is optimized for the best page loading time to ensure you don't lose any customers.
11. Hestia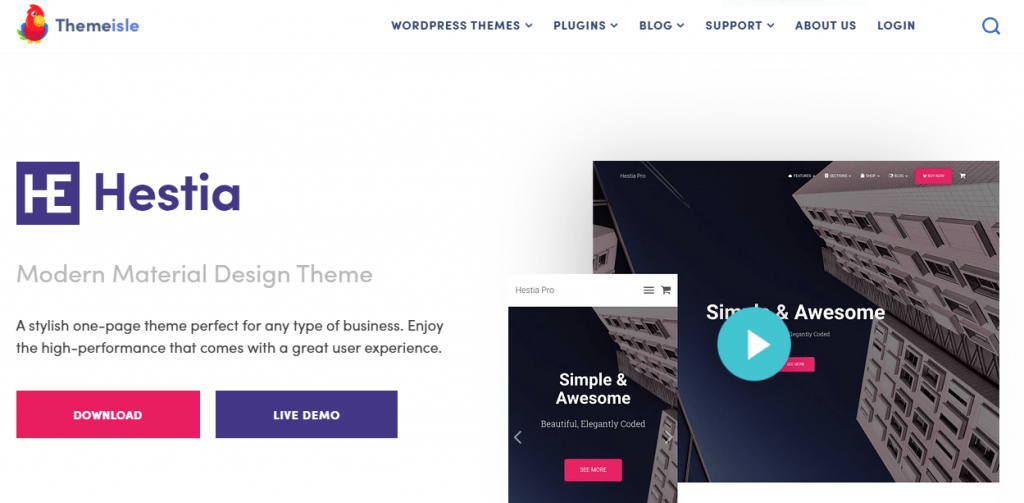 Hestia is a simple theme to use and is perfect for small businesses, startups, and online agencies. It can be used as a multi-purpose theme and the installation and setup processes are very user-friendly.
This theme is great for e-commerce stores and can be integrated with WooCommerce. There is also a custom background option that helps you with adding photos to your site. It can also integrate with Travel Map, Photo Gallery, and Elementor Page Builder.
It has RTL language support and is SEO-friendly. It is also optimized for speed and supports the Gutenberg editor.
If you are feeling lost, don't worry. It comes with plenty of video tutorials that explain how everything is done. And there are three payment plans available: £69 annually for a single site, £99 for three sites, and £199 for an unlimited number of sites.
12. X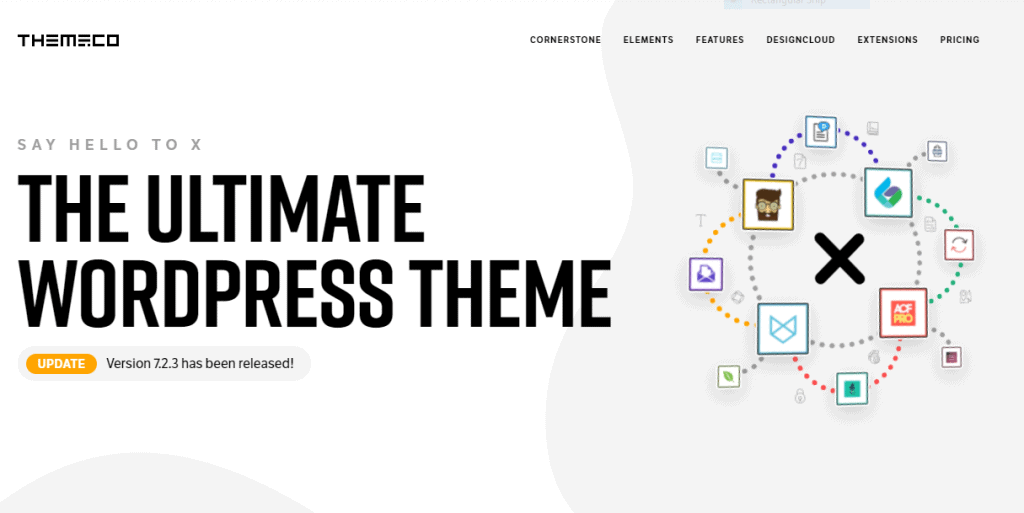 X is a premium WordPress theme suitable for all types of businesses and websites and it could be the best portfolio theme if you learn the ins and outs of using it. Besides having a normal drag-and-drop builder, there are 4 categories built in the demos and each covers a wide variety of projects.
There are many customization options, and these get constantly updated with new features, such as the custom font or inline editing.
X comes with cross-browser compatibility (Chrome, Firefox, Safari, Opera, Explorer), as well as with RTL language support. It is compatible, responsive on all devices, and has lots of customization options for your text (fonts, colors, style, headings).
13. Allegiant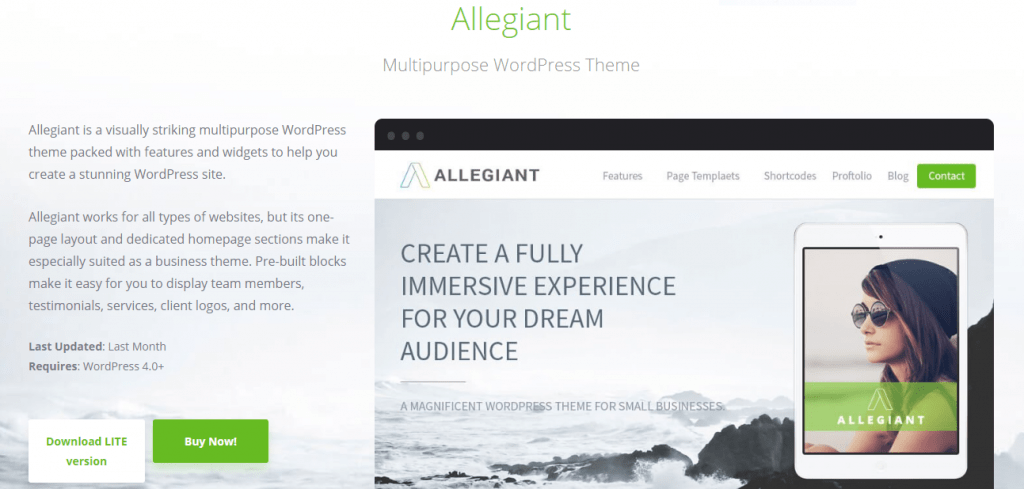 Allegiant is probably one of the most customizable WordPress themes out there. It is a simple and well-designed theme with a large header where you can highlight your most popular features, such as products or services.
It comes with several feature blocks you can add to your page. These blocks also have a testimonials section so you can easily copy and paste some information into them.
Furthermore, the theme can be integrated with WooCommerce, Yoast SEO, WPML, and Contact Form 7. It has a responsive design, and you have complete layout control so you can choose and select sidebar layouts, edit headers and footers, or create custom pages from scratch.
14. Newspaper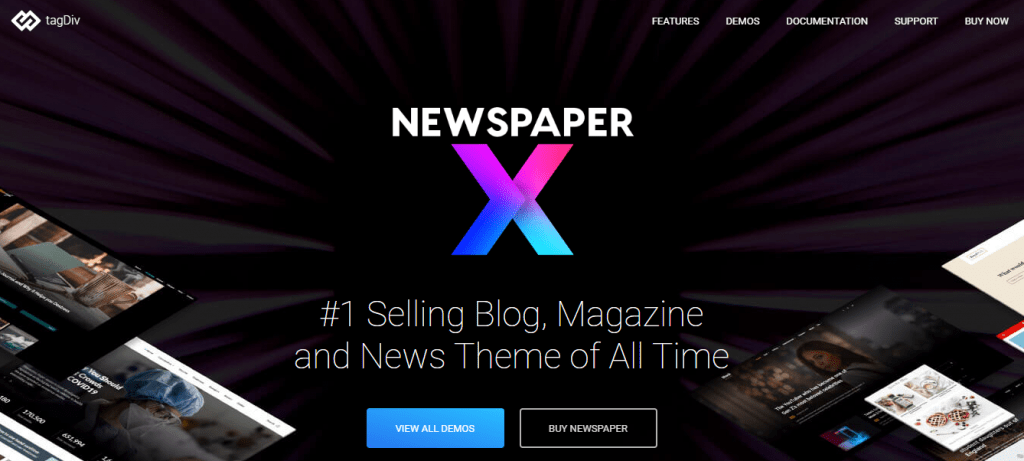 Newspaper is great for news and magazine sites. There are many demos you can choose from and then edit to make sure they match your idea.
The theme has a drag-and-drop builder and comes with lots of elements to ensure each article looks good. You can add custom widgets such as weather, currency exchange, popular posts, and more to provide all of the useful information to your visitors.
You can even monetize your site as the theme includes an ad management tool and many places to display ads on the site. Again, you don't need any coding skills to use this theme and there is a full support team available if you need some help. Also, the theme is responsive on all devices.
15. Kalium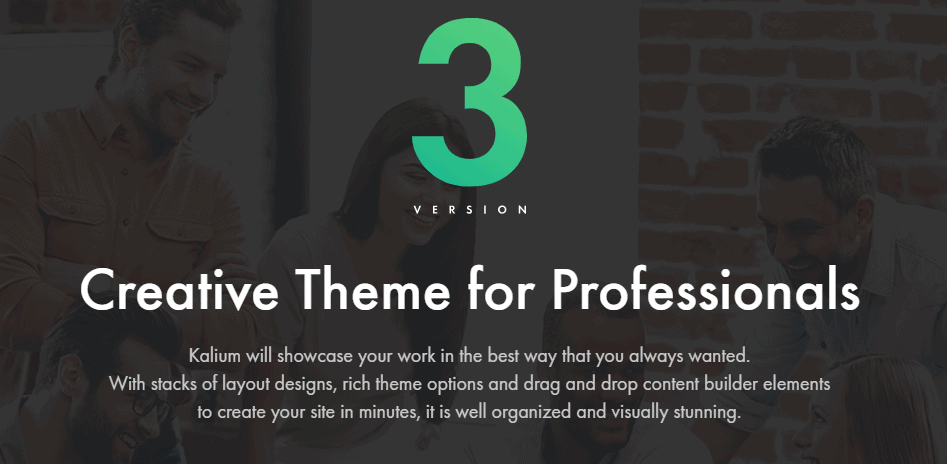 Kalium is a premium theme that comes with a lot of content you can easily customize. It is a creative theme for professionals who want to showcase their work on their site. It is great for freelancers, architects, photographers, and bloggers. It comes with a list of pre-made templates you can install and use in just one click.
You can easily add content to your site in the form of pages, posts, or widgets. And besides just editing your page content, now you can edit your headers, as well as your typography.
It is a lighter theme, so you have faster execution time and smaller load sizes of JavaScript and CSS files. You also get some additional plugins with this theme, such as WPBakery Page Builder, Revolution Slider, Layer Slider, ACF Pro, and more. It also comes with RTL support.
16. The Gem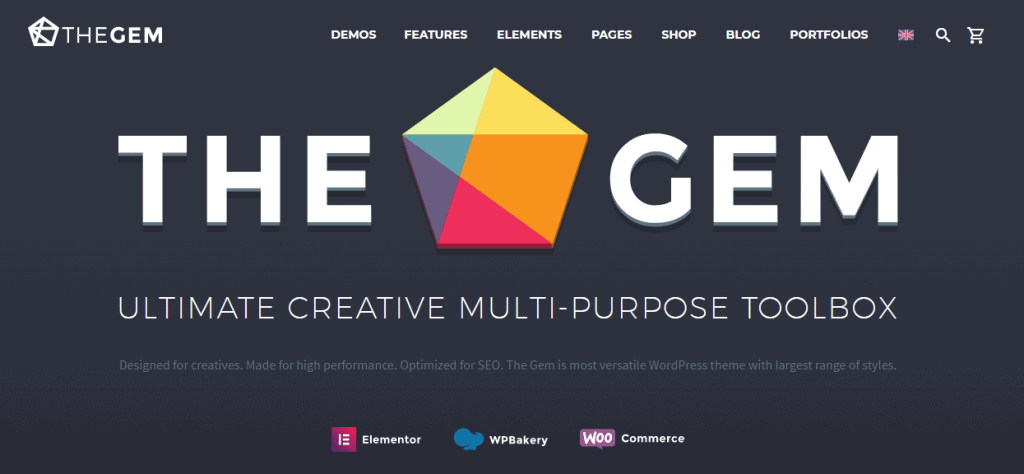 The Gem is the last theme we will mention today. It is another premium and multi-purpose theme using which you can create any type of website. It is made for high performance and fast loading times and is optimized for SEO. It can also work with WooCommerce, Contact Form 7, and Yoast SEO.
With it, you can customize anything on your site, including colors, fonts, text, headers, and layouts. It is extremely versatile and offers many features to create amazing websites. You can add your logo, use images and videos as backgrounds, and enable or disable navigation and sticky headers.
Conclusion
As you can see, you have a pretty big list of great premium themes to choose from. We are sure whichever one you pick, you will be satisfied with it.