VPN is a word often thrown around without much explanation, so a lot of people are aware that VPNs are something with great importance, but they aren't really sure why they are so important or how they work.
If you're one of them, don't worry, that is totally okay. Someone who is an average internet user might not know or care much about VPNs simply because that knowledge isn't required for completing typical day to day activities on the internet.
While you don't need a VPN to freely browse the internet (in most countries, but more on that later), you do need it to protect yourself and your data from annoying advertisers, government agencies, and malicious hackers. For that reason, it is important that you have at least a good understanding of what VPNs are and how they can be used.
Want to know more about #VPNs? This article will tell you everything you need to know and will also give you a rundown of the best #VPN service providers out there!
Click To Tweet
If that is something you are interested in doing, then keep on reading.
What is a VPN and how it works?
The acronym VPN stands for virtual private network, which is essentially an internet connection that is encrypted and can't be deciphered by anyone who intercepts it.
While a standard internet connection goes to through the server of its ISP, a connection protected by a VPN goes through a remote server that shields the data you are sending or receiving and also hides your location by switching up your real IP address.
One thing we should make clear is that when you encrypt your data using a VPN, that doesn't mean that it will stay that way when it reaches its destination. Once it arrives at the destination the data is returned to its initial state, thanks to a process called decryption, meaning your data will stay completely intact.
Who uses a VPN and why?
The use of VPNs can be roughly divided into two categories.
The first category is business use. In most cases, it is used for establishing secure access for people who are working remotely.
Remote work is standard practice for a lot of businesses, some do it only when there is a particular reason, while others do it all the time. In both cases, working remotely will require a lot of data exchange between the corporate network and the employee. The data that is being exchanged shouldn't be available to the public since it could contain very important and classified information, which if leaked could jeopardize the welfare of the business.
For that reason, any employee working remotely should always be required to use a VPN. That way he/she is protecting the data from being eavesdropped on and the company from potential security breaches.
Another way businesses can utilize VPNs is to connect their separate office branches. Since it is often the case that two branches of a single business can't belong to the same network because of practicality, they are put on different networks which then need to be connected using a VPN.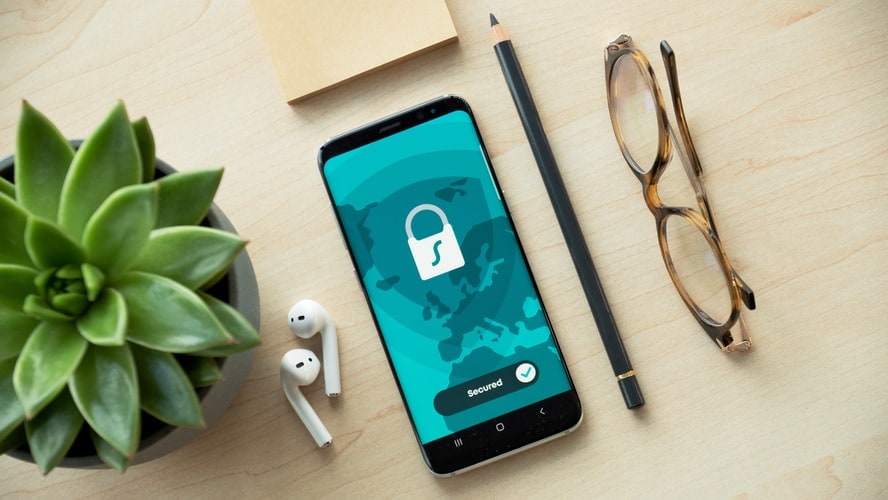 The second and more commonly known use of VPNs is personal use.
Personal use of VPNs is not strictly for people who are trying to hide something but for people who want to keep their internet activities and personal data private and secure for a number of different reasons.
Unless you're a cyber-security professional we're willing to bet that you have at least once on your life connected to a public network. While there's no denying that in desperate times public networks can be a lifesaver, you have no way of knowing who set up that network up and if the data passing through it is being monitored by someone with bad intentions.
The data that is passing through could include your passwords, financial information, and other sensitive data you wouldn't want anyone to get ahold of. If you use a VPN when connecting to a public network, you won't have to worry if someone is seeing all the data you send through it since the VPN will be fully protecting it.
But hackers aren't the only individuals you should protect your data from. Your data is very valuable to a lot of others as well, others like ISPs and advertising companies.
ISPs can profit off your data by selling it to advertisers who then profit off it through targeted ads, switching up prices, and even adjusting product selections. Also, in some countries, even governments have the right to track your online activity and will do so on a regular basis.
What makes VPNs so great is that they can stop both people who are looking to make a profit off of your information and the ones looking to keep tabs on you.
Besides protecting your data, VPNs can also give you access to content that isn't available in your current location for whatever reason.
The way companies stop you from using their services in a specific location is by checking your geolocation through your IP address. If you use a VPN, your original IP address will be swapped for one with different geolocation which will then enable you to without any restrictions browse social media networks, apps, and other content inaccessible in your country or region.
Lastly, you might not be aware of this, but VPNs can be used to increase the amount of data you can transfer through a network.
A lot of ISPs put strict limitations on the bandwidth of your connection or even go as far as to forbid access to sites that allow the distribution of large sets of data, leaving you hopeless in cases when that is a task you need to complete. A VPN will hide the fact that you are sharing large amounts of data and with that, make it almost impossible for ISPs to stop you from making large uploads or downloads.
Can all devices use VPNs?
No matter if you are using a PC or a mobile device, macOS, or Windows, a VPN is something you can use.
Most VPN services do have software that runs on both mobile devices and PCs and on a range of different operating systems. So, when you decide on one service for your PC there's a pretty big chance you won't need to find and pay for a separate one for your mobile devices.
How is a VPN set up?
Like with most things related to technology, when setting up a VPN, you have different routes you can take.
For those of you who know their way around technology, you can go the manual route and set up a VPN yourself or even host a VPN server in your home. Since this isn't something most people want to do or are able to do, a way easier solution is to use a client app by a VPN service provider.
These apps will allow you to configure and establish a connection easily in just a few clicks and through an interface that is much more user friendly than your computer's network panel.
Things to keep in mind when choosing a VPN service provider
Although all VPNs are intended to protect your privacy and your information, not all of them do it in the same way and using the same methods and protocols. This is why when choosing a VPN service it's important that you take the following things into consideration.
Is it a free or paid service – Besides the importance this has for your bank account, the fee a VPN service comes with (or doesn't come with) can allow you to assume a few important details about it. For example, a free VPN service can be pretty good, but will most likely limit the amount of data you can send using it, it might also be a bit slower and include in-app advertisements.
Where are their servers located – The locations in which a VPN service provider has servers will determine what location-specific content you will have access to.
What is their data policy – For your own good, you should know if a VPN service will be collecting any of your personal data, and if yes, for which purposes.
The top 10 VPN service providers
Considering how many VPN service providers there are on the market, it's hard to keep track of what all of them have to offer and if they are worth an investment. So, to make things easier for you, we will dedicate the rest of this article to listing the top 10 best VPN service providers out there.
Without further ado, let's jump right into it.
ExpressVPN
Express VPN has a long-running reputation as one of the best VPN service providers and is known for its great speed and excellent customer support. Currently, ExpressVPN has over 3000 servers in 160 locations and around 30,000 IP addresses on disposal.
One ExpressVPN account can be activated on up to 5 devices of different types like Mac, Windows, Linux, iOS, Android, and even Blackberry.
ExpressVPN supports OpenVPN and GeoSpotting and works with a high level of encryption. They also offer split tunneling which allows you to choose which portion of your traffic will go through a VPN and which portion directly to the internet.
Another great feature of ExpressVPN is called smart DNS which will enable you to geo-spoof any of your devices that have access to the internet regardless if they can run a VPN software or not.
ExpressVPN is available in a mobile version that functions almost identically as the desktop one. Lastly thanks to its no-logs policy, ExpressVPN will never log any of your browsing or personal data.
Price: 1 month plan- 12.95$/month, 6 month plan- 9.99$/month, 12 month plan- 6.67$/month, all with a 30-day money-back guarantee.
Private Internet Access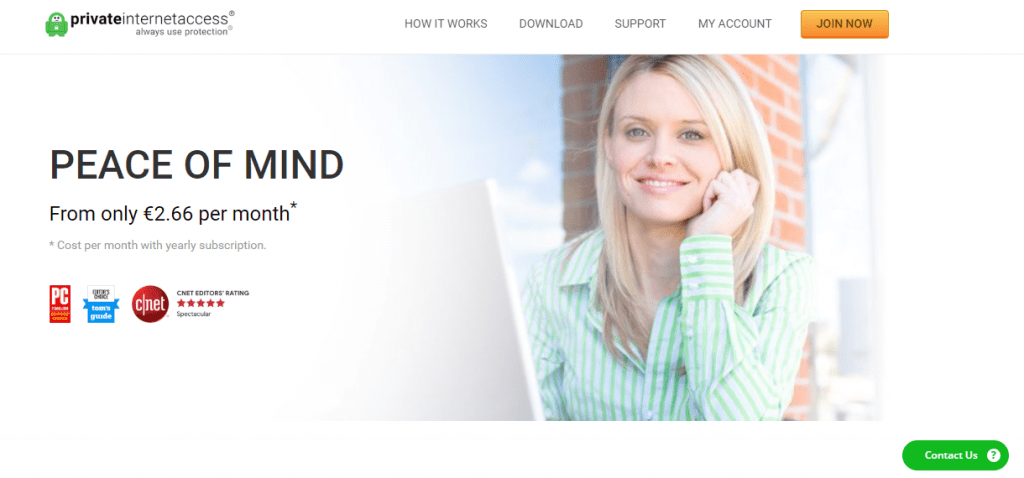 Private internet access is a VPN service provider with a very accessible price and solid performance. It operates on 3300+ servers in over 50 locations across 32 countries.
One account can be used on 10 devices at the same time which is quite a generous number. It comes in the form of a client app for Windows, Mac, Linux, Android, and iOS, but also as a browser extension.
Among the plethora of security options, it offers it also comes with a kill switch and a leak protection feature.
According to the results of various speed comparison tests, PIA seems to land in the first spot most of the time largely thanks to its ability to downgrade the security encryption when necessary in order to achieve better speed.
The only drawbacks of this VPN service provider are the somewhat confusing interface and the fact that customer support is limited to live chat only.
Price: 12 month plan- 3.33$/month, 1 month plan- 9.95/month with a 7-day money-back guarantee.
NordVPN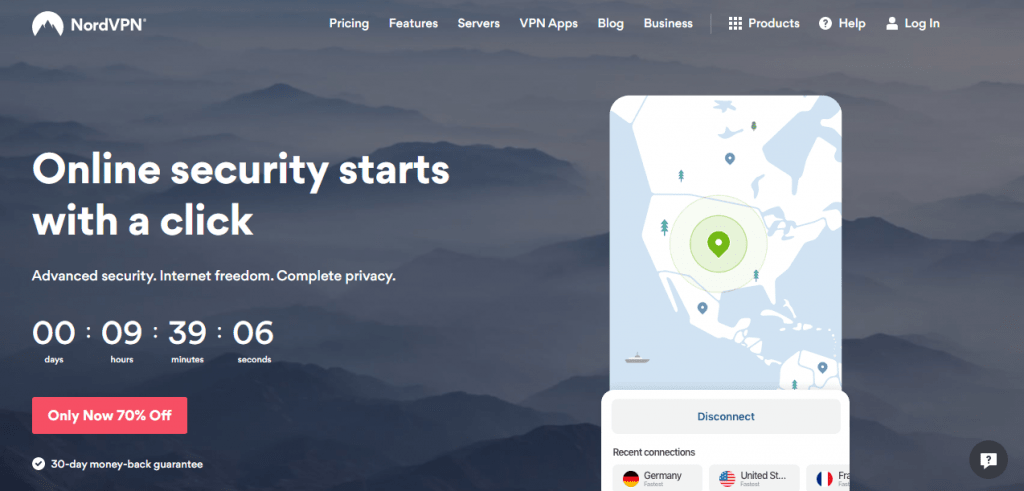 NordVPN is definitely one of the top dogs of the VPN industry and gives its competition quite a run for their money.
It has a whopping number of 5500+ servers in 55+ locations across 60+ countries. It supports up to 6 devices per account on both desktop and mobile devices running its client app or its browser extension.
NordVPN has an above-average score on most performance tests band appears to be constantly improving. Also, like the other VPN service providers we mentioned, it has a kill switch and can also VPN into Tor.
NordVPN won't keep track of user activity and will come with a dedicated IP option and super 2048-bit encryption. With every price plan comes a 30-day money-back guarantee and reliable customer support.
Price: 1 month plan- 11.95$/month, 12 month plan-6.99$/month, 36 month plan- 3.49$/month.
CyberGhost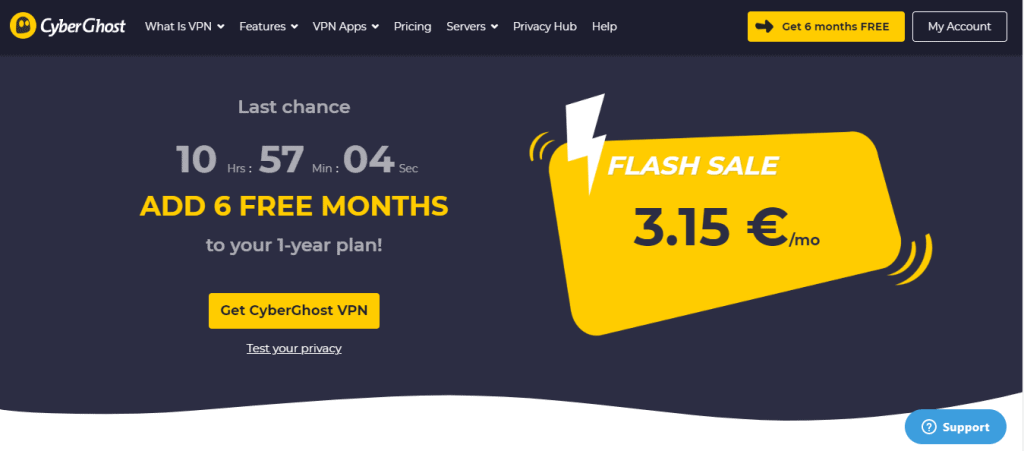 CyberGhost is a VPN geared especially towards novice which is evident from its extremely user-friendly interface, but the VPN is not only easy to use but is also easy to set up.
CyberGhost has more than 6,700 servers in over 110 locations covering 90 countries.
The CyberGhost app is available for all major platforms and requires very little action form the user, it will even automatically connect them to the best server for any site or service. Some other notable features of CyberGhost are data comparison, ad/malware/tracker blocking, and automated HTTPS redirection.
To use the service the only requirement is a working email which means that with CyberGhost you can truly stay completely anonymous. One account with this VPN service provider can be used on 7 different devices. The free account limits you to a 3 hour/day usage, while the paid one doesn't.
Price: 1 month plan-12.99/month, 24 month plan- 3.69$/month, 36 month plan-2.75$/month.
Surfshark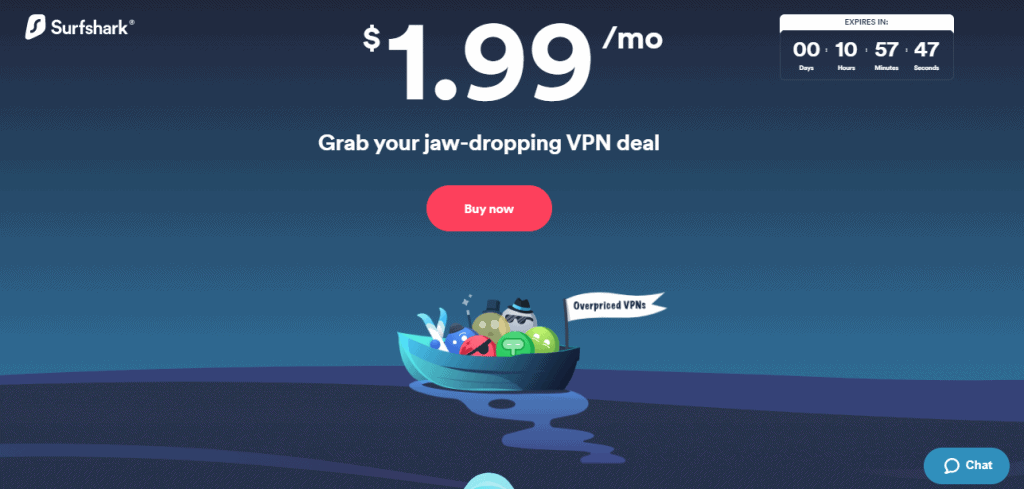 Considering it is a fairly new service on the market, Surfshark doesn't fall into the category of big VPN service providers but is definitely one worth paying attention to. Surfshark's server count is 1000+ and spreads across more than 60 locations.
This VPN service provider also has the ability to work in different modes offering you different types of protection. The first mode is camouflage mode which will hide the fact that you are using a VPN. The second mode is multi-hop jump mode which will jump through multiple countries to hide your location. Finally, the third mode is the no borders mode which can bypass even the strictest restrictions imposed by some countries.
Other features include double encryption, kill switch, split tunneling, and the ClearWeb security suite for stopping ads and malware.
Something Surfshark lets you do, that most other providers don't is to use one account on an unlimited number of devices.
Price: 1 month plan-11.95$/month, 12 month plan- 5.99$/month, 24 month plan- 1.99$/month, all with a 30 day money-back guarantee.
IPVanish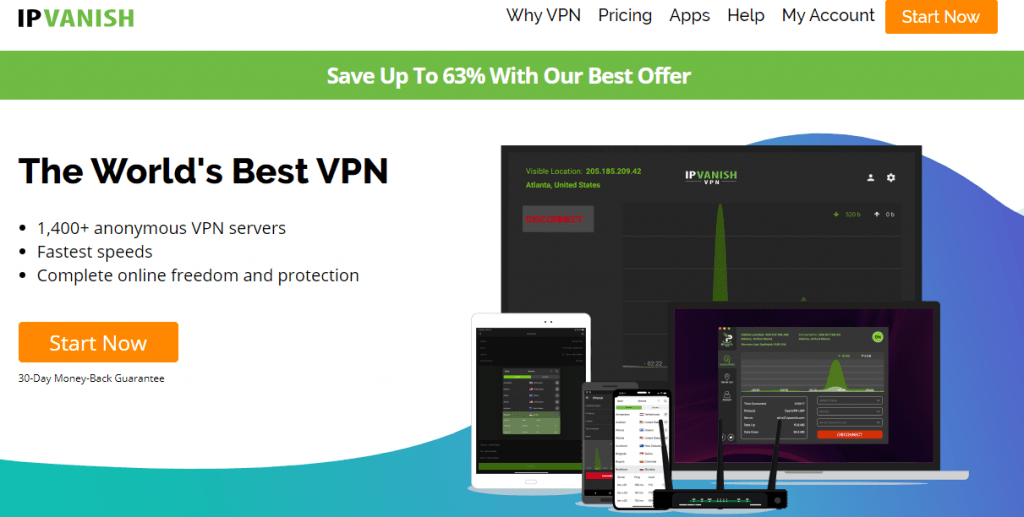 While IPVanish has a bit fewer servers than most of the service providers we mentioned thus far, the 1300 servers they do have are all managed completely by them. The servers are spread across 75+ countries and work with more than 40.000 IP addresses.
One IPVanish account will allow you to use the VPN service on 10 different devices through a range of powerful client apps. The download speed of IPVanish is above average and their service, in general, is very reliable.
The client apps for IPVanish are highly configurable which means they are perfect for people who want more control over their VPN connection. All traffic going through IPVanish's servers is highly secure thanks to multiple VPN protocols, 256-bit encryption, a kill switch feature, and leak protection.
To further protect your data, it provides additional IP configuration and extra obfuscation settings.
If you do decide on IPVanish, none of your data will be logged and you will have access to 24/7 customer support.
Price: 1 month plan-8$/month, 3 month plan- 7.20$/month, 12 month plan- 5.20$/month, with a 7 day money-back guarantee.
TunnelBear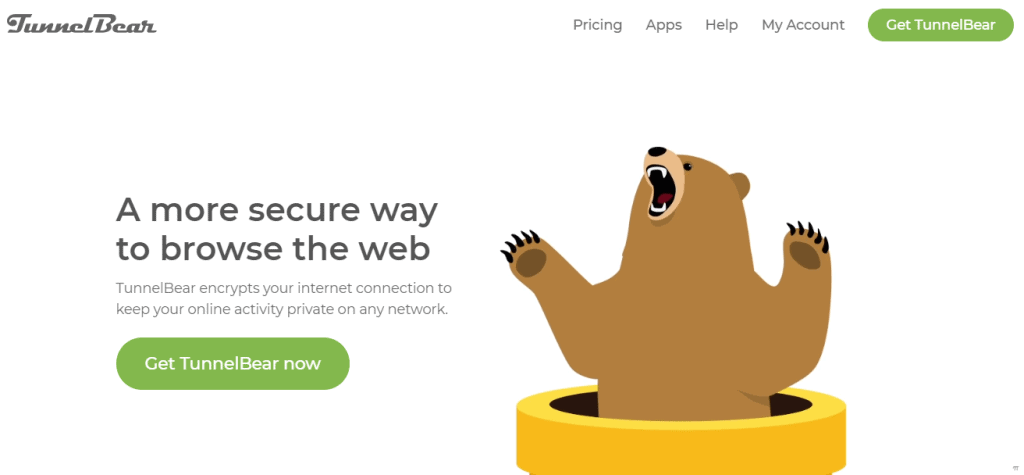 TunnelBear is a VPN with maybe the most friendly and fun user interface which focuses on making things as easy to use as possible. This VPN is definitely for less demanding users who don't want to do much tweaking to their VPN connection but just to establish it as quickly as possible.
It has 1000 servers around in only around 20 locations, which is a bit of a drawback.
What definitely isn't a drawback is how transparent TunnelBear is with its privacy policy, which is written to be understandable to every user.
You can use one TunnelBear account on 5 different devices across platforms for which there are native apps. TunnelBear also has a free plan which comes with a 500 MB limit.
Price: 1 month plan-9.99$/month, 1 year plan-4.99$/month, 3 year plan-3.33$/month.
VyprVPN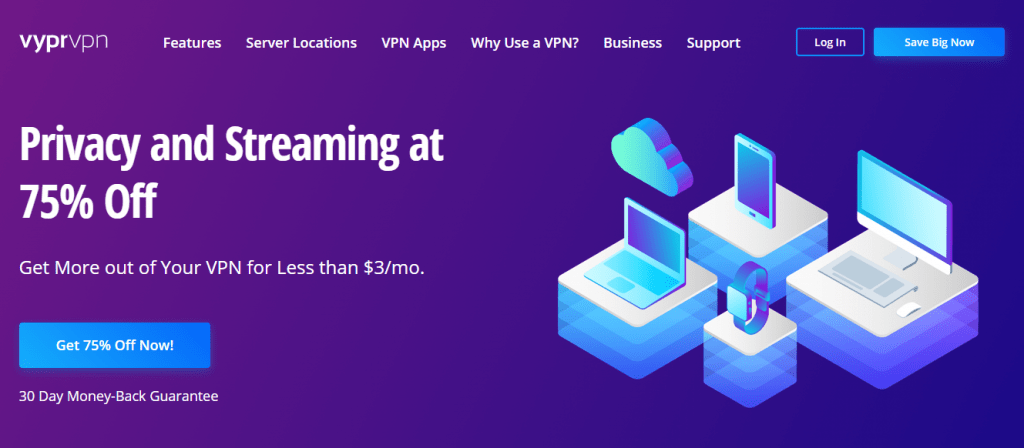 This VPN provider works with 700+ servers on 70+ locations and provides very advanced security features that can bypass VPN blocking even in countries like China and Iran.
Out of all the service providers, VyprVPN appears to have the largest bank of IP addresses and also a big range of protocols. They allow 3-5 devices to use one account depending on the plan you choose.
The higher the tier of the plan, the more layers of security that you get, but all plans come with unlimited data access.
The interface of both mobile and desktop clients is very friendly and easy to use. The prices of the service are definitely not on the low end, but they do offer special two-year and one-year plans.
Price: 1 month plan-12.95$/month, 12 month plan-3.75$/month, 24 month plan-2.50$/month.
Hotspot Shield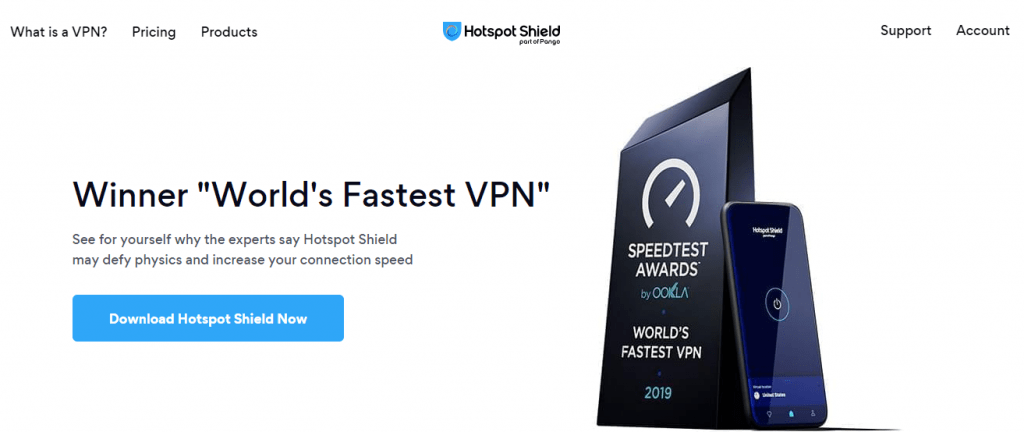 Hotspot Shield is one of the few VPN service providers that have a free version. The free version comes with the same software as the elite version, only the elite version won't put limits on your data usage.
They have around 3200 servers in 80+ countries and 50.000 IP addresses.
Hotspot Shield ranks better than its competition when it comes to download speeds, with their download speeds being consistent across locations.
Its very intuitive interface makes its client apps easy to use for novice users but for power users, there is the 128/256 bit encryption and the catapult Hydra protocol.
One downside of this service is that it does, in fact, log your data, so it isn't the best choice for those who want to leave no trace at all while using a VPN. But if you are looking to get great speed at a low price then this VPN service might be an option to consider.
Price: 1 month plan-12.99$/month, 12 month plan- 7.99$/month, 36 month plan- 2.99$/ month.
Windscribe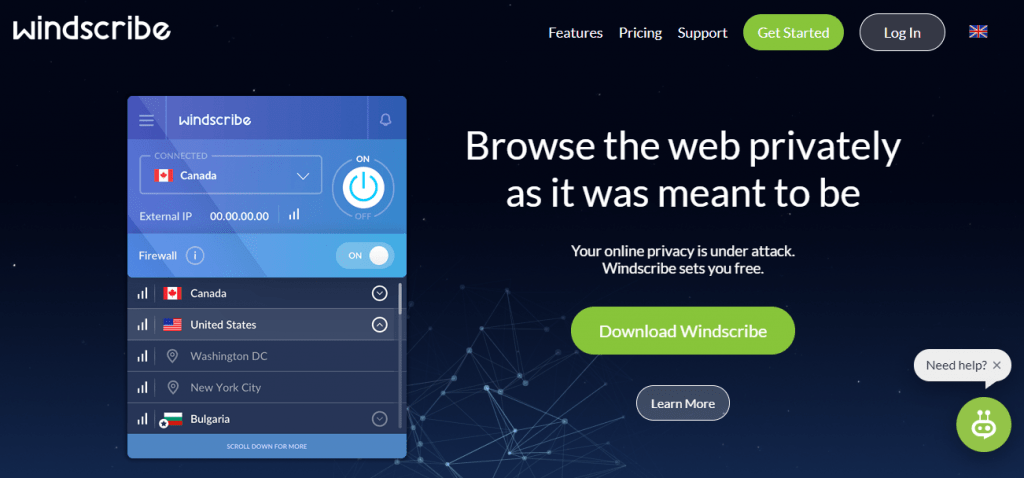 Windscribe is a VPN service provider with a network of 400+ servers in 110 locations across 60+ countries.
This provider will allow you to use the account on an unlimited number of devices regardless if you're on a paid or free plan. Although the free plan will limit you to 10 server locations and a 10GB data allowance per month.
Windscribe has a solid collection of options and a very simple user interface.
When it comes to privacy it won't even require an email address in order to activate an account which is great for keeping you completely anonymous.
Windscribe is another VPN that is more for users who aren't looking to customize their VPN connection a lot but to use it with very little hassle. The overall performance of this VPN is decent and will serve the average user pretty well.
Price: 1 month plan- 9$/month, 12 month plan-4.08$/month
Conclusion
Whether you are looking to watch a Netflix show available only for a foreign market or you want to be extremely careful how and with whom you are sharing your information, or scraping prices from websites, a VPN will be your best friend.
Considering how valuable your data is, paying a small fee to protect it using a VPN is definitely a smart investment. Who knows, maybe you'll even find a VPN service provider that will fit your needs and is free, so you won't have to pay anything at all.
Hopefully one of our picks can be something that works for you, if not, whichever other VPN service provider you go for will be better than not going for one at all.