If you want to make some extra money through your blog – or turn it into a full-time gig – it's time to start thinking about advertising on your site.
You probably already know this, but even though ads are necessary for monetization, they can also be a slippery slope.
Having no #ads lands you in a position of having no #money, and having ads popping up left and right makes it annoying for visitors to read anything on your page.
Click To Tweet
Moderation is key when it comes to advertising.
Another thing worth mentioning is, well, you won't just randomly stumble upon an advertisement offer. You'll need to find an advertising network to make that task easier and more effective.
That's why we prepared a shortlist of the best advertising networks you could use as a blogger. Let's jump right in!
1. Google AdSense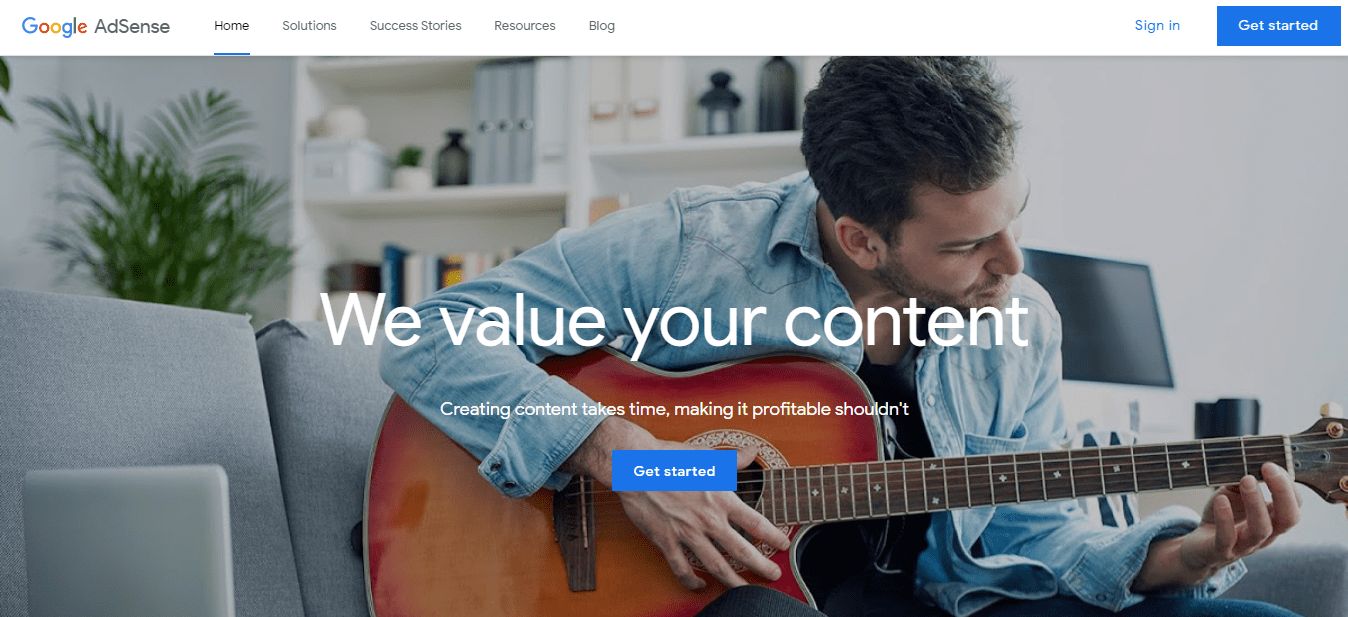 Google AdSense is probably one of the most notable advertising networks out there. And, of course, it's made by Google. Pretty much everything they create soon turns into gold.
With Google AdSense, you can monetize your site and make the best out of it. There are so many advertisers looking for a place to put their ads, so don't leave your ad space empty.
All of the ads you'll be utilizing if you opt for this network will be fully responsive, meaning that if someone is on their phone, a huge ad they can't click out of won't overwhelm their screen.
With this service, you can be sure that any potential ads on your site will be matched to your target audience, and you won't ever wake up to the horror of having a steak house advertised on your vegan cooking blog.
2. Ezoic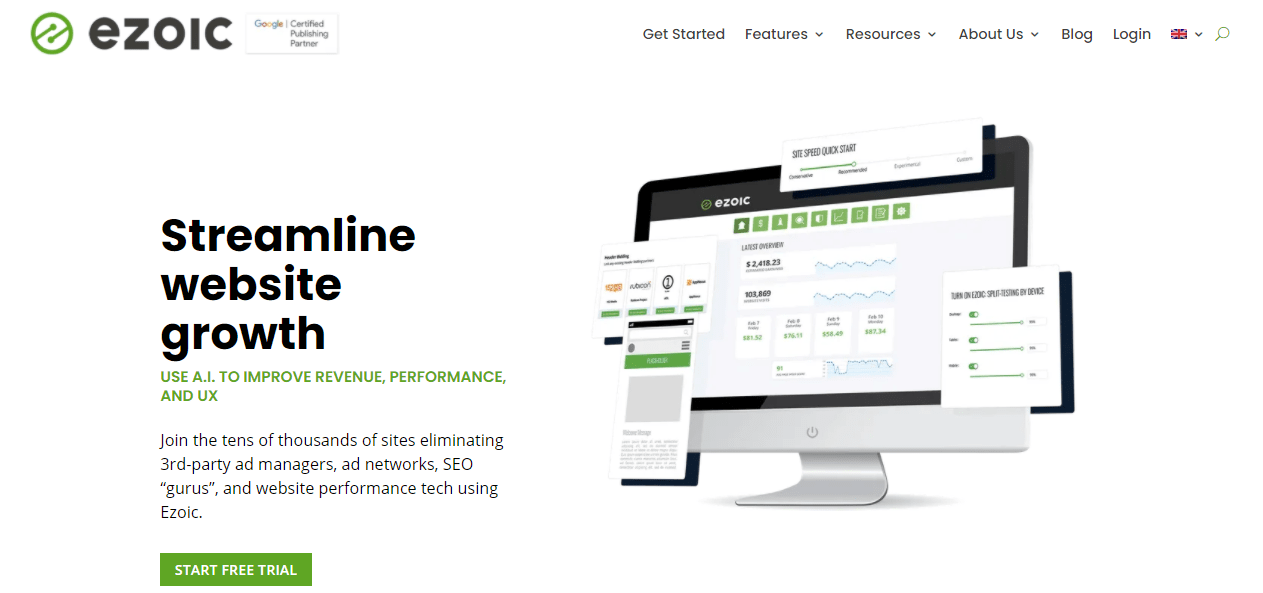 Ezoic can be of value for those aiming to optimize and automate as much of the process as possible. Its best feature is that it allows the user to adapt their site to what readers and advertisers want to see. This is achieved by tailoring your ads depending on the device people view your site on and switching between different formats on every page to make sure the format fits the new conditions of a new page.
Because of this, your entire advertising experience can be customizable and adaptable at lightning speed. Winning tactics change at rapid speeds, and if you want your ad revenue to soar, you'll have to adapt.
Ezoic even includes other features such as optimizing website speed through ads, comprehensive SEO insights, and the ability to test trends, layouts, scripts, and widgets.
3. Media.net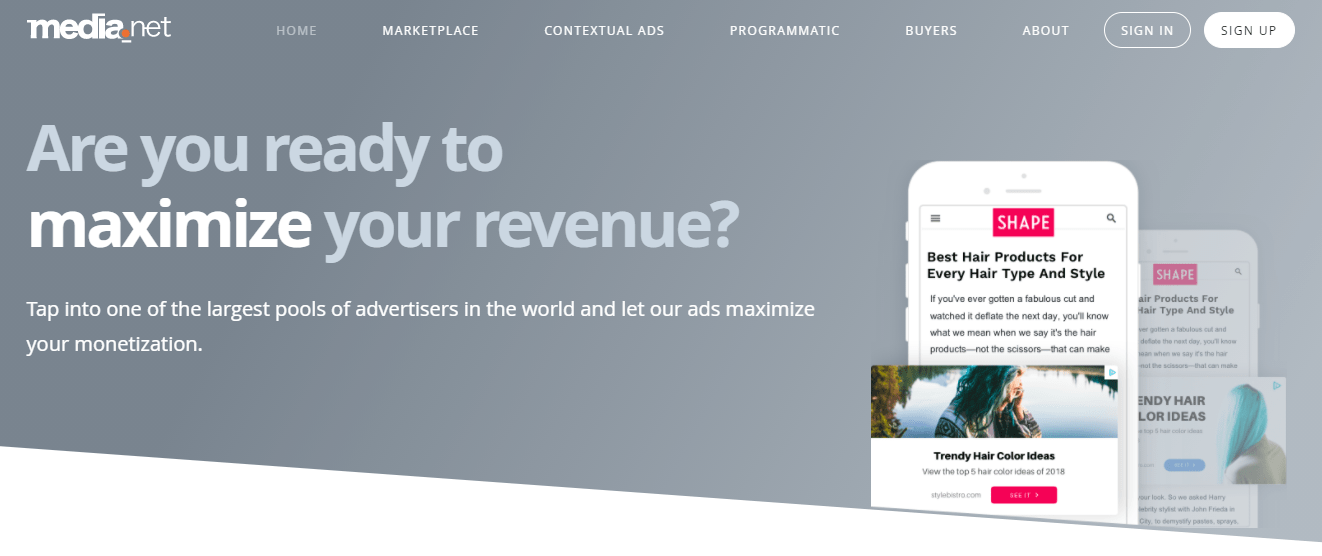 Media.net offers the possibility of connecting to a large number of advertisers, so there's no way you won't find valuable advertising opportunities. With Media.net, you can advertise in one of three ways. Either through contextual, display, or native ads.
Contextual ads are becoming increasingly popular due to how effective they've proven to be. This type of ad works on the basis of filtering through the user's search words to reveal intent and, in turn, target perfectly.
The second type, the display ads, connect you with major buyer networks and create a global demand for your inventory.
And lastly, native ads prioritize user experience above all else. These ads are completely customized to fit your page and your brand, so no ad will ever feel out of place. It'll blend in seamlessly and thus minimize the impression of it being an ad in the first place. This way of advertising also lets you introduce your audience to potentially relevant articles.
4. Galaksion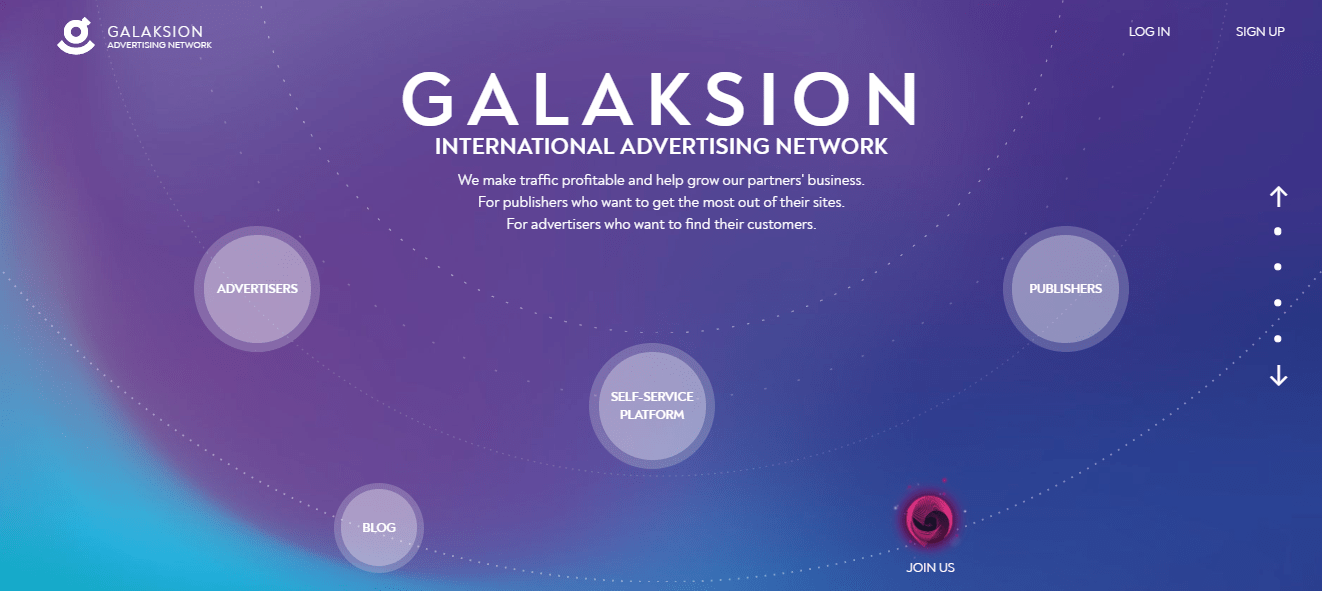 Galaksion is a top-rated advertising network, and for a good reason. It offers many different advertising types, so it's extremely easy to get what you're looking for with this network. They guarantee that their traffic comes only from credible websites and that the publishers involved in advertising are 100% secure.
If you opt for their service, there are three main price models to choose from CPA, CPM, and CPC. So, no matter how small or big your business is, you can find a price model that's going to work for you.
Galaksion offers standard advertising models like push notifications, on-page notifications, native ads, and direct link advertising.
It also offers interstitials. This is basically like a full-page notification – a big image with a description that covers the whole page. This particular model tends to be a bit more expensive but is also really effective as the user's attention is entirely focused on the ad.
5. PropellerAds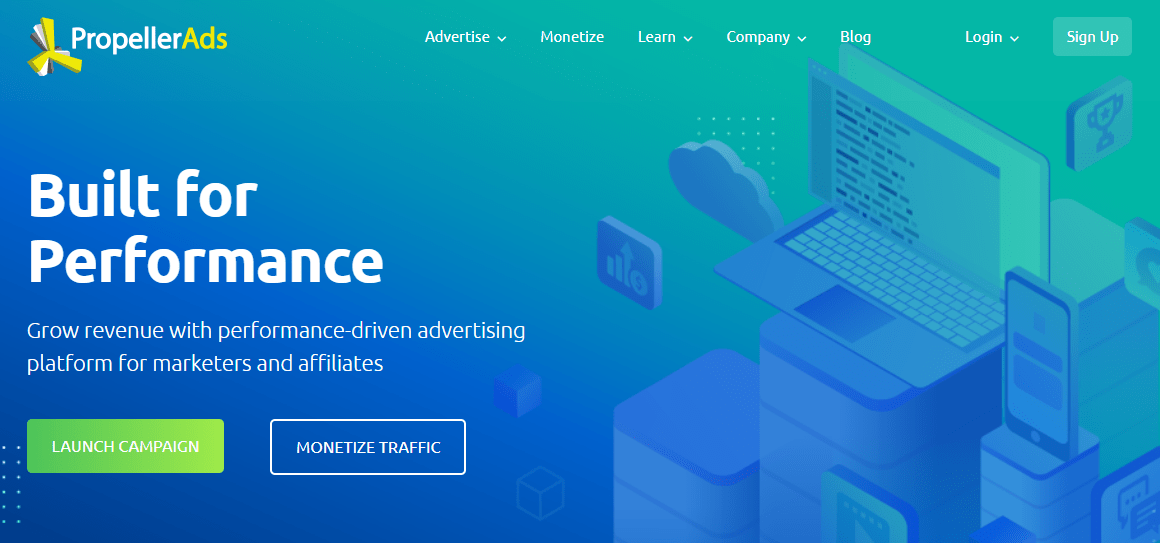 PropellerAds specializes in conversion-focused campaigns and affiliate marketing. It offers an AI system that auto-optimizes your campaigns to make sure you can leave the tedious manual part of the process behind for good. Having auto-optimization also helps to fine-tune your campaigns, so you get the highest amount of conversions possible.
PropellerAds offers four trendy ad formats: push notifications, onclick ads, in-page push ads, and native interstitials. Onclick ads, otherwise known as popunders, are a very popular type of advertising. What makes them especially useful for newbies is that they usually prompt high conversion rates at a low cost. So, if you don't have heaps of money to spend on advertising services, this could be a good choice.
In-page push ads also tend to be very effective because they appear next to relevant content on the site; hence they don't seem out of place and have a lesser chance of turning people off.
6. VigLink (now Sovrn //Commerce)
Sovrn recently purchased VigLink, but it still works much in the same way it did before. One of the best things about this service is that its monetization tools work to create competition amongst advertisers for your traffic to get the best deal possible.
It also offers you an opportunity to gain plenty of useful insight and identify both your weak and strong points. That way, you can focus more on content and advertisers that earn you the most money and work on your weak spots simultaneously.
Like most other networks on this list, this one also automates a great deal of the process. You can focus on what you do best, creating great content, and VigLink can focus on what it does best, earning you money. So, if you play your cards right, it's a win-win.
Before we leave you
Any of these networks could work for you. It all depends on what you are looking for.
They are all fine choices, so you will not be left disappointed no matter which network you choose.
So, grab this chance for monetization, and make blogging profitable as well as entertaining. Best of luck!