WooCommerce has proven time and again that it is the best thing that one could use if they own any type of online store. No matter the size of your store, be it a large business, or a small part-time shop, you will eventually find out and probably use WooCommerce.
The #shipping aspect of every #OnlineStore is going to be directly linked with your #CustomerExperience.
Click To Tweet
People like it when they know when their product is going to arrive and if they can also track it. To set up things like tracking and other logistical nightmares, one should opt to find a plugin that is going to help them out in these endeavors so that they don't waste too much time and effort.
Setting up the online store is a challenge in itself but thinking through how the logistics are going to work is a whole other workload. That is why I have compiled a list of the top 5 WooCommerce shipping plugins that are going to help you better manage your online store!
1. ELEX WooCommerce USPS Shipping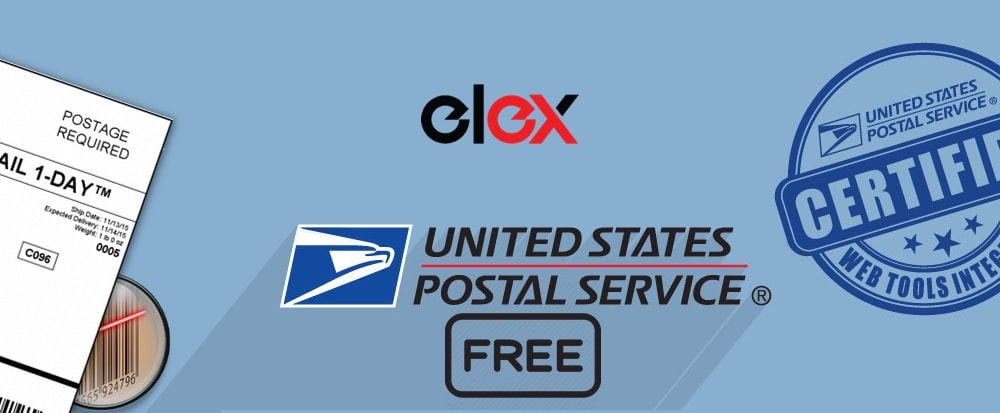 ELEX WooCommerce USPS Shipping is probably the best option you have available out there. It is rich with great and powerful features that ensure that the shipping process goes as smoothly as possible. It is a plugin that is free for you to use but also has a premium plan that gives you additional features, the most notable one being a detailed USPS shipment tracking facility.
This plugin will most surely improve your customer's experience while they are on your online store because it will give them a more transparent view on your shipping rates and it also comes with a very optimized product delivery price implemented.
You can also use all of the USPS-s rates that are available and offer them to your customers so that they can choose the type of shipping that they want.
I recommend this plugin, especially if you are just starting off with our online business. The premium plan is also something to consider getting but I recommend getting it after you have established your site and when you have a fine number of customers on a monthly basis.
2. WooCommerce Advanced Shipping by Jeroen Sormani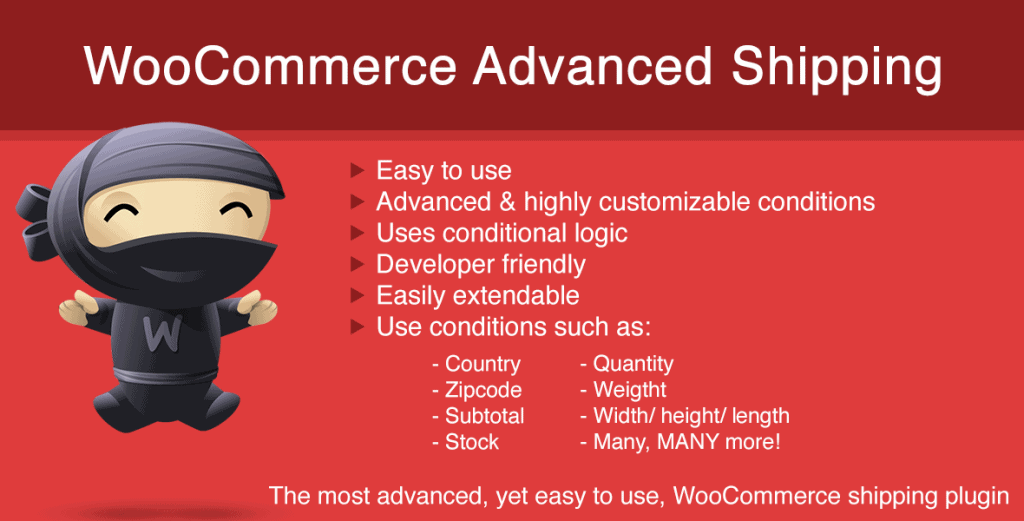 Here we have yet another great plugin for WooCommerce called WooCommerce Advanced Shipping. It is an easy-to-use and set up a plugin that will give you a lot of customizability when it comes to your online store and the shipping process.
The plugin allows you to create your own shipping rates based on conditions that you set up. This is great because it gives you a whole load of flexibility when you want to decide how much to charge for shipping under certain conditions. A couple of examples of some conditions are the weight of the package, the volume, the country where the package is headed, the state, and so on.
This plugin really shines because it allows you to have greater control over the pricing of shipping no matter where the package is headed to. So I recommend this plugin if you are planning on shipping your products worldwide to a number of countries and not only to the United States.
The price for this plugin is $18 but this is pocket change considering the alternatives and plus you don't need to know how to code a damn thing to use it. You only need to set the various conditions and presto, you are set!
3. WooCommerce ShipStation Gateway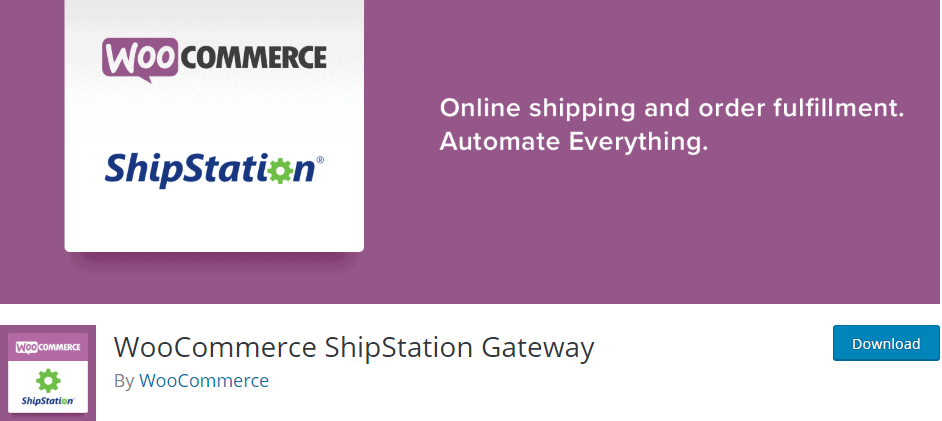 WooCommerce ShipStation Gateway is a great plugin that is free to use. It has been downloaded by over 60000 people and it is also well received.
Where this plugin shines is its ability to share the labeling for your products. It also has a free mobile app that you can download and use on your Android or iOS device.
All in all, this plugin will most likely save up a lot of your precious time from all those fulfillment processes that you need to do on a daily basis.
4. WooCommerce Advanced Shipping by JEM Plugins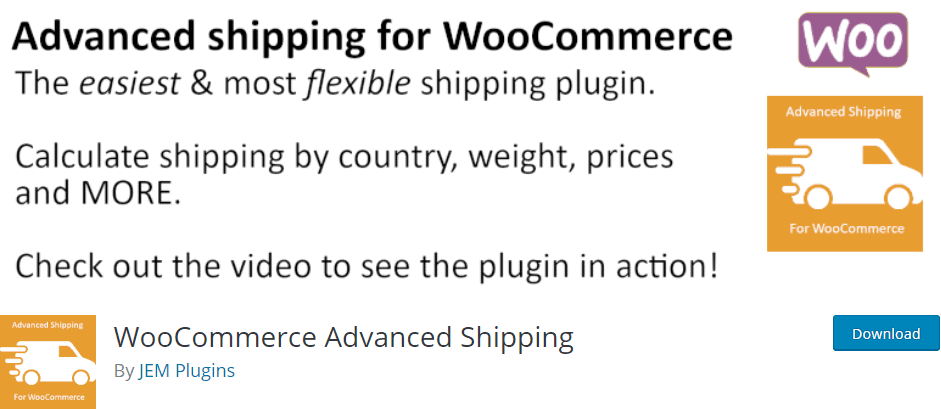 This plugin is also a very easy-to-use and set up kind of deal. With its free edition, you can get a lot of things done using the fine number of features available. And it also has seamless integration with the WooCommerce shipping zones.
Using this plugin, you can define the shipping by costs and by weight, and you can include and exclude tax. You can also add additional handling fees for each order, and you can define the shipping label that will show up in the cart.
As you can see there is a fair number of features available in the free version of this plugin, but the pro version offers a couple of additional features for you to play with.
In the pro version, you can change the shipping price depending on the country, state, or postal code. You can also define the pricing depending on the weight of the product as well as the volume and you can give your customer's the choice of standard shipping or express shipping.
5.
WooCommerce PDF Invoices, Packing Slips, Delivery Notes & Shipping Labels
This WooCommerce Invoice plugin is an all-in-one solution for automatically generating documents such as invoices, packing slips, delivery notes, shipping labels, etc., in your WooCommerce store. You can preview and print these documents individually or in bulk.
The plugin allows you to attach a PDF invoice with additional print options embedded in the order email. The invoice can also be attached/mailed only for selected order status(es). This plugin comes with extensive customization options that let you design each component of the template. You can also create your own documents with simple toggle buttons and with visual and code editors.
Another great feature offered by the plugin is the option to add custom fields to invoice. You can add metadata, payment information, logo, tax info, tracking details, and other branding elements into the documents with no effort at all.
Apart from the above-listed documents, you can also create Address Labels, Pick Lists, Proforma Invoices, and Credit Notes using the plugin.
6. WC – APG Weight Shipping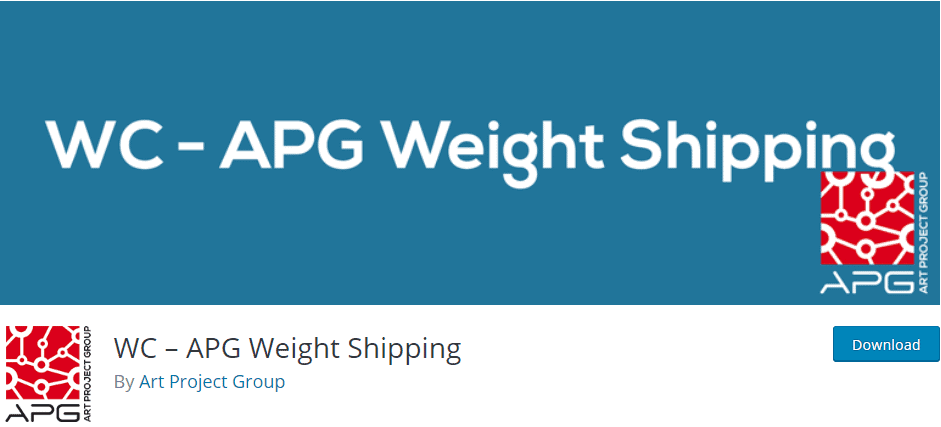 And last but not least is WC – APG Weight Shipping by Art Project Group. This is a free plugin that has a large number of features with which you can play around with. So you name it, this plugin has it, shipping costs, handling costs, and so on.
I like this plugin because it is simple, and it is above all free. And for the most part, I would recommend this plugin if you are just starting off with your online business and when you don't want to invest additional money.
Verdict
It is wise that you opt for a plugin that will be the best option for your type of business.
If you are starting off, then you should go for a plugin that is functional enough with a fair number of features and that it is also free.
But if you are a big business that is dealing with a lot of orders on a daily basis, then you want a premium plugin that has a lot of features that will further improve your customer's experience and will also be simple to use so it can save you a lot of time and effort.