The branding for a product starts the moment your idea forms. There is absolutely no difference between physical and virtual products in this regard. The hyper-competitive markets of today where everything is always available at any given moment to you mean you're either battling it out on the frontlines, or you're just waiting for the curtain to fall, and it will, sooner or later.
Want your own #ComingSoon #plugin but aren't able to code one yourself? This article has the solution!
Click To Tweet
In the process of creating brand awareness, you first need to make a brand your own. Create or adapt something and run with it.
Branding is usually tightly connected to the product itself, but you can also brand the tools you're using. And when we're talking about website management with WordPress, the tools you're using are plugins, so what if you could take one of the plugins you use regularly and rebrand it with your name, logo, and theme, essentially making it fully your own.
It's quite unusual for such a feature to be available, however, that's precisely what you'll be able to do with the Coming Soon & Maintenance Mode plugin.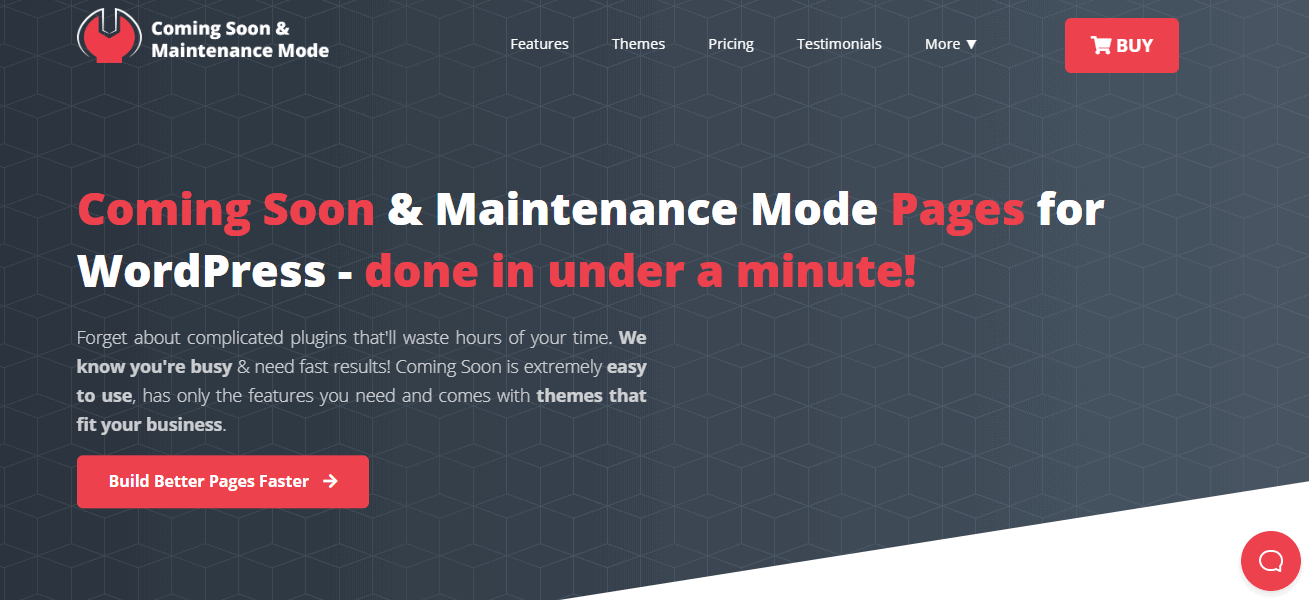 This feature was added in the last big update just last month and, among other things, we'll focus on how you can use it to raise your brand awareness and therefore grab your piece of the market.
Rebranding in the full sense of the word
If you aren't new to website management, then you've probably heard of the term "white label". It refers to the option to remove creator and/or company insignia from a plugin you're using. For example, if you're using a plugin developed by Microsoft there are bound to be logos or mentions somewhere on the frontend of either the company or the plugin, or maybe both.
Enabling the white label option, all those insignias disappear so while you'll still know what plugin you're using and who created it, it won't be visible to your visitors putting your brand at the forefront. This is also a feature that was already present in the Coming Soon & Maintenance Mode plugin as well.
Branding a plugin is the next step – you'll be making the plugin your own both from the frontend and the backend.
The lengths these changes reach is probably easiest to convey through the fact that even the name of the plugin in your WordPress plugins repository will be changed.

There's a real possibility that a moderator you haven't relayed the info about the plugin to could mistake it for your own creation.
Dashboard – command central
Unlike most of the work you'll do with this plugin in order to set up your coming soon page, establishing your custom brand is done through a dashboard that is separate from the plugin itself.
It's really easy to get the hang of and if you've been using WordPress all this time, you'll be acquainted in a flash.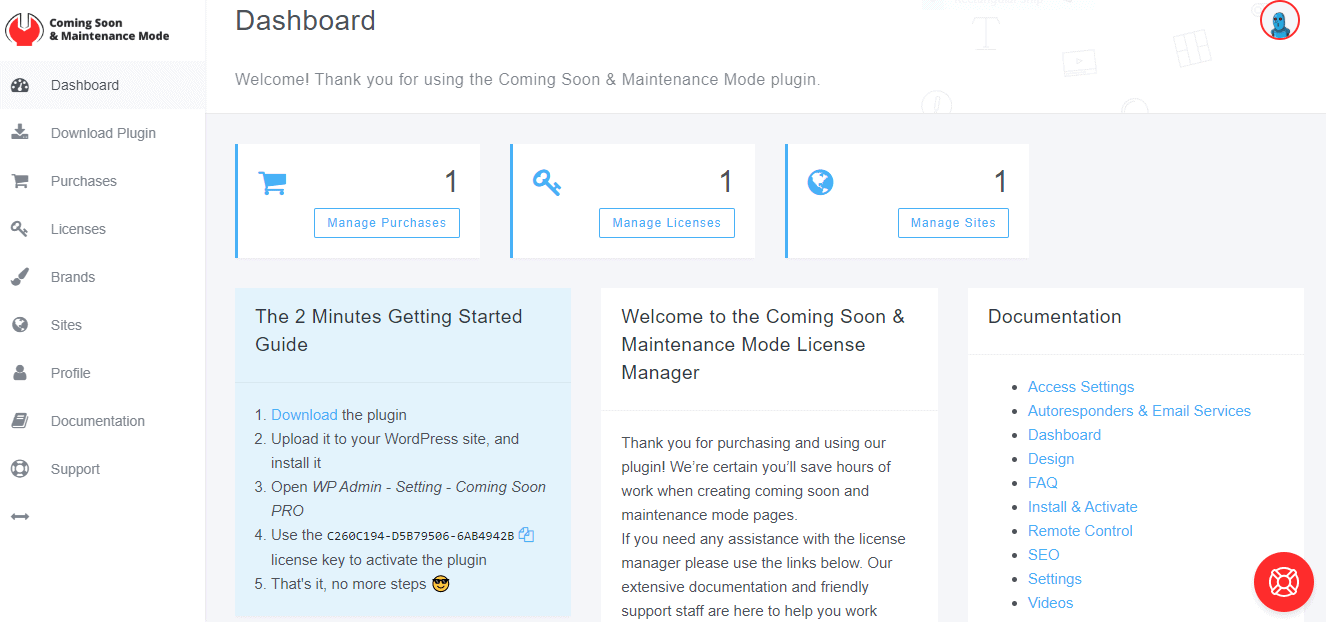 From the dashboard, you'll be able to control all the core options of the plugin on all the sites for which you've activated your licenses – managing purchases, sites, and the licenses themselves.
If you want to, you can even download the plugin from here and skip searching for it in the WordPress plugin database. Everything is straightforward and fluid, so you won't be bombarded with endless menus, tabs, and windows.
An interesting feature worth highlighting is the remote control option, that's been newly added with the last big update. With it, you'll get to turn the coming soon/maintenance mode pages on or off on all sites that have this plugin installed without having to access the WordPress dashboard on each site.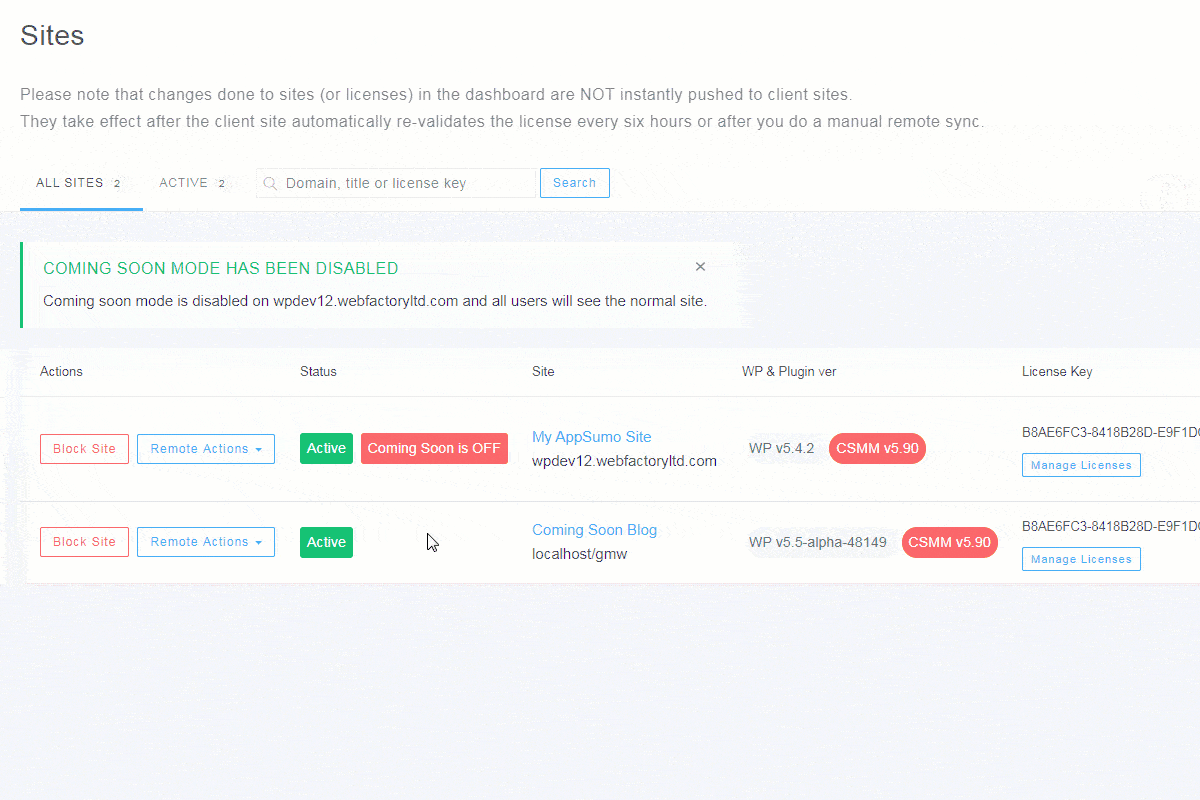 This will make life much easier for all users, but especially the ones that manage multiple sites. Until now you had to access each site individually through the backend for activation or deactivation. But now, these crucial actions can be all done from the same place, for multiple sites.
No more hopping around to see what's up and what's not, instead, just look at your list of sites and you're good to go.
Brands
Finally, we get to what you've probably been waiting for – the new rebranding function. We've touched on how it can be used, but let's dive in a little more to see how it's set up.
As you would expect the first step is accessing the "Brands" tab in the main menu of the dashboard. Once opened, you'll immediately be presented with all of your custom-made brands.

From here you can plainly see which are active (i.e. connected to a license), what company they're referring to, their logo, main color, and potential note if any was created.
From the overview list, you'll be able to edit, copy, or delete the previously made brands, or create a new one.
Creating a new brand is done in just a few minutes, by filling out information for a series of basic settings and visual features. And if you're ever in doubt what a particular filed actually does, you can consult the handy descriptions below each one, which explains in simple terms what it's used for.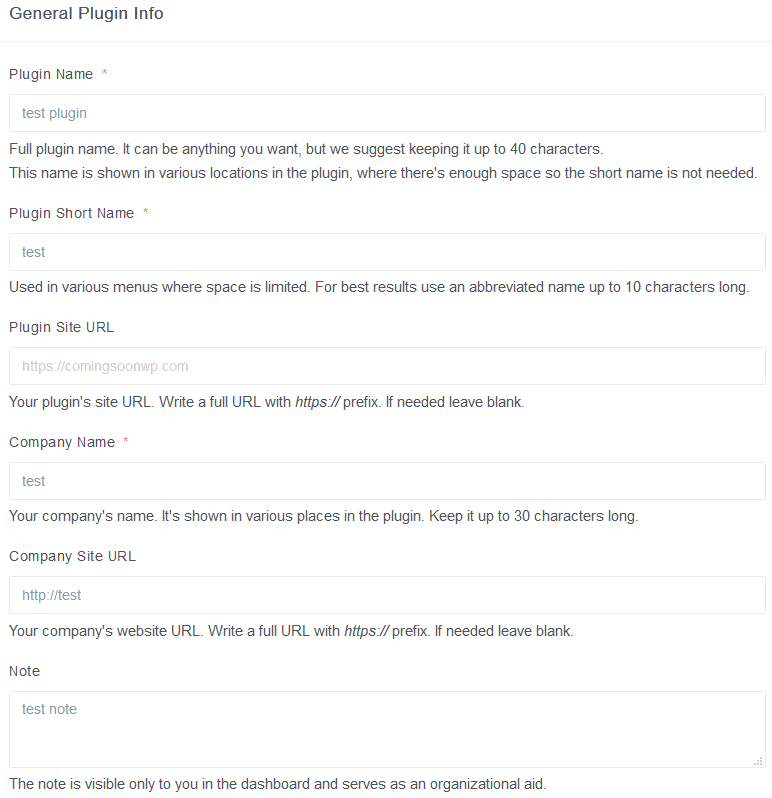 Just a quick glance over the required fields emphasizes how deep the branding goes. As we've already highlighted, even the plugins name can be customized and that's just the first field.
Throughout the plugin, you'll be able to insert both the name of your company and the URL making sure everybody who's using it notices.
Lastly, you can write notes either for yourself, or others sharing your dashboard in case anything is worth mentioning.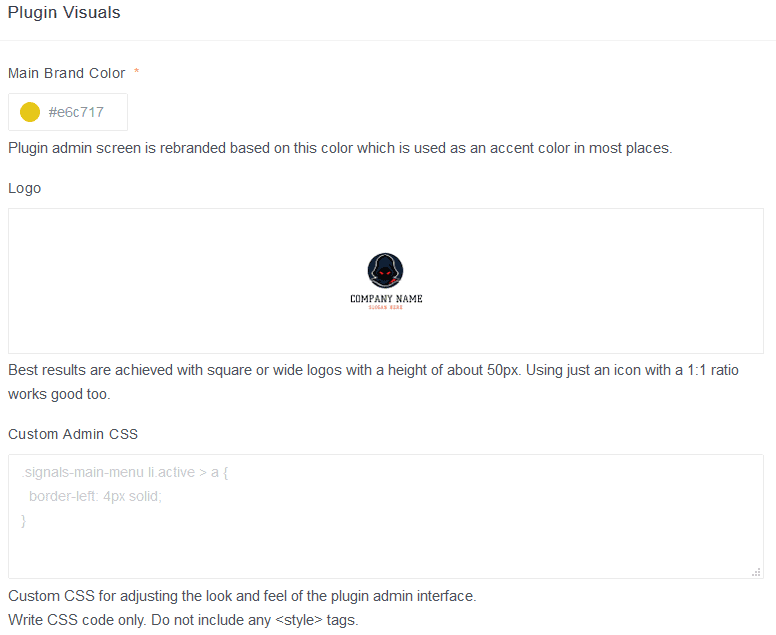 Brands usually go hand in hand with a recognizable logo and visual identity. If your company already has one in place it can be implemented in the plugin branding process, or if it doesn't you'll be able to create one.
Don't sleep on this. A logo is probably the most recognizable part of the branding package. Just of the McDonald's golden arches or Nike's check logo – you don't even have to say what company it is, the logo does all the talking it needs. That is the golden standard and as such the ultimate goal you should be moving towards, so you might want to consider hiring logo creation companies.
The color scheme and logo are only the first, basic steps in creating the complete package, with the custom CSS option rounding up all the visual changes you can use.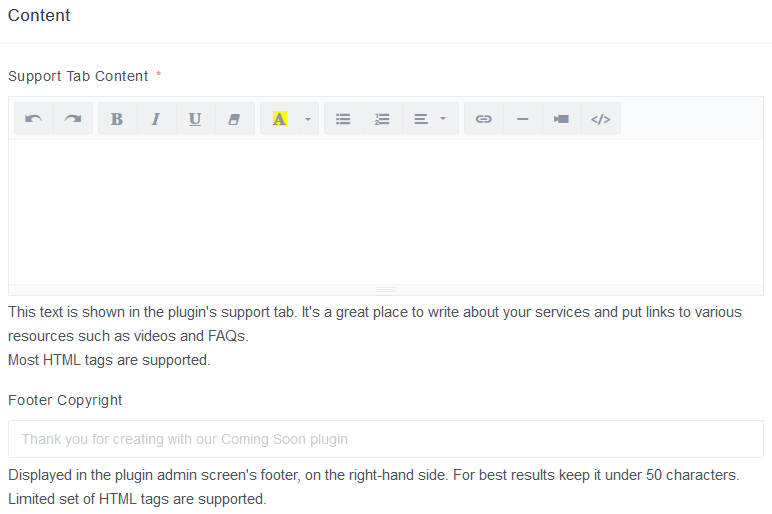 Before you finish up, there's just the support tab content and copyright to fill out. Again, these are great branding opportunities for more subtle hints to your business, especially the support tab where you can promote your other connecting services that could be relevant to users.
After you've done everything you intended, there is just one final step – attaching the brand to a license, or in other words, to the site where the license is active.
Also, there's an additional option in the extra features section that lets you enable custom branding and choose the brand you want to use.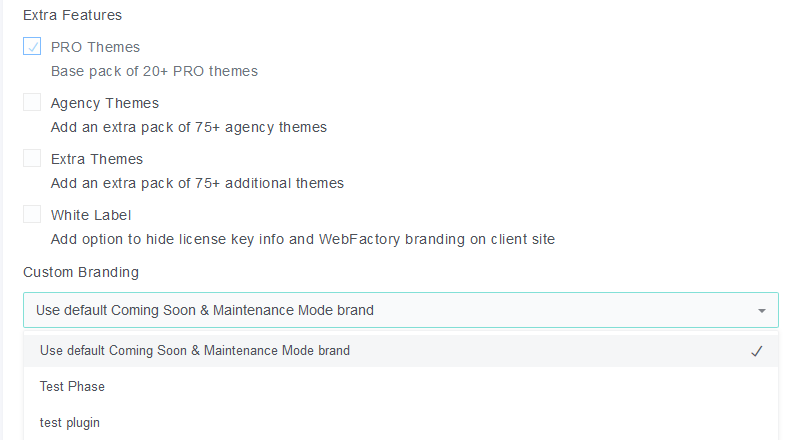 The plugin in WordPress
Moving away from the dashboard, let's quickly see how the plugin works in WordPress.
Accessing the plugin's settings, the first thing you'll see is your custom logo and color scheme. The same ones you've set up in the plugin's dashboard beforehand and linked through the license to a site.

All customization of how your page(s) will be displayed is done through the WordPress part of the plugin. Things like design, access, and themes are all here, just waiting for you to mold them into the perfect combination that will attract visitors.
As you probably expect, there are a plethora of premade visuals to choose from such as layouts, blocks, themes and background images, with the option to customize them further or import your own if you're feeling especially creative.
Speaking of images, up until now the plugin had a great Unsplash integration that provided you with thousands of striking images. Now, your choices are even more diversified with the new Depositphotos integration, offering millions of images to choose from.
There is no conceivable way that you won't find what you're looking for now.
It's also worth mentioning that new features don't stop just with adding more stuff, but also whole new design functions as well. For instance, along with the Depositphotos integration, they've added new blocks (2 column content and divider blocks just to name a couple).
These additions make it easier for you to customize your layout around your overall visual identity for an even better impact on visitors.
Going over the history logs it's encouraging to see the devs constantly enhancing their plugin. When you can pinpoint trends like these you know you'll get your money's worth in the end.
Conclusion
The percentage of brand awareness in a successful business venture is higher than ever, so you need to take every opportunity you possibly can to raise yours.
Rebranding a successful plugin to promote your brand is certainly one of the ways you could do that. With just a couple of customizations, a useful tool becomes an opportunity to grow your market share and influence.
Be sure to use everything the Coming Soon & Maintenance Mode plugin offers because branding a subpar product simply won't cut it. However, if what you're offering is sound and on top of that you're seizing the branding opportunity present you're well on your way to success.