Google Docs has helped people in many ways to take the right notes as well as collaborate with each other and more. It has also helped us to blog in a right way. So, there are many amazing benefits of using Google Docs. Now, no need to use a huge amount of money to run poorly working word processor or make use of the open-source solution, with Google Docs writing blog posts has become very simple and your work will get saved to the cloud while you continue writing. But, still if you want to transfer any blogs posts in WordPress, you will find it a tough process. Also, when you upload any blog content from the Google Docs to WP it generally does not work rightly and is not supported. We have the solution and that is where Mammoth .docx Converter will help you to come out from such situation.
Understanding More About Mammoth .docx Converter?
It is nothing but the WordPress plugin, which will help you to upload all your DOCX files in WordPress. If you want to convert your docx file in HTML for WordPress post editor, then this plugin will be of great help to you. The best part about using this plugin is that Google Docs enables you to convert all your documents in DOCX files, and publish your blog posts from the Google Docs to WP.
Let us look at the list of content that this plugin formats offer:
Headings
Borderless Tables
Lists
Images
Footnotes and Endnotes
Links
Text Boxes
Text Styling
Even though it is simple to upload images with this plugin from the DOCX files to WordPress website, I do not suggest uploading this in such a way. Reason behind is sometime during this process of publishing your Google doc in the DOCX file or uploading DOCX file to WP, it can change your image names by "word-image-1" or "word-image-2."
How does it work?
You initial step in using the plugin will be done in the Google Docs. So, you need to ensure that your blog post is properly formatted with the right headings, links, lists and more. Then, you can convert your document in the Microsoft Word doc and go to File and Download as and Microsoft Word (docx).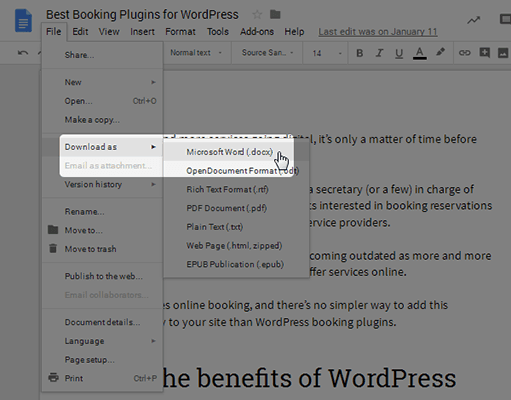 After that you have to save your document on your desktop just to make things simple for you to understand. Put this on side at present. Then from WordPress admin, you can go to the Plugins and Add New and Type "mammoth" in your search bar and find, install & activate your plugin. It is that simple and hassle-free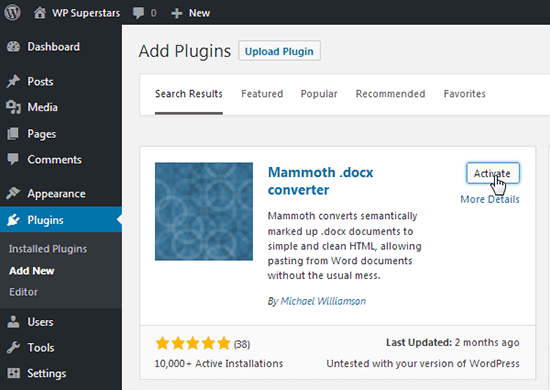 The best part about using this plugin is that it is very simple to use and has got no settings. And if you want to use this, you can create the new post, and go down on bottom of your post editor page.
There you will get the screen option for this plugin that includes the Browse button. Here you can upload the document. So, all you have to do is just click on the button, and choose your DOCX file from the desktop.
This tool has got 3 tabs to view for you. First will be Visual, it is the view of formatted post from the frontend perspective. Do not worry if you are not able to see any font styles that the actual posts use (suppose you customized this with the custom code or plugin for example like Easy Google Fonts). The tab is just replicating editor's styles.
The next tab is Raw HTML and this will show you how tool has edited your blog post from Google DOCX to HTML. Here you will see that your paragraphs & headings are rightly formatted in p, Header 1, Header 2, and more tags in accordance.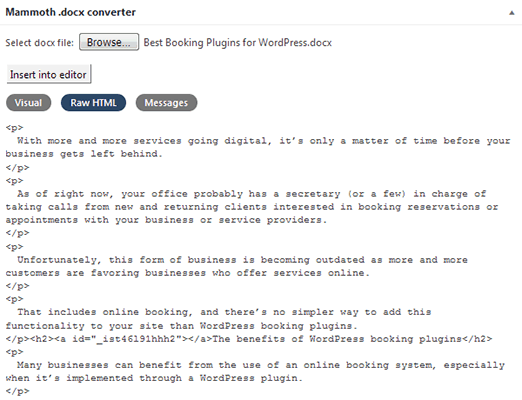 One problem you will find is that the ID tag getting applied to each header on your blog. It was not closed and applied anywhere, and so did not register as the link on frontend. So, removing this from all headers will be a tedious process.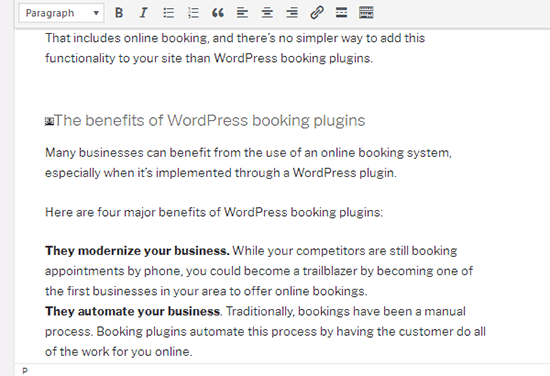 But, luckily it is not the common issue with this plugin, thus you will not experience it yourself. In my other tests, messages tab didn't generate any such messages, however, it has reserved for some errors that will happen with the converted document.
Keep a note that that Visual & Raw HTML tabs aren't editors, so you have to make any changes in your document & re-upload this yourself if you find any errors in the file.
When you are sure that everything is going smooth, then click on Insert In Editor to upload your post completely on your WordPress site.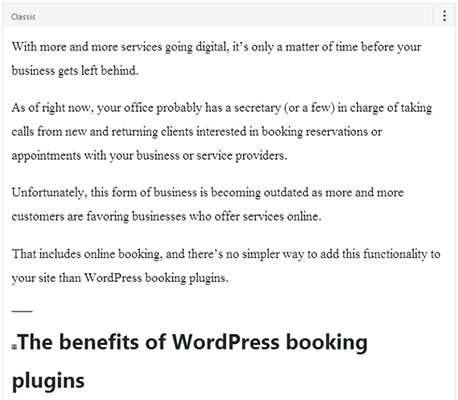 Besides facing certain issues with the images mentioned in our earlier section, another issue that I found was with its alignment. The problem is everything gets align on the left side, which includes anything that you centered, thus you will have to go through your blog post to re-align these elements. You will find it a bit intimidated, but trust me it does not take very long.
That's all to it right now. Next step will be cleaning & simple way to publish your content from the Google Docs on your WordPress website.
Learn How Mammoth .Docx Converter Will Work On Gutenberg?
After performing a test of this plugin on site using Gutenberg & Twenty Nineteen theme, it works really well and in the same way that it works with Classic Editor, just that it uploads the whole formatted blog post as the single Classic block.
Final Words 
We hope our tutorial was very helpful for you.
If you have not subscribe to our newsletter make sure you are informed about our latest WordPress news and tutorials every now and then.