This article will be about online Gantt chart makers. There are many online Gantt chart makers on the market right now. But, not all of them are good. So this list is aimed at helping you find the perfect tool for you. An online Gantt chart maker can be really important, especially when you have many projects in different places.
By using an #online Gantt chart maker, you do not have to go to each #project to check for the progress of each project.
Click To Tweet
Online Gantt Chart Makers
wpDataTables

wpDataTables is a powerful WordPress plugin for Amazon affiliate marketers who want to remove the headache of manually creating tables. You can not only create beautiful, but also practical and responsive tables using this plugin.
By taking advantage of its table editor, you can seamlessly create tables without worrying about technical issues. The tables you create will be natively responsive, and all visitors to your website will get to experience their powerful and sophisticated look.
You can create any type of table with wpDataTables – comparison tables, pricing tables, you name it! Once you configure them and customize them to your liking, all you need to do is publish your fantastic tables as posts or pages on your Amazon affiliate website.
Have we mentioned that you can customize the tables as much or as little as you want? wpDataTables has unparalleled customization options and lets you tailor the tables and charts you create to fit your branding.
If you want to increase your affiliate earnings, wpDataTables is a great solution!
Key Features:
Seamlessly create tables without writing a line of code
Create editable & responsive tables
Wow customers with fantastic customization
Gutenberg, Divi, Elementor and Avada integrations
Single-cell shortcode
Pricing:
Annual subscription: $55 for one domain.
Lifetime license: $210 for one domain.
TeamGantt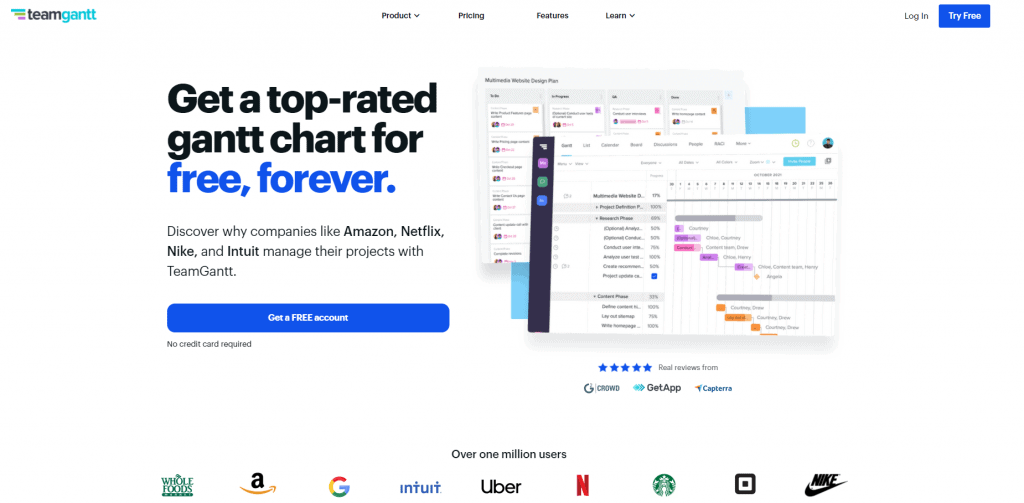 TeamGantt is a refreshing solution that brings Gantt charts online. By opting for this solution you will be able to plan and manage your projects, as this Gantt software is super easy-to-use. Inviting your co-workers, or teammate(maybe even friends) to view and edit your Gantt chart can also be done with ease.
You can create your Gantt charts quickly online by simply dragging and dropping your tasks to plan your project. This is the project planning software that actually makes life easier. Just jump in and start adding tasks. No Training Required. Be up and running in minutes.
Smartsheet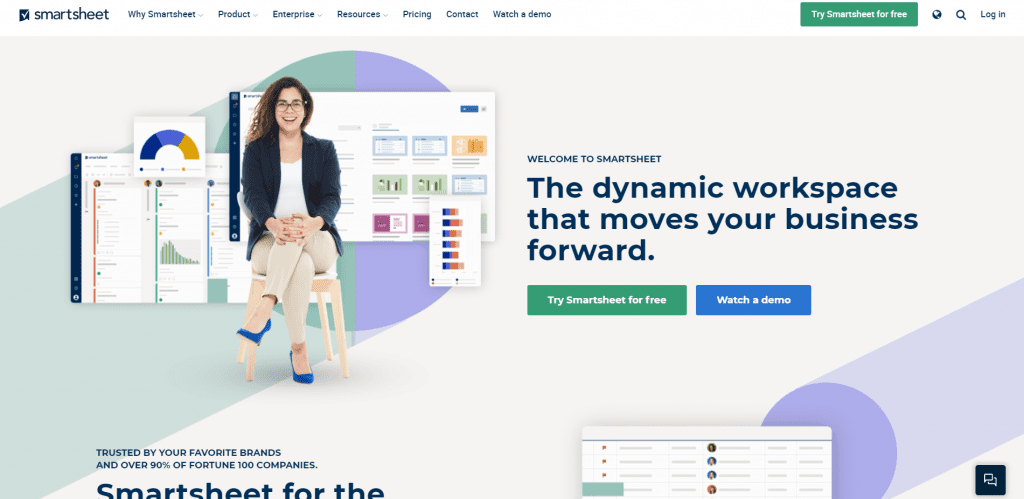 Not only are Gantt charts easy to build in Smartsheet, but they also look good too. Your chart will instantly tell a compelling visual story.
When you assign team members to work on tasks, add a rule with Smartsheet's conditional formatting capability to show their taskbars in the same color (e.g., all of Ted's taskbars are BLUE). Or show status levels in different colors (e.g., "All at-risk tasks are RED). No more worrying if you caught everything or if everything's on schedule.
SmartSheet is online, 100% web-based… meaning you can use it with macOS, Linux, Windows on your laptop, your Android smartphone, your iPhone & iPad.
Plus, you can edit projects online however you like: Adjust timelines and define milestones in the familiar spreadsheet-like grid format and switch to the Gantt view for status meetings. Draw dependencies and reschedule tasks. Smartsheet puts you in the driver's seat.
GanttPRO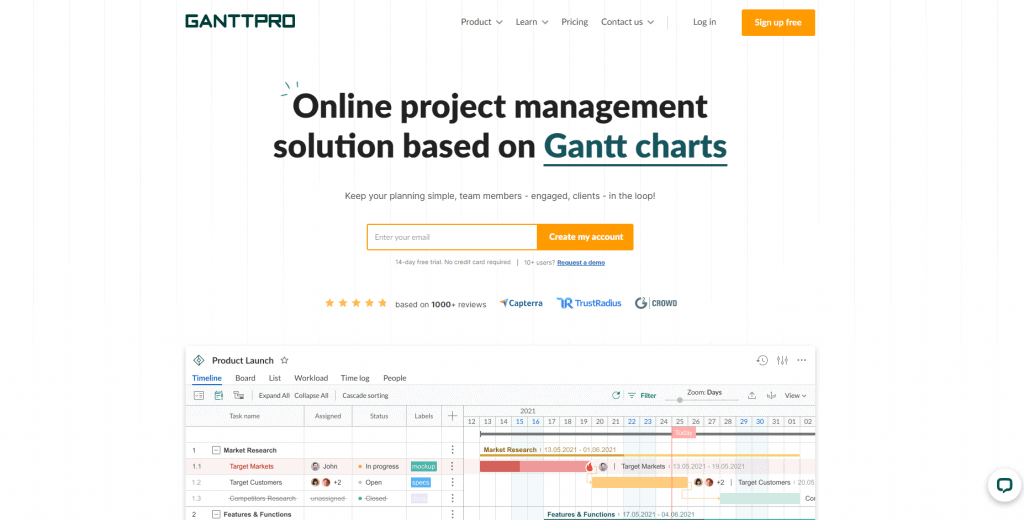 GanttPRO is intuitive online Gantt chart software for planning and controlling all kinds of projects. Split the projects into groups of tasks and subtasks. Organize and schedule tasks set durations and dependencies between them. In essence, by putting your projects on this Gantt chart, you'll set accurate estimates and manage your resources wisely.
GanttPRO has all the basic Gantt chart features and the core features of a collaborative project management tool. Work alone or create a working space for your team: set roles, assign tasks to team members, manage progress, add attachments and comments.
What's more, you can always share Gantt charts with your colleagues and clients, giving them the right to view or edit projects.
Tom's Planner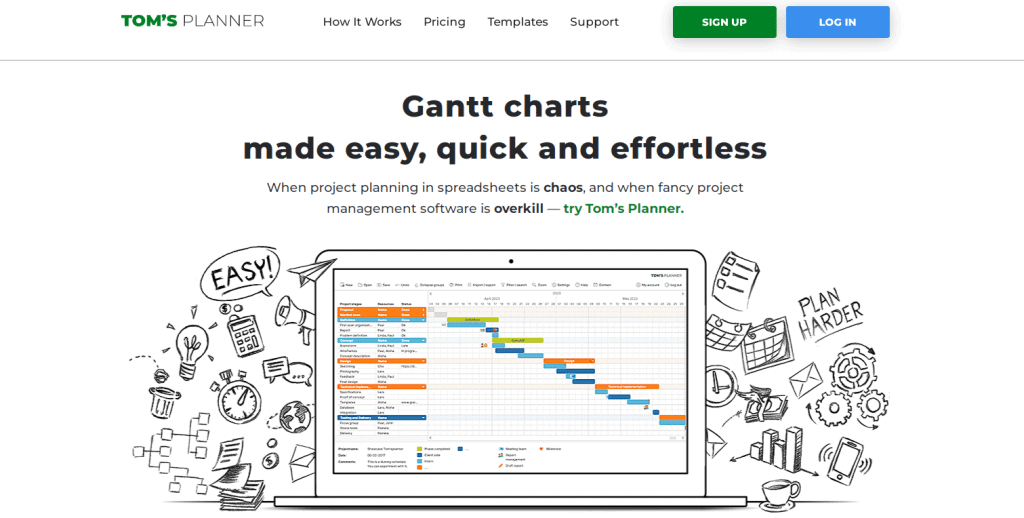 With Tom's Planner, you store, share, and manage your Gantt charts online. It's a super handy tool that offers asecure way to share and collaborate on Gantt charts with your clients or your team from. Plus you can do it from any computer (Mac, Windows, or Linux) with an Internet connection and modern browser (Chrome, Firefox, Safari, Internet Explorer).
No app is required, just visit the website on your tablet or phone, and you are good to go. Have insight into your projects on-site, in meetings, and share progress directly with your clients. Access your Gantt charts online wherever and whenever you like.
Gantter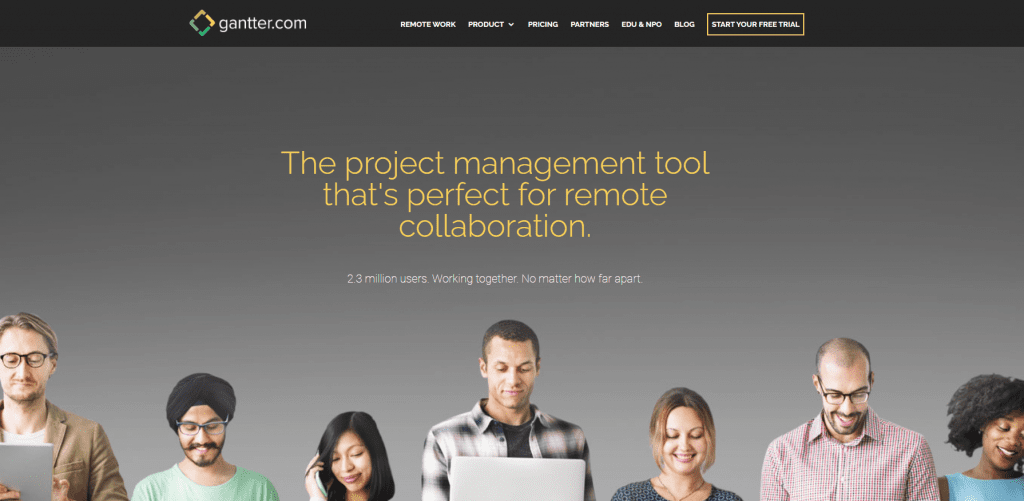 Gantter is an entirely free web-based tool for project management, and if you really think about it, it's kind of like a web-based Microsoft Project.
It allows you to do the following:
Use your existing Google account to log in.
Manage all your files, including Gantter project schedules from one location, anytime, anywhere.
Share Gantter project schedules with your Company's Google Apps Domain Users.
Real-time editing and chat with other Google Users.
Community Powered Templates.
Seamless Integration with File Central SmartDrive.
Use your existing Facebook or LinkedIn account to log in.
Import and Export MS Project files directly from Gantter.
Ability to work offline.
Wrike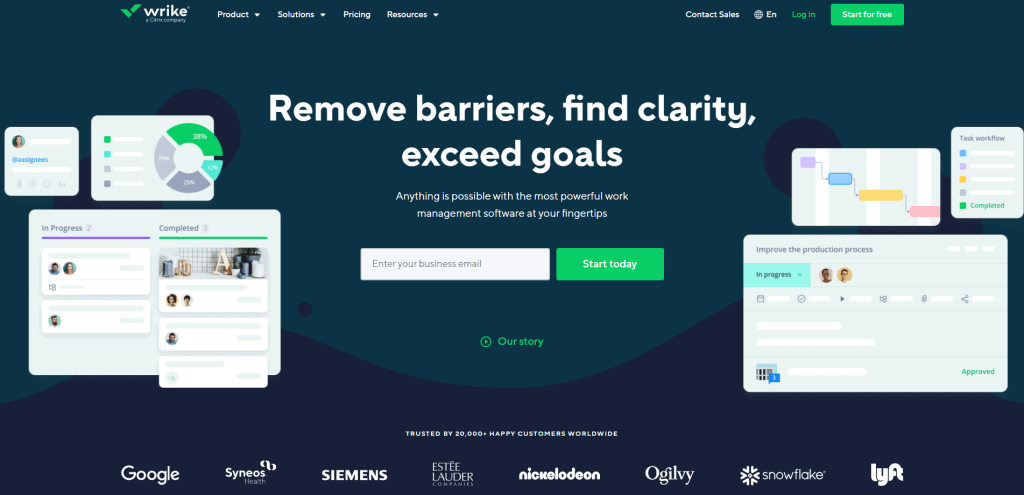 Wrike gives you a single space to provide detailed instructions on tasks, leave comments, ask questions, share files attached directly to relevant tasks, and instantly view your planned project on the Gantt chart. Your team will get work done faster when they're together.
Wrike's Gantt chart maker allows you to create interactive Gantt charts to achieve precise project planning, update project schedules with a few clicks, and visualize your plans in real-time.
Once you schedule your project dates in the task view, the Gantt chart automatically populates your tasks, so you can see and adjust your project timeline instantly. Setting task dependencies and changing due dates is as easy as dragging and dropping tasks on the Gantt chart.
Zoho's Gantt Chart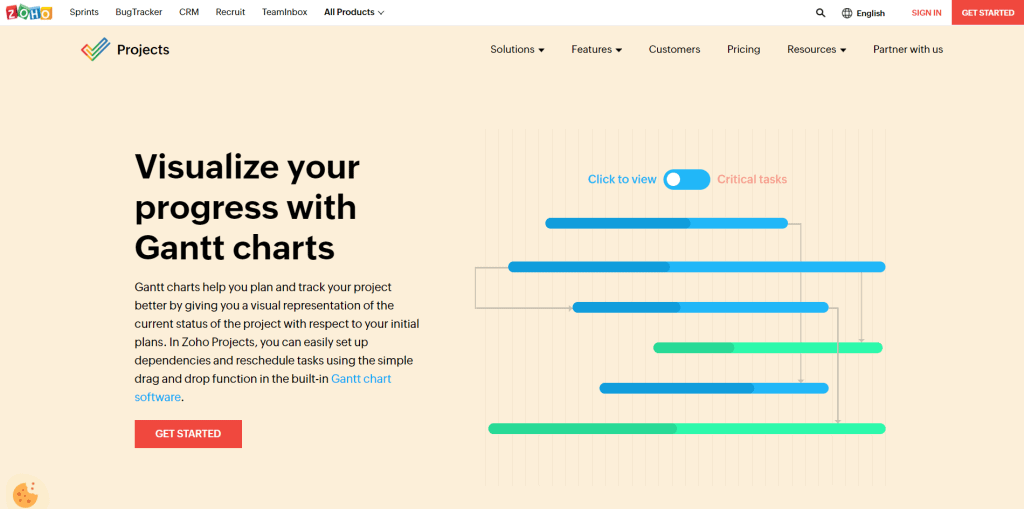 Zoho's online Gantt chart is powerful and yet easy to use. It gives you a visual of the current status of your project compared to what was originally planned. It also shows you the dependencies between tasks.
If your plans need to be changed, you can add tasks, edit existing ones, and set new dependencies right here. Plus, it's automatically shared with your team, or you can also print it or export it as a PDF.
This tool can quickly create simple Gantt charts and project timelines using web-based software. It has powerful tools to quickly add tasks and dependencies, professionally designed Gantt chart templates, and real-time collaboration to work together as teams.
Final Thoughts
We hope that this list of online Gantt chart makers was useful for you. If you think that your friends might also like it, please share it.