Affiliate programs create a partnership between a specific website that sells products and someone who advertises that website. For example, if you want to earn extra money without investing anything in your business, you can do that from the comfort of your home by promoting and advertising products and/or services from some website that hires you for that specific job.
With this marketing strategy, the company that hires you can never be at a loss because advertisement only increases sales. You, as an affiliate partner, earn a profit (usually a sales commission) by simply promoting certain products or services on social media, websites, emails, etc.
#AffiliateMarketing has become largely popular nowadays, especially for professional #bloggers and #influencers as it presents an online business with a source of income.
Click To Tweet
To create a partnership in this industry, most affiliate marketers search for offers on different affiliate platforms. Though these platforms have some fees that need to be paid, they bring a lot of value in the affiliate marketing industry.
But before getting into this industry, it is important to know how affiliate links work. First, they are shown to customers on various platforms. After that, the customer clicks on a certain affiliate link which directly takes them to the merchant's site.
Affiliate programs track your activity through an individualized ID in the URL and cookie saves. This way, when a potential buyer clicks on your affiliate link, a small file (cookie) is sent to the affiliate program and it records every action of that potential buyer. This also helps to credit your affiliate account if a sale is realized within a given "cookie duration window" which is typically thirty to ninety days.
After a customer purchases a product or service on a merchant's site (by clicking on an affiliate link that sends him/her there), a purchase is recorded, and the merchant should give credit to the affiliate (advertiser) in the form of a commission. Customers, on the other hand, should get their purchased items as normal.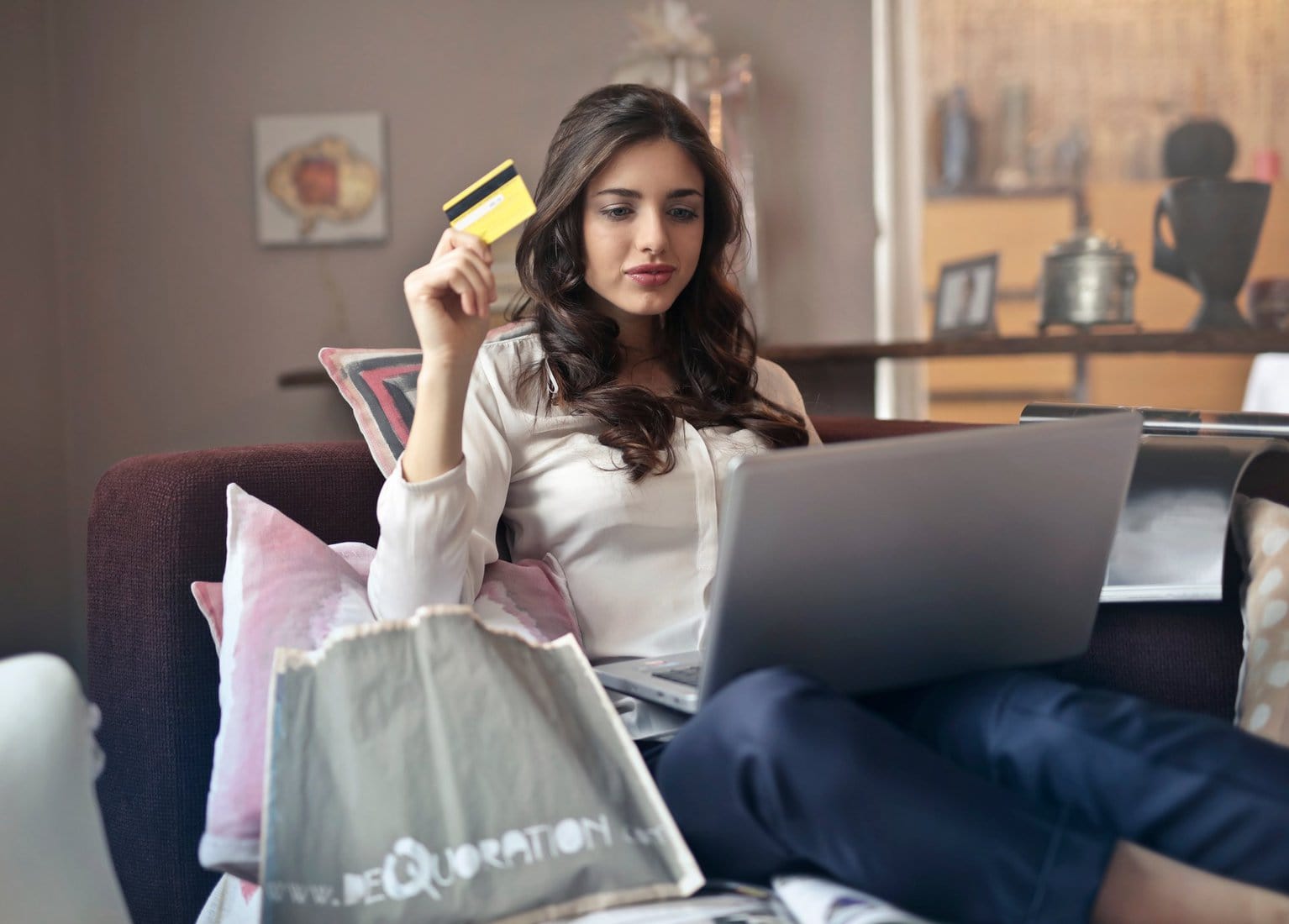 To even begin this cycle of affiliate links, you must join an affiliate program first. Also, check out this list of best affiliate programs to promote. There are many such programs available to everyone who is interested in this kind of marketing. And depending on what are your marketing goals and interests, you should also consider which merchants are even available and what are their commission rates.
There are also certain program restrictions if you want to become an affiliate marketer, but approval is mostly guaranteed.
As statistics show, in the United States, affiliate marketing costs increase each year by more than 10% and more than 80% of brands and publishers use this marketing strategy. Meaning there are many categories of affiliate programs, such as e-commerce, hosting, online casino, health and beauty, fantasy sports, etc.
An example of an e-commerce affiliate program would be the well-known site AliExpress. Shopify and eBay are programs that fit into this category as well. Also, Amazon offers the Amazon Associates Program which is one of the biggest affiliate networks in the world that enables bloggers to direct their readers to Amazon.com products and earn from their purchases.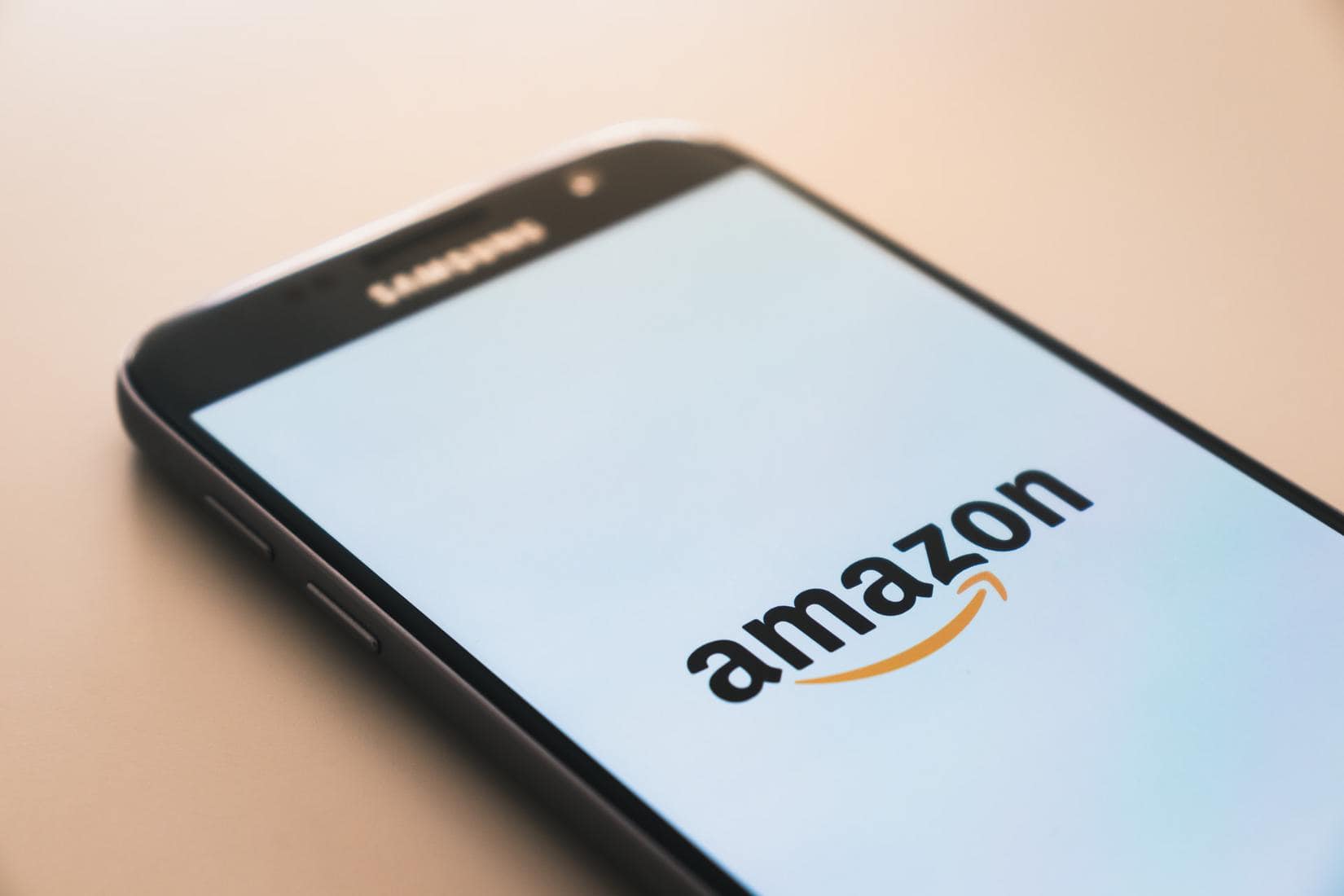 Web hosting is one of the most popular categories of affiliate marketing and a program that belongs to that category would be, for example, Bluehost which is very popular. Bluehost offers low-cost barriers and high commissions and conversion rates, therefore it is a well-known platform for making money online in the web hosting space.
Another category that is very profitable is travel affiliate programs which enable recommending everything a person needs to know about travel packages, hotels, and airlines.
This way, the affiliate marketer can earn a referral fee from each sale. Brands like TripAdvisor and Travelpayouts offer these types of travel affiliate programs with attractive commission rates from 50-80% of a sale.
If you want to manage affiliate links of your own, WordPress offers many plugins that are easy to use and reliable. And in the text below are listed the top five ones we thought you should know about. So let's get right into learning more about them!
1. Pretty Links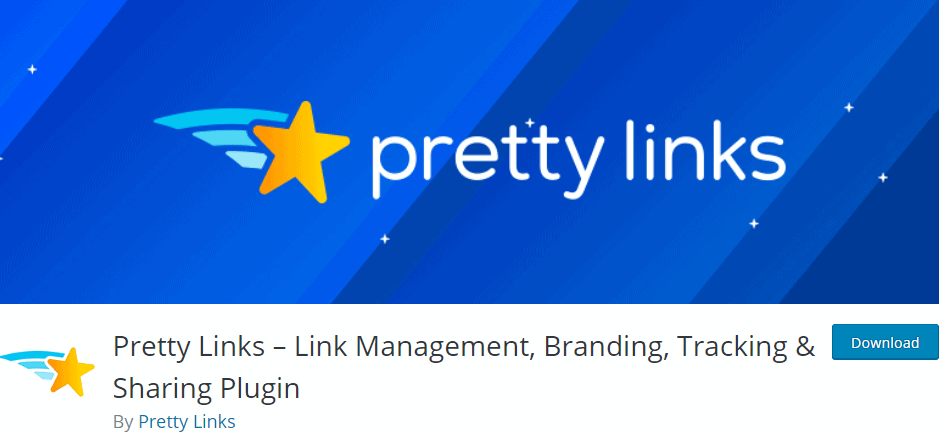 Pretty Links is one of the popular plugins for WordPress that enables managing affiliate links. Over 200,000 websites use exactly this plugin and rely on it for adding links to your content.
Pretty Links allows you to create super short and memorable affiliate links that catch anyone's attention. It has many features, such as auto-linking for certain keywords or redirecting if it comes to some kind of error while opening an affiliate link. And some other features include analytics that keep track of your link performances with built-in metrics.
This plugin is easy to use if you're considering yourself as a beginner and it is compatible with the best responsive WP themes.
2. Affiliate Royale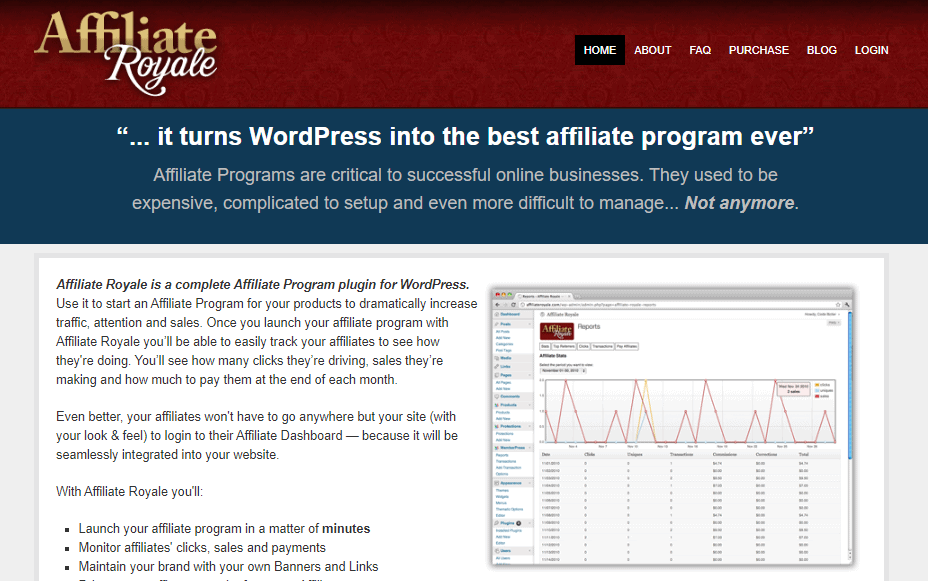 Affiliate Royale comes from the same parent company that produces Pretty Links. These two plugins can be used together for creating a more professional affiliate program that optimizes links making them short and easy to remember.
It is made to be friendly for beginners and it can be installed and set up in a few minutes on your WordPress website.
An attractive feature provided by Affiliate Royale are charts that are customized and show performance graphs. This feature displays your data in visual form through which you will be able to see all the clicks on links, realized sales, and payments that are made.
3. Affiliates Manager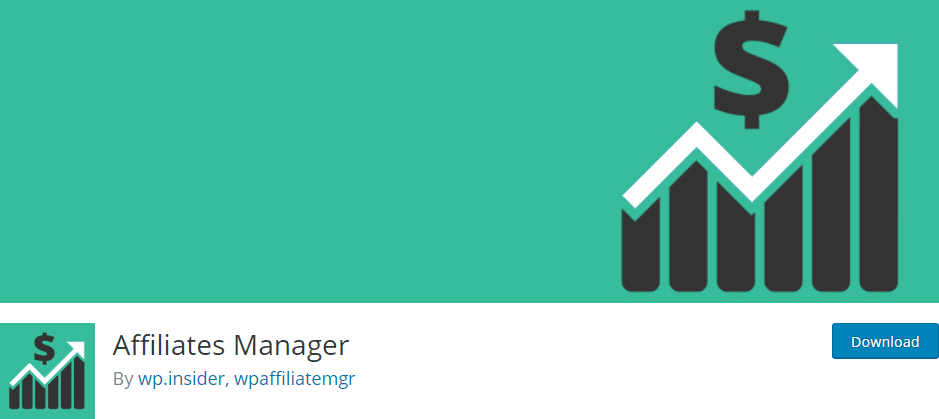 If you would like to start your business with minimal investments, WP Affiliate Manager is the right choice because it gives access to its features for free.
This plugin has a freemium option, alongside free tutorials and a support forum. Of course, for adding premium features you can always spend some more money if you know it's going to be worth it for you.
All users can directly pay affiliates right from their WordPress website because this plugin does not include any third-party platforms. WP Affiliate Manager also provides translation into almost any other language, so you will most likely find the one your affiliates need.
4. ThirstyAffiliates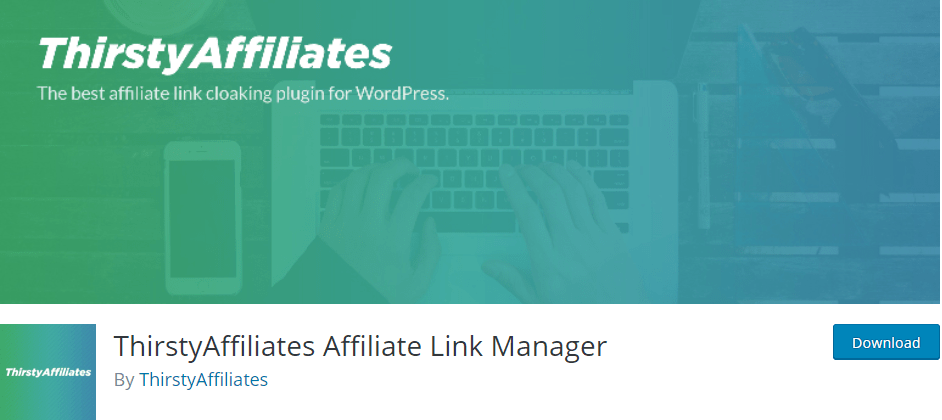 ThirstyAffiliates is another very simple tool for affiliate link management in WordPress. Using it, you can quickly add links to your posts, cloak links, auto-insert links, track performance, and much more.
For example, when you are writing a post for your blog, simply highlight a word and click the button which works as a built-in link tool. Later just search for the link you created by name when you were typing in a rush and had no time for complicated tools other plugins provide.
Categorizing affiliate links is also an optional tool that makes it easier to organize your affiliate partners in categories such as "Amazon" or any other partner you work with.
Conclusion
As you can see, there are many different WordPress plugins for managing affiliate links and each of them offers a variety of features. From those really simple ones like Pretty Links or ThirstyAffiliates to those more complex ones like MonsterInsights, every affiliate marketer can choose for themselves depending on what they need.
All the plugins are super easy to install and use and can be of great assistance if you want to be a successful affiliate marketer.
Potential buyers need to be redirected to a merchant's website. In order to accomplish that goal, the above-mentioned plugins can help create shorter links that are more eye-catching and memorable. Along with that, plugins also provide insightful reports on all traffic that has occurred on your WordPress website. This way, you can track the most visited and highest-earning websites from your partners.