Customizing all aspects of your login page would be so cool if WordPress had included direct access to the login page layout within the Graphic User Interface. If this was the case, then you would be able to do things such as adding CSS code and uploading login page background images, directly from your WordPress admin panel.
While most people would say that this is something they would enjoy having as an integral part of the CMS, unfortunately for them, WordPress is productivity-focused, hence, every single line of code that would make the system bulkier can only exist as a plugin, so it doesn't affect the user experience.
Need to customize your #login page? Here's a list of the 5 best #plugins that will allow you to do so!
Click To Tweet
The good news is, there are tons of plugins on the market intended for the purpose of customizing the login page, with most of the plugins allowing you to transform an entire login page into something very appealing with absolute ease. And while some of these plugins will limit you to making only a few types of modifications at no cost, a lot of them will also provide you with the most flexible features you after you pay a small fee.
While writing this article we did an in-depth review of several WordPress login page customization plugins in order to come up with a concise list of the best ones you should use for customizing your login pages.
The plugins that are on this list were not randomly selected with no scrutiny whatsoever, instead, they were carefully reviewed while taking into consideration all the features, flexibility, responsiveness, user-friendliness, and other features you should look for while picking the best plugin for your login page customization needs.
Without further ado, let's see which plugins made the cut!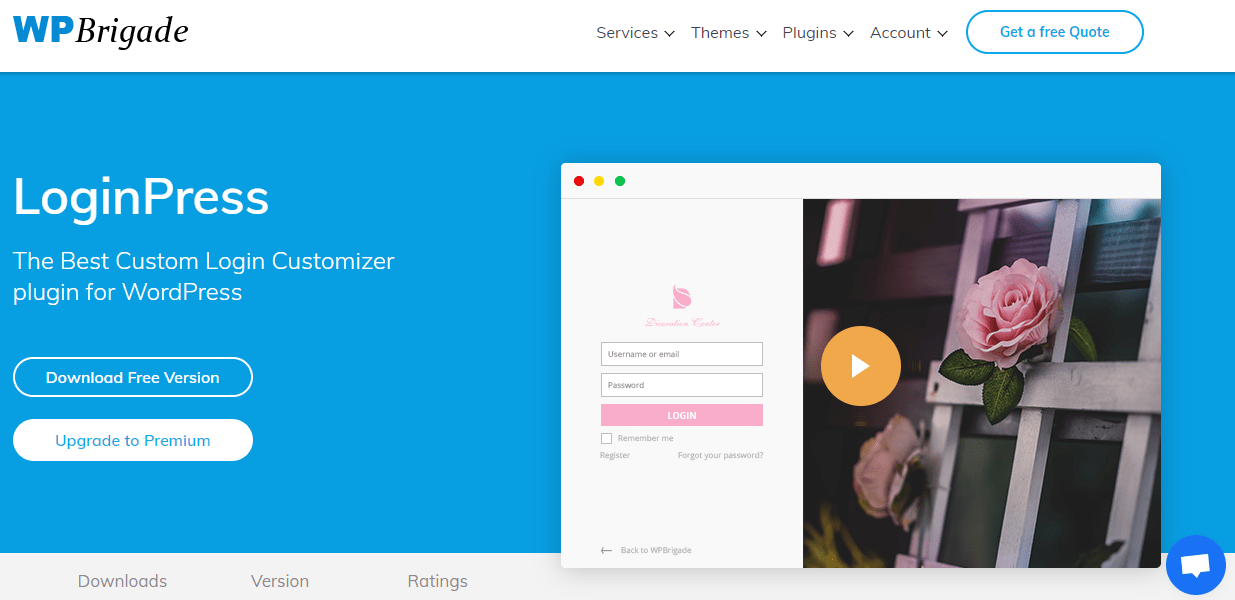 If customizing the entire layout of your WordPress login page to the last detail is your biggest concern, then this is the plugin for you. With the LoginPress plugin, you can customize virtually anything on your login page and design it to be in accordance with your brand's aesthetics. Using this plugin you can achieve a design that looks like a custom login page built from scratch so there will be no more boring login pages on your site, ever.
LoginPress lets you express your creativity using colors, texts, images, etc., and will allow you to add your own logo, and customize the login page background to something super enticing. On top of all that, every customization task is quickly completed by the plugin, without slowing down the loading speed of your website in any way.
For every change you make, there will be an instant preview that allows you to see how the change affected your login page. In terms of error messages, you will be able to specify the exact message you want your users to see whenever a specific error has occurred.
The core features of the LoginPress plugin are:
Pre-designed login templates
Custom login page error messages
100% responsive design
Social and auto-login options
Login page background and logo insertion
Compatibility with a range of web browsers
Setting up a limit for the number login attempts
A login widget
Custom CSS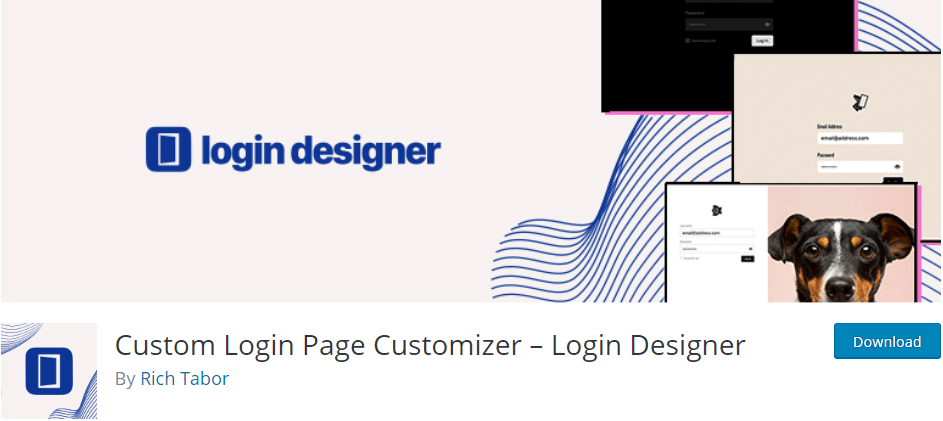 Login Designer is another convenient login page customization tool that could be considered as one of the best ones out there. With it you can redesign the entire look of any login page to whatever you want it to be. The Login Designer plugin is easy to use, quick, and also fun when playing around with all of its customizing features.
While you may need a bit of programming knowledge to effectively use some other plugins, the Login Designer, does everything through visual programming so no actual programming knowledge will be necessary in order to use it. Even as a newbie, you won't get confused at any stage of the login page customization process.
For advanced users, this tool will be quite comfortable and will allow you to easily try out a lot of new stuff. Just as the previously mentioned LoginPress plugin, when using Login Designer you can choose from a long list of pre-designed layouts and customize their design to match your brand's. You will be able to change the colors, add different images, and make all sorts of other adjustments.
The core features of the Login Designer plugin are:
User-friendliness
Predesigned templates
Live editing
Custom logos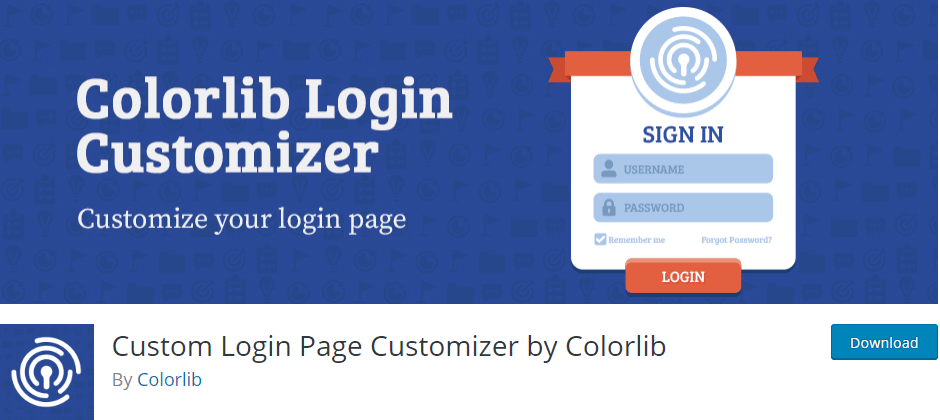 Colorlib is an awesome login page customizer that allows you to change your login page to fit your specific style, directly from the WordPress Customizer. The plugin is rated as a very versatile and intuitive login page and form-customization tool. It comes with full support for live editing so you will get the chance to see all the changes you are making to your login page in real-time and edit them if necessary. It also includes some premium plugin functionalities for absolutely free.
In terms of the user interface, the Colorlib Login Page Customizer is quite user-friendly and utilizes lots of default WordPress support. Newbies in the web development world can comfortably use this powerful login page customizer without any kind of support. In a nutshell, with the Colorlib Login Page Customizer plugin, you can seamlessly create custom layouts and end the days of boring login pages and forms forever.
The core features of the Custom Login Page Customizer plugin are:
Custom login page templates
Hide/show login logo options
Custom form column alignment
Custom background images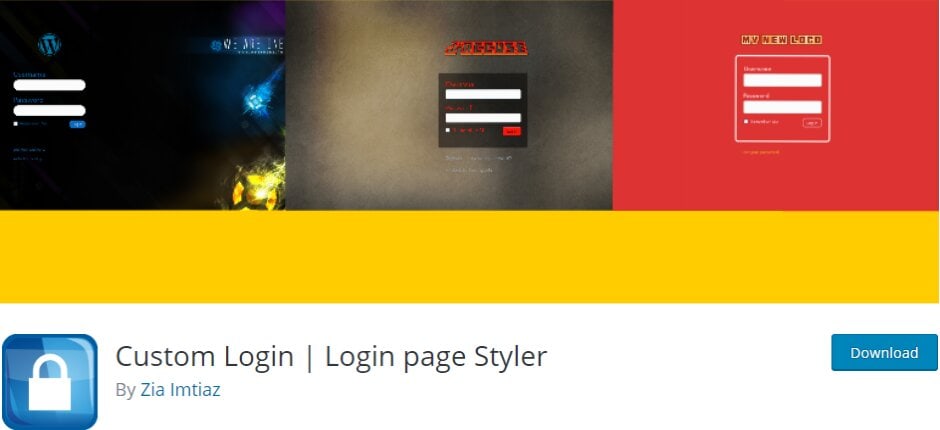 The Login Page Styler allows you to create the login page that you desire with minimal effort. The plugin lets you include a custom logo, background, theme, color, and much more to your login page. The Login page Styler is a WordPress plugin that was built for everyone – beginner users and advanced developers. With little or no use of code, you can build a simple and attractive login page in a quick and easy process.
The focus of the plugin is usability, efficiency, and reliability which makes it quite different from other similar plugins.
The core features of the Custom Login | Login page Styler plugin are:
Hide/show error message options
Custom background images
Hide/show custom logo options
Custom fonts
Custom CSS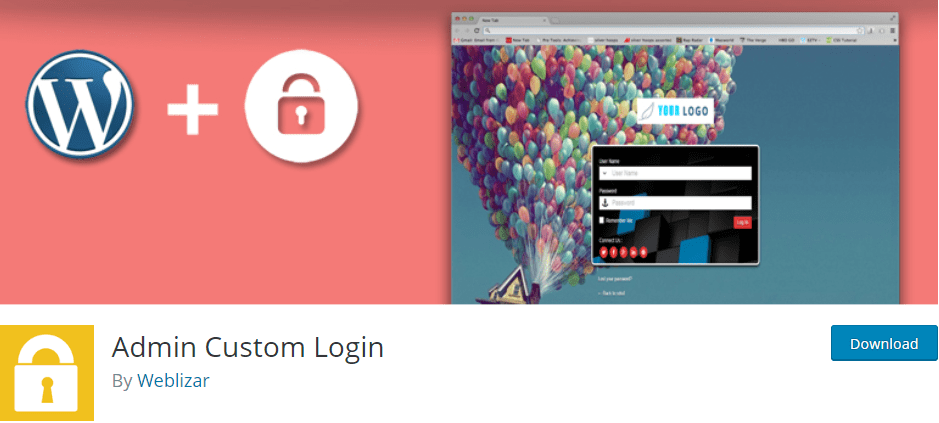 Admin Custom Login is another powerful WordPress plugin that allows users to customize their WordPress login page designs with extreme flexibility. It allows you to change lots of features on your login page in order to achieve the perfect design.
You will be able to set your preferred background color, form size, font type, color, and font size. The premium version of Admin Custom Login will allow you to secure your login page using the Google ReCaptcha security version 2 and 3 which protects your login page from abuse, spamming, and bot attacks. It also includes a social login feature that supports social platforms such as Google, Facebook, and Twitter.
The core features of the Admin Custom Login plugin are:
Custom logos/backgrounds
A social media login feature
Custom fonts
Interactive plugin dashboard
Import/export of settings
Unauthorized IP login
Conclusion
The plugin you choose from the ones mentioned in the list above should be based on your login page customizing requirements and your budget. Although LoginPress and Login Designer are top quality plugins for customizing WordPress login pages, it doesn't make the other plugins any less effective or unable to meet most of your needs.
If you think our list is missing some other great login page customization plugins, please let us know in the comments below!