LiveWebinar is one of the best webinar and real-time communication tools available. Whether you're hosting a meeting, teaching a lesson for your online course, having a daily meeting with your coworkers, or running a webinar, LiveWebinar is a platform that can help you do all that.
LiveWebinar has been tried, tested, and proven in action. Thanks to #customization options and ease of use, you can always be sure you're #hosting the best event possible.
Click To Tweet
No downloads or plugins are required with the platform, so you can get your event started immediately! The options for running your event are endless, no matter the event type.
Key Features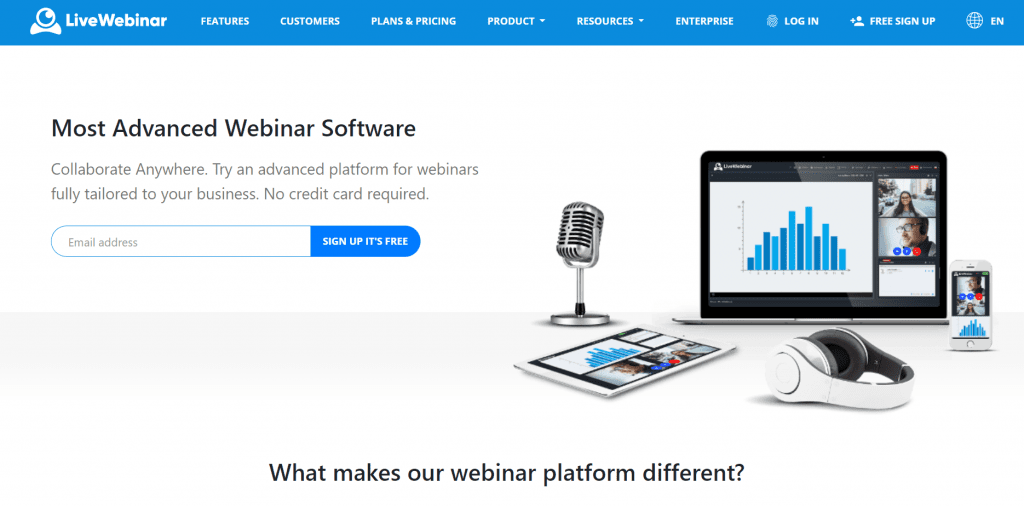 Security
LiveWebinar is GDPR certified, and all events and meetings are protected via end-to-end encryption thanks to the Advanced Encryption Standard (AES) 256 – bit algorithm.
Simplicity
Hosting an event on the platform takes just a few minutes. Plan a future event, or use the "Instant Meeting" option to start right away.
Branding
You don't have to settle for using the premade LiveWebinar template – create your own! Customize the logo and background, add ads banners, or change the window color or the fonts to create a room that reflects your brand.
Interactive features
Make your meetings more engaging than ever, and keep your audience on their toes! Use the whiteboard and screen sharing features to elaborate on your ideas, or use features like polls & tests and breakout rooms to start discussions.
On-demand content
Say goodbye to scheduling conflicts and time zone troubles! Thanks to the on-demand option, you can hold and record your webinars beforehand and let your attendees access them when they can.
Integrations
Take advantage of integrations that help you streamline your workflow. Integrate the marketing, education, or email tools you use daily, such as MailChimp, Zapier, Integromat, HeySummit, and so much more.
Pricing Plans
LiveWebinar offers a free plan, and afterward, users can select one of three packages:
PRO: starts at $17.99/mo. Run events for up 100 attendees and access standard features like sub-accounts, whiteboard, the branding tool, and use up to 6 hours of storage for recorded webinars and more.
BUSINESS: starts at $143/mo. Run events for up 500 attendees and access more advanced features like the room presence manager, mass invitations, full HD recorder, and recording editor, and storage shared with subaccounts.
ENTERPRISE: A custom solution designed specifically for large organizations looking for a tailored videoconferencing experience. Need a specific feature or extra capacity? LiveWebinar will do that for you!
If you're looking to elevate your webinar experience, be sure to check LiveWebinar out over here.