Would you like to make your own website under a single hour without doing a single line of code? Having your own website is one of the best investments that you can make today. As you know, websites are really flexible, you can write a blog to share your thoughts and experiences, you can create any branding page with your portfolio as well as you can create an entire online business. Now-a-days, websites has become very easy and inexpensive to create.
You might be wondering how we can create a website without writing a single line of code. So, the answer is WordPress. With WordPress, you can easily create a website easily. WordPress is known as Content Management System. It is that much powerful tool that it permits you to create and customize a theme. So, you can create a website with WordPress easily with fun.
Let's get started with WordPress website
Setup a WordPress Website
You will need a domain name and web hosting to create a website.
Domain Name is the address of your website on the internet. This is how the user will reach to your website by typing in the browser. It will cost 10-30$/year (approx).
Web Hosting: If we talk about web hosting, all websites need hosting on the internet. It costs 100-500$/ year (approx).
Here, is the few websites that provides domain name and web hosting:
Domain Name Registration Plans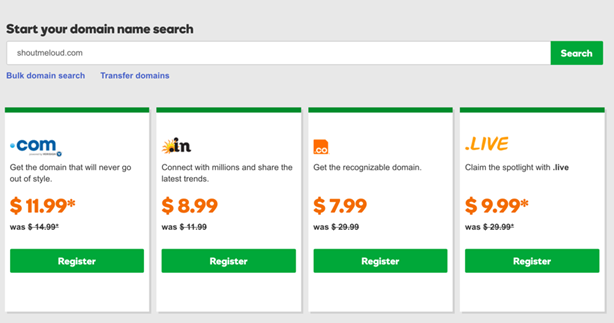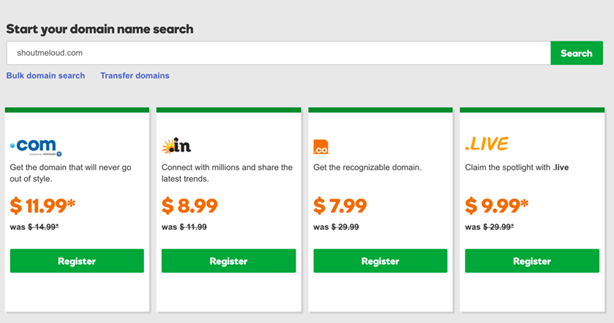 Web Hosting Plans


This is the daddy of all domain registrars. People can't resist themselves to check their offers. As after the big failure in 2012, its domain costs less than before. So, it has provided a lot of features and it can avail great offers anytime. So, you need to check timely.
Domain Name Registration Plans


Web Hosting Plans


Domain.com provides cheapest domain name. It offers one of the best values for money name registrars.
It offers several payment options like: Master Card, PayPal and American Express.
Domain Name Registration Plans


Web Hosting Plans


Name.com is one of the cheap registration services for domain. Frankly saying, it is not the cheapest of all, but has flexible pricing plans and full customer support.
Installing WordPress
Now, while installing WordPress you get to know several options on your dashboard hosting account. You will be using only 5% of them.
While coming to the website section, you need to click on WordPress icon.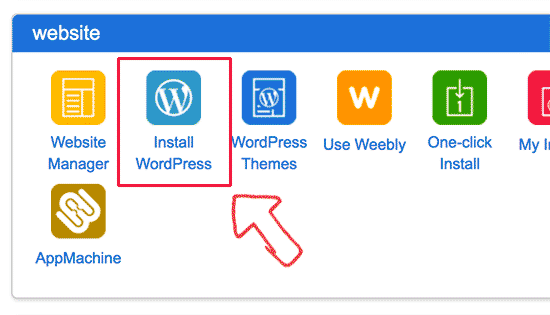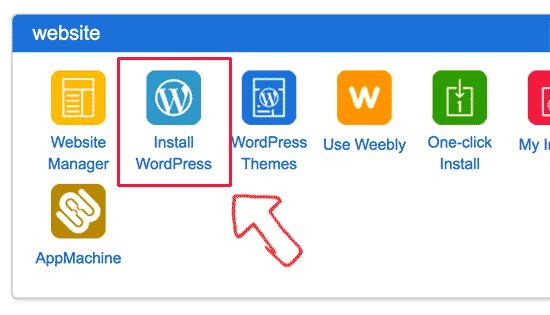 Click on the Get Started button to continue.
While moving ahead, you will be asked to choose the domain name to install WordPress. Select it from dropdown list and then continue.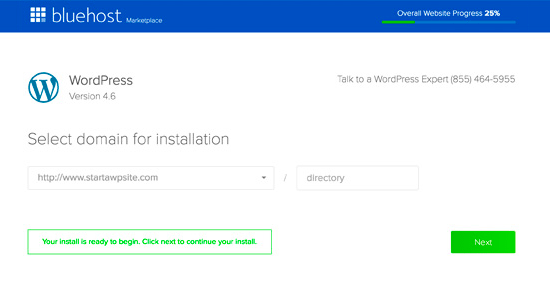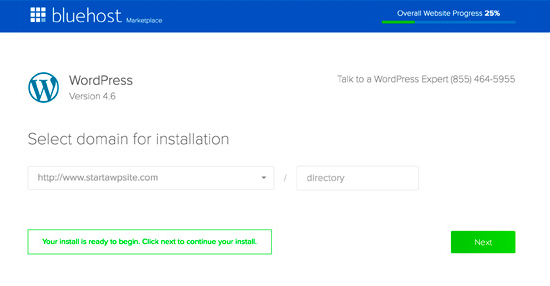 Website name
Username
Password (You can also edit it later)
Just check all the checkboxes appearing on the screen and click on Install button to continue.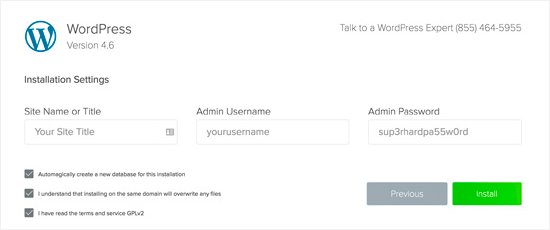 While installing WordPress on your website, it will show templates in between. After the installation is over, the message will get show on the top of header.

Clicking on "Installation Complete" link and it will redirect to the screen with your Word Press login URL and password.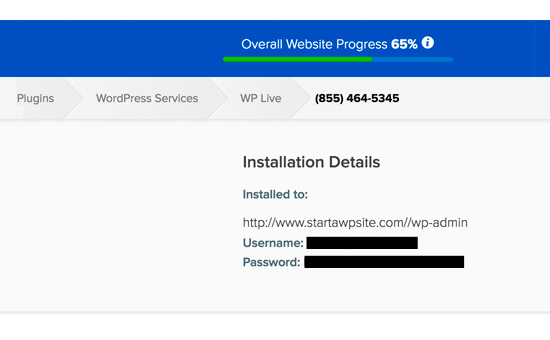 Congratulations!! You have created your first WordPress website.
You can now head over to login page of WordPress like this: http://www.yourdomain.com/wp-admin
Let us move on to WordPress themes.
Select WordPress Website Theme
Your WordPress theme controls the actual visual appearance of your WordPress website. These are professionally designed templates which will change the appearance when installed on the website.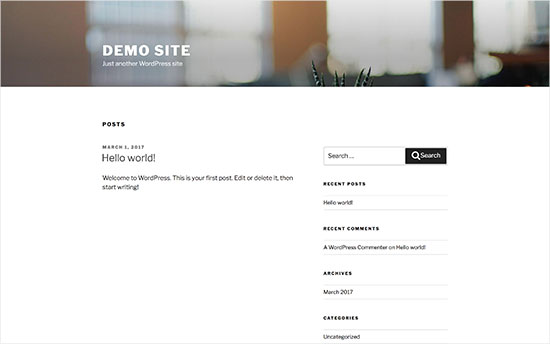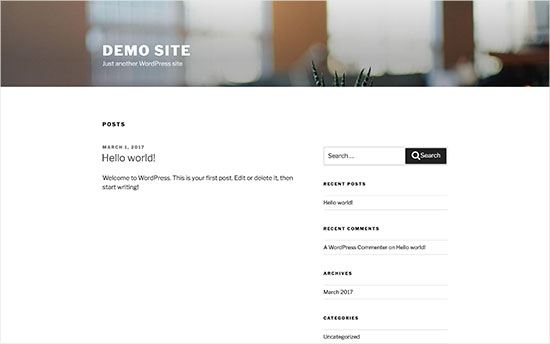 This is the basic theme of the WordPress website.
May be you don't like this theme. But there are a lot of themes which are free and premium, you can choose any one of them. You can change it from the admin dashboard and click on "ADD NEW" button.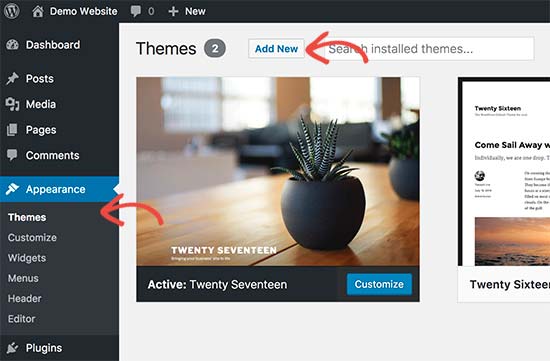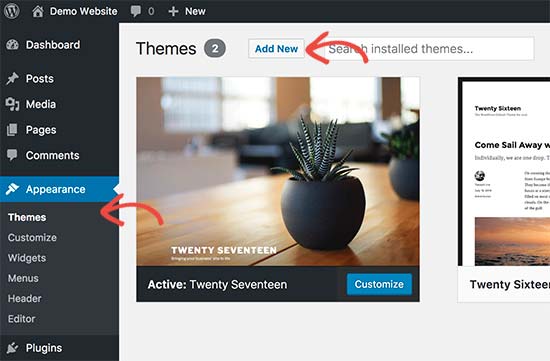 Now, you can choose from thousands of WordPress themes. You can also sort them with your priority basis. Some of the best free wordpress themes are listed here: https://www.navthemes.com//free-wordpress-themes/
As soon as you've added a new theme, the next step is to design a beautiful logo for your website so that you can give it a professional touch. This is an essential step if you have long-term plans for your website. So, leave all your doubts aside and design a beautiful logo for your site as soon as possible.
There are two primary ways to do it: designing a logo yourself or hiring a professional to do the same. In case you're not satisfied with both the ways, then there is a third way that you can opt for. Give a shot to renowned marketplaces like LogoOrbit and get a custom logo designed for your business within moments. It makes the entire process thoroughly automated and hassle-free. Go for it once and achieve desired results without wasting any moment whatsoever.
Add Content to Your WordPress Site
It has default content types namely as, posts and pages.
Posts are part of blog and to be shown in reverse chronological order.
Pages are static like about page, content page, privacy policy etc.
By default, it shows your posts on the first page of your website.
For adding some content to your website, you can start it by adding few web pages to your website. You can easily update them anytime.
The page editor screen will look like this: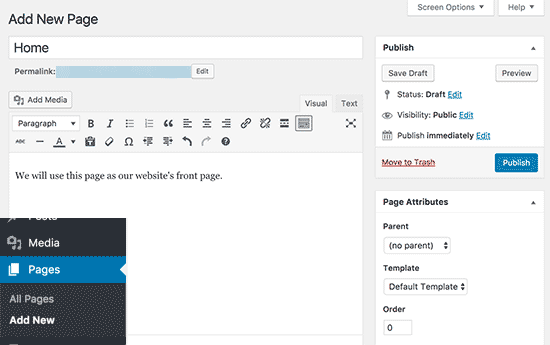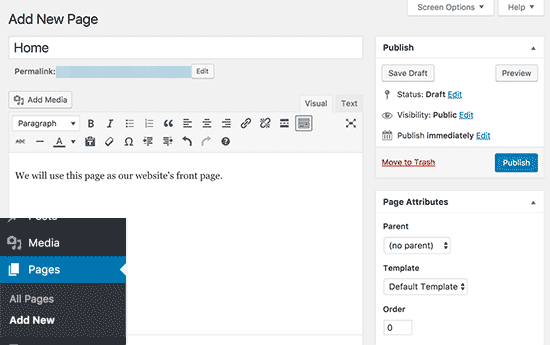 Firstly, you will be providing Title; you can add content in the text edit below. You can embed images, videos and after adding content you can publish it.
You can repeat this process whenever you want to add new posts.
So, with these steps you can create your own WordPress website. Isn't it easy?
So, just try and give your feedback in comment section below.