There are multiple open source software for small companies available in market but when it comes to trust or reliability not all fulfill the requirement. Here we are going to discuss most reliable and free open source software.
Have a look at some of these software's and see if few of them would fit with your business needs. Just give them a try and if they well fit, you can save a lot of money.
EngageBay
Slack
GNU cash
Suite CRM
Thunderbird
Invoicing: Simple Invoices
First, we will talk about EngageBay, which is important free open source software for your business.
EngageBay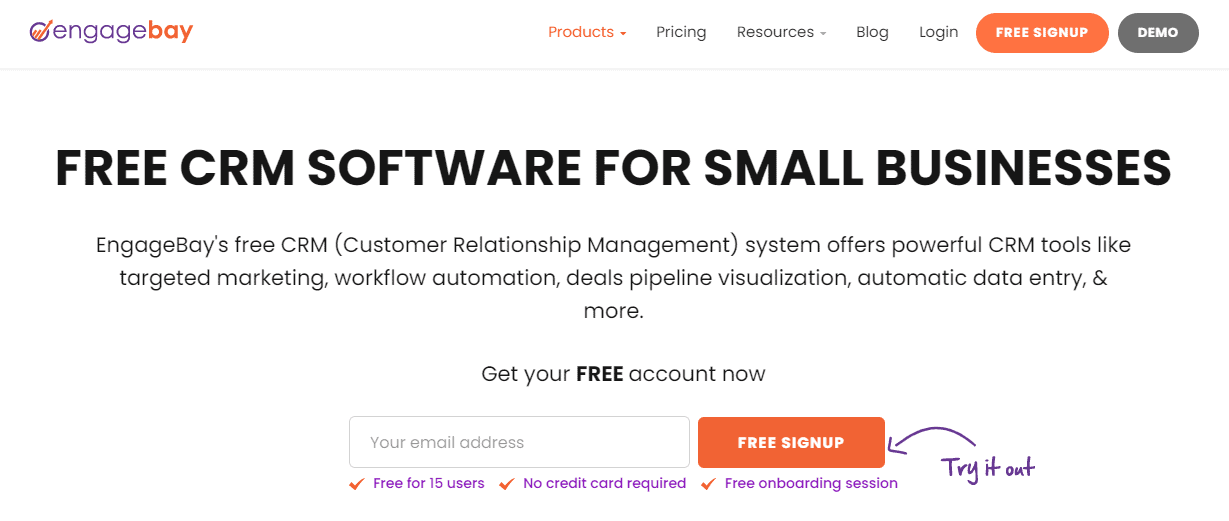 EngageBay is a simple, affordable, integrated, all-in-one marketing, sales, and service automation platform with free CRM Software, built to grow small businesses and startups. EngageBay's email marketing platform helps you grow your business with intelligent, powerful email marketing.
EngageBay's marketing automation suite helps you save time, nurture your audience and automate routine, manual tasks. With the free CRM and sales automation, you can organize all your email contacts, track deals, and the sales pipeline to grow your sales.
Further, you can build meaningful customer relationships that stay for life. And finally, with the free live chat and helpdesk features, provide real-time assistance to convert visitors to happy customers. Track, prioritize, and solve customer support tickets in minutes. Learn more details, features, and pricing of EngageBay on their official website.
Slack
Slack is the best free team management tool. It allows communities, groups or team to join through a specific URL or invitation sent by a team admin. Slack was actually meant for communication among organization. But now, it is slowly going towards community platform. Most of these communities categorizes some different topics for which a group of people may be interested in discussing.
Public channels allow team members to interact among each other without the use of email or group. This is open to everyone in the chat as they have to first join with that particular channel. Some of the private channels allows the private conversation between small sectors of the overall group. This feature can be used to split the large teams into their own respective projects. The direct message group can be converted into a private channel.
GNU Cash
GNU cash is a free open source software for accounting that can serve for small businesses. It tracks bank accounts, revenues and expenses. The features it includes are tracking customers, vendors, jobs, invoices, accounts payable, accounts receivable and detailed reporting. You can import as well as export the data including Microsoft Money and Quicken and Microsoft Excel Spreadsheets.
Suite CRM
Suite CRM is one of the free customer relationship management software. It is an open source alternative to Sugar CRM and is actually based on Sugar's open source version i.e. Sugar CRM Community Edition, which won't be longer supported as of July 15, 2017. As one of the reviewer put it as "Suite CRM is the best of all worlds. It's based on open source Sugar, but uses open source add-ons to make it close to, if not better than, the 'Pay' Sugar." Suite CRM has won the BOSSIE Award 2015 and 2016 for the world's best open source CRM.
Suite CRM continues to innovate and extend. If you are looking for a functional CRM server that can streamline your sales processes and interactions, then you will find definitely it in Suite CRM.
Thunderbird Email Client
So, you must be knowing that email is the primary method of communication for most businesses. There are number of paid and free email clients available, but Microsoft Outlook is the most widely used email client. Outlook is the part of Microsoft Office Home and Business package, as well as the most expensive suite which is purchased for $95.
But, here you can save that $95 money per user, just by switching to Thunderbird for your email. It features tabbed email, integrated chat, smart folders and phishing protection. Moreover, it is customizable.
Invoicing: Simple Invoices
Whatever business you are involved in, one of the most important functions is how much we getting paid.
Agree?
There are various small businesses which turn to services like Freshbooks to create professional, custom invoices to send to customers and you may be knowing that Freshbooks service is about $240 amount per year.
For the cheaper alternative, just have a look at Simple Invoices. This free invoicing tool lets you track clients, manage recurring billing, adjusting tax rates and more. Moreover, you can access it from any web browser. Simple Invoices lets you handle all your billing from any Web browser.
These are some of the excellent free open source tools for small business available. You can use them as they are the topmost in their own category.
If want to get your own software created specifically for your business tasks but your own team lacks development experience, check out outsourcing system development software services.