When you run a search query, your search engine doesn't just take that random combination of words and get results back to you. It tries to make sense of what you are searching for, and schema markup helps with exactly that.
#Schema #markup gives context to content on a page and explains to the search engines what that #content means.
Click To Tweet
Naturally, search engines prefer pages with schema markup and rank them higher in search results. So, now you can see why schema markup is important for SEO (Search Engine Optimization) and why you should have it.
Schema markup can be viewed as a short summary of a web page for a search engine to read. Schema markup can be created by coding; but, even if you don't know how to code at all, you can still easily implement it on your site, especially if you are using WordPress.
There are many WordPress plugins that can help you with schema markup, and now, we will show you some of the best and most popular ones.
1. Schema Pro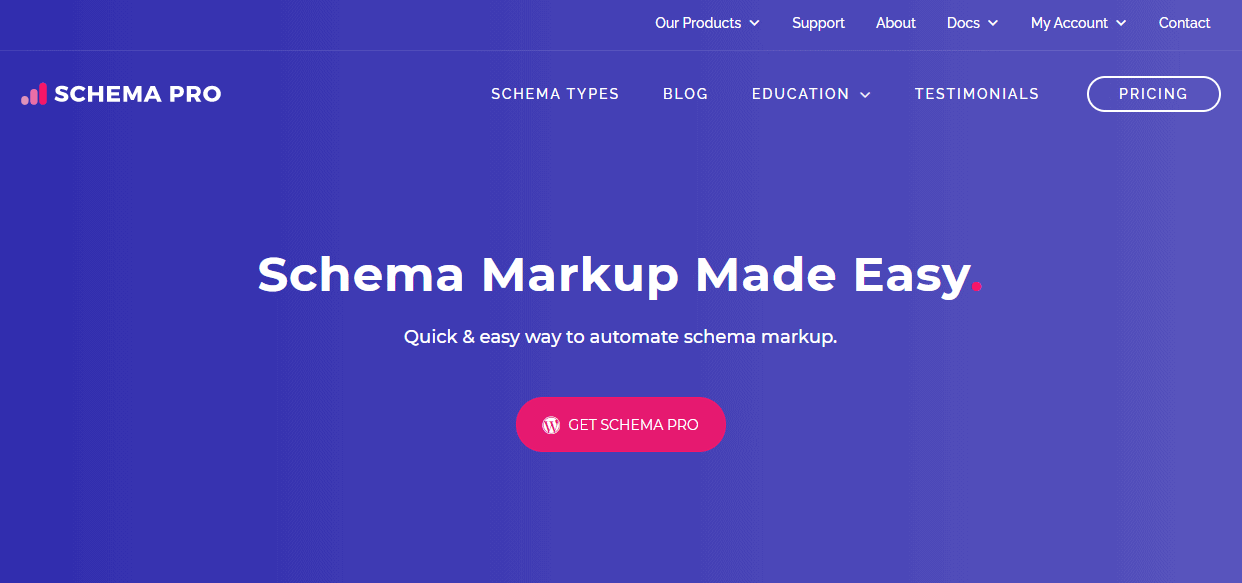 Schema Pro is a great tool for automating your schema markup creating process. Schema Pro offers you a simple and understandable interface so you can set everything up in just a couple of minutes. It uses the latest standards, trends, and technology, and it's completely within Google guidelines.
Ideal tool to add schema markup for articles, recipes, books, small businesses, and events.
All in all, Schema Pro can help you boost your search engine rankings in minutes.
Pricing: Schema Pro starts at $63 annually, or a $249 one-time payment.
2. WP SEO Structured Data Schema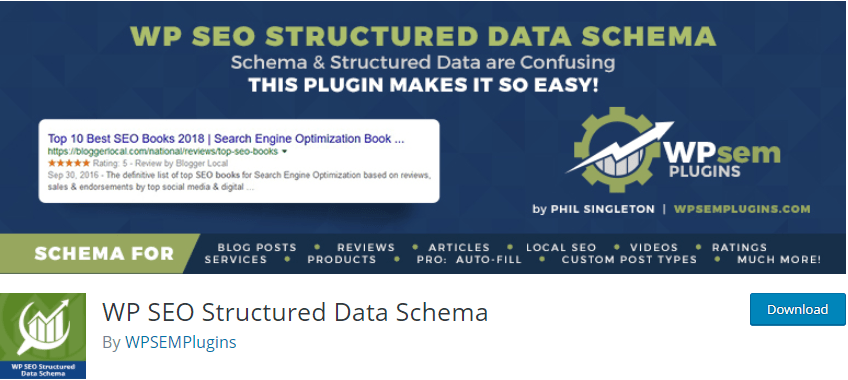 Another popular free-to-use WordPress plugin for creating schema markup is WP SEO Structured Data Schema. This plugin is perfect for adding a schema markup for organizations, local businesses, events, products, services, reviews, and much more.
Even though this is an open-source, free plugin, there is a Pro version available. The Pro version offers you additional and custom schema types to create the best schema markup possible. The Pro version also supports WordPress Multisite.
Pricing: Free with limited support. The Pro version – for a single site $49/year, for 5 sites $99/year, and for an unlimited number of sites $199/year.
3. WPSSO Core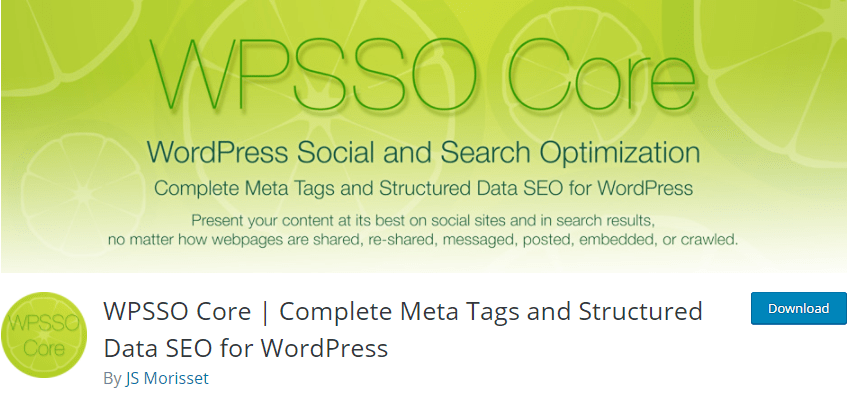 WPSSO (WordPress Social and Search Optimization) Core is a feature-rich and robust plugin for all of your schema markup needs. This plugin offers you a full range of meta tags and structured data for WordPress. Using WPSSO Core, you can automatically create meta tags for almost all social media platforms, including Facebook, Twitter, and Pinterest, as well as for messaging apps like WhatsApp and general SEO.
As soon as you install it, WPSSO Core will start creating schema markups on your pages using titles, descriptions, and more. WPSSO Core is another open-source plugin, and it's completely free to use; but, it also offers a premium version with additional features and support.
Pricing: Free with limited support. The premium version starts at $69.
4. Schema – All In One Schema Rich Snippets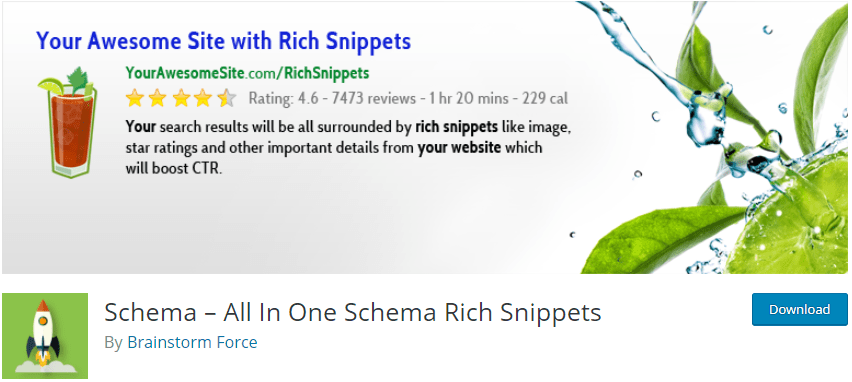 Schema is a plugin from the same developers who made Schema Pro. The difference between them is that Schema is free to use and offers fewer features, but it's still more than enough for your basic schema markup needs.
Schema supports up to 8 schema types, and you don't need any coding knowledge to set it up and use it. But you do need to set things up manually since Schema does not add any markup automatically.
The entire setup is pretty simple, and even complete beginners will be able to figure it out. Schema is also a very lightweight plugin, and it can be perfect for site optimization.
Pricing: Free with limited support.
5. Schema App Structured Data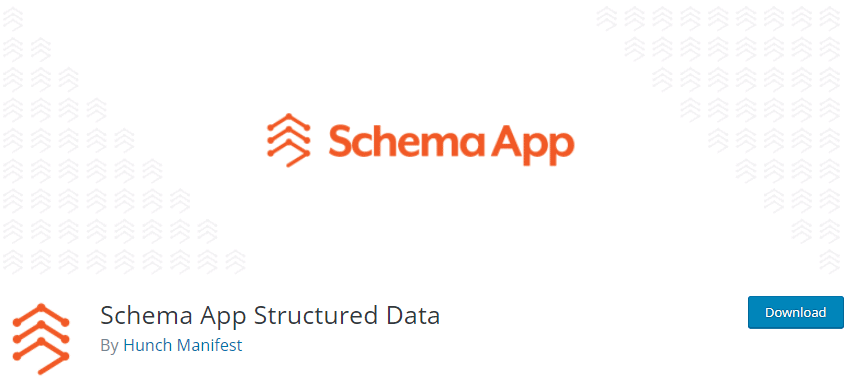 Schema App Structured Data is a complete solution for schema markup and structured data, and it is available as a WordPress plugin for free. Schema App Structured Data can automatically deploy structured data from its creator tool to your site. So, it can create schema markup for your site using the data you input into WordPress; after that, you can edit the created schema markup with the editor that comes included in the plugin.
Schema App Structured Data markup includes page, post, search, author, and category as a starting point. After that, you can use the above-mentioned editor to extend your markup as much as you need.
Schema App Structured Data also offers an advanced WordPress plugin in their Pro, Premium, and Enterprise subscription plans for standalone solutions.
Pricing: Free to use.
6. Schema & Structured Data for WP & AMP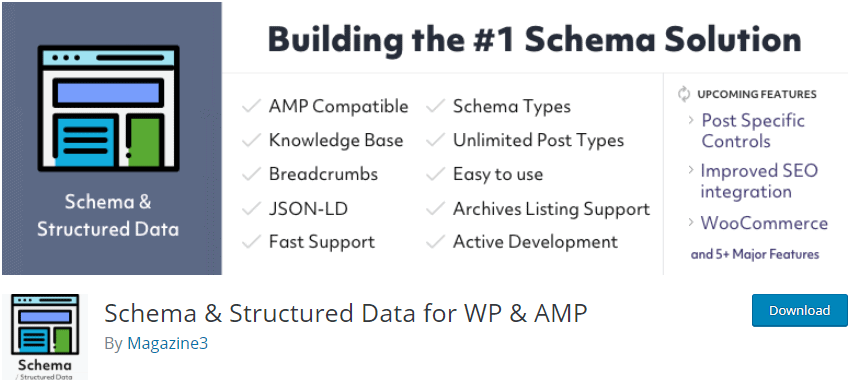 This is an extremely powerful plugin for creating schema markup and SEO optimization. Currently, it has 7 schema types, but more are coming with every new update.
With this plugin, you can easily include or exclude any posts, images, pages, and post types for even more control. This plugin also allows you to use an unlimited number of custom post types and even add your own custom code. But you don't need to know any coding in order to use it. Instead, you can add schema markup on your site with just a click of a button. So, the plugin is perfect for beginners.
Pricing: Personal plan – $99; Webmaster plan – $149; Freelancer plan – $299; Agency plan – $499.
Conclusion
Schema markup is an integral part of a web page and plays a key role in SEO and search engine ranking.
The advantages of good schema markup are obvious and can make or break the chances of your site being found through any search engine.
Thanks to WordPress plugins, making schema markup is much easier than before and requires no coding knowledge. Picking any of the above-mentioned plugins can make your life much easier and greatly speed up or even completely automate your schema markup creating process, so you can focus on other things.