As you may know by now, WordPress isn't just for bloggers. Aside from blogs, you can also use WordPress to create an eCommerce website, an online store that is. So, with the help of WooCommerce integration, you can have all you need to run a successful and attractive web store.
However, to get the most out of it, you also need some plugins. Let us give you some great ones that are incredibly valuable. First, there is Order Export for WooCommerce that allows you to quickly export data from any WooCommerce order in different formats, such as Excel and CSV. This plugin also comes in a premium version. Next, we have Table Rate Shipping for WooCommerce that you can use to calculate shipping costs based on total price or weight. Also, this plugin has a premium version available.
Finally, Direct Checkout for WooCommerce gives your customers the option to completely bypass the cart and access the checkout. Such a plugin makes the whole shopping experience that much faster. Also, it optimizes your store.
In addition, any type of business or online service provider can have a WordPress website. Education is no different. More and more universities and schools are turning to WordPress to create their websites.
Since both #professors and #students frequently use them, school #websites need to be reliable, nicely designed, and easy to use.
Click To Tweet
A simple and accessible WordPress website is a good way to engage parents and is perfect for improving communication.
Also, we can all agree that education and knowledge are some of the most important aspects of life, and nobody should be deprived of them. That is why having classes and courses online is an amazing way of including people who can't come in person or don't have the means to attend school traditionally. 
Why Use WordPress for an Education Website
WordPress is a good choice because of its reliability, which is achieved through continuously upgrading features. And one of the most useful WordPress features, which is perfect for a school website, is the multisite feature.
Multisite allows you to run a network of websites using just one installation, meaning you can create different subdomains and manage them all from one dashboard.
Often, universities will have different websites for different departments, and it can be overwhelming to manage all of them individually. With the multisite feature, that will be a thing of the past. Plus, it will allow you to install plugins and themes to all the websites in the network or just specific ones.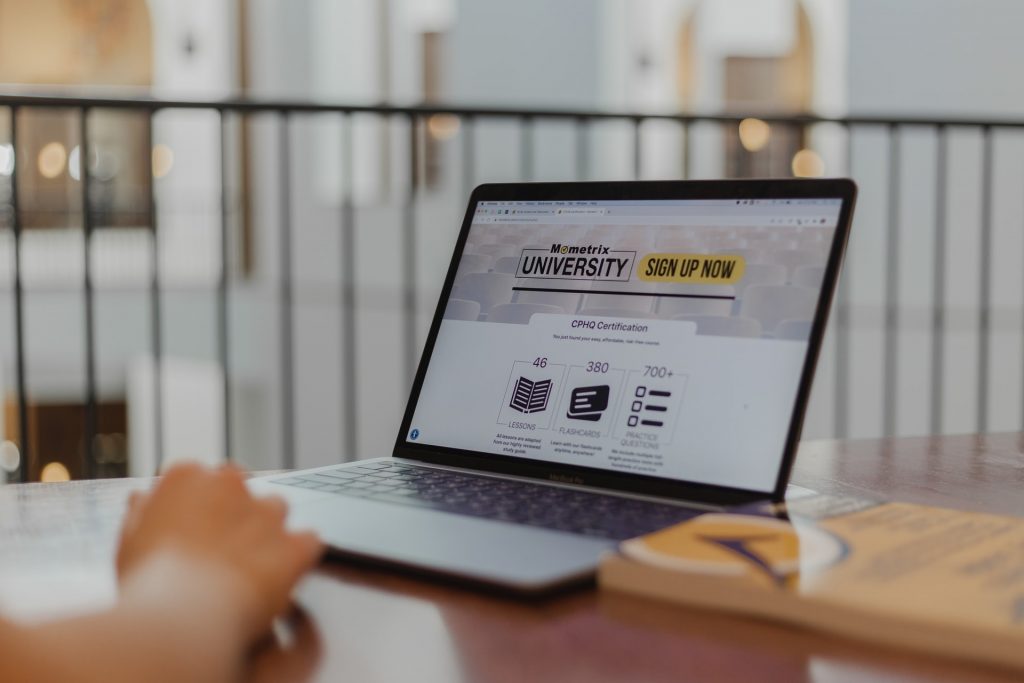 Of course, WordPress can be used for non-formal education websites as well; any kind of classes and courses can be taught online. So if you have something you are good at and you want to monetize it, you can create a WordPress website and share your knowledge. 
Like I already mentioned, WordPress is simple and incredibly easy to use, which is a big benefit of using it for an education website. Let's be real; students don't want to deal with complex websites after a long day of classes and studying.
Another benefit of WordPress is its flexibility and adaptability. There are many themes and plugins that you can use that will fit your needs and wants. Everything is highly customizable and can be tailored to become whatever you want. Plus, in most cases, even without having any coding knowledge, you can still have a perfectly functioning website. 
Finding the Best Education Theme
When you are looking for that perfect theme for your website, keep in mind the kind of look you are going for and what elements you want your website to have. Pick a theme that will show your professionalism and will also be elegant and subtle.
Sometimes less is more, and you want the focus to be on the content of your website.
Also, don't forget to pick a theme that looks good on different devices and create a simple login & registration form using which students can apply for your classes.
Lastly, to be sure that your website will be made seamlessly, choose a theme that works well with page builders.
Now, onto exploring the best education themes!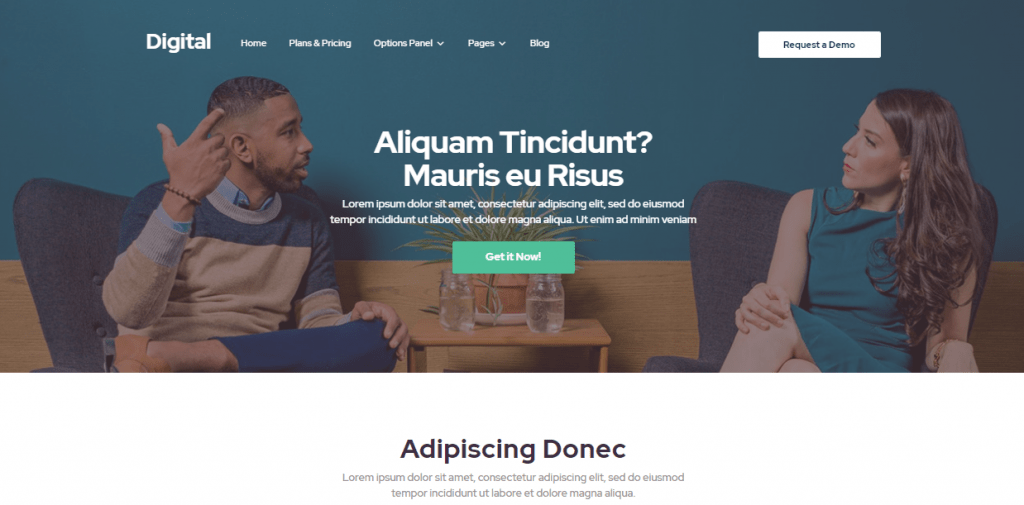 Digital is a premium WordPress theme with a modern layout and a unique design that is sure to wow your visitors. It comes with two header layouts and three different blog layouts. Plus, it has nine homepage sections you can choose from.
Digital offers a simple design that doesn't distract from the content of the website.
With this theme, you don't have to worry about your site's rank because it has SEO-friendly code. It is also speed-optimized to ensure a positive user experience, compatible with Gutenberg and Elementor, and optimized for AdSense. 
Digital offers unlimited color and background options as well as different fonts, post layouts, and pagination types to further customize your website. 
Masterstudy has everything you might need to run a successful website. It offers a 1-click demo feature, which you can use to check out the layouts before committing to one.
Using this theme, you can customize all sections of your site without touching code and style all of the Visual Composer custom modules.
It has different course styles and question modules, as well as three lesson types. It also offers real-time Q&As during lessons and real-time countdown during quizzes. 
Useful features of the theme are the professor and students pages and the messaging system using which you can keep in contact with your students and establish good communication. It also provides more than 800 Google fonts and is translation-ready. 
The interface is user-friendly, and the theme itself is speed-optimized because there is nothing more frustrating than a slow website.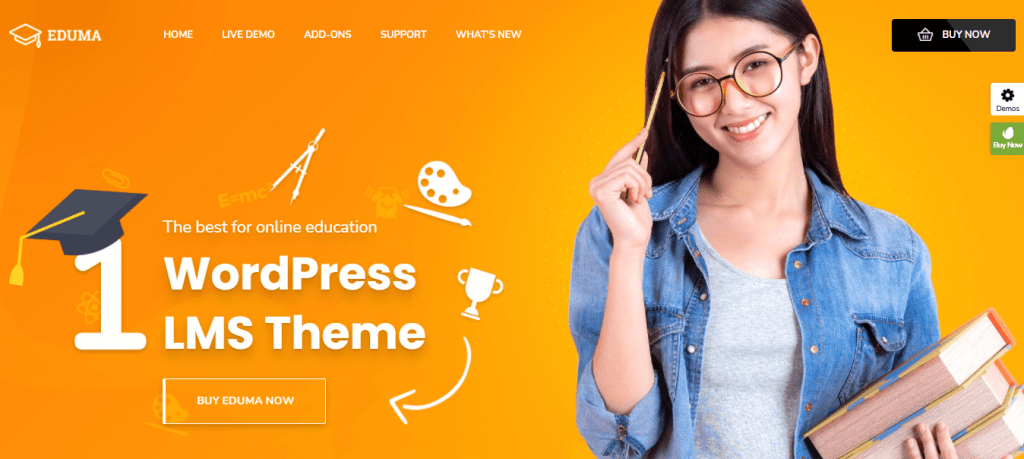 Eduma is a theme that will take your online learning website to the next level. It has many features and uses LearnPress, a learning system that is both user-friendly and customizable. 
It has more than 20 demos you can preview and use, as well as a drag-and-drop course builder that makes creating courses easier than ever. It also features search boxes so students can find blog posts or courses in just a second. 
It is compatible with different quiz types and has built-in quiz timing. Also, with Eduma, you can easily sell your courses directly through PayPal, Stripe, 2Checkout, etc., as well as offer subscriptions or memberships.
No coding knowledge is required to customize the theme, which offers unlimited colors and more than 700 different fonts.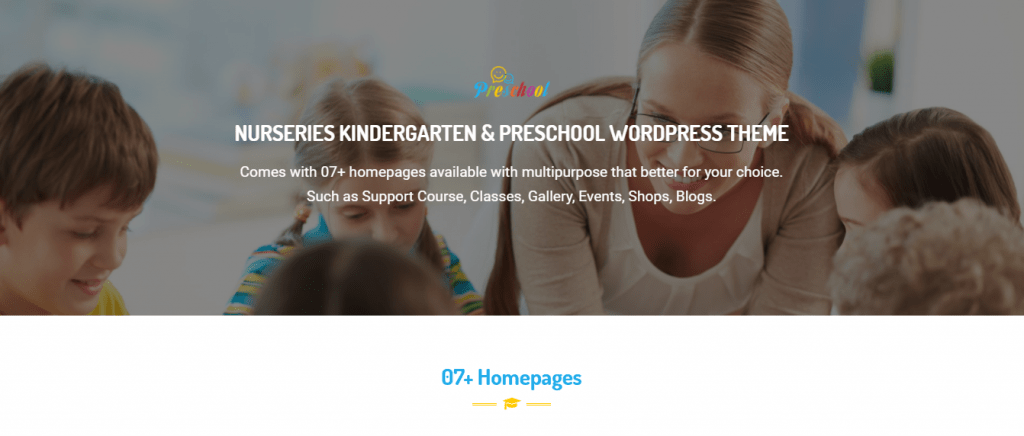 Preschool is the perfect choice for you if your focus is on educating younger students. It has a playful feel to it with a bright and bubbly color design.
It has seven homepage layouts that won't overwhelm the little ones and will serve as a place of joy. It also has a creative design to encourage imagination and learning intuitively.
It offers Visual Composer and Slider Revolution integration to make sure you can customize your theme the way you want it.
There are unlimited color options and different header styles. On top of that, the layout is fully responsive, the theme is optimized for WooCommerce, and it offers multiple shop homepages and layouts.
Final thoughts
Many universities and schools are creating WordPress websites because WordPress is reliable, flexible, and customizable. 
No matter what kind of courses you are offering, it is important to create a website that shows off your professionalism and creativity.
And although it can be hard to choose the perfect theme, the themes mentioned above have everything you need to create a functional and beautiful website.