When you run a website, just the thought of something happening to it gives you nightmares. Unfortunately, a whole lot of things can go wrong: you can get hacked, you can suffer technical difficulties or you can simply make a mistake. That's why it's always a smart idea to have a backup safely tucked away somewhere. To help you create that backup, there are plenty of WordPress plugins you can use, plugins that have come quite a long way since their humble beginnings when they were able to store backups only on your own server. These plugins are much more different and advanced now, so let's take a look at some of the best ones you can find nowadays, shall we?
UpdraftPlus
I don't think there's a single developer out there who wouldn't recommend this product when it comes to backup plugins. It's just so smart. For example, if you have a big website, UpdraftPlus allows you to split it up into separate pieces, in order to make things easier to manage. Not only that, but you can also automate the process of creating backups to be done according to a schedule you set. No matter if you need to save just your database or your full site, on your computer, your web host or on something else, this is the plugin that will get the job done.
The plugin comes in a free version and a premium version too which will set you back at least 87.50 dollars (if you go for the cheapest package). And while the premium version certainly has some very interesting features to offer, the free one is likely to be more than enough.
VaultPress
Another widely recommended plugin for making backups is VaultPress, which was created by the founders of WordPress itself. Backups made with VaultPress can be stored daily or in real-time, depending on which package you choose, and it's very important to emphasize that everything is stored on their cloud storage system. Because of that, restoring anything is a walk in the park. Furthermore, VaultPress puts a big emphasis on security, so you can easily get rid of malware and other stuff of that sort.
When choosing a VaulPress price package, think carefully. VaultPress is a part of JetPack, and for daily storage, you will pay 3$ per month, but the storage is limited to 30 days. For real-time backups and unlimited storage, the price is 20$ at the moment.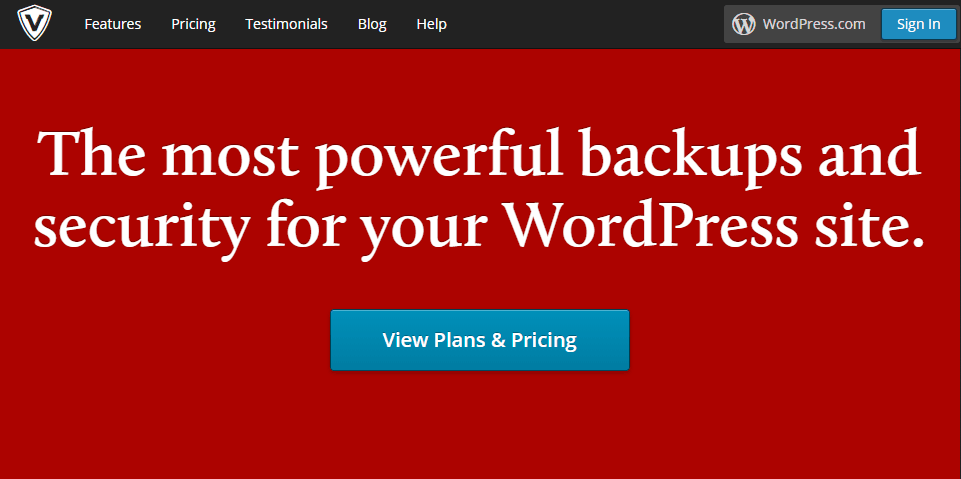 BackupBuddy
BackupBuddy has been around for more than 10 years now and has more than 500,000 clients, which speaks volumes about its quality and reliability. Indeed, there are many perks to using this plugin, many of which are completely unique, also with this plugin, a lot of emphasis is put on security. The plugin comes with 1 GB of free space used for storing your backups automatically. Migrating websites is also possible, and using BackupBuddy you can even set up staging sites easily and with that diminish your need for backups in the first place. That, of course, comes if you purchase the right package.
Speaking of packages, there are three to choose from, with the most basic one costing 48$ at the moment. You can choose a package that covers one, ten or an unlimited number of websites, and the biggest perk might be that BackupBuddy does NOT work on a subscription model.
BackWPup
If you really insist on not paying for a backup plugin, then BackWPup is a product you should certainly look into. The main selling point here is that everything is kept very simple. Whatever you need to do can be done with just a few clicks, regardless if it's storing backups on systems like Dropbox, restoring websites, scheduling automatic backups and even storing everything on email. You can even manage your database. Everything for absolutely free!
Besides the free version, there are also five premium (Pro) versions, ranging from 69$ to 349$, which can certainly add some nice things into the mix. In the premium versions, you get Google Drive and also priority support. Taking everything into consideration, it's not a big surprise this plugin has been downloaded 600,000 times so far. Once again, if you're looking for something free, this plugin is one of the best options.
BlogVault
BlogVault is another very popular product with more than 300,000 clients. It's important to note, that Blog Vault is not a plugin per se but more of a SaaS. Nevertheless, it does its job splendidly and has its own servers so that yours are never under too much pressure. What is particularly interesting is the fact that they offer a staging site that you can then easily merge with your own website if what you're testing gets a green light. On top of that, they allow you to recover everything you need very quickly. Apart from using the company's servers, you can store backups on your computer and other third-party cloud services as well. The backups can be created automatically on a daily basis, or you can create one on demand whenever you need it.
As far as payment models are concerned, you can choose between one of four packages, each of which has three tiers and a free 7-day trial. The package with the lowest price intended for a single site costs 89$ per year.
Wrapping things up
All the mentioned plugins are high-quality backup plugins, and no matter which one you decide to go with, you can expect great results. Sure, there are differences, but they all perform amazingly. Therefore, if you are in need of a backup, let a plugin do all the heavy lifting for you and save everything on a regular basis, so you can always have a backup laying around. Don't let a bit of bad luck destroy everything you've worked on. If any problems arise, these plugins will help you fix any problem with just a few clicks tops.
Want more plugin recommendations? Check out this article which talks about the 8 Must Have WordPress Plugins in 2020.