There is a need to improve your WordPress search system if you're running an e-commerce store with plenty of products or if your website has lots of blog posts. The reason for this is mostly because the default WordPress search functionality is not the best tool to have on your site if you're paying attention to bounce rate, accessibility, and user experience.
Looking for the best #WordPress #search plugin? This article can help you narrow down your choice to the 5 best #plugins on the market!
Click To Tweet
But luckily, there are plenty of WordPress search plugins for you to choose from. And here are our top picks in the form of a carefully compiled list.
5 best WordPress search plugins
Interestingly, most of the following WordPress search plugins allow you to access virtually all the possible features you would need as an entrepreneur for free.
The premium versions, on the other hand, allow you to unlock well-advanced WordPress search features such as integration with third-party apps and understanding the behavior of your consumers for a small fee.
1. Ivory Search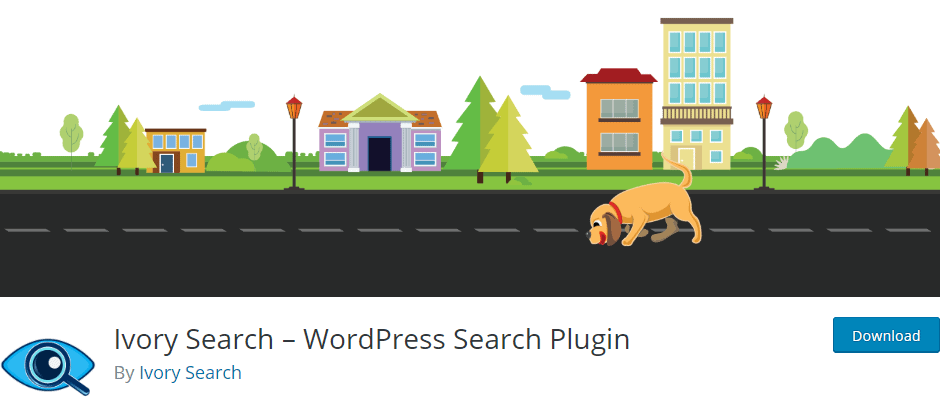 The Ivory Search plugin is a versatile search tool used for improving WordPress's search functionality. It gives you great control with multiple options while you search for things such as posts, tags, categories, etc.
Using it, you can streamline your search in various areas like titles, custom fields, and content. Ivory Search also allows you to create an unlimited number of custom search forms and configure each of these forms according to your needs.
With this top-notch WordPress search plugin, you can display your custom search forms on different parts of your website; the header, footer, pages, posts, sidebar, or widget area.
All in all, Ivory Search is one of the best free WordPress search plugins available out there. And its premium version includes lots more features and much more flexibility.
Key features
Unlimited number of search forms
Multilingual search support
Configure each search forms with a unique setting
Integration of WooCommerce and bbPress
Display Search Forms anywhere on your site
Block specific content from search results
Price
The Ivory Search premium version starts at $19.99 per year with support/updates for single-site plans or $99.99 for a lifetime. For the full-featured plan, the price is $49.99 (single site) or $189.99 (a lifetime license).
2. Relevanssi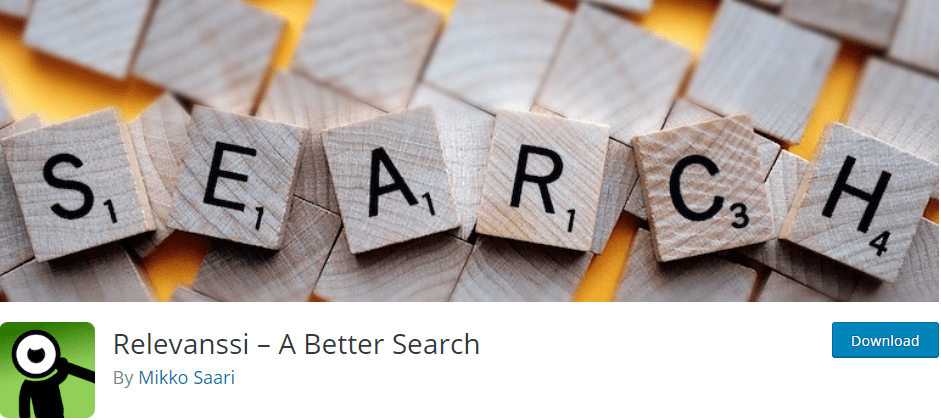 The Relevanssi search plugin is a feature-rich plugin that offers a more comprehensive standard WordPress search. Alongside its rich features, the Relevanssi plugin is multisite and bbPress-compatible, translation ready, and supports WPML and Polylang.
It allows you to utilize phrases while searching and make use of fuzzy matching. Other features include the "Did you mean?" suggestions, which help your site visitors with their search.
Relevanssi comes in a free version with limited features, and a full-featured premium version.
For websites with a very large database, you can leverage the Relevanssi search throttling option to improve search performance. And the plugin also supports a simple filter hook which allows you to disable certain content from indexing.
Key features
Fuzzy matching
Titles, tags, and comments weight control
Support for WPML and multi-lingual search
Search results appear in the order of relevance
Support for bbPress
Gutenberg friendly
Price
Relevanssi premium version costs $99 for a year or $299 for a lifetime.
3. Ajax Search Lite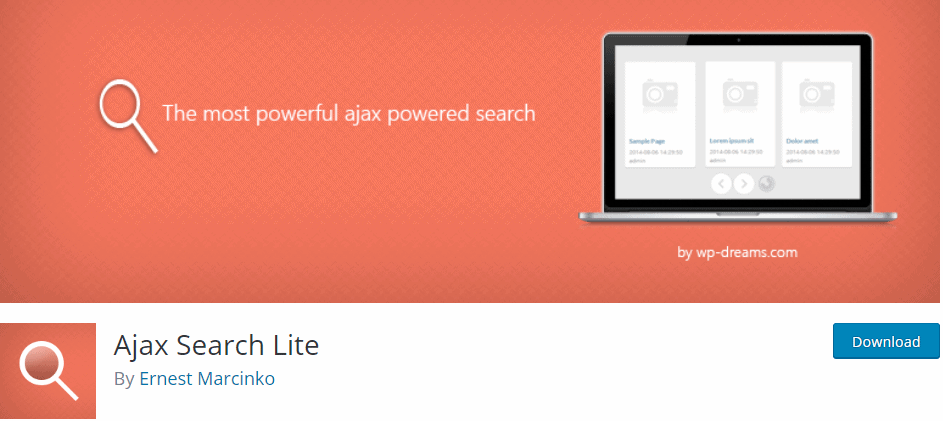 Anyone looking for a live search plugin needs Ajax Search Lite. It's an extremely user-friendly search plugin designed to help you improve your website users' experience.
This WordPress search plugin is responsive and allows you to integrate the AJAX powered search form easily.
With Ajax Search Lite, your visitors can search posts, pages, and more importantly categories, descriptions, and custom post types. You can also narrow down search results by using category and post type filter boxes.
On top of that, Ajax Search Lite includes Google autocomplete and keyword suggestions. It also has smooth animations and a nice interface.
Key features
Custom filter boxes for categories and post types
Vectorized SVG icons
Fully ajax powered
40+ backend options
Multiple performance Options
Google Analytics integration
WPML and QtranslateX compatible
8 built-in templates with options for color adjustments
Price
Ajax Search Lite is completely free. But the premium version, which is the Ajax Search Pro, costs $36 for 6 months.
4. SearchWP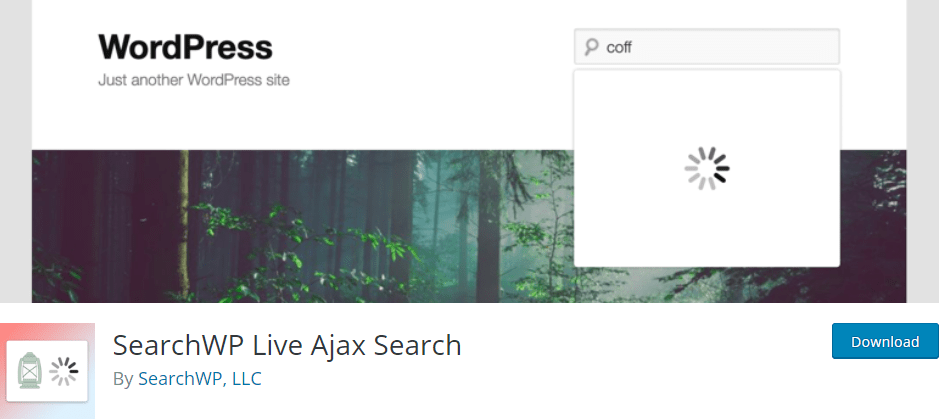 SearchWP is among the most popular WordPress search plugins out there. Well, not just among the most popular but among the best WordPress search plugins available.
It is a premium plugin that offers you a wide variety of features. And with its feature-rich options, effectiveness, and user-friendliness, the plugin is something definitely worth the price.
Despite its advanced features, SearchWP is quite easy to install, set up, and configure. It allows users to find almost anything on your website, including e-commerce products, post title & content, taxonomy, custom field content, PDF, document content, etc..
Using it you can also view your visitors' search keywords to better understand what your audience can't find on your pages easily. Besides that, SearchWP also allows you to seamlessly customize your search algorithm.
Key features
Easily customize the search algorithm
Search for eCommerce products, PDF documents, and more
Keyword Stemming
See visitor insights and statistics
Automatic integration with the native search
Configure different search engines separately
Price
SearchWP costs $99 a year for a single site, $149 for up to 5 sites, and $299 for an unlimited number of sites.
5. Search & Filter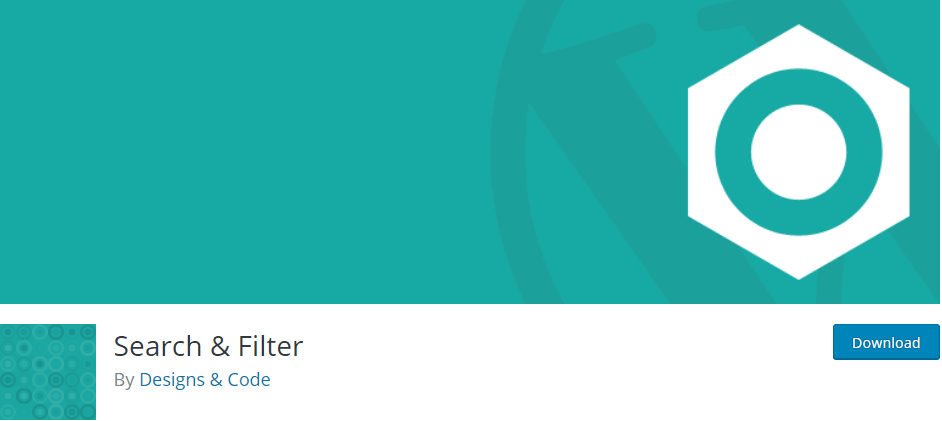 Search & Filter is an advancement of the native WordPress search box; simple and comprehensive. The plugin also offers additional features to help refine your users' search.
Its features include taxonomy filters and post filters.
This search plugin allows your site users to perform a search using a specific category, post type, tag, custom taxonomy, and postdate. They can also combine any of these filters easily for an effective search. Plus, Search & Filter can display search fields as checkboxes, dropdowns, radio buttons, or multi-selects.
Key features
Display results with Ajax
Order results field
Drag & drop editor
Custom templates
Unlimited fields and search forms
Use for blogs, reviews sites, news sites, property sites, and more.
Compatible with WooCommerce, and eCommerce
Price
The Search & Filter pro version costs $20 for a single site and $75 for a developer license.
Choosing the best WordPress search plugin
With your choices for a suitable WordPress search plugin narrowed down to just five, it's much easier to make a decision.
Ivory Search and SearchWP could be ideal for a large eCommerce store. On the other hand, if you are seeking a WordPress search tool for blogs and other sites offering web content, then your top choice could be the Relevanssi or Ajax Search Lite plugin.
But, the Search & Filter plugin is relatively suitable in both scenarios. So pick wisely!