A lot of business is being done online these days, more than ever before, and that amount only seems to keep growing as time goes along. It appears that in the current business climate every business is in dire need of a website to make itself complete and noticed by potential buyers or visitors. But, not just any website will do. If your website constantly lags and is full of bugs you're going to come off as very unprofessional and not worthy of attention in the eyes of potential partners and customers.
Having #bugs and #security issues is a very serious problem that you as a business owner probably can't take care of yourself, however, there are many #services that you can employ to perform that task for you.
Click To Tweet
By employing a website maintenance service your website can be just as professional as the rest of your business. That way you can leave a better impression on your visitors and create a good online image for your business. So, stop worrying about things that are out of your reach, take a deep breath, find a good maintenance service, and spend more time focusing on growing your business rather than fixing technical issues/mistakes.
In case you do want to do the maintenance yourself, having this guide at hand could be a lifesaver. For everyone else, the rest of this article will be dedicated to the best WordPress maintenance services you can hire right now.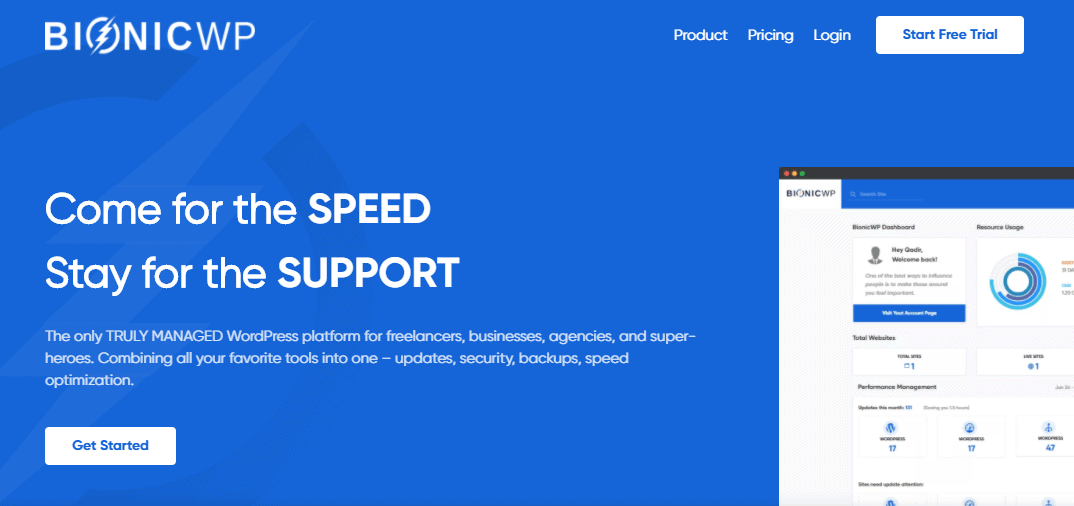 BionicWP offers a vast array of useful features and all the features are included in every price plan. In terms of security, it will do a deep daily malware scan to ensure everything is running properly. It's also going to shield your WordPress sites by equipping them with proper protection.
The service will help you manage your WordPress hosting by allowing you to make unlimited edits, all you will have to do is send a ticket and BionicWP will handle it for you.
Unlike most maintenance services, this one is an all-in-one solution, meaning that any optimization, edits, plugin updates, etc. will be taken care of from one place. It also provides the user with auto backups, auto updates for themes, plugins, etc., and also a free staging environment so that you can experiment with your hosting as much as you desire.
FEES: The cheapest offer from BionicWP costs $27/mo for one site. The price goes up with the number of sites you wish to use it on, but so does the number of visitors your site can have, your disk storage space, and the CDN bandwidth.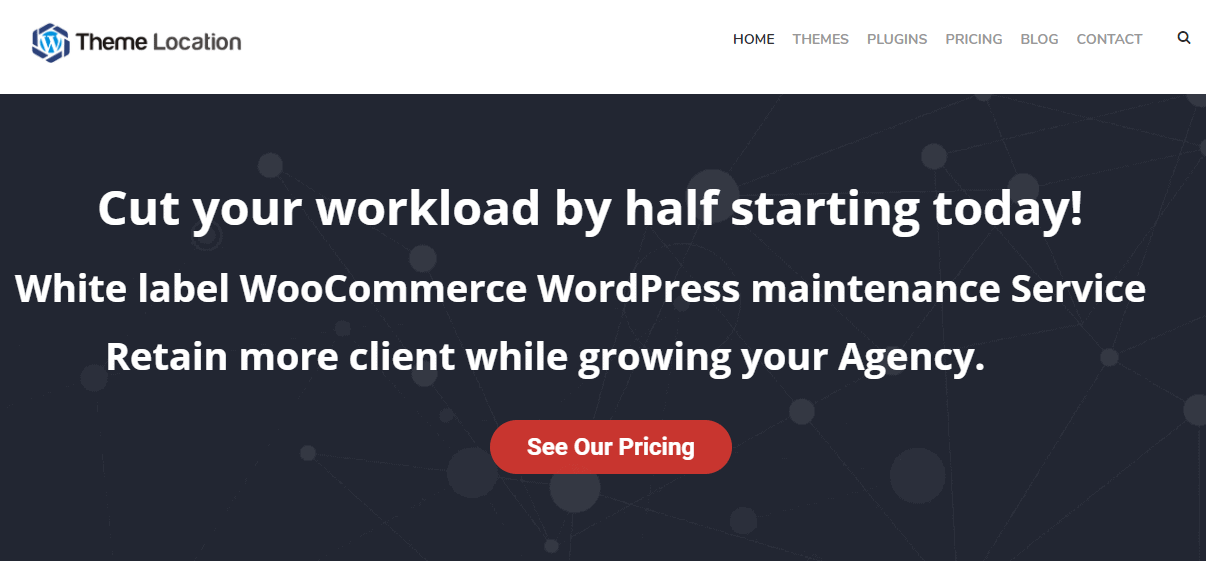 Themelocation is amongst other things quite fast and you can always count on it. You can get your desired changes done in only a day or two. It also comes with weekly updates of everything your site has, so you never have to worry about doing that manually.
The service itself was created by professional developers behind ThemeForest, and since they make themes themselves, you can be sure they know how to take care of them too.
With Themelocation, you can make as many changes as you want, since it allows you to make unlimited edits whenever and however you want. Themelocation has also come up with a great system of backing up your files, and security will never pose itself as a problem either.
FEES: Themelocation has a fixed monthly fee without any hidden costs. Their plan called the Agency Starter costs $49/mo per site. They don't, however, seem to have a plan for multiple sites as of yet, so you would have to get a separate subscription for each site if you need the service for more of them.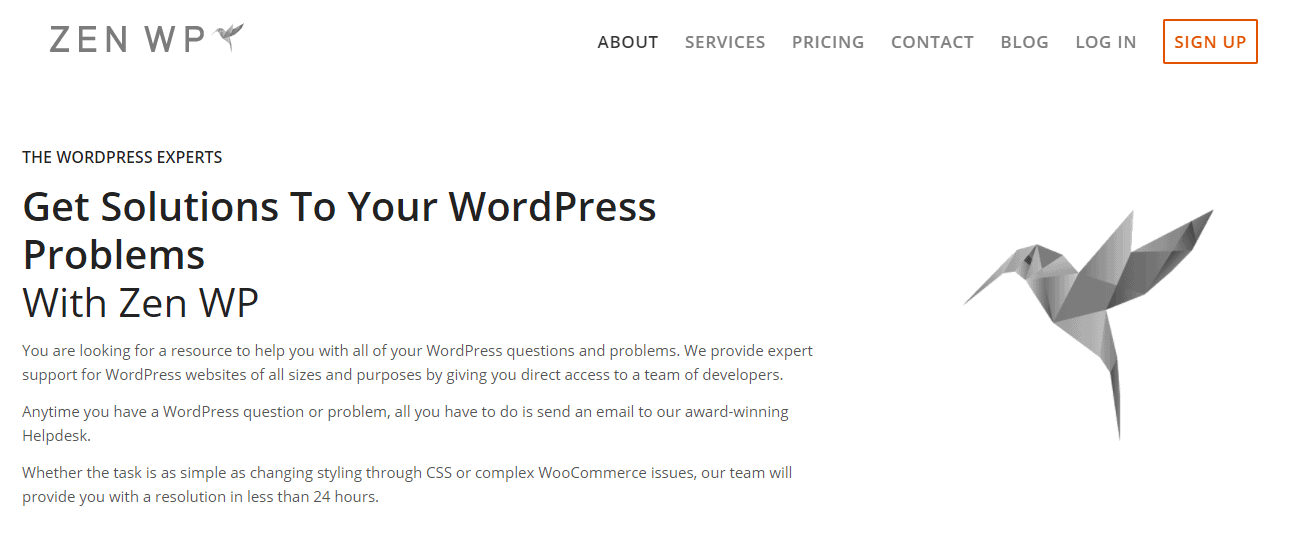 With Zen WP you can let professionals take care of your website's maintenance while you run your business with ease since you won't deal with any potential problems yourself.
Zen WP allows you to have access to 25 professional WordPress developers whenever you need them. They'll take care of anything you need in regards to maintaining your site.
Once you sign up for the service all you have to do is submit your request to their award-winning help desk, and their professional team will handle the issue in a matter of hours. When it's all done, you will receive a detailed report on what was done. Their service can also help you hack-proof your site since it provides you with WordPress security experts.
On top of all that, Zen WP also offers unlimited support even on holidays.
FEES: Zen WP has three versions on offer. The Basic version is around $79/mo and it comes with a security guarantee as well as a security plan (plus a Wordfence subscription). The Standard version is $129/mo, and the Pro version 268$/mo which also offers JavaScript support as well as hosting and domain support.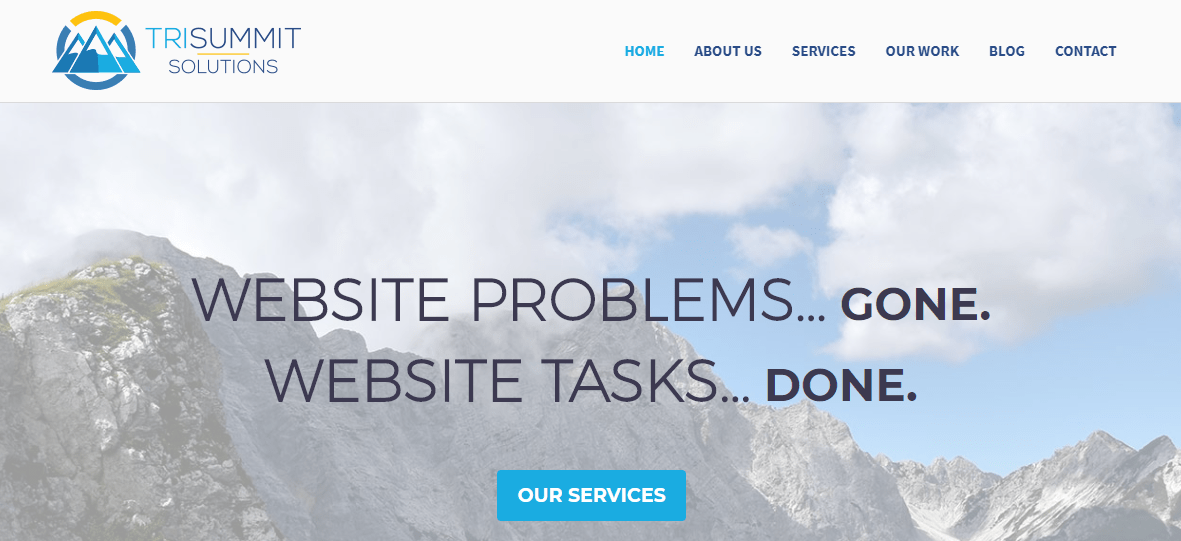 Trisummit Solutions focuses on nonprofits and social entrepreneurs, or in other words, they support those who try to support changing the world. It comes with complete support and security options, includes backups, optimizations, etc.
What they always attempt to do is help you build modern and successful WordPress sites and aid in growing your engagement along with your cause.
They will make your site secure and completely bug-free and will respond to any issue you might have in minimal time. Trisummit Solutions also offers online training seminars and online video courses to make sure that everything works the way you need it to and that you can optimize your impact just like you wanted to.
FEES: TriSummit's Basic plan is going to cost you $97/mo and comes with 3 support tickets per month. The Premium plan costs $147/mo which provides you with unlimited support tickets that are handled one at a time. And the World Changer plan costs $497/mo which takes care of your support tickets 3 at a time and even offers after-hours emergency support as well as coaching.
Purple Planet offers a lot of different useful services and purpletools is just one of them. By making your website faster and enabling it to work like clock-work, purpletools promises to make your public image better by making it more accessible and better-performing.
They offer performance checks to see if everything is working right around-the-clock, as well as uptime monitoring which notifies the team that is working of any downtime occurrences.
Just like most maintenance services it provides your site with regular updates, security, and vulnerability scans. Purpletools also offers a free audit and gives you an estimate on how your business can improve and in what way.
Another thing that their website offers is a list of free tips you can look up to see if your site is working as well as it could be.
FEES: Purpletools Discovery will cost you $49/mo and if you get an annual plan, purpletools will give you two months for free. The Voyager plan which comes with more features will cost you $89/mo and the most advanced version with all of the features will cost $199/mo. The offer of two months free for an annual plan is valid for the more expensive versions also.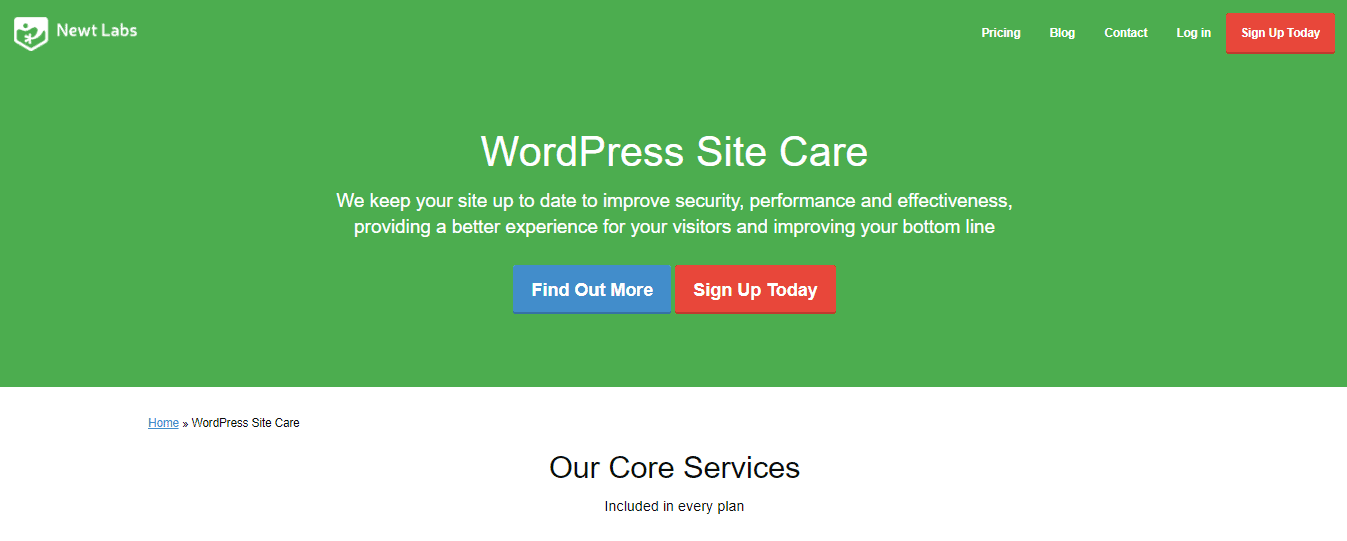 Newt Labs is UK-based and offers a few core services that are bound to make your site running experience a lot more painless. Their support can provide you with advice on small fixes via email and live chat, the choice is yours.
The team swears by their hands-on approach that is sure to help you get the most that you can out of your website.
The Maintenance feature is going to take over the managing and monitoring of all your site's activities, so you can focus more on other aspects of growing your business. You also get access to a premium security team that is sure to make your site bug and hack-proof, as well as optimize your performance so that each visitor has a supreme browsing experience.
FEES: The Managed plan comes around to £59/mo excluding VAT. Their most popular plan named The Fully Managed Plan comes around to £159/mo. And the last plan on offer is The Fully Managed + plan that comes to £189/mo. Each of these plans comes with a small discount if you choose to be billed annually instead of month to month.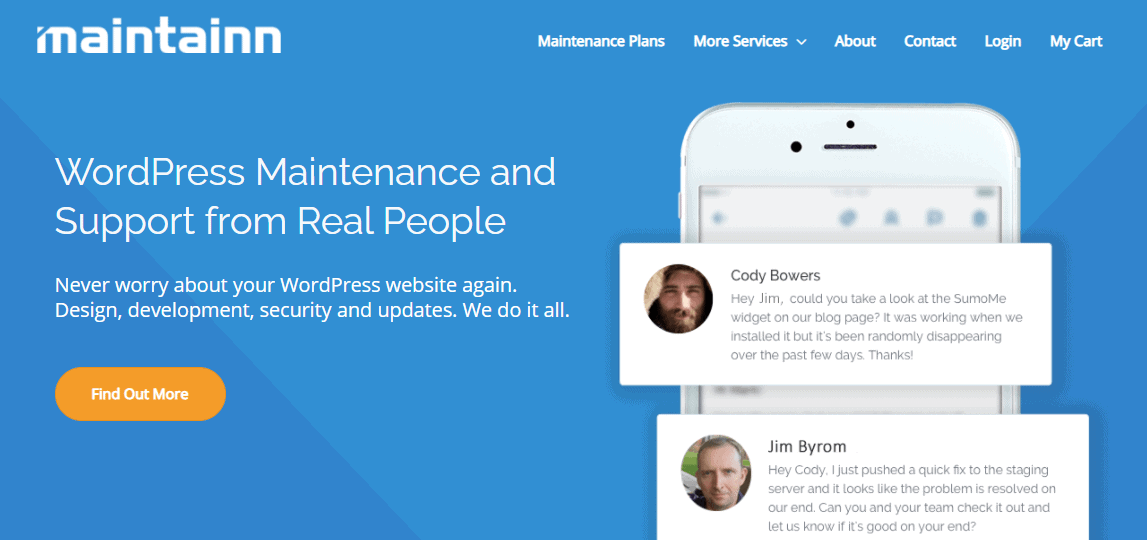 Maintainn states that they can handle any custom development requests no matter how big or small they may be, all you have to do is tell them what it is that you need and they'll take care of it.
In case you are unhappy with your current host and wish to change it, Maintainn is going to make the transition easy for you with seamless and simple data migration. Not only will they transfer the data for you but one of their experts is going to work with you during the entire process.
Once you choose to use this service your site will also get offsite backups, quick WordPress updates, and 24/7 security monitoring, so if anything were to happen to your site, it would be resolved as fast as it came.
FEES: Maintainn offers 3 different versions. The Basic version will cost you $54/mo, the Professional $160/mo, and the Enterprise $274/mo. You can get a significant discount on all 4 plans if you choose to be billed annually instead of monthly.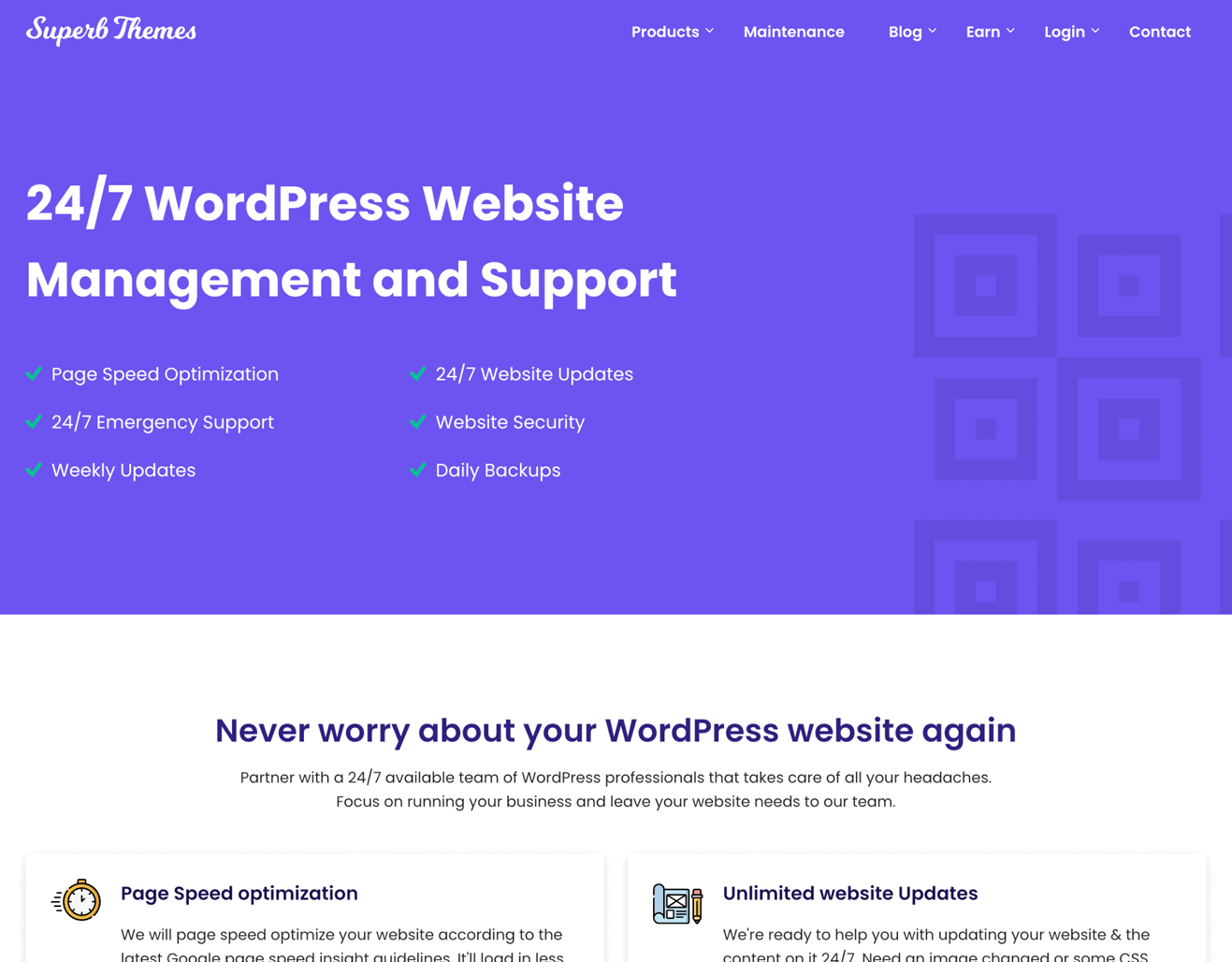 You might have heard about SuperbThemes before, they're known for creating search engine optimized WordPress themes and plugins for affiliate marketers and bloggers.
They recently launched a WordPress website maintenance service, where they take care of your entire website for a low monthly fee ranging from $99-$249 a month.
That includes maintenance services such as daily backups, security optimization, weekly updates (for your theme, plugins, and WordPress core), 24/7 support, and content changes.
If you decide to go with their premium maintenance plan then you'll get page speed & mobile/tablet optimization and malware removal if it'll ever be necessary.
FEES: You can choose between three pricing plans: Personal ($99/month), Business ($189/month), and Premium (249$/month). The pricing plan names pretty much describe who they're for. The premium plans are expensive if you run a small personal blog.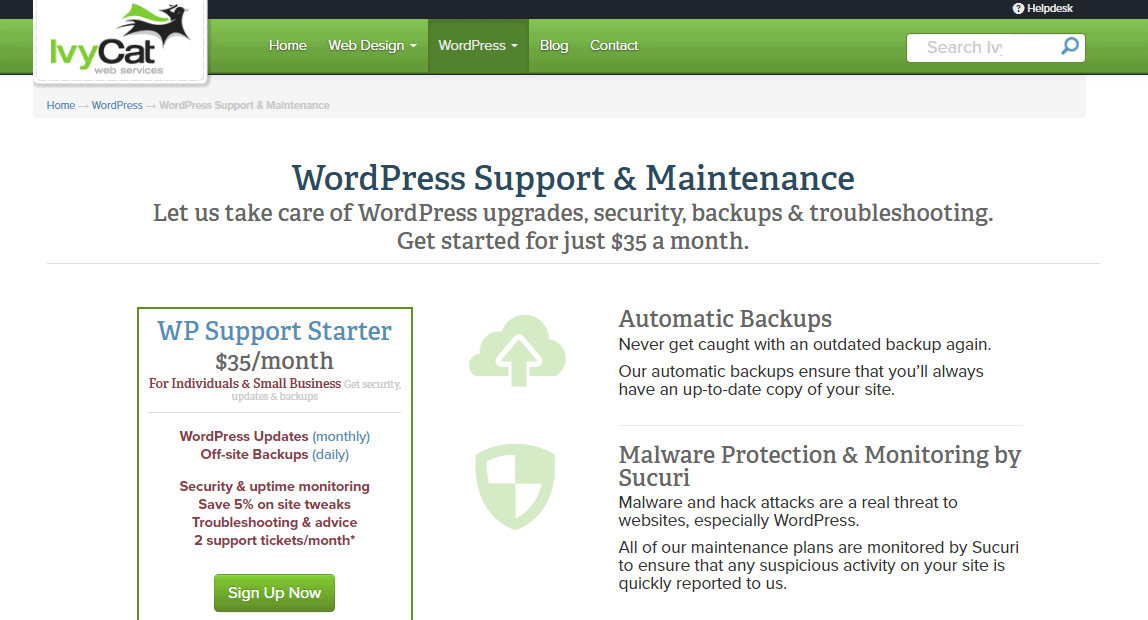 IvyCat offers WordPress support and maintenance. With IvyCat, your site will get automatic backups of all its content to make sure you never lose what was on there, no matter what happens.
It is going to protect your site from malware efficiently, as WordPress sites tend to be at high risk from such problems. On top of that, your site is never going to be out-of-date, as updating will also become optimized and automatic.
Even with all these features, there is always a chance that your site might have a problem. In case that happens, IvyCat has developed a fast-working ticket support system that is sure to take care of your problem in no time.
FEES: The WP Support Starter plan costs $35/mo and is aimed at small businesses and individuals. With it, you get 2 support tickets a month, and you can also cancel your subscription at any time as well as change plans if you so desire.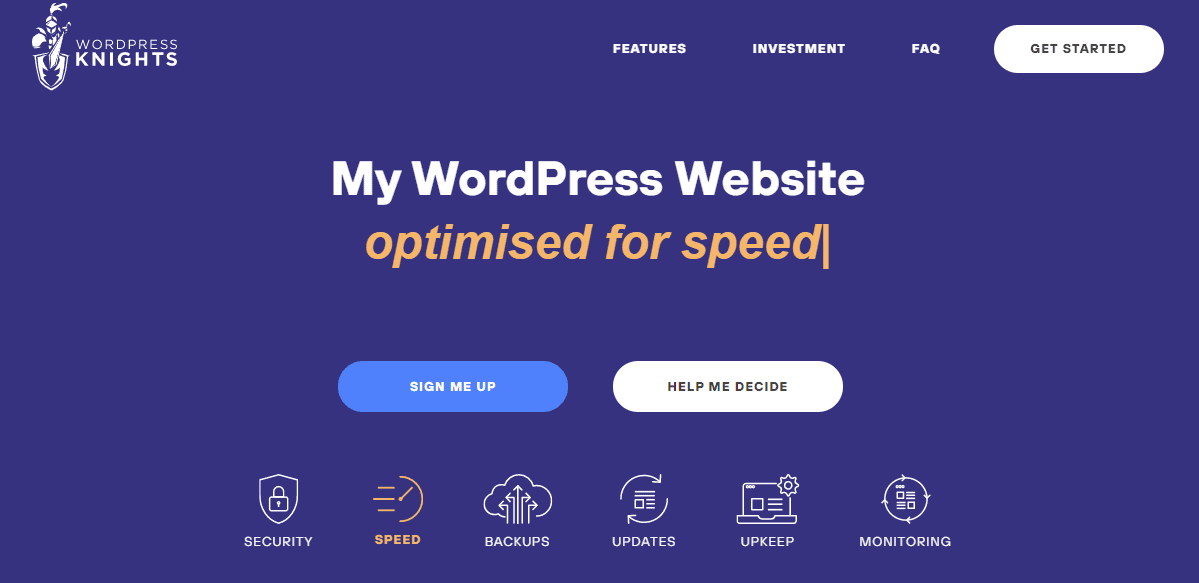 With WPKnights your website will get automatic backups, so you never have to fear losing what you had. Their security feature promises to take your site and turn it into a safe fortress that nothing can breach. They are even willing to work with sites that have been hacked and get them back and fixed for you.
They also promise to make your site as fast as it can possibly be, harnessing every bit of speed they can find. Also, if you need any content updated all you need to do is submit a request and you can consider it done.
WPKnights will have your website monitored every day of the year, and will know about any downtime occurrences within 60 seconds of them happening.
FEES: As is customary there are 3 options when it comes to buying WPKnights. The Defend package costs $49/mo, the Charge package costs $129/mo, and the Conquer package costs $159/mo. Also, you can get two months for free if you choose to be billed annually for any plan.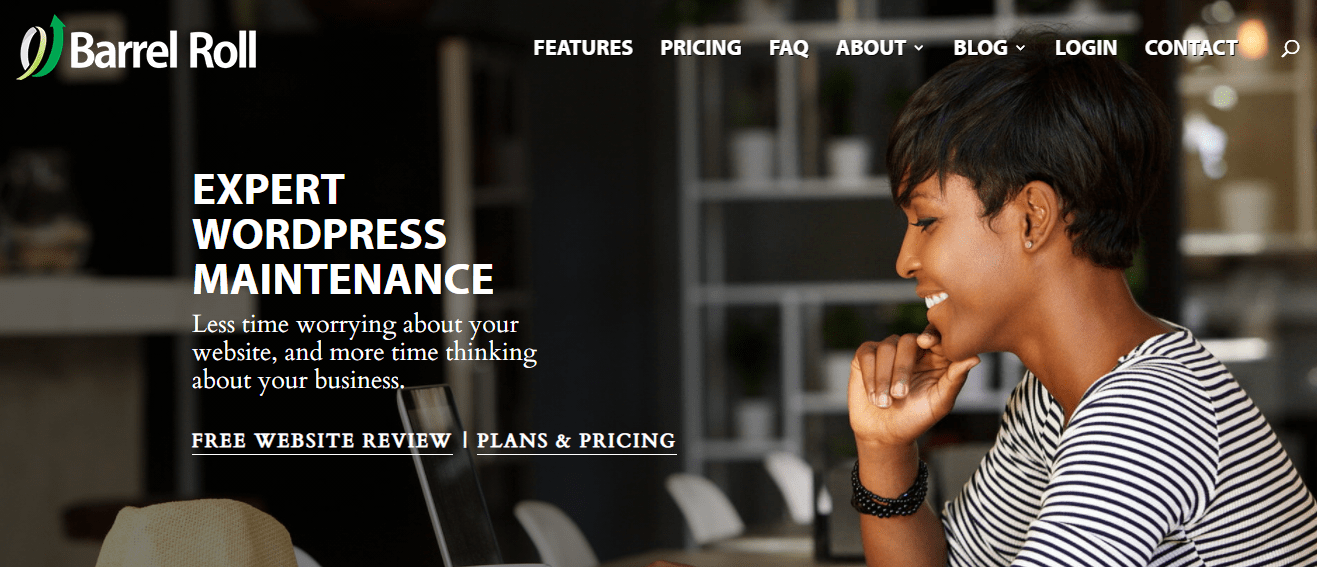 Barrel Roll is going to offer you a professional consultation and let you speak with an expert who can help you realize, and in the end, decide what your site needs and why. Their team is also armed and ready to take on any of your custom development requests, all you have to do is ask.
If you were ever frustrated by seeing the all-familiar 404 error, fear no more, with constant monitoring that is sure to never happen again. You will also be getting a solid security plan as well as uptime checks every day.
An interesting feature of Barrel Roll is their SEO support, so if your business isn't getting the search results rank it needs, the experts at Barrel Roll are going to work up a list of keywords and strategies that you can use to meet those search goals.
FEES: Barrel Roll offers two versions, the first one being the Advanced one which costs $99/mo, meaning there are no basic deals with Barrel Roll. The Premium version which has every feature included is meant for eCommerce and complex sites and costs $299/mo.
Conclusion
Having gone through our recommendations for WordPress maintenance services, we hope that you've found something that works for you and that can get your site working in a safe and secure manner in no time.
If however, that is not the case, feel free to check out this
comprehensive list
of possible maintenance services for your website.
All in all, when it comes to business, there is no cutting corners, so get on it and make the best site that you can, grow your business, and let the experts handle what you can't.