Search Engine Optimisation (SEO) is a popular strategy for law firms to gain visibility on search engines and attract new customers. A majority of potential new clients use search engines to search for 'lawyers near me' or 'law firm + a location.'
With #competition in the industry mounting, it would be a crime not to implement a #local SEO strategy to make sure you are ranking and visible on these local searches.
Click To Tweet
This blog is on hand to show you everything you need to know about implementing a great local SEO strategy and filling up your desk with new clients.
What is local SEO?
It is important to understand what it is and how it works. In layman's terms, local SEO is a strategy designed to help any business with a physical location or that serves a geographical location. If someone in the surrounding area searches for a term related to your law firm or services, then Google will group the top most relevant businesses together. This is called the map pack.
Below you can see an example for the search term 'law firms near me:"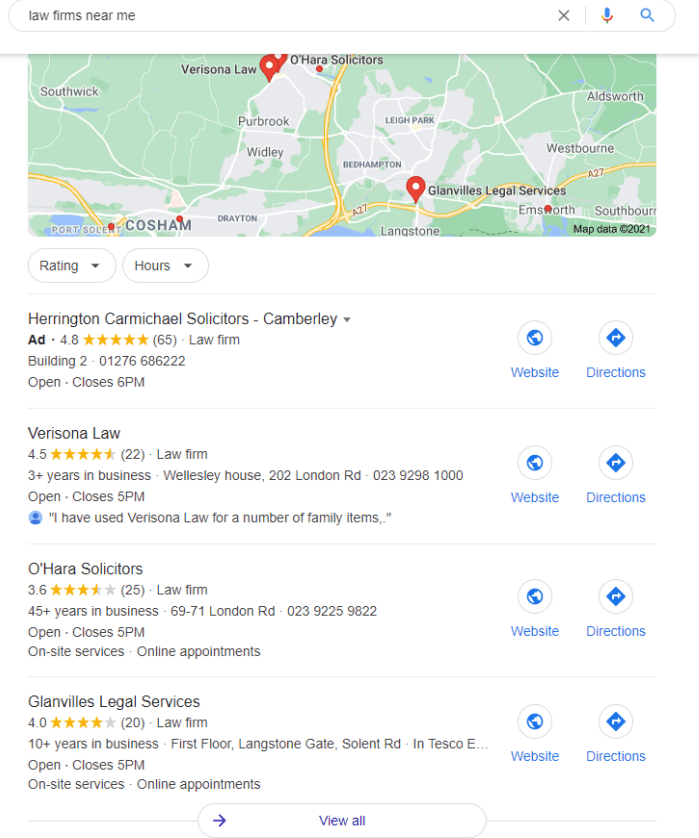 Google uses the user's IP address to track their location and therefore ranks the businesses that adhere the most to the following three main ranking factors:
Relevancy: This is how relevant your business is to the search. This could be a service or a location. For example, 'Law Firm Portsmouth' or 'Divorce Lawyers in Hampshire.' If your website and Google My Business are correctly optimized for these terms, your business will show in the local pack.
Proximity: Local SEO aims to attract local potential clients to your business. This means Google will rank businesses in a close geographical location. You can rank for areas further away by adding service locations to your Google My Business. It is important to note that the map pack changes every 4 miles. Proximity searches will rank relevant businesses for location or 'near me searches.' These include searches like 'personal injury lawyers near me' and 'nearest law firm.'
Prominence: This is how well-known your business is. Your prominence rankings can be improved by gaining backlinks to your website, getting reviews on your Google My Business profile, and adding your business name, address, phone number, and website (NAPW) to online directories.
Now you know how local SEO works, let's explore what you can do to get the best rankings from your local SEO strategy.
Optimizing your Google My Business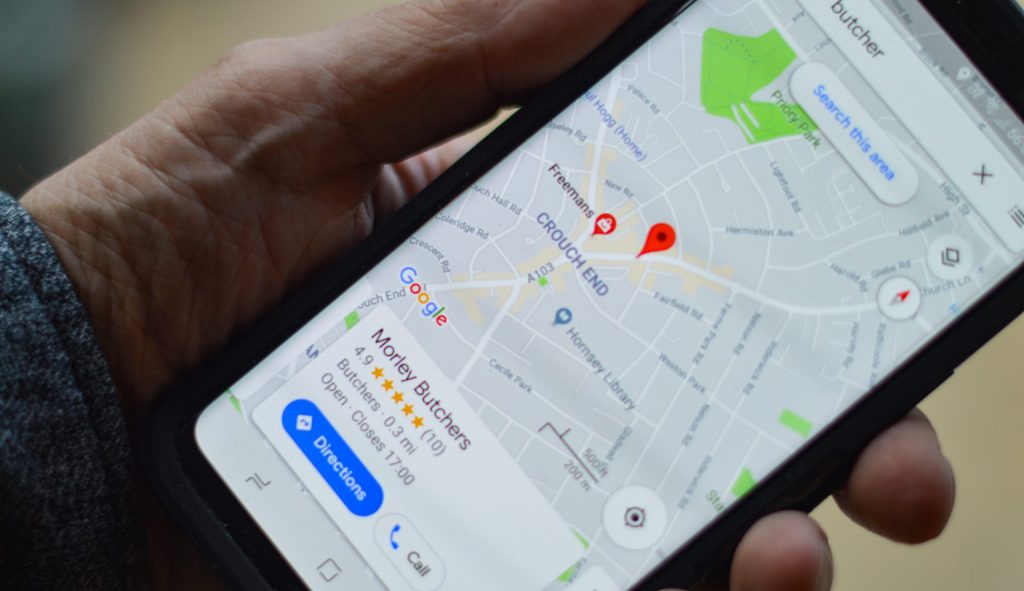 We've mentioned Google My Business a lot so far, in case you weren't too sure what a Google My Business is: it's a free directory by Google that helps you rank on Google Maps and in the search engine results (SERPs).
When you create your Google My Business account, it is vital to check that there isn't already a premade profile for you. Occasionally, Google collects information on your business on the web and displays it. You can claim these profiles and edit the information, or if you can't find one, you can create the listing from scratch by following these steps.
Once you have a verified profile, you can start optimizing your profile for the keywords and services you'd like to rank for. You can choose up to 10 categories, but it's important to remember that your primary category is what Google will mostly rank you for.
A primary category could be:
Additional Categories could include:
1. Lawyer
2. Law Firm
3. Legal Services
4. Trial Attorney
5. Civil Law Attorney
6. General Practice
You can also include the locations your law firm serves in your business description and service area when you create your account.
The benefits of Google My Business
Having a Google My Business will put your business or services on the map (quite literally) and give a snapshot view of what your business is about. It's a great way to showcase to your potential customers that you're a great company.
Having an optimized Google My Business also gives customers the options to request directions to your business, visit your website or call you.
In fact, the three businesses in the local pack gain 50-60% of all the clicks from a Google search, so implementing your local SEO strategy will help increase website visitors and communication with your clients.
Furthermore, 46% of all Google searches have local intent, and 88% of those made an in-store visit or booked an appointment that day. Google My Business is a great way to attract local customers to your firm.
Building your reputation online
Your reputation as a law firm is crucial. Clients want to know that you are trustworthy and professional. When implementing your local SEO strategy, on your own or with the help of local SEO services, encouraging your clients to leave reviews on your social media and Google My Business is an excellent way to showcase your law firm and prove that you are the best in the game.
Reviews are a way of showing new customers how great your services are from those who have experienced your services. Reviews build your credibility not only with new potential clients but also with Google, which crawls the reviews and sends ranking signals that will increase your ranking position.
According to qualtric.com, 93% of customers read online reviews before purchasing or contacting a business. This means it is important to ask your current or ex-clients to leave reviews about your services and professionalism.
Reviews also act as additional keywords for your business. For example, if a user were to search for an attorney for bus accident in NYC Google will also highlight and rank the law firms that have reviews that mention 'personal injury lawyer.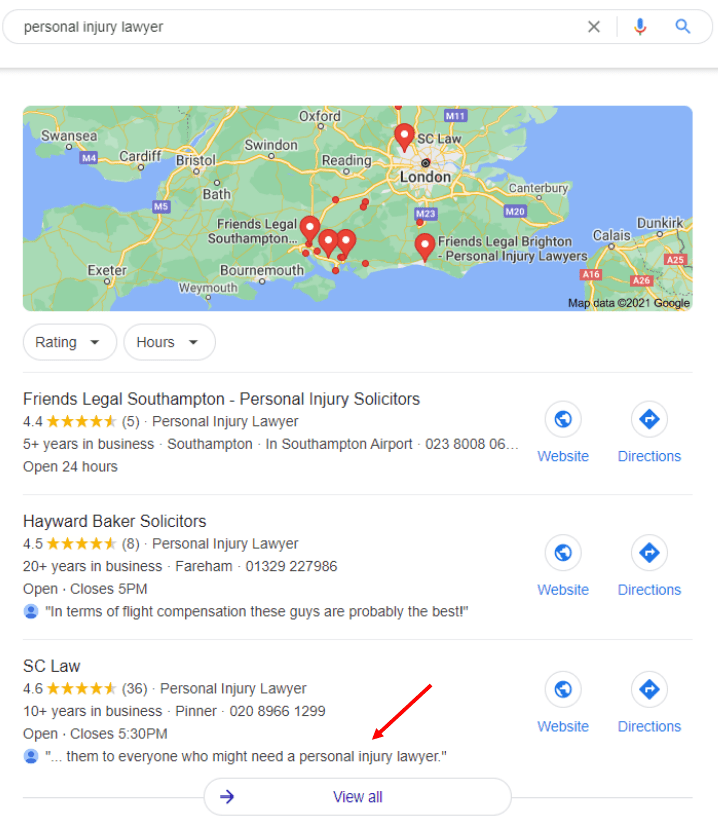 What if I get a bad review?
Unfortunately, not all clients can be happy all the time. You may not be able to help them, might not have won the case, or maybe something went wrong! Don't worry if you receive a bad review. You can use them to your advantage.
It's crucial to always reply in a professional and customized manner, automated replies will make them feel unheard, and this could look unprofessional. By taking the time to respond and resolve any issues, proves that you are a customer-centric business and that you care about your clients. Potential clients could see these interactions and act positively as a result.
Getting your name out there
One final best practice of local SEO is signing up to online directories. You can sign up to the standard ones like Yelp and Trustpilot, but there are, in fact, niche-specific directories for the law industry.
It is important to ensure your name, address, and phone number all match your Google My Business listing, and your website as these send ranking signals to Google and help anchor your position. The more directories you join, the more running signals to rank you higher in the local pack.
This process is called your Google Trustscore. By increasing your trust score, you will gain more visibility and traffic to your website.
Summary
Having a local SEO strategy is a great way to attract local clients and increase your online visibility.
Google My Business provides a snapshot of how great your firm is as well as putting your business on Google Maps, so potential clients can see where you are, request directions, call you, or visit your website all in one place.
Reviews show you are a trustworthy and credible business to Google and new clients and will help boost your reputation and rankings. Finally, joining directories will increase your online presence and send ranking signals to Google, which will help your rankings in the local pack. Good Luck!
Author Bio: Emily Johnson has a passion for music and film. She can be found at Tillison Consulting as a Digital Campaign Manager working with clients from different sectors and campaigns to help with all their Digital Marketing needs.