The importance of content promotion is immense; it is one thing you have to consider seriously from the start. With proper promotion to a large audience, your content can be transformed into something special and amazing. While choosing your growth service to grow the audience, choose wisely and avoid services like Viralyft as it would not be beneficial. 
The power of #SocialMedia networks has grown through the years, making them a crucial aspect of efficient #content promotion.
Click To Tweet
Still, we can say with great confidence that this is one tough process, and not everyone succeeds in using social media for content promotion. This is mostly because the world of social media is somewhat anarchical. It is not easy to "motivate" people to share content, and for your content to be shared and promoted, you need a good strategy, to begin with.
Creating that strategy can be a gargantuan job, and it mostly is. Its success depends on your product or brand, goals you want to achieve, your audience or followers on social media, social media platforms you are using, and many more things. So, it is our task to show you some good solutions you can use to get people to share your content and be a successful influencer/business owner. Paularoloye helps 10x businesses by connecting them with the right targeted audiences boosting their sales and return on investment.

Use Tools Like Quuu Promote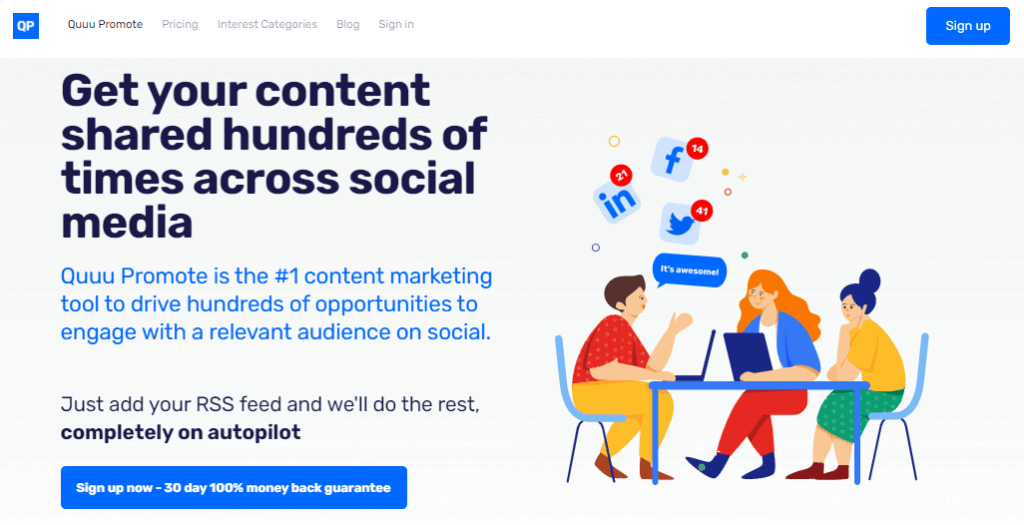 We will start with one great solution to your problems. This solution is so simple and easy-to-use that content promotion will not bother you at all. The solution we are talking about is a tool called Quuu Promote, and it is truly a helpful one.
No matter how great your content is, you need a good promotion strategy to make it all-around successful, and Quuu Promote can help with that.
This content distribution tool increases your content's reach and automates your content promotion, ensuring that relevant groups of people share your content across important social media sites.
To connect with a target audience, you just need to enter URLs and write different captions for each network. Then, watch as the magic happens when people start to share your content on various social media networks.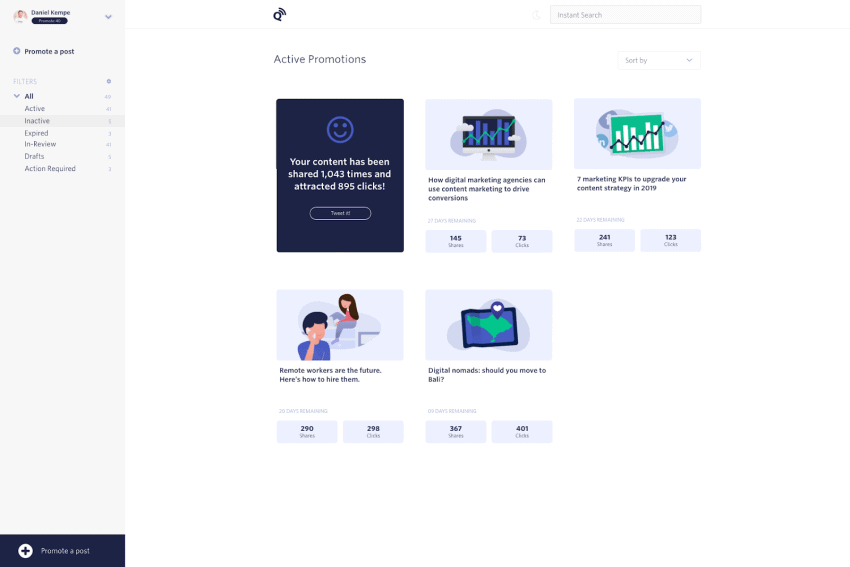 With this tool, you can easily promote blog posts, videos, slideshows, podcasts, infographics, and much more. You can also track all clicks and shares through the Quuu Promote dashboard, making it easy to stay up-to-date with your content's performance.
Keep in mind that this amazing platform is perfect for creating a content marketing strategy because you can measure which types of content echo the best with your target audience.
You will be able to increase engagement and traffic from different sites like Facebook, Twitter, LinkedIn, etc. You can even boost your social signals, which correlate with Google rankings, giving you an additional analytical approach to the process.
Quuu Promote offers you different categories, making it easier to match your content with adequate influencers and thought leaders.
This tool will review your content to make sure that it matches curation guidelines. Thanks to this, you can be sure that the Quuu Promote network will be more likely to share your content with their followers.
More than 50 million users can confirm all benefits of this tool and the strong features it offers for content promotion.
You get a virtual assistant that helps you create the best strategy and share your work with others, making you more visible in the online world.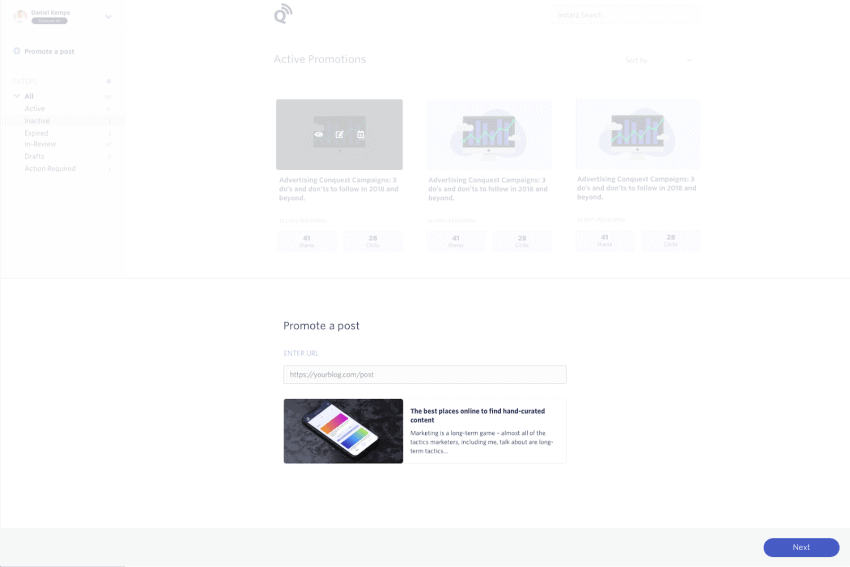 Together with your hard work, determination, and ideas, this tool can create the perfect path to success in business, blogging, and social influencing.
As for pricing, this tool is available as a lifetime deal on AppSumo, starting at $49.00.
Use Social Share Buttons
This is also a popular strategy that helps you increase the number of shares you get on social media networks. It is loved among bloggers, shoppers, and influencers.
By displaying social share buttons on your site, you create a powerful way of boosting your website traffic, the number of visitors, and the number of views for your content. It is one of the easiest, most used, and popular ways to increase the number of shares.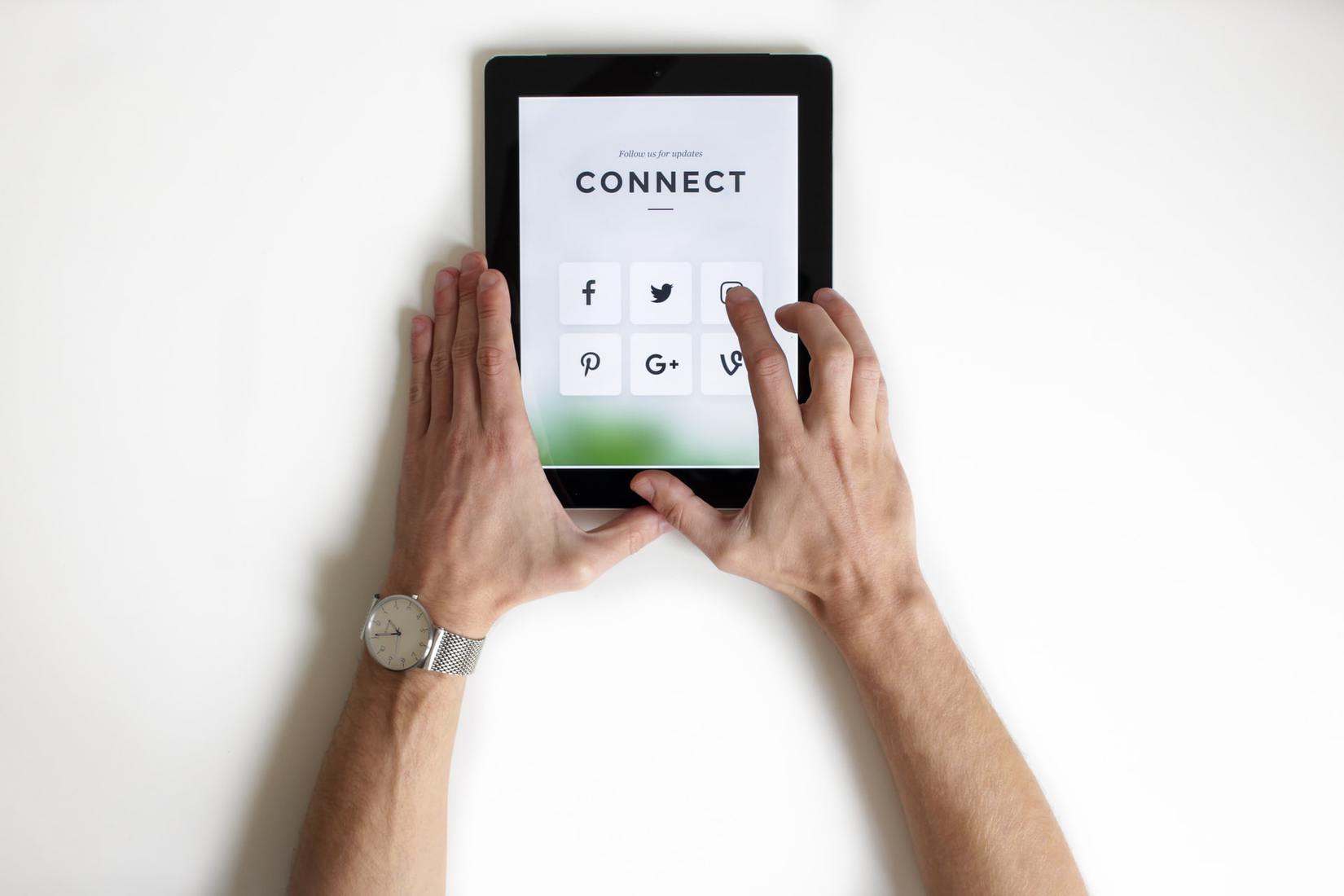 You can find different types of plugins that help you embed social share buttons and display them in the best place on your site.
Most of the plugins are free to use and offer many features. Some include the option to pick different designs for the buttons so that you can adjust them to your site.
Many social share button plugins also include animations for your buttons, making them more visible to visitors, which increases the chances that they will share your content and follow your page/site.
Other features include the option to allow visitors to subscribe to your blog via e-mail and use pop-ups asking people to follow or share your content.
Also, some plugins include the option to display social media icons at the end of every post.
These are just some of the features you get with most social share button plugins. Some of the most useful free plugins are Social Media Share Buttons & Pop Up Social Sharing Icons, and WordPress Button Plugin MaxButtons. But you can find more of them online with similar features.
Use Call-to-Action Buttons
Just like social share buttons, call-to-action buttons are also one of the easiest ways to increase engagement on your social media posts. They are used for product showcasing and selling but recently became widely used for other purposes as well (blogs, e-mails, social networks).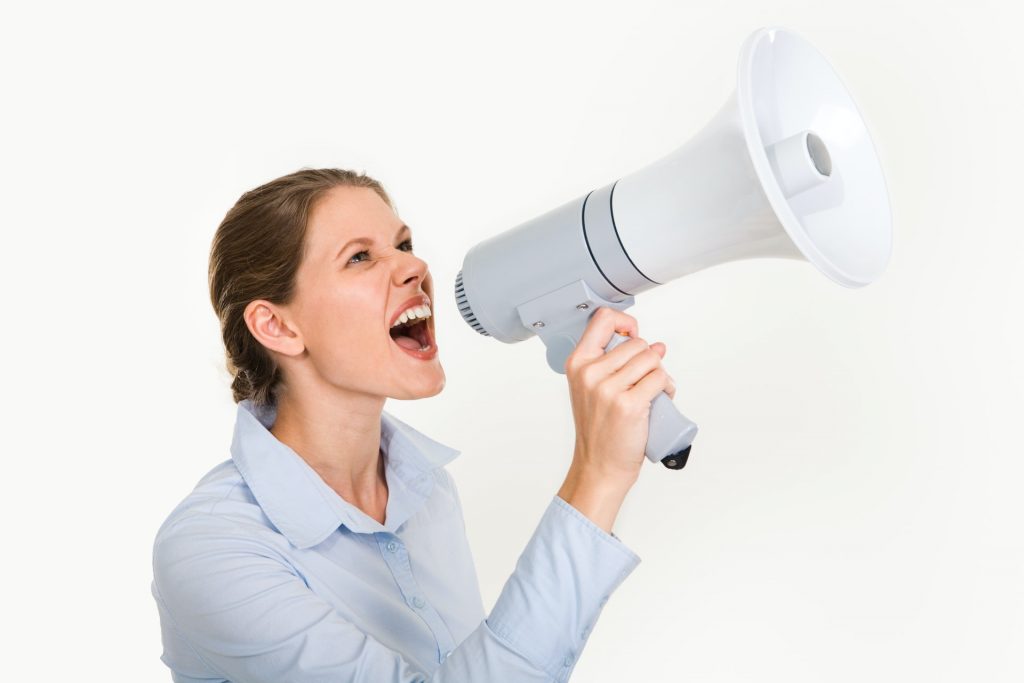 A call-to-action button is effective because it tells users how to interact with your content. Usually, these buttons appear within social media posts and blog posts, and they are linked to anything you want your audience to share.
Many social media networks support call-to-action buttons. On Facebook, you have the option to add: Sign up, Shop now, Contact Us, Watch the video, Apply now, and many more similar buttons. Other buttons may include Learn more, Reserve, Buy, etc.
When using a call-to-action button strategy for websites and blogs, you also have to think about your content and whether visitors have the motivation to share it. It is not bad to offer something in exchange for a share, for example, competition entries or gifts.
You also have to keep in mind the language you use when you "call" people to share; active language like the one mentioned above is important.
Use Google Trends
This useful tool can give you a good idea of what people share and like. For example, if you have problems with finding a new blog idea/topic, or you want to see what is popular among people right now, then Google Trends is something you have to try.
With it, you will find inspiration in a matter of minutes, and you will be ready to create quality content that people are going to share.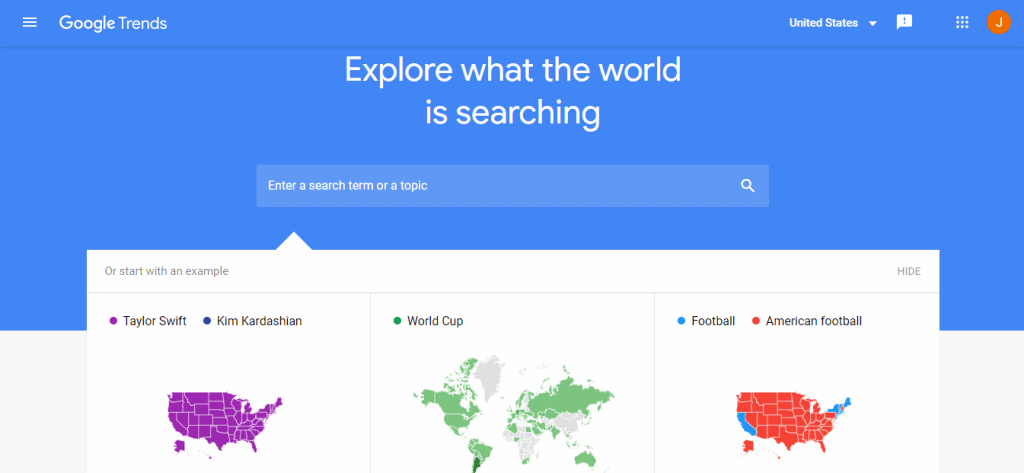 The way it works is by asking you to enter a general search term or topic; after that, Google Trends will show you how that term/topic is trending over time, together with many interesting facts and data analysis.
You will get a list of related topics and queries, and after that, all you need to do is click on any of them to discover trends, additional info, and suggestions. This strategy helps you create popular content that interests people, increasing the likelihood of them sharing your content. 
Create a Competitive Research Strategy
We can say that this strategy is somewhat connected to what we just mentioned above, but there are some differences.
This strategy is an easy way to publish content people want to see and share. To create it, you have to do a little research on what people are sharing right now, but unlike Google Trends, the emphasis here is on seeing what your competitors and colleagues are doing.
With this strategy, you have a good opportunity to get insights into what content your audience wants to see.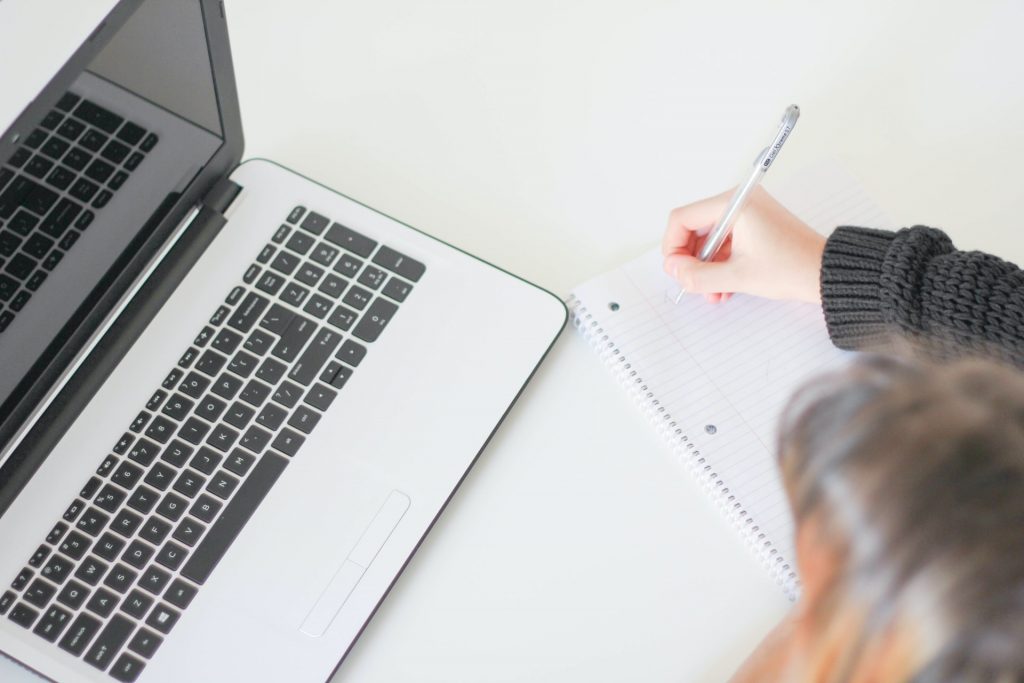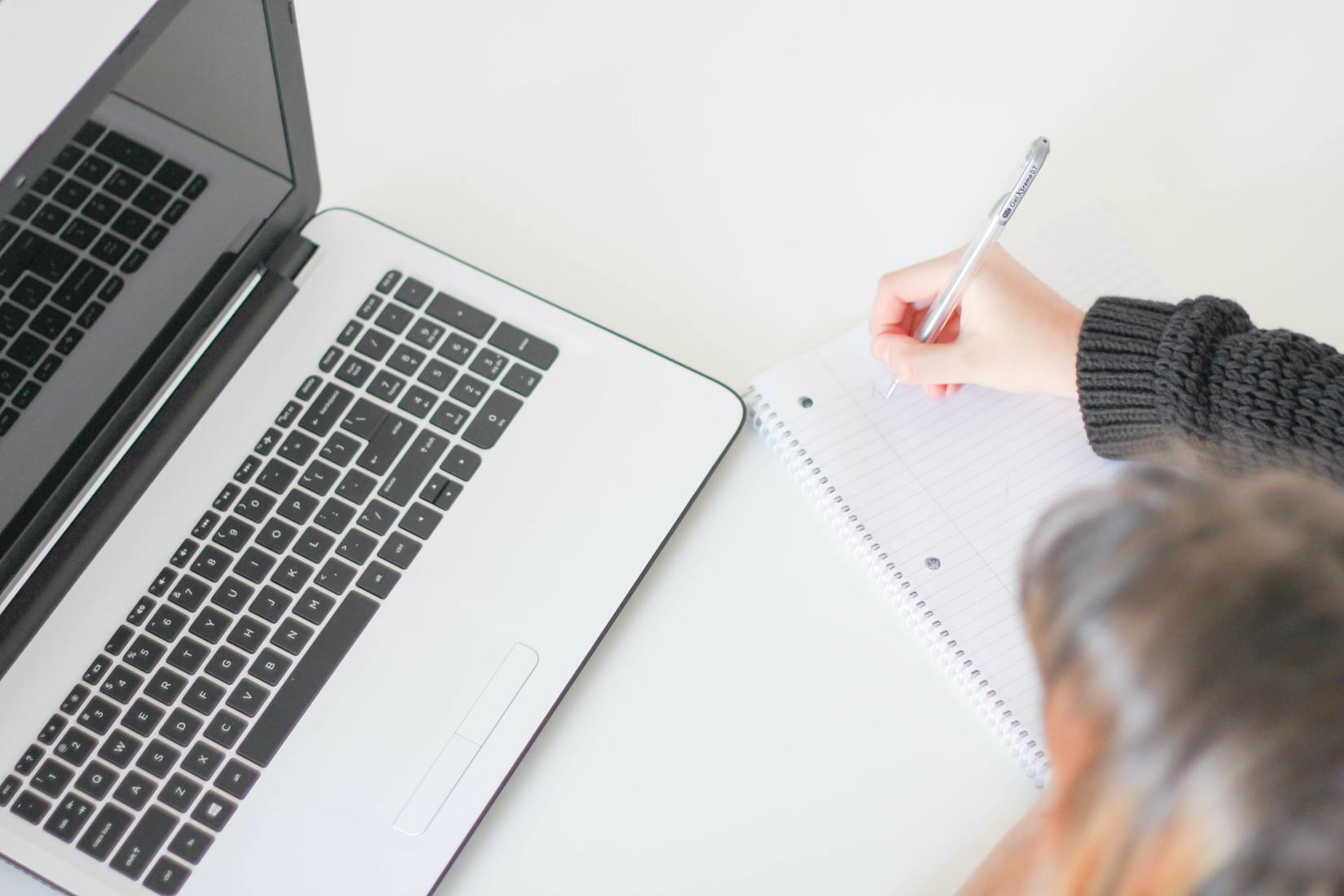 There are certain things you have to take seriously while doing your research. First, know what you are looking for; this can be trending topics but also what your competition is doing.
Find out who is on top and who is shared the most, how they create content, which strategies they use, and so on. Take notes on what is the most shareable content, how it is created, and what it includes (how much text, videos, images, etc.).
After you see what interests people, you can use that or any other similar concept and make it your own.
Also, this strategy has one big advantage; it can be easily combined with other strategies mentioned in this article.
Conclusion
No matter how good and creative you are at coming up with content, it can become useless if you don't have the right strategy to promote it. Hopefully, you can avoid that situation by using the strategies mentioned above and tools like Quuu Promote that can ensure your content will be shared widely.