Even though trendy social platforms and apps are taking over most of the personal communication done via the internet, email is the one thing that continues to dominate in professional and business relationships. It follows you from the moment you send in an email to apply for a job all the way to exchanging information and data with your work colleagues.
Now, why are the signatures below every email important? And what exactly do they consist of? It's very simple – your name, company name, website, title, phone number, or whatever else you deem necessary to present your company. It's supposed to help you stay professional and have a unique "personality".
But this is not just for your business to seem cool, there are several aspects that could make you benefit from a simple email signature.
An #EmailSignature is shown in every #Email you send from your company account and displays your #BrandIdentity this way.
Click To Tweet
Moreover, if you add a picture of yourself it could seem more personal and friendly. However, make sure it's all sleek and professional at the same time – the "vibe" your signature will give off to readers is all about the right balance between the two.
You also get a very subtle linking opportunity – don't just write down your information, adding links is more attractive and useful to a recipient.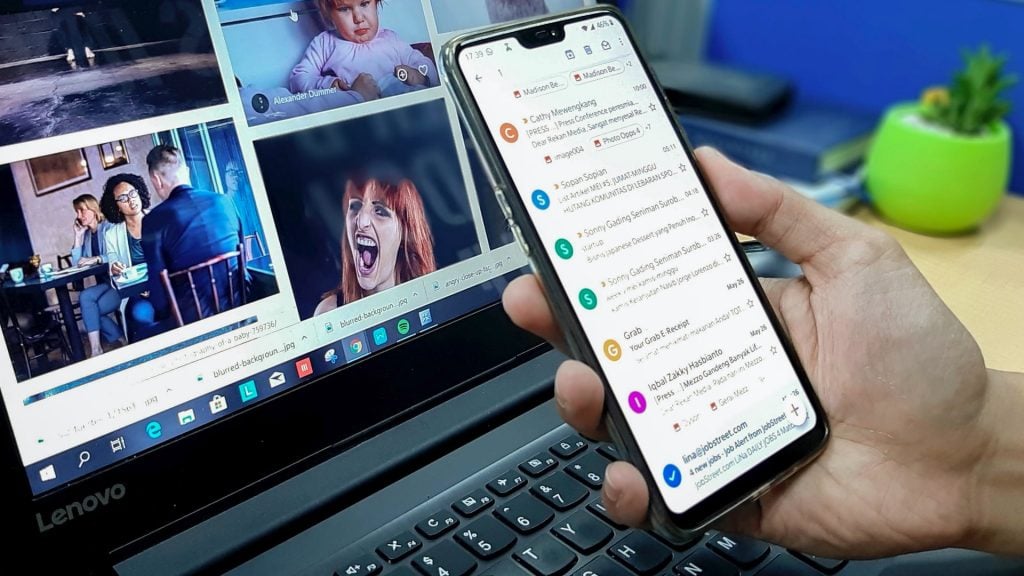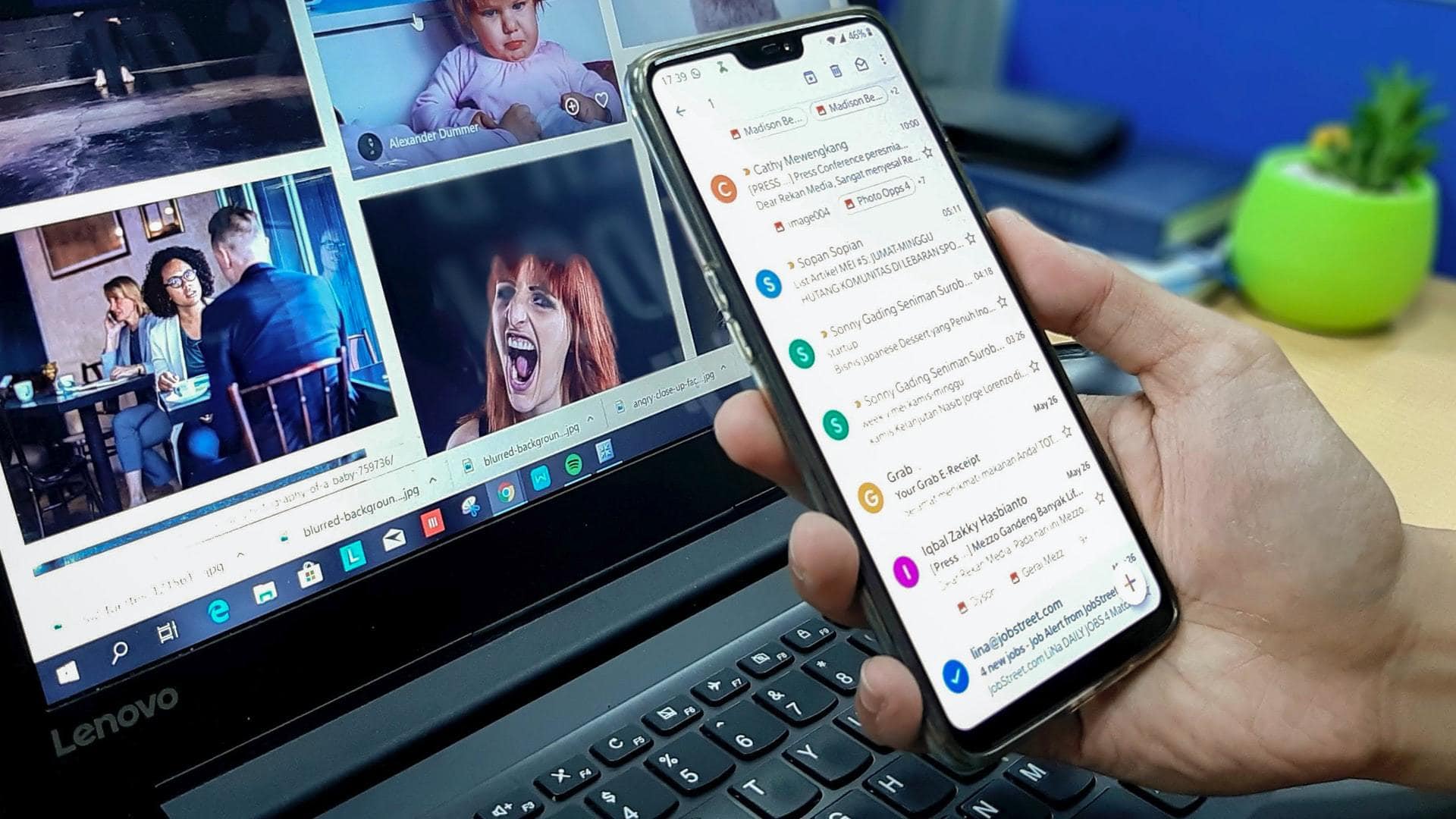 Accomplish all of this by putting an emphasis on key information about you and your company, creating a design that corresponds with your visual identity, linking only relevant offers and information, and making sure that your email signature is friendly to different mobile resolutions.
Thankfully, you don't have to do all of this manually. You'll find numerous software solutions to help you customize your email signatures completely free of charge. Nevertheless, we've narrowed it down to six top-notch tools to make your decision that much easier – starting with the best one yet.
Scribe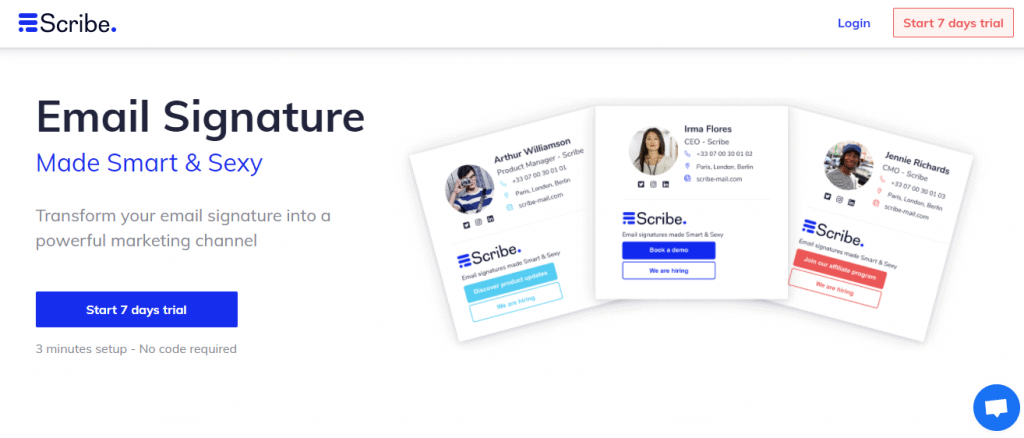 Scribe is undoubtedly all you need and then some more. It doesn't just let you design your signature in the coolest way possible but also helps you to add calls to action and banners, increasing your sales, and spreading brand awareness.
Scribe analytics help you track conversion rates which allows you to iterate on your marketing message. You can also create departments for custom marketing messages such as "Join a webinar" or "Give us your feedback".
Another very cool feature is the ability to install signatures across your whole team in just one click, making it perfect for a larger business.
Scheduling marketing campaigns in advance has never been easier than with Scribe – it automatically changes CTAs and banners in related departments.
When it comes to pricing, Scribe offers three different lifetime deals and the prices vary depending on the number of different signatures you need. You can choose between 5, 10, and 20 licenses. One license means one signature.
Scribe is the best alternative to regular email signature tools due to its promising and impressive features. In the odd case, it doesn't work for you, even though we're confident it will, there is a 60-day money-back guarantee, no questions asked – even more reason to go with Scribe!
Gimmio

You may have heard of Gimmio already as it used to go by the name ZippySig. It's one of the most popular email signature generators and for a good reason – it was created with the idea that email signatures should be completely customized, minimizing the limitation to built-in templates.
With Gimmio, you have over 40 free templates, thousands of social icons, and various fonts at your disposal which should be enough to create a professional signature, free of charge – perfect for teams as well.
The only drawback would be the fact that more advanced options require a premium purchase, even though you can still do a lot with the free options.
Desighill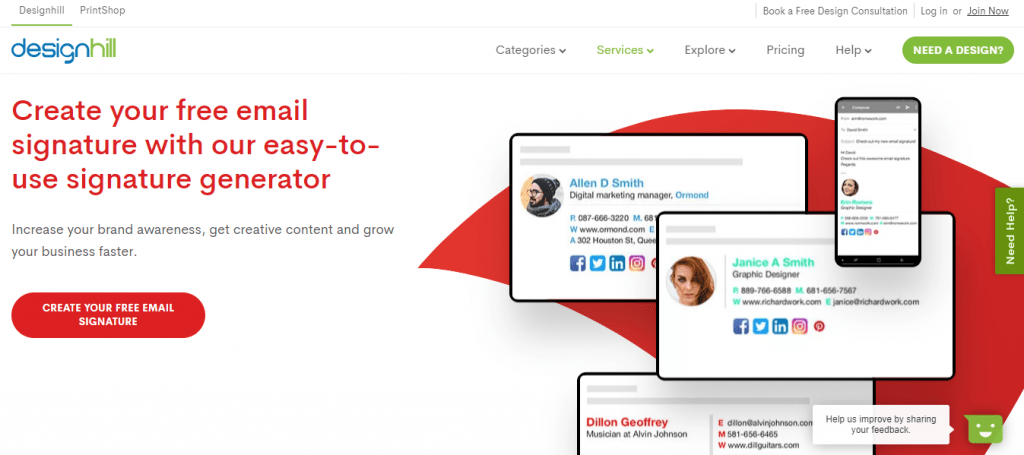 Desighill also marks a spot among the favorites. Considering some worldwide-known companies (HuffPost, Forbes, Entrepreneur, and Inc.) use it with great satisfaction, you don't even have to believe us – believe them.
Furthermore, it's pretty simple to use. All you need to do is fill in your company details, provide social media links, CTAs, choose which styles you want, select "create a signature" and voila – your signature is ready to be embedded into your emails.
Signature Maker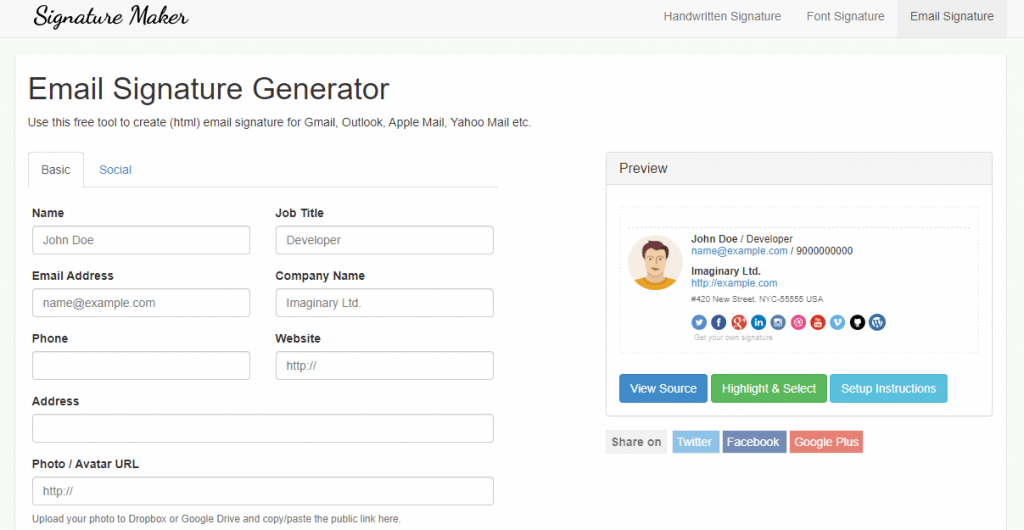 Signature Maker might be the easiest generator to use thanks to its sleek input form and simplicity, which create a very user-friendly layout.
When you open the website, you can choose between the Basic and Social types of signatures. From there, you just have to enter all your information into the boxes, and you're done!
Another cool thing is that while you're entering information, you can see a little preview of your signature in real-time as you type! Naturally, Signature Maker is fully free of charge.
WiseStamp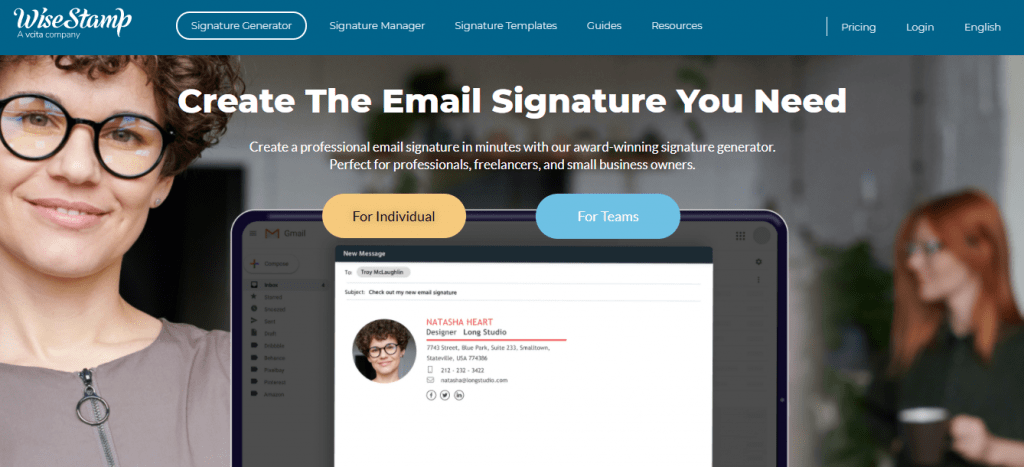 WiseStamp is another great email signature generator for companies that handle big teams since it can take on over 1000 users, making it ideal for when professionalism needs to be accentuated among employees – all controlled by a centralized system.
On the technical side, if gaining a marketing edge via your signatures is your goal, you'll be happy to know that WiseStamp provides analytics of traffic and social media.
It's also packed with various ready-made templates but if your team is small, you may find WiseStamp unsuitable.
YayMail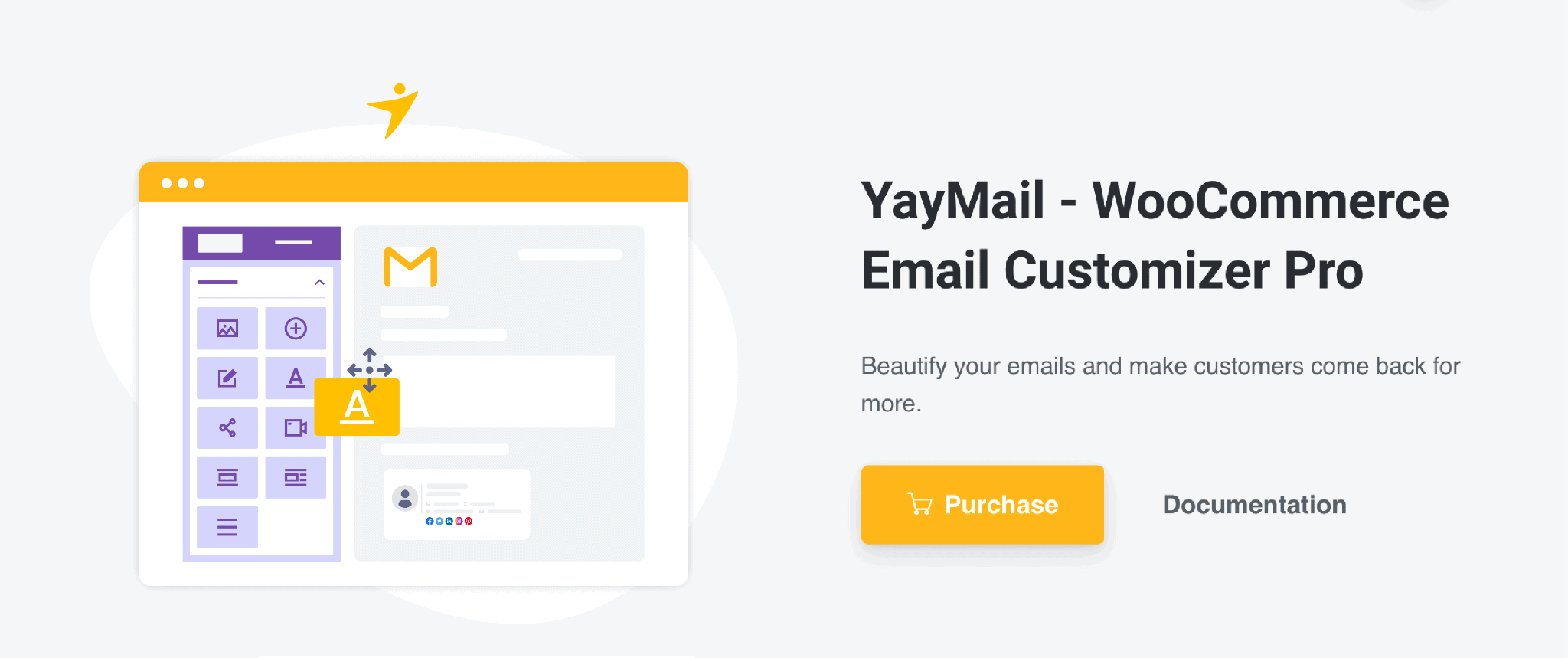 If you are using WordPress, YayMail is the ideal choice to customize emails. You will be able to drag and drop the built-in elements and see the preview in the same email editor.
It is more than just an email signature generator. For business owners who have an eye for design and utility, YayMail helps build brand loyalty, value and increase sales through a sophisticated email template.
This WooCommerce email customizer allows you to add many impressive elements and layouts to the email templates:
Header logo, banner
Footer avatar, profile image, author bio
Location, phone number, media list, and even video
Social network icons and links: Facebook, Messenger, WhatsApp, Twitter, Youtube, Vimeo, Linkedin, Instagram, Pinterest, etc.
Call to actions, buttons
Multiple columns
The best thing about YayMail is that you can use it for free to send transactional emails!
For marketing emails like product review requests, follow-ups or drip campaigns, you will have to upgrade to YayMail Premium Addons to integrate the drag and drop interface with those third-party tools.
All in all
You'll know what works best for you after you go over your goals and strategies thoroughly. Whether you need a plain-looking signature for occasional formalities or you're handling a team of hundreds of employees, you'll easily find an email signature generator that ticks the right box on this list.