Regardless of how you use your WordPress website, there's a chance that a need to book or reserve something might come up. Whether you're running a page for your office, one for your restaurant, or one simply made for others to be able to meet up with you, writing down a date and time is a tedious task in this day and age.
We're far past the time when pens and papers were used to scribble down what, when, and where we need to do something, and your website should follow suit with the help of a booking feature.
Need a good #plugin to handle your #bookings and #reservations? Get to know some of the best ones on the market in this article!
Click To Tweet
In order to set up a booking feature on your website, there are certain things to keep in mind. You have to be able to see the full calendar, allow multiple people to book at the same time and with different people (such as different doctors, etc), make the site mobile-friendly, and so on.
You can do so using a booking plugin. But what makes a good booking plugin?
Let's start with the calendar option, as it's frankly the most important one, and the one you will use the most. It should be customizable, clean, and easy to read. This one goes both ways, as you and your customers should both be able to view the upcoming bookings and appointments.
Having calendars open for your employees is also important, to ensure their schedules don't clash or that they're not overbooked for the day.
There are many great apps on the market. Based on your criteria and features you can find the best booking appointment app.
All of this is just a small fraction of what you might need when you start implementing a booking feature on your website. And to make the job easier for you, we've found the best booking plugins for WordPress, that don't require an inkling of coding knowledge. So let's see which ones we picked!
1. BookingPress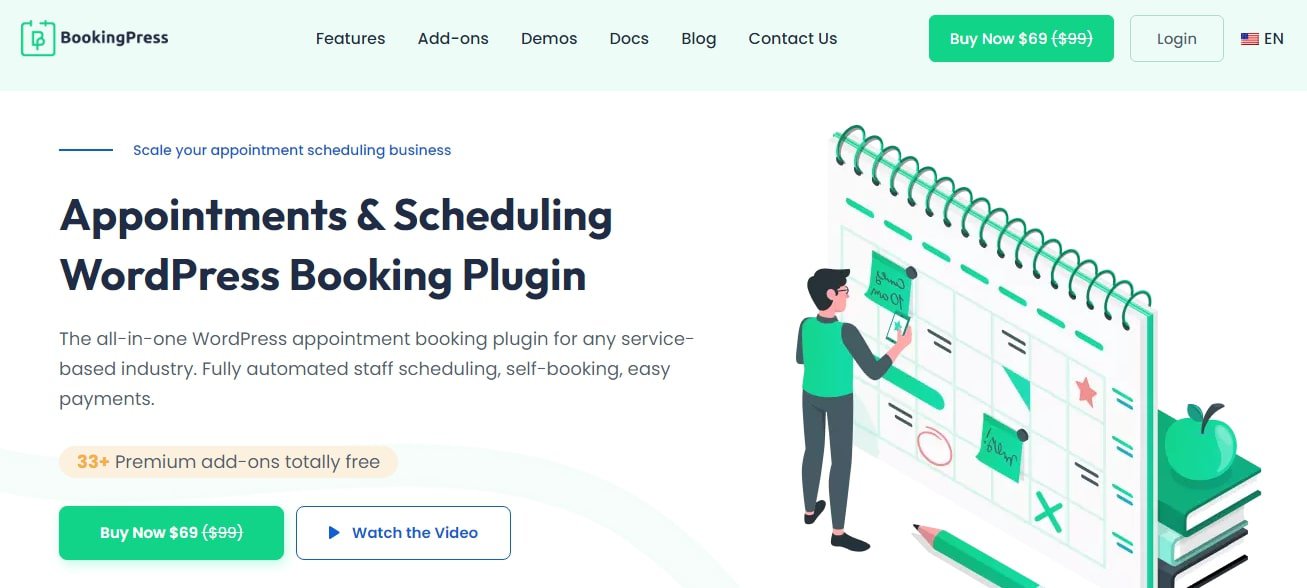 One of the best freemium WordPress booking plugins for managing client appointments is BookingPress. It is ideal for all types of service-based enterprises. It is a fantastic booking plugin that is easy to use and has a lot of excellent features.
Online appointment scheduling is versatile with the BookingPress appointment booking plugin since it is more dynamic and loaded with great features.
Additionally, the BookingPress plugin for appointment booking is ideal for salons, tutoring services, fitness centers, medical practices, spas, consulting firms, wedding coordinators, yoga studios, dealers, and dining establishments.
Features:
33+ Premium add-on completely FREE (it is the only WordPress Booking Plugin that gives such a huge facility)
15+ new online payment gateways integration FREE (PayPal, Razorpay, Stripe, Mollie, Authorize.net, 2Checkout, PagSeguro, Braintree, Worldpay, Paystack, PayUMoney, PayPal Pro, PayFast, Square, Worldpay, Skrill, WooCommerce, )
Google, Apple, and Outlook calendar integrations.
Cart add-ons facility for multi-booking.
Email, WhatsApp & SMS notifications.
Award-winning responsive design for frontend and backend
Fully customizable booking forms and customer panel
Advanced service options with extras selection
Advanced staff dashboard for staff members
Invoice feature with pdf support.
Custom booking fields with conditional hide/show.
Suitable for various types of business
Advanced reports and analysis.
24/7 Customer support.
BookingPress Plugin also offers a free version that is an extremely simple interface. You can download from wordpress.org to start accepting bookings in just a blink of an eye.
2. Bookly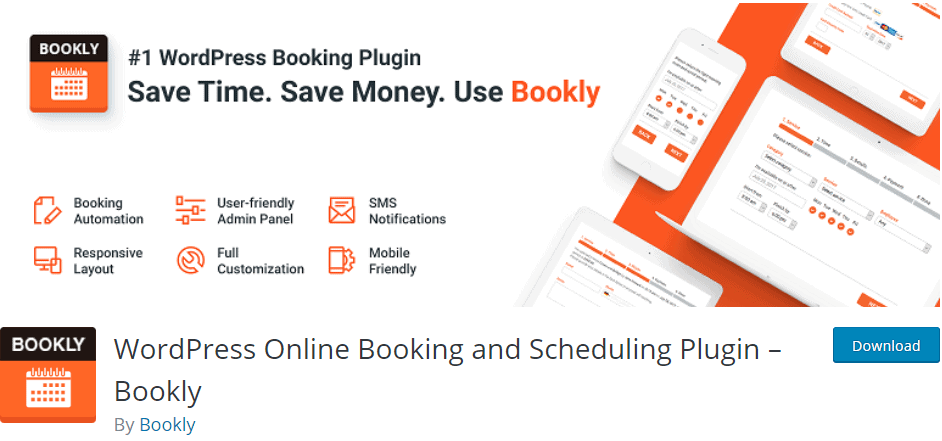 Bookly is one of the popular booking plugins available for WordPress, and it's free. Like always, there is a Pro version you can opt for, but if you only need the basic features, the free one is the way to go.
Bookly allows online submissions of appointments and bookings and uses an automatic reservation system. Using it, you can manage your calendar, the services you provide, your clients and so much more.
The interface is really user friendly, and getting around it shouldn't be a problem. Also, the plugin doesn't need a lot of data so it will allow your website to function with no interference.
All in all, this plugin is well-rounded and has you covered on all bases.
The key features are:
Easy and fast booking online
Fully customizable
List of customers and clients you can tinker around with
Access to email and SMS notifications
Multi-language support
Good for business and private users
3. Booking Calendar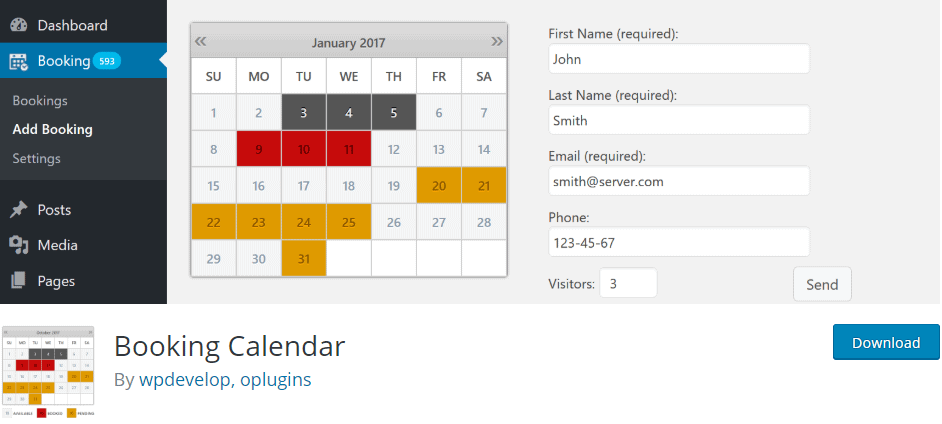 One of the original plugins created for booking, the Booking Calendar has been around since 2009 and has over 60,000 active users right now.
The plugin promises a smooth, great-looking booking system and an interface with many great features. It's built to work out of the box, so it doesn't require and coding, and it has fully customizable options for you to choose from.
It is a great option if you're using it for business purposes, as the plugin offers a lot of options on the client's end. For instance, they will be able to select a day(s) in the calendar, a specific time slot, and submit a booking that they wish to reserve.
They can also check the availability of a specific service you offer, and navigate through their bookings easily.
Other great features of this plugin are:
Timeslot booking for specific periods of time during the selected day
Prevents double booking
Sets pending days as available
Email notifications for you and the client
Sorting bookings depending on the parameters
Works with third-party websites such as Airbnb, Booking.com, etc
Importing your Google Calendar
4. Team Booking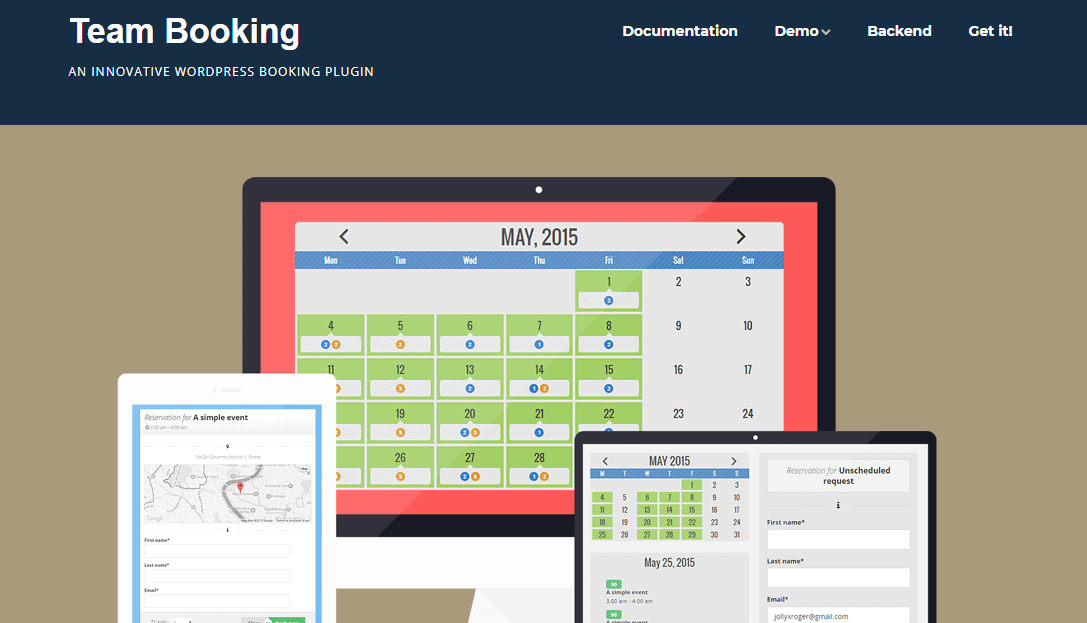 In case you're managing the schedule of your whole team, this plugin is for you. Just by its name, you can assume that Team Booking is a plugin created for doing team management, bookings, and the scheduling of those who work with you.
This plugin goes straight to integrating with Google Calendar and lets your whole team collaborate on the upcoming events. But if you're working solo, don't worry as this plugin also offers one-person management so you can easily set everything up for yourself.
Besides that, Team Booking is enriched with map features, timezone selections, different payment options, form building and so much more.
Here are some of the features also worth mentioning:
Hassle-free as it works straight out of the box
Offers promotions such as coupons and campaigns
Ability to export data
Fully WPML compatible
Offers complete booking options, no matter what service you're working with
Collects payments and deposits (supported by PayPal and Stripe)
5. Amelia

Offering a Lite and Basic/Pro/Developer versions, Amelia is one of the plugins that allow you to set up a fully automated booking system on your WordPress site.
It's frequently updated, and the team behind it offers support depending on the plan you pick out. The free version offers features such as general settings, calendar admin view, appointments page, etc, but the paid versions are what we think is worth splurging on.
Starting from $59 per year, Amelia offers a wide range of features that any business or private user can benefit from, like SMS notifications, scheduling recurring appointments, and scheduling special days that are not typical to your usual work hours.
Amelia also has a fully customizable interface so you can easily match it with your website theme, and allows you to check your latest business reports that were processed through your KPI's.
If you're still having second thoughts, here are some of the other amazing features Amelia has:
GDPR compliant
Gives full financial details of your payments
You can create customer accounts from the back-end
Minimum time required before booking and before canceling
You can manage multiple employees and multiple locations
Customer Panel for your clients to cancel or reschedule
Conclusion
Overall, if the need to set up an appointment comes up at any time while you're providing service to others, any of these plugins will do a great job.
Depending on the service you're offering, we recommend investing in one of the premium/pro versions since they do offer 100% smooth sailing, which your clients will surely appreciate.
Remember, the experience your clients get when creating an appointment is one of the keys to good business, so think it through to ensure new clients come your way.