Hosting a new website for the first time requires too much work. There are too many hosting providers out there that claim to be the #1 in the business. They also seem to be almost similar to each other. They all have a few differences that can help you decide better, but they are too concealed to be noticeable.
It is not a surprise that many newbies regret their decision when they choose their services. Their only mistake is not thoroughly researching their would-be provider and making an educated choice.
This is unfortunately not limited to those who have no experience in #web hosting. People who are familiar with hosting services also fall for the #marketing tactics that claim to offer cheap hosting services.
Click To Tweet
I am not saying you should not take risks, but knowing as much as you can about the service that hosts your website is common sense. That is where reviews come in. You can discern any information or make sure the provider truly offers a great service. My team and I have been writing such reviews that have helped our audience choose their hosting.
MilesWeb Review: Hosting Provider for New Sites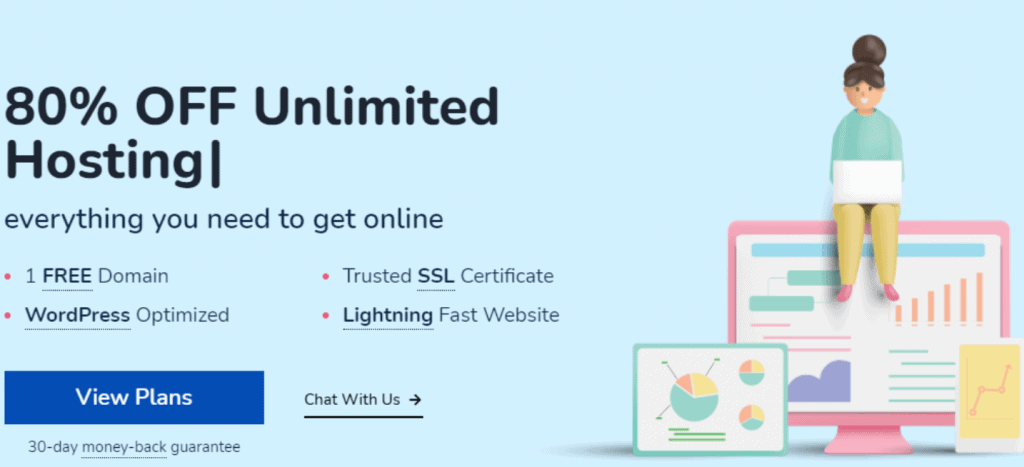 Users looking to launch new websites generally go for Linux shared, WordPress hosting, or windows hosting services as they are cheap and have enough resources to sustain a website. This article will include information about MilesWeb and its shared and WordPress hosting services. We have compiled this article after doing extensive research on the company.
We also took references from the reviews of some of their clients. They serve as perfect hints to uncover the strengths and weaknesses of the provider. The principal aspect of this review would be to thoroughly inform you of the performance and value-for-money of the hosting services of MilesWeb.
Let's get started!
Performance Review
Many users and clients of MilesWeb have given mixed reactions to their experiences with its hosting services. However, the ones that gave positive responses were much higher than others. That said, we did our investigation and managed to gather as many details about the performance potential of the hosting services of MilesWeb.
Uptime
MilesWeb is one of the many top providers that have the ability to offer great uptime. In fact, MilesWeb offers its clients an uptime guarantee that assures a 99.95% uptime with its shared and WordPress hosting services. That doesn't mean that your website will not face server downtimes at all. It will, however, reduce the chances of such problems arising compared to most hosting providers out there.
The availability of servers is the most vital part of any hosting service. Although the ideal uptime should be 100%, no provider can guarantee it. 
There are times when issues like server downtimes occur that cause your site to suffer. Still, it is understandable as the providers cannot afford advanced server technologies like the cloud for their shared hosting services.
It is preferable that you don't ever have to compromise with the server uptimes. Generally, the best hosting providers assure uptimes up to 99.90 to 99.99%. If you are looking for a hosting service for your new site, you should also consider this range of percentile to get a decent hosting experience.
Page Loading Speed
MilesWeb deploys Cloudflare CDN technology with its hosting. It increases the performance and speeds of data transfers. It dramatically increases the overall data transfer per second ratio that affects the page loading speeds.
We have observed that websites that use MilesWeb's hosting services have a good page loading average ranging between 700-800ms.
All good websites, old or new, should always load quickly. The loading time of your website is a determining factor as to how well it will attract web traffic. As per statistics, a delay of two seconds or more will increase the bounce rate by 101%. On the other hand, if the loading speed changes by even 0.1 seconds, the user experience will be better.
All things considered, the average page loading speeds with MilesWeb's hosting can be placed among the best providers in the market.
Customer Support

The customer support of MilesWeb is rated very high even among the top providers. It has also collected many awards and recognitions on various rating and review platforms. Customer support is one of the selling points of MilesWeb that assures 24/7 for every day of the year.
With the reference of some users of MilesWeb, we confirmed that it is all just the tip of the iceberg.
MilesWeb seems to have invested heavily in their support as the executives seem to be trained to handle technical issues without irritating or confusing the clients. The response time is also pretty impressive as there are no long queues or hold periods.
The executives also seem to be well-versed in the hosting services as they offer quick and accurate solutions to the queries. All-in-all, I can say with confidence that the technical support will not be an issue for users of MilesWeb hosting services.
Bandwidth
MilesWeb offers "unlimited" bandwidth with its shared and WordPress hosting service plans. Although the word unlimited seems far-fetched, MilesWeb's bandwidth usage is subject to some terms of service. It is presumably to avoid the overuse or abuse of the bandwidth.
You should probably consider reading them so that you may not violate them. But if I have to say, as far as bandwidth goes, MilesWeb stands with the best providers of shared hosting services.
For shared hosting users, bandwidths are not much of an issue as it mostly depends on the web traffic your site gets daily. 
New websites generally are not much concerned about it as they have to accommodate very few visitors. If I have to estimate, an ideal bandwidth a hosting should provide for a new website should be around 20GB. My estimate is obviously very conserved considering various factors like the type of website, popularity, backlinking, etc. Sometimes, new sites even present a requirement for bandwidths exceeding 100GB.
The consumption increases as your site gains popularity and attracts more traffic. It is one of the reasons why providers urge their clients to upgrade the plans if the website surpasses the data transfer limits.
Technical Specifications
SSD Drives: The shared hosting service with MilesWeb gets you the fastest and one of the most advanced memory storage technologies. Solid-State Drives are estimated to perform 200% better than regular disk storage drives.
Control Panel: MilesWeb offers a control panel application to manage and monitor the settings and activity of your hosting. Control panel applications have a user-friendly interface that makes them ideal software applications to handle configurations in hosting.
1-Click Installer: The software application allows you access to many other website and hosting-relevant applications like WordPress, AbanteCart, Shopify, etc. As the name suggests, you can browse and install these applications with a single click.
Cloudflare CDN: MilesWeb offers Cloudflare CDN for its hosting users. Cloudflare is globally renowned for its CDN technology that improves page loading speed.
Why is Shared and WordPress Hosting of MilesWeb, Ideal for New Websites?
MilesWeb offers three service plans: Tyro, Swift, and Turbo for its shared and WordPress hosting. The plans are differentiated based on the costs and technical specifications. However, they all share some splendid features.
Free SSL Certification: MilesWeb offers free SSL certification to the website you host with them. The free certification saves a ton of money you would otherwise have to spend on registration with an outside SSL registrar.
Free Domain: MilesWeb offers a free .com domain for the users of the Swift/Turbo plan. The domain is free for the first year of service if the users have subscribed for the one/three-year plan.
Instant Setup: You do not have to wait for your hosting to go live. The moment you confirm the payment with the billing, you can host your website on the shared servers of MilesWeb.
Heavy Discounts: MilesWeb offers 75-80% discounts on its shared and WordPress hosting services. The discounts vary based on the geographical location of the user. Here are their service plans for the users from India and UK: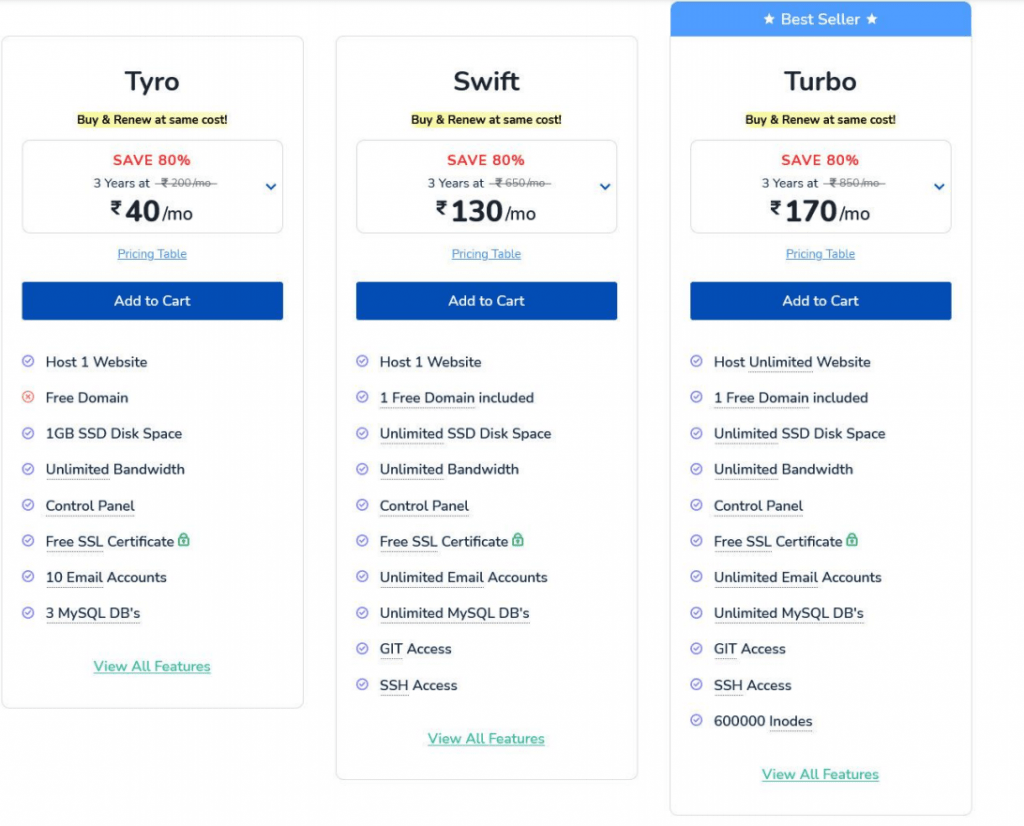 Additionally, the discounts are applicable only on the three-year subscription of their service plans.
Fully-Managed Service: WordPress users have a choice to opt for the fully-managed WordPress hosting at no extra charge. The provider will take care of the hosting configurations and settings to smooth out its operation. An expert team will give you recommendations for the plugins and themes you may use for your website.
Automatic Upgrades: The team will vigilantly search for and install the updates for all WordPress versions, plugins, and other necessary applications.
Datacenter Choice: MilesWeb is one of the few providers that offers its clients the data center of their choice. Users can host their website on any location of MilesWeb's worldwide network of servers.
Final Verdict
The shared hosting of MilesWeb offers an extensive range of features and decent technical components for website hosting. The shared hosting platform is more than capable of catering to any personal or business website on its platform. The price is also pretty low, considering the overall features and the hardware and software technology deployed.
The star player is the WordPress hosting service. For the same amount you spend on regular shared hosting, WordPress users can enjoy a much better service experience. Fully managed hosting is a value-added service for newbies or those who cannot afford time or effort to manage their hosting on their own. It is a service that many providers offer under a different price tag.
Although fully managed hosting does not make much of a difference for developers and users with knowledge about hosting, it doesn't hurt to enjoy these services for free.