Have you noticed that sometimes you instantly memorize a certain logo and other times you do not even bother looking at it? Well, this usually depends a lot on the uniqueness and design of the logo. For instance, the Google Drive logo can be easily recognized by millions of people due to its outstanding design. However, creating a such logo is a time-consuming task that requires a lot of creativity.
The Google Drive Logo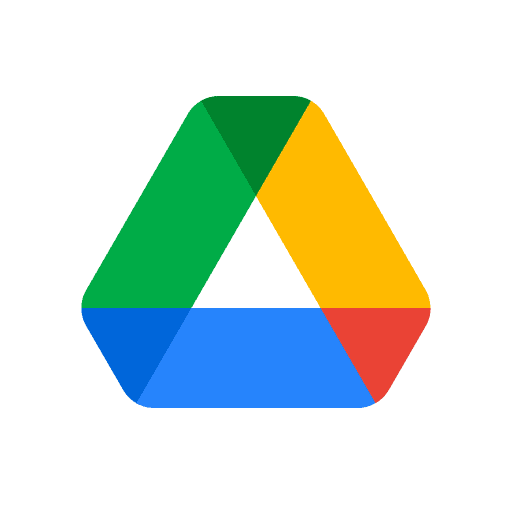 It is quite difficult to describe the logo of Google Drive and depict it. The stunning design which perfectly suits the purpose and aim of the Google Drive service has the shape of three different trapezoids connected to form a triangle. The trapezoids consist of three main colors: blue, orange, and green. Every color takes place in one trapezoid, and in the corners which are designed as small triangles, the colors turn into dark blue, red, and dark green. The center of the triangle is left blank, with a white background. As you can see, the design is extremely complex and hard to compete with.
What Does Google Drive offer?
Google Drive is a cloud-based storage service that allows users to securely store different types of files and access them from any device. Since the documents, photos and other files uploaded to Google Drive are being synched, users can open them every single moment, from all sorts of devices. One of the best things about Google Drive is that it perfectly integrates with other Google services, such as Gmail, Google Docs, Google Analytics, and others.
How Does It Work?
If you are just starting with using Google Drive, here are some tips. As for everything else, to start with it, you need to log into your Google account or create a new one. After that, search for Google Drive and then select it from the search results. Finally, you will see "My Drive" and the place to store and upload your files from the computer. You can also download a Google Drive app on your devices and make all of your files highly accessible.
Users can create multiple folders on each device and have full control over the folder visibility since the files and folders can be shared with other Google accounts or stored privately. The ownership of the files can also be transferred to other accounts if needed. In addition to that, permissions for the files and folders in matters of editing, commenting, and viewing can be regulated by the owner.
What Are the Benefits of Google Drive?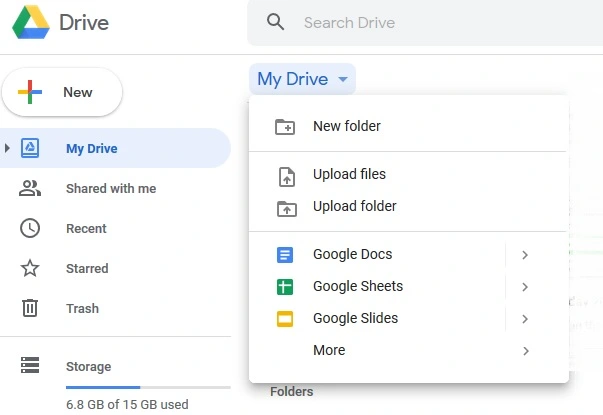 Powerful Features
Google Drive includes many powerful features which can promise an excellent user experience. Except for creating and sharing files, the service allows you to upload and download the files and collaborate with your colleagues on your documents in real time. Moreover, the synching options are extremely advanced and happen instantly.
User-friendly
Google Drive has big competitors on the market, including Microsoft OneDrive, Dropbox, and iCloud. However, Google Drive seems to have the simplest user interface and is the most widely spread. Most people have used Google Drive for personal purposes and found it as the best solution for business, as well.
Pricing
Everyone can access Google Drive for free and enjoy 15 GB of costless storage. In contrast to that, Dropbox, for instance, would give you only 2 GB of storage in its free plan. If 15 GB is not enough for you, you can always switch to another plan. Business Starter will give you 30 GB of storage for only $6 per month and with Business Standard you can have 2 TB for $12 per month. With Business Plus, you will have access to 5 TB of storage for $18 per month. If you want to secure Google Drive for all members of the company, you should reach for the Enterprise plan, which will secure unlimited storage options and various functions.
Security
Google Drive can offer the maximum level of safety for your files that are stored on it. Its 256-bit and 128-bit encryption options will make sure that files are safe both during transit and when uploaded. Alternatively, you can opt for two-factor authentication if you want that extra layer of protection.
Integrations
Integration is not even the slightest issue for Google Drive. It integrates with all Google services, and tools such as Adobe, Slack, DocuSign, Salesforce, Trello, and others. Moreover, it also opens Microsoft Office files easily and allows editing.
Conclusion
Google Drive, with its recognizable and well-known logo, remains one of the leading cloud-based storage and the first solution for many people. With Google Drive, creating, storing, editing, and sharing files has never been more efficient and easier. Therefore, you only have to choose a pricing plan that would fit you or your company's needs and start enjoying those amazing features.