Are you thinking about adding an author box to your WordPress posts? If you are, then, you have come to the right place. Furthermore, if you have been using WordPress for some time now and have used WordPress themes before, you might have come across this author box feature in your settings tab.
Even though there are multiple ways of adding author boxes to your blog posts, the easiest way to do it is by using WordPress plugins. Why the plugins? Well, they are specifically designed for this purpose, so they get the job done particularly well.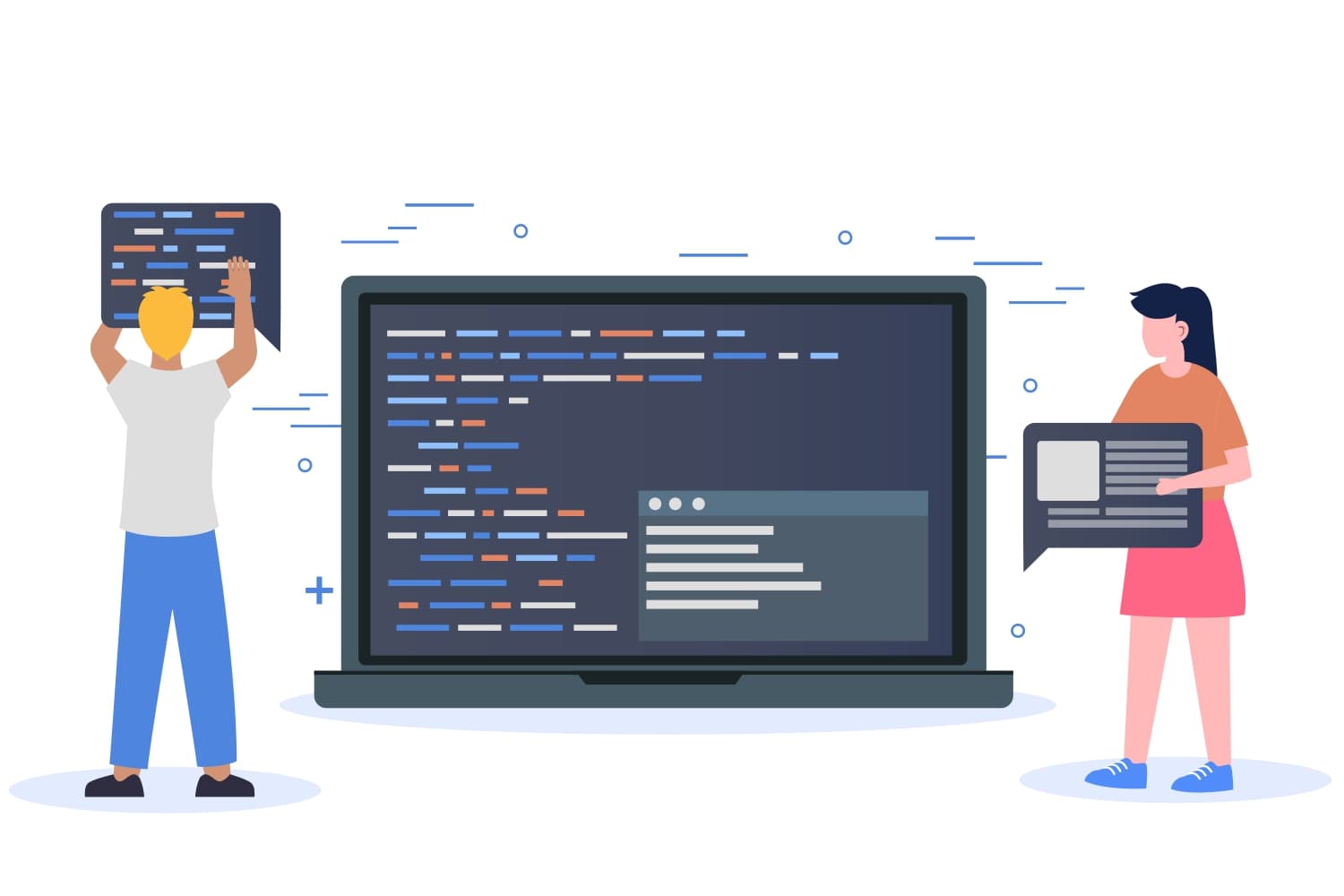 Image by Creazilla
Do you find the process of adding an #authorbox in WordPress too complicated? That isn't the case if you use the #SimpleAuthorBox plugin!
Click To Tweet
Using the author box plugins you can tune your author box to show only the things you want or need, meaning you can disable some unnecessary features if you wish to.
The majority of these plugins allow you to display a small bracket, which shows the author's biography and other info, below each post.
Also, to the author boxes, you can add social media links (Facebook, LinkedIn, Instagram, Twitter) so your visitors can find the authors on various social networks. By doing so, you will bond your visitors with your authors and their posts, which in return improves your brand's reputation and introduces it to a wider audience.
Meaning that if you let your site visitors know more about your author(s) they'll be coming back for more content. Remember, the stronger the author-reader bond, the higher your chances of success are.
Keep in mind that if you have more than one author, you'll need to create an author box for each author separately. But this shouldn't worry you since it can be done quite easily using some advanced author box plugins we will talk about a little later.
Adding an author box can seem hard if you do it the manual way, but with the right tool (plugin), it's a very straightforward and easy process. In this article, we'll go through each step of that process and will also talk about some features that might come in handy later on.
For demonstration purposes, I'll be using the Simple Author Box plugin. And before you say anything – yes, there is a free version.
As you might have guessed, the free version doesn't come with all of the features but it does have the core ones that will serve the average user just fine. However, if you are running a larger business or simply want all the bells and whistles, then you can opt for the PRO version, which won't cost you too much and will have way more features than you probably need.
That being said, I think now is the right time to go more in-depth about my plugin of choice and show you what it is all about, its useful features, and why it is my number one pick.
This WordPress plugin is a very popular choice for many WordPress developers and site owners. It is very quick, responsive, and it lets you create, add, and manage the author boxes on your author's posts with absolute ease.
With it, you can show the author's name, biography, gravatar, etc. in a fully responsive author box. And easily control your author box's appearance by customizing its control margins, layout, padding, etc.
The plugin's post type support feature will allow you to choose specific posts types and places on your pages the author box should appear on.

Also, if you have multiple authors on your WordPress site, with the Simple Author Box plugin you can easily set up an author box for each author and make sure they get the credit they deserve for their hard work. You can even assign posts to guest authors without having to create a new account for them. This allows them to contribute to your site without any restrictions and by doing so help you generate more content much quicker.
Another useful feature is link control, which allows you to adjust how the links placed in the author box behave. For example, you can configure links to open in a new tab and/or use the "nofollow link" feature to help you with crawl prioritization.
There will also be different color schemes that you can use to design professional looking author boxes, or instead, you can simply use one of the finished template designs. It's really up to you.
Try out different fonts and sizes in order to design your perfect author box and make it fit seamlessly with the rest of your site's design. It also might be a good idea to try standing out from the crowd by experimenting with different colors and so on.
In case you were wondering, this plugin also comes with Gutenberg Block support, which lets you assign and edit author boxes with the WP Author Box Gutenberg Block.
On top of that, this plugin supports over 45 social icons (Facebook, LinkedIn, Twitter, Google+, Yahoo, etc.) so you can easily choose which ones to use. Take advantage of this opportunity and increase your author's following on social media networks because you will benefit from that as well.
Included in this plugin is also something called the top author's widget which you can use to highlight your most reputable authors by displaying their profiles for everyone to see.
And of course, we can't forget to note that Simple Author Box is highly optimized to ensure the best possible performance of your WordPress site and will also support RTL languages.
Its customer support is also great and always there for you in case you get in a pickle. And if for any reason you are dissatisfied with the product, you can refund it within (the first) 14 days and get your money back, so no need to worry about your money going to waste.
After your license key for the plugin expires, you can still use the product and it'll function properly but once your subscription runs out, you won't be able to receive support or product upgrades. Nevertheless, you won't lose your previous work, which is very important!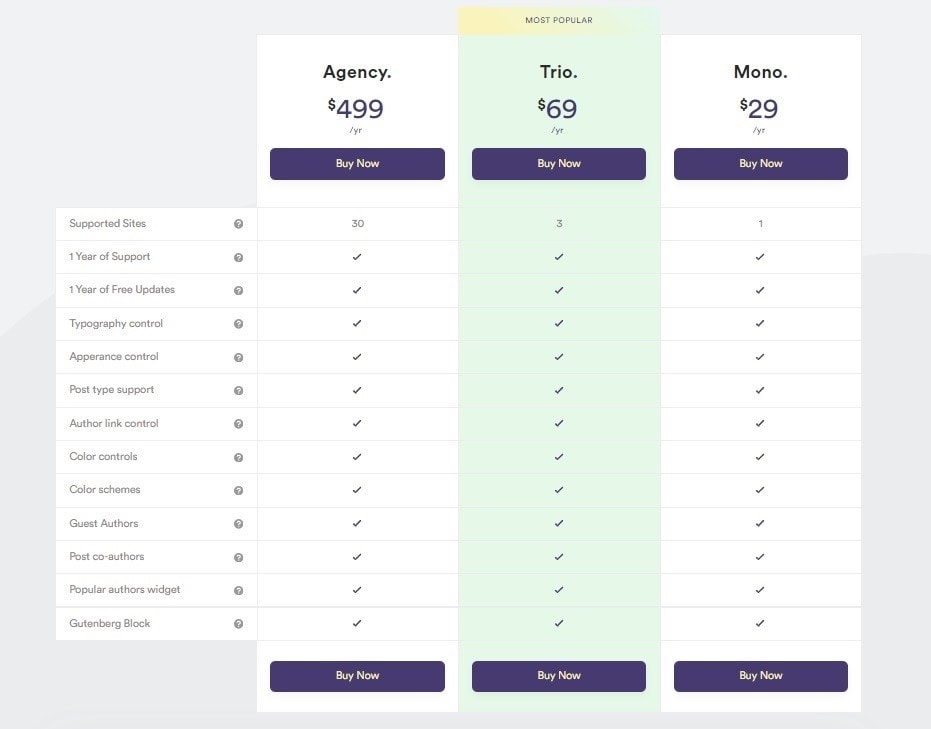 As you can see from the image above, the price depends on your needs. If you have just one site, your best bet is the "Mono" (1 year) option, which you can get for $29. However, if you have or you want to manage more sites, you'll need to invest more money.
Plugin Features
Choose where to display the author box (before or after a post)
Link the author's name to their website/page
Use the rotate effect when the author avatar gets hovered on
Open the author's website link (URL) in a new tab
Use the "nofollow" attribute
Select the position for the author's site: right/left
Pick different social icon types, styles, and effects
Use the color palette to customize the box to your liking
Use any font and size for the author's job title, website, name, and description
Add guest authors and co-authors
Include the top author's widget – shows the highest-ranking authors
Include the Simple Author Box widget – shows selected users
How to Install the Simple Author Box Pro Plugin?
Go here and buy a license for the product!
Download the plugin (.zip file) and unzip it somewhere on your hard drive.
Upload the Simple Author Box (unzipped) folder to the /wp-content/plugins/ directory.
Activate the plugin through the "Plugins" menu!
After you have successfully activated the plugin, go to Settings > Simple Author Box page and there you can customize the position (and much more) related to the author box.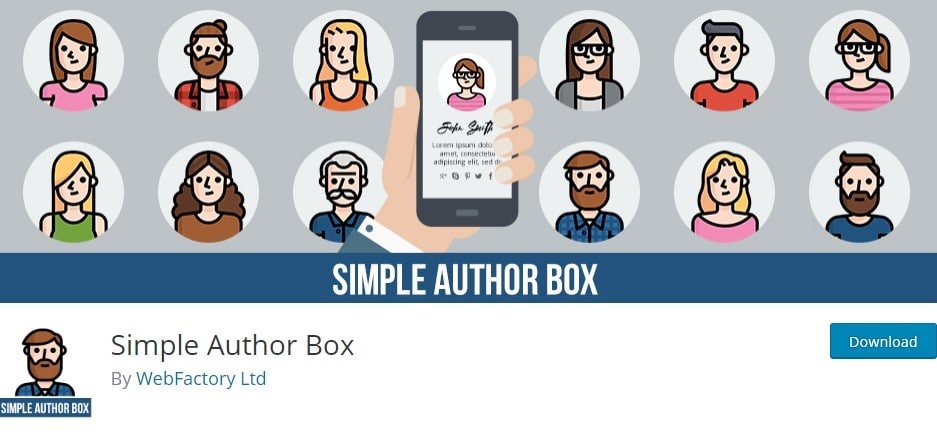 The Simple Author Box plugin (free version) allows you to add responsive author boxes to your posts.
The author boxes will show the author's name, gravatar, and assigned description. Also, you will have over 30 social profile fields on the WordPress user profile screen, which will allow you to show the author's social icons in the author box.
That being said, this (free) version of the plugin provides only one block, so keep that in mind.
It might be useful to note that the plugin is open-source, meaning it is free to use, and most importantly it is lightweight ensuring the best possible performance of your WordPress site. If you won't take my word for it, simply try it out and see for yourself.
Just like with the Pro version, if you are having technical difficulties, you can find free support here.
Plugin Features
Show the author's gravatar, name, website, description,
Show social icons
Fully customizable, allows you to easily match your theme design
Looks great on desktop, laptop, tablet, and smart devices
Automatically add the author box
Manually insert the author box to your template file (single.php/author.php)
RTL support
AMP support
How to Install Simple Author Box Plugin?
Go to your WordPress dashboard and click on "Add Plugins"
Search for "Simple Author Box" & click on "Install" then "Activate".
After you have successfully activated the plugin, go to Settings > Simple Author Box page and customize your author box settings.
Alternative Installation Method
Download the plugin here (.zip file) and unzip it somewhere on your hard drive.
Upload the Simple Author Box (unzipped) folder to the /wp-content/plugins/ directory.
Go to the "Plugins" menu and activate the plugin there!
Conclusion
Simple Author Box is a very useful WordPress plugin that allows you to display your author's profile, which makes it easier for your visitors to get to know them better.
It also simplifies the sharing process, meaning your WordPress site/blog will get more exposure than before. By doing so, you'll see a higher traffic flow and will have more visitors coming back for more content.
As mentioned before, you are free to choose the payment plan that fits the number of your sites best. Meaning there is no need to buy the most expensive option if you only have one site.
However, if your budget is tight or nonexistent, you can try the free version and if it goes well, you can always upgrade to the PRO one later. And, don't forget that you can refund your purchase within the first 14 days if you aren't happy with the plugin.
In a nutshell, like most WordPress plugins, this one is designed to make your life easier and will allow you to set things up with just a few clicks. So there is really no reason for you not to give it a try!