Email marketing is one of the best ways to stay connected with your audience. We know that everybody uses email – you simply can't create anything without it.
That's why it is the best option to use this type of marketing for your business. But how does one send customized emails? What does it take? How to be original? These are all valid questions if you are new to the game.
Maybe sending an #email is easy for you, but it is not just about sending it, it's about a lot more.
Click To Tweet
You sent an email, but what's the open rate of that email? How many clicks did you get from it? Is it interesting enough to be checked out? If you are thinking like this, good, but you still need a tool using which you can see all of that information.
Why? Well, so that you can know what type of content works the best for your email subscribers and will have the least bounce rate. When you have all of this information you will be the rockstar of your field.
Now, buckle up, because we have something special for you here.
Statistics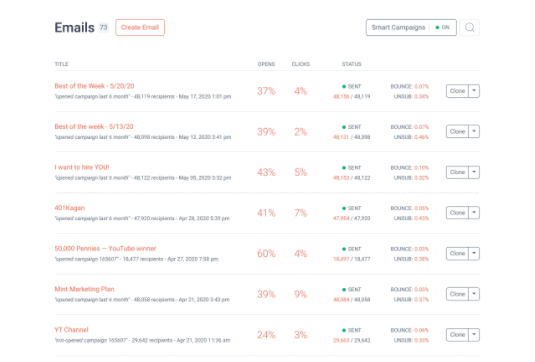 As we already said, it is not just about writing an email, hitting send, and wondering what will happen. You need to know what is the open rate of your emails.
If you send an email to a hundred people but only five of them open it, that's not good. Or, you send it to a hundred people, and half of them open it, but also half of that number unsubscribe from your emails.
You don't want that to happen, or at least you should know when it happens. That's why you need to have a tool using which you can see your statistics. A tool that will let you know what kind of content gets you the best open rate and clicks – because if people are not intrigued by your emails, you will lose them and some revenue. Subscribers are what keeps your business alive at the end of the day.
Luckily with a tool like SendFox, right of the bat, you can see all the pieces of information that you need to have in order to create an amazing email marketing strategy.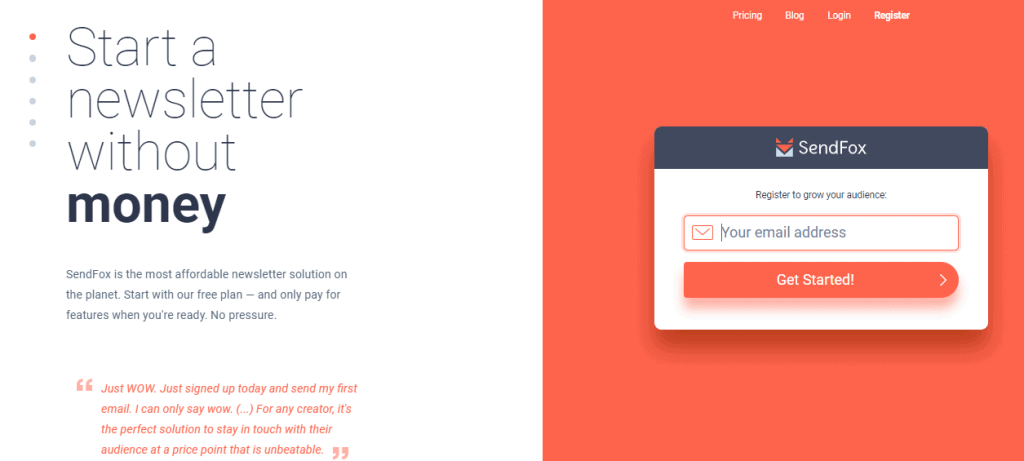 You can see the emails you sent, with the statistics of how many people opened the email, how many clicks you got, and the unsubscriber and bounce rate as well. With this little gem, you will always be informed about every detail.
When you see that some type of content has a high open rate and that the bounce rate for it is lower than for the other types, that's a hint on what you should strive to provide.
After that, it is all a snowball effect, the open rates are high, you get more views, more business, everything will fall right there where you want it.
Email marketing plan
If you don't have an email subscriber list, and you are starting from scratch, don't worry, we got you covered here as well.
With SendFox, you can create custom-branded landing pages and smart pages that you can promote on your social media by putting them in your bios or email signature. That way, the people that are following you on social media can subscribe to your emails and be informed even before you publish anything on those platforms. Whip up a catchy line for that link in your social media bio and watch your list grow.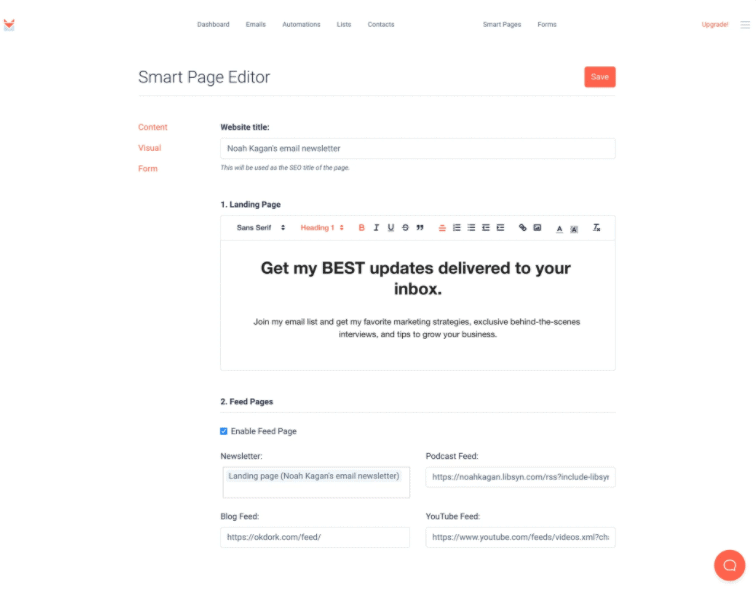 Smart pages are awesome because they show off your best content from your social media, YouTube, or podcast, and make it very simple for your followers to see all of your great content in one place. It is like you're providing them with the best of the best, to keep them interested in your content. They don't have to go and search when you can provide it to them with this amazing option.
But, if you already have an email subscriber list, you can simply upload it, and SendFox will start creating and sending emails in a heartbeat!
Creating quality emails
Take the extra time to perfect your emails, because if they are bland and boring, no tool will help you achieve great success.
You are not writing for your business partners, meaning you don't need to be too professional. You are writing for your customers, and you need to be intriguing and fun.
You can use SendFox for that as well since it has a load of formatting features and some RSS feed functionalities.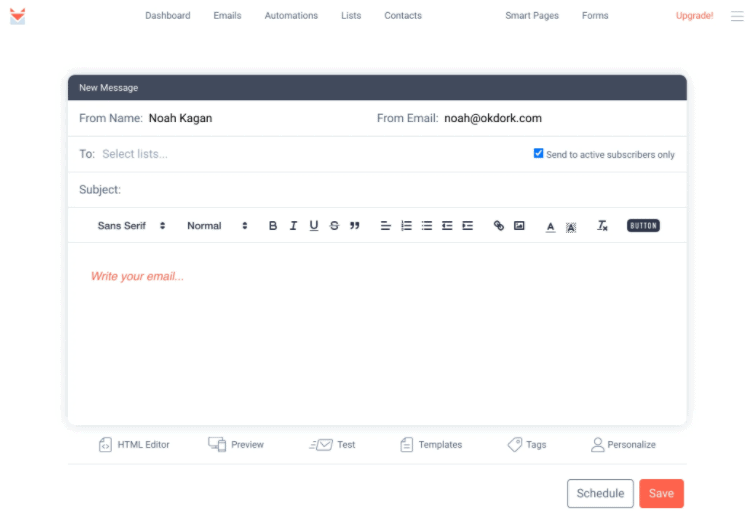 You can customize the font, coloring, size, link, whatever your heart desires. SendFox will provide you with the best options for you and your subscribers. There is no need for the whole email to be in a boring black color with the same size font everywhere. Put those important details in bold, color them with an eye-catching red, and don't forget to play around with the sizes of the text.
After you have created the amazing email that you will send to your subscribers, you can then schedule it for sending. SendFox will also provide you with an automation tab, where you can create a ton of automation series for your email list.
For example, when people subscribe to your list, you can create an automatic email that will provide them with your best quality content.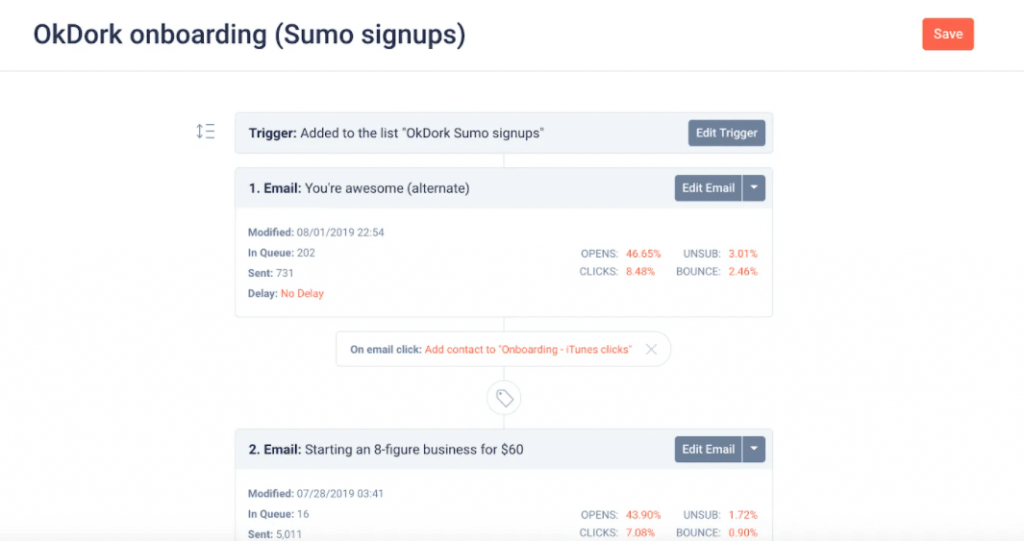 There you can put all your best content from your blog, YouTube, or podcast. So that right of the bat, people get the best treatment from you. This is a great option for YouTubers, content creators, and podcasters.
Also, with this little helper, you can create as many lists as you want, and add as many subscribers as you want. Categorize your subscribers in whatever way you like, just make sure that, let's say, people interested in vegan cooking, don't get an email that is about a meat dish!
Conclusion
To conclude this article, we will once again cover the main things you should know about emails that you send to your followers.
The first thing that you need is for sure SendFox. This tool will give you everything you need to be a rockstar of this field, and it is a real game-changer.
The second thing is making sure that you use the statistics that this tool provides you with to keep your email marketing game on point. The best thing about it is, being able to see that your emails have a high open rate and a low bounce rate.
The third and final thing that you need is to be interesting, fun, and good with the content you put in the emails. Also, don't forget to style the emails the best way possible, with the features that SendFox provides!